Amy Klobuchar takes questions at CNN town hall
10:25 p.m. ET, February 18, 2019
Klobuchar: Medicare for All is "something we can look to for the future, but I want to get action now'
Sen. Amy Klobuchar cast a Medicare for All style health care plan as a possibility to strive for in the future, but added that she doesn't currently support it because she wants to make changes immediately.
"I think it is something we can look to for the future, but I want to get action now," Klobuchar said when asked by a New Hampshire voter about the universal health care plan that is backed by Sen. Bernie Sanders and a host of 2020 Democrats.
"It could be a possibility in the future," Klobuchar said, adding later that she is looking for "something that will work now."
Klobuchar says she supports universal health care but favors doing so by building on the Affordable Care Act, expanding both Medicare and Medicaid, and creating a public option.
"We have to get to universal health care in this country," she said. "We have to make sure we build on the work of the Affordable Care Act."
10:11 p.m. ET, February 18, 2019
Amy Klobuchar is taking questions at a CNN town hall. The first? "Are you my candidate?"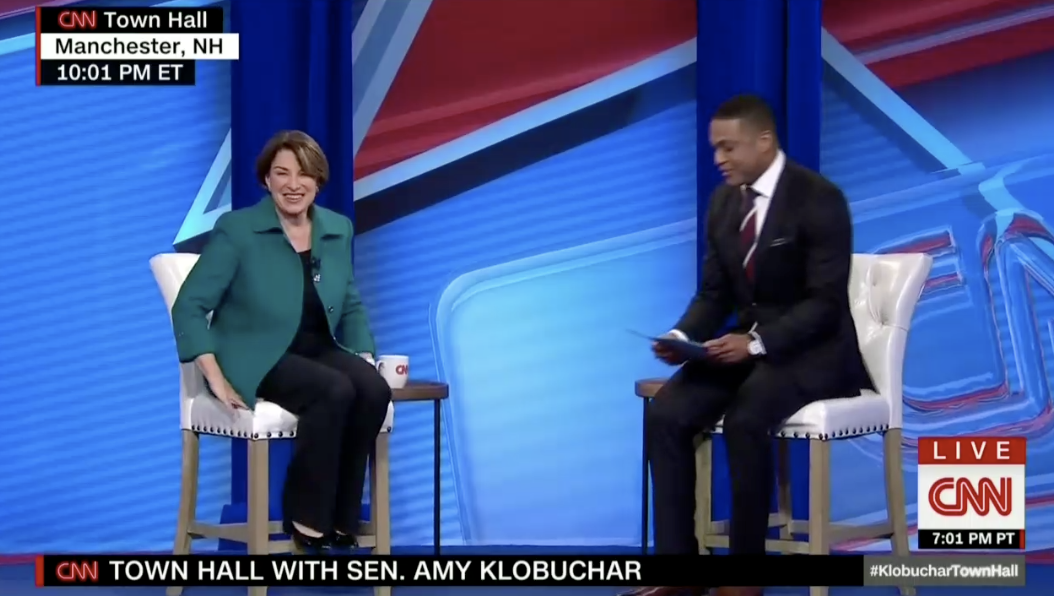 Democratic Sen. Amy Klobuchar just took her first question of the night at CNN's town hall.
Neila Brownstein, a moderate Democrat with progressive leaning, just told Klobuchar, "I want to hear achievable goals that benefit minorities and the middle class now and are not pipe dreams for the future. Are you my candidate?"
Here's portion of Klobuchar's answer, in which she framed her candidacy as one of bipartisanship that reaches a "higher ground" in politics:
"I think what we need right now in this country is less of this grandstanding and gridlock, less of the shutdowns, which we just saw, and the putdowns, and much more of moving our country forward. I announced my candidacy in front of the Mississippi River for a reason last weekend. I didn't think it was going to be 17 degrees with a bunch of snow, but it was. And I did that because I wanted to make the point that we need to cross a river of our divides. We need to walk over the sturdy bridge that is our democracy, and that we need to get to higher ground in our politics."
Watch more:
9:53 p.m. ET, February 18, 2019
Why Klobuchar doesn't feel pressure to sign onto the latest progressive idea
CNN's Jeff Zeleny spoke with Democratic Sen. Amy Klobuchar earlier today about the progressive shift in the Democratic party.
Asked if she felt pressure to sign onto latest progressive or liberal ideas, the Minnesota Democrat said she makes her decisions based on what "I think we should do."
"Everyone makes their own decision," she said. "You've gotta be able to be yourself and not just try to be someone different than you've been."
Watch his interview with Klobuchar below:
9:46 p.m. ET, February 18, 2019
Let's talk about the weather in Manchester (it's real cold)
It's cold in Manchester, New Hampshire, where Democratic Sen. Amy Klobuchar is taking questions from voters at CNN's town hall.
Temperatures are expected to dip to 11 degrees tonight in Manchester, where it snowed earlier today.
New Hampshirites were bundled in coats, scarves and gloves before they headed into the Dana Center at Saint Anselm College tonight.
9:41 p.m. ET, February 18, 2019
She came tonight after watching Klobuchar's performance during the Kavanaugh hearings
Amy Klobuchar's questioning of then-Supreme Court nominee Brett Kavanaugh during his confirmation hearings brought Marly Carroll out to tonight's town hall.
She described Klobuchar as a "powerhouse" during those hearings.
The 20-year-old Wethersfield, Connecticut, who is an Independent voter, wants to see more women run for president.
"I think it's time for that," Carroll said.
9:29 p.m. ET, February 18, 2019
He's looking for new leadership in Washington
Steve Chasse said he's looking closely at Democratic Sen. Amy Klobuchar's performance tonight, and he'll be watching how she answers questions on economic justice, climate and balance of power.
The 47-year-old Boston-area resident said he is also "looking to see if she has the temperament and values we need to restore the presidency."
Chasse said he wants new leadership in Washington, so he also has his eyes on Ohio Sen. Sherrod Brown, former Texas Congressman Beto O'Rourke, California Sen. Kamala Harris and South Bend Mayor Pete Buttigieg.
"I am looking for new leadership," he said. "I am just tired of the people running our country."
9:12 p.m. ET, February 18, 2019
A peek behind the scenes of CNN's town hall
The stage is set for Democratic Sen. Amy Klobuchar's town hall in Manchester, New Hampshire, tonight.
The show begins in less than in hour and the audience has already taken their seats.
Outside the venue at Saint Anselm College, engineers were working behind the scenes to make sure everything was running properly.
9:03 p.m. ET, February 18, 2019
Klobuchar meets voters in Goffstown before tonight's town hall
Sen. Amy Klobuchar hosted a meet and greet with New Hampshirites this afternoon in Goffstown, about eight miles outside of Manchester where she's due to hold a town hall in just under an hour.
"This is New Hampshire," she said with a smile, "anything could happen." 
Klobuchar has leaned into her campaign, going anywhere and everywhere, as she tries to pitch herself as a candidate who can win independent and moderate Republican voters.
She pledged "to go everywhere, not just where it is comfortable, but where it is uncomfortable" and outlined a platform that included overturning Citizens United, reinstating the Voting Rights act, rejoining the Paris Climate Accord and getting on the path towards a public option for health care.  
Klobuchar did not back Medicare for All — she does not support the plan — and was pressed on it as she worked the room after her speech.
"We need a public option and that brings down the cost so we can get to the point where we have universal health care," Klobuchar said during the event.
She backed allowing Americans to buy prescription drugs from Canada and expanding Medicare and Medicaid.
"And that is why the pharmaceutical companies, they think they own Washington, right? And they do own a lot of people, but they don't own me," she said, repeating a line from her announcement speech.
She also spoke extensively about climate change and laid out her vision.
"On day one, we will get back into the international climate change agreement. And In the first 100 days, we will bring back the clean power rules that the Obama administration proposed," she said. "We will take this issue on. We cannot wait." 
A notable moment: Klobuchar grew emotional when she talked about her father's alcohol addiction, something that was made public during the Brett Kavanaugh hearings.
"This is personal for me, as you probably heard from the Kavanaugh hearings. I feel very strongly that people who are addicted get treatment and that included my own dad. And I literally, he was a newspaperman, saw him climb the highest mountain but sink to the lowest valleys because of addiction and I also saw how in his words 'he was pursued by grace' when he got the treatment that he needed after 3 drunk driving violations and it changed his life. And now at age 90, he is very sober," she said.