Suspect arrested after explosive devices sent to Trump critics and CNN
3:16 p.m. ET, October 25, 2018
Investigators believe some of the packages may have originated in Florida
Investigators believe some of the packages may have originated in Florida, according to one law enforcement official.
A second law enforcement official said federal investigators are in Florida investigating leads.
2:55 p.m. ET, October 25, 2018
Investigators are looking into the fact that none of the bombs actually exploded (at this point)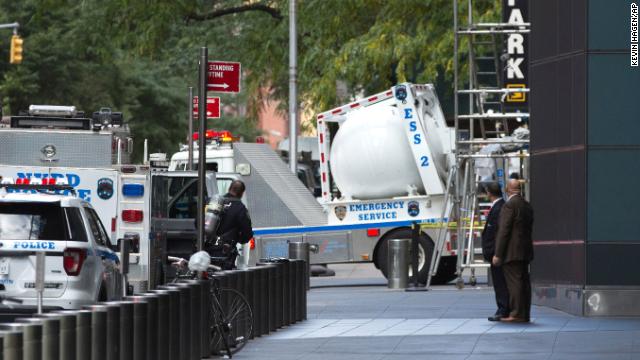 Authorities are questioning why none of the bombs went off. 
The FBI called them "potentially destructive devices" in the press release. So either the bomb maker was good enough to ensure none would go off and never intended them to explode -- or they were poorly constructed. 
However, the presence of what is believed to be pyrotechnic powder is one reason why authorities consider them to be potentially destructive.
Though it appears they were handled through the postal system -- jostled and moved -- without any explosion, outside experts who have viewed photos of the devices have pointed to the lack of a triggering mechanism, suggesting they perhaps were never meant to explode.
The construct includes very common components, making it more difficult to get clues from the signature of the bomb. But the components could still provide clues -- like the clock and the tape used. 
2:35 p.m. ET, October 25, 2018
Device sent to CNN headed to Quantico for further testing
A bomb truck containing the CNN device is currently on the road to the FBI lab at Quantico, according to a law enforcement official familiar with the investigation.
The FBI bomb truck left New York City around 10:30 a.m. ET, the source said.
The suspicious powder from the CNN package was tested and initially deemed not to be anthrax or known agents, the source said. Additional testing will continue over the coming days.
Authorities are not giving credence to the reports of an image of the ISIS flag on the device, meaning they do not believe it's international terrorism, the source said. The image appears to be a spoof of an ISIS flag that has been widely circulated on the internet — an image that essentially parodies the ISIS flag, the source added.
1:40 p.m. ET, October 25, 2018
Federal agencies reviewing security protocols for former officials, sources say
Various federal agencies are now reviewing security protocols involving former cabinet-level and other high-profile officials, following this week's discovery of suspected pipe bombs sent to Obama administration officials, according to two individuals familiar with the government's response to the investigation.
Government agencies have been proactively contacting some former officials to make sure they are aware of the ongoing pipe bomb incidents, and that they remain vigilant and report any suspicious packages to law enforcement. 
Although cabinet-level and senior agency officials do not maintain protective details after their departure from office, it is common for agency protective operations teams to maintain contact with them to help lessen any perceived threats or identity theft that might result from their high-profile posture.
1:08 p.m. ET, October 25, 2018
Here are some of the things Trump has said about the individuals who were sent suspicious packages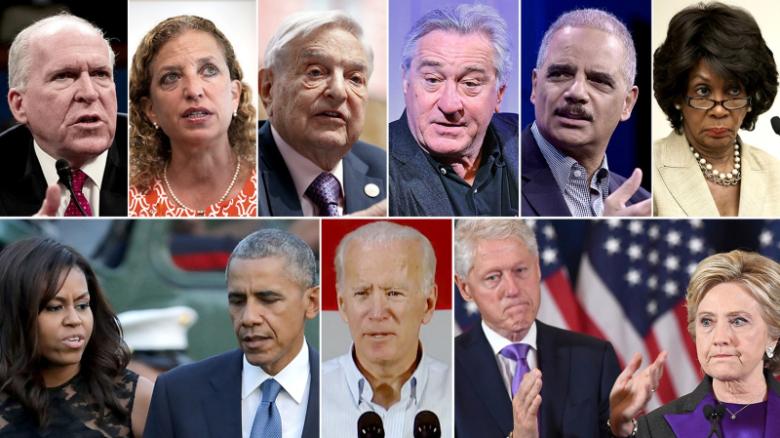 The 10 suspicious packages discovered over the past few days were all sent to individuals who have been highly critical of the President — and who have been on the receiving end of some of Trump's criticism.
Here are some comments Trump has made about the intended recipients of the bombs:
Liberal billionaire George Soros
Earlier this month, Trump tweeted, "The very rude elevator screamers are paid professionals only looking to make Senators look bad. Don't fall for it! Also, look at all of the professionally made identical signs. Paid for by Soros and others. These are not signs made in the basement from love! #Troublemakers."
Former Secretary of State Hillary Clinton
Trump faced off against Clinton in the 2016 election, where he dubbed his Democratic counterpart "Crooked Hillary," and called for her imprisonment.
Former President Barack Obama
Obama has been the focus of multiple conspiracy theories that Trump has touted, including questioning the legitimacy of the former president's birth certificate and accusing Obama of wiretapping Trump Tower.
Former CIA Director John Brennan, via CNN offices in New York  
Trump has accused Brennan of conspiring with special counsel Robert Mueller, who is investigating Russian interference in the 2016 campaign.
"I hope John Brennan, the worst CIA Director in our country's history, brings a lawsuit. It will then be very easy to get all of his records, texts, emails and documents to show not only the poor job he did, but how he was involved with the Mueller Rigged Witch Hunt. He won't sue!" Trump wrote in a August 2018 tweet.
Brennan also had his security clearance revoked by the Trump administration this year.
Former Attorney General Eric Holder
Holder riffed on Michelle Obama's famous line when he told an audience, "When they go low, we kick them."
Trump called that comment "disgusting" and "disgraceful" in an interview with Fox News. "He better be careful what he's wishing for," he said. "That's a disgusting statement for him to make."
Former Vice President Joe Biden
The President has referred to Biden as "crazy" and called him "weak, both mentally and physically" in a March 2018 tweet.
"Crazy Joe Biden is trying to act like a tough guy. Actually, he is weak, both mentally and physically, and yet he threatens me, for the second time, with physical assault. He doesn't know me, but he would go down fast and hard, crying all the way. Don't threaten people Joe!" Trump tweeted.
California Democratic Rep. Maxine Waters
Trump has repeatedly criticized Waters, calling her "the unhinged FACE of the Democrat Party," in a June 2018 tweet.
"Congresswoman Maxine Waters, an extraordinarily low IQ person, has become, together with Nancy Pelosi, the Face of the Democrat Party. She has just called for harm to supporters, of which there are many, of the Make America Great Again movement. Be careful what you wish for Max!" Trump wrote in another tweet.
Actor Robert De Niro 
In response to De Niro's criticism of Trump at the Tony Awards, Trump tweeted calling De Niro "Punchy" and said he may "truly believe he may be 'punch-drunk.'"
"Robert De Niro, a very Low IQ individual, has received too many shots to the head by real boxers in movies. I watched him last night and truly believe he may be "punch-drunk." I guess he doesn't ... realize the economy is the best it's ever been with employment being at an all time high, and many companies pouring back into our country. Wake up Punchy!" Trump wrote in two separate tweets.
12:25 p.m. ET, October 25, 2018
Trump believes he is being unfairly linked to bombs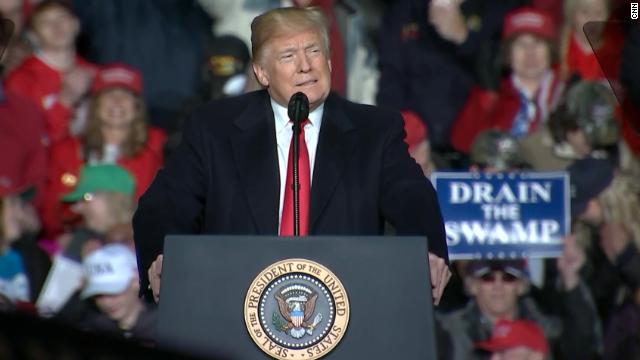 President Trump believes he is being unfairly linked to the serial package bombing incidents and has no current plans to claim any personal responsibility that his rhetoric has contributed to the attempted attacks, two people who have spoken to him today said.
The President received an update on the latest incidents today. He is telling aides he is confident the authorities will find the suspect or suspects.
He has no immediate plans to call this domestic terrorism (pending investigation), a White House official said.
The President's view today on the potential serial bomber is clear from his tweets blaming the media, which he believes is true and thinks his supporters will as well. 
"He believes he's treated with hostility and unfairly — there's no talking him out of that," one confidant of the President said.
White House aides are taking their cues from the President, who has shown no signs so far today of changing his approach in responding to this. 
Here's how White House press secretary Sarah Sanders answered questions this morning:
11:49 a.m. ET, October 25, 2018
Here's what we know about the manhunt for the bomber -- or bombers
We've been closely tracking the discoveries of explosive devices that were sent to a number of prominent individuals who have spoken out against President Trump, but we haven't as heard much about the manhunt for the person or people who sent the packages.
Here are five things we know:
A manhunt is underway for the perpetrator behind the packages. Law enforcement authorities are treating the series of bombs as a domestic terror matter and are advising the public to remain vigilant.
The motive is unknown, but the recipients are all prominent targets of right-wing criticism and, in many cases, of Trump himself.
The FBI's counterterrorism division is leading the investigation into the packages and the agency says it's possible additional packages were mailed to other locations.
It's being handled as a domestic terror matter, which is the assumption based on the absence of other information regarding, according to a law enforcement official.
Speaking on CNN New Day, NYC Mayor Bill De Blasio said he believes there is a serial bomber out there, but it's not clear whether the person or people are in New York or elsewhere in the country, or foreign.
11:21 a.m. ET, October 25, 2018
Programming alert: New York City Police Commissioner James P. O'Neill, Mayor Bill deBlasio, FBI Assistant Director William Sweeney, and other law enforcement leadership will brief the media on the latest in the package bomb investigation at NYPD Headquarters at 3:30 p.m. ET.
11:13 a.m. ET, October 25, 2018
AG Sessions getting an update from FBI now on suspicious packages
Attorney General Jeff Sessions is being updated on the latest information regarding the suspicious packages by the FBI right now, according to a Justice Department official.