CNN's latest Nevada and South Carolina polls: Live analysis
8:34 a.m. ET, September 29, 2019
Warren is earning 4% of the black vote in South Carolina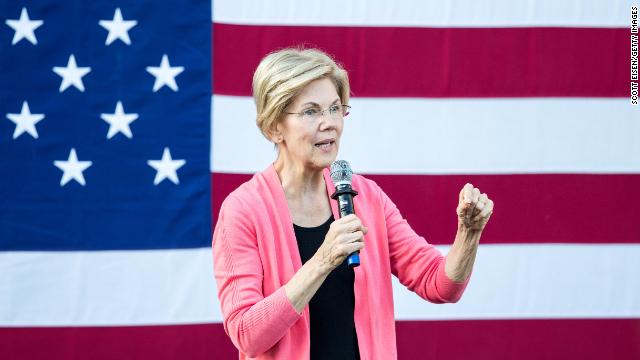 Perhaps the biggest question of the Democratic primary race is whether Massachusetts Sen. Elizabeth Warren can extend her appeal beyond her white well-educated base. Specifically, can she earn the support of black voters, who are the base of the Democratic Party?
Our South Carolina poll suggests the Massachusetts senator has a lot of work to do. She gets only 4% of the black likely primary voters. That looks quite similar to the 2% Warren was earning amongst this group in previous polls by Fox News and Monmouth University.
For comparison, Warren's at 28% among white voters in our South Carolina poll.
Black voters, of course, make up a majority or near a majority of Democratic primary voters in southern primaries such as Alabama, Georgia, Louisiana, Mississippi and South Carolina. Warren's going to run into some major problems in southern primaries if she can't do better with this bloc of voters.
Biden, for his part, wants to count on South Carolina as a firewall if he loses the states of Iowa and New Hampshire. I'm not sure he can do that, but so far his support from black voters is holding in South Carolina. He's at 45% among them in this poll, which is about where he was in previous South Carolina polling.
The two black candidates in the race, Booker and Harris, are at 1% and 6%, among black voters respectively. Sanders is in second at 13% with this group.
10:06 a.m. ET, September 29, 2019
Steyer is in a better position to make November's debate than O'Rourke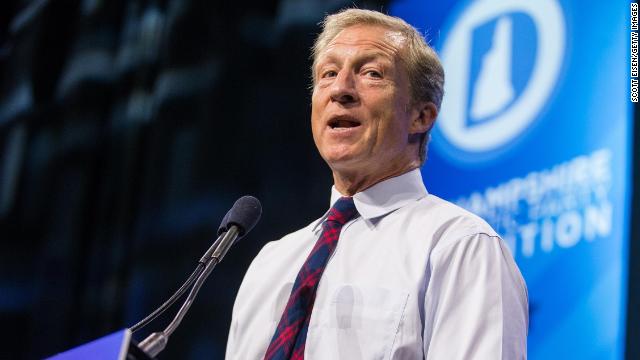 Appearing on the debate stage is like basic nutrition to a presidential campaign. The stage is all but set for October's Democratic primary debate. For November, the thresholds are being upped so that a candidate needs either 5% in two early state polls or 3% in four qualifying national or early state polls. Candidates also need to reach a fundraising threshold.
Our Nevada and South Carolina polls put businessman Tom Steyer on the precipice of making the November debate. He earned 4% in Nevada and 3% in South Carolina. That gives him three qualifying polls (including a prior Nevada poll), and he has until "seven days before the date of the November debate" to get his fourth. (We do not yet know when the November debate will take place.)
Businessman Andrew Yang also looks likely to qualify for the November debates. He earned 3% in our Nevada poll, which puts him at three qualifying polls overall.
The candidates who had already made the November debate stage include former Vice President Joe Biden, South Bend, Indiana, Mayor Pete Buttigieg, California Sen. Kamala Harris, Vermont Sen. Bernie Sanders and Massachusetts Sen. Elizabeth Warren.
New Jersey Sen. Cory Booker didn't reach 3% in either of our new polls. He's two short currently for the November debate, though he seems more likely than not to make it.
Former Texas congressman Beto O'Rourke and Minnesota Sen. Amy Klobuchar seem to be in at least a little trouble of making the November debate. They've each only gotten one qualifying poll for November so far.
The candidates in the biggest danger of not making November's debate after making October's are former Housing and Urban Development Secretary Julián Castro and Hawaii Rep. Tulsi Gabbard. Neither have a qualifying poll yet for November.
8:27 a.m. ET, September 29, 2019
Biden has huge lead in South Carolina primary, while Nevada is knotted up
Our first CNN/SSRS polls of the South Carolina Democratic primary and Nevada Democratic caucuses show two very different races.
Former Vice President Joe Biden holds a large 37% to 16% advantage over Massachusetts Sen. Elizabeth Warren in South Carolina among likely Democratic primary voters. Vermont Sen. Bernie Sanders is at 11%. No one else gets above 5%.
This poll result is in-line with other polling from the fourth-in-the-nation primary state that has generally given Biden a lead ranging between 20 points to 25 points.
Meanwhile, Nevada's Democratic caucuses are much closer. Biden and Sanders each have 22%, while Warren is at 18% among likely Democratic caucus-goers. This difference is well within the margin of error, and its best to think of Nevada as a three-way top tier of Biden, Sanders and Warren. No one else gets above 5% in Nevada.
Again, this result is generally what other recent polls have looked like. There hasn't been a clear leader in this third-in-the-nation state.
One other note: both of these polls conducted fromSeptember 22 to September 25. That is, they were in the field as the latest developments of the impeachment inquiry of President Donald Trump took shape. We'll obviously need to see more polling down the line to see what effect this has on the Democratic race.