CNN's latest poll on 2020 Democrats
6:25 p.m. ET, September 11, 2019
Tldr: Biden's ahead, but by less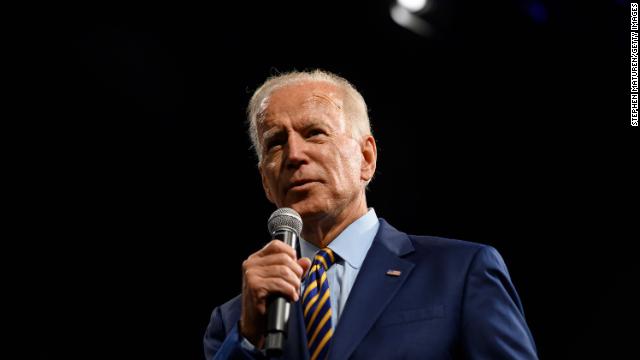 Our new CNN/SSRS poll shows that Joe Biden continues to lead the Democratic primary with 24%, though that's down from 29% in mid-August.
Meanwhile, Elizabeth Warren has climbed closer at 18% from 14%. She's in a close race for second with Bernie Sanders who came in with 17%, which is up from 15% last month. 
Amazingly, no other candidate in this field of 20 is above 10%.  
Kamala Harris (8%), Pete Buttigieg (6%) and Beto O'Rouke (5%) are the only other candidates polling above 2%. 
Here are a few other takeaways from the poll:
Warren has grown her support from 15% to 21% among those who say that beating Trump is most important, which is important among an electorate that prizes electability
Biden holds about a 30-point lead among black voters; Warren and he are about tied (at 23% and 21%) among white voters; and Sanders holds a slight edge with 24% among Latinos
Unlike Biden's advantage with black voters, Sanders' edge with Latinos can mostly be explained by the fact that Latinos are younger and more liberal
Biden's and Sanders' support are highly predictable by age, while Warren's is highly predictable by education and race
A plurality of potential primary voters (49%) say they fear nominating a candidate who is too liberal, which should in theory be good for Biden
6:12 p.m. ET, September 11, 2019
Biden has chosen the right ideological lane
There have been questions about whether Biden is not liberal enough for a party that's moving to the left. I've long been suspect of that, and our latest poll shows why you should be, too.
We asked potential Democratic primary voters whether they were afraid the party would nominate too liberal of a candidate or one who was not liberal enough. The plurality, 49%, answered too liberal. A lower 41% said one who was not liberal enough.
That polling roughly lines up with what we see in the ideological breakdown of potential Democratic primary voters. Our poll puts liberals as 42% of the electorate, while moderates and conservatives are 57% of it.
Of course, it is Biden who does best among this moderate-to-conservative portion. He's at 29% among these voters. Sanders and Warren are at 12% apiece.
Biden's in third at 17% among liberals, but he benefits from Sanders (24%) and Warren (26%) splitting that vote. That is, they're splitting the smaller portion of the pie.
Indeed, Biden is the only candidate who is competitive at this point who has any real pull with the ideological lane that the plurality of voters belong to. If he were smart, he'd work to make the nomination fight more about ideology.
5:56 p.m. ET, September 11, 2019
Warren is catching up to Biden on perceived electability
One big reason Warren might be closing the gap with Biden has to do with who Democrats think can beat Trump.
Last month, Biden led the field with 35% among those who said it was more important to choose a nominee who could beat Trump than it was to find a candidate who agreed with them on major issues. This month Biden's down to 26% among this group.
Meanwhile, Warren climbed 15% to 21% among this group.
That Warren seems to be making strides on this question is a very strong point in the belief she can win the nomination. More potential Democratic primary voters prize electability (55%) than issue agreement (39%).
Unlike Warren, Sanders is making no advancements on this front. Just 11% of those who say electability is more important back him. That's down slightly from 14% last month. Sanders does significantly better and leads at 25% among voters who say issue agreement is key.
One interesting note: an ABC News/Washington poll out Wednesday actually had Biden beating Trump by 15 points compared to Warren's 7-point lead in a general election matchup. Sanders beat him by 9 points. In other words, general election polls (for what they're worth at this early stage) continue to suggest Biden is the safest general election bet for Democrats.
5:44 p.m. ET, September 11, 2019
Warren's support is very concentrated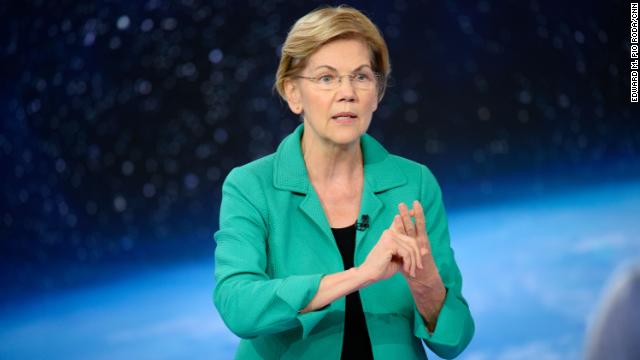 While Warren's support may not differ by age, it's very divided in a lot of other ways. Education, ideology and race play a big time role in whether you back Warren for president or not.
Warren crushes everyone else among very liberal voters with 33%. Among all other voters, she's at just 14%.
Warren is ahead among white voters with 23%. She's running no better than third among blacks and Latinos at just 10% among each of those groups.
Even among white voters, her support is clearly strongest among whites with a college degree. She gets 29% of that vote and is in first place. She's at about half that (15%) among whites without a college degree and is in third place to Biden (26%).
Warren does not need to be winning each of these groups to win the nomination. She does, however, need to keep expanding her support. Warren can bring together whites with and without a college degree. She could also team up whites with a college degree and black voters.
Until she does that, however, Warren will, by the numbers, be a relatively factional candidate.
5:32 p.m. ET, September 11, 2019
Age isn't just a number in the Democratic primary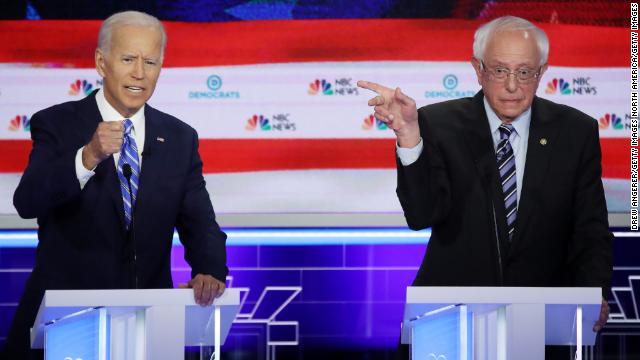 When I ran a few models trying to explain why voters were backing Biden or Sanders, one thing became quickly apparent: Age was a very important factor. It's as or more important than educational attainment, ideology or race.
Thanks to our larger than normal subsamples, we can really see the effect of age.
Among those under the age of 30, Sanders crushes Biden, 32% to 8%. Among ages 30-44, Sanders and Biden are nearly even at 23% and 22% respectively. Then Biden takes the lead 26% to 12% among those ages 45-64. Finally, Biden's up 35% to 5% among those ages 65 and older.
In other words, the youngest and oldest parts of the electorate are nearly mirrors of each other. Fortunately for Biden, the oldest blocs make a larger portion of the electorate.
Interestingly, age does not seem to make a big impact on Warren's standing. She's at 20% among those under the age of 30 and a 22% among those age 65 and older.
One could argue that Warren's ability to poll relatively even support among the age spectrum means that she might be able to unite the party in a way neither Biden nor Sanders can.
5:17 p.m. ET, September 11, 2019
Why our poll doesn't get Gabbard closer to debating
When I first laid eyes on our new poll, I saw that Gabbard had 2% support. That means this could have potentially counted as a qualifying poll for her to get into the October debates.
Quickly I realized, however, that Gabbard had also gotten 2% in our previous poll. The debate rules are such that no candidate can use two polls from the same pollster from the same jurisdiction to qualify for a debate. That means Gabbard still needs two qualifying polls to appear on the debate stage in October.
This is the second unlucky break Gabbard got this week. She earned 2% among the voter subsample in an ABC News/Washington Post poll. That poll didn't count as a qualifying poll because she took only 1% with the adult sample, which has the first one listed in the writeup of their polls this cycle.
Unlike the ABC News/Washington Post poll, most other polls, including CNN's, don't even post results for the adult universe.
Had Gabbard gotten 2% among potential Democratic primary voters in almost any other qualifying poll, said poll would have gone toward her being able to appear in the October debate.
4:57 p.m. ET, September 11, 2019
What to make of Sanders' Latino support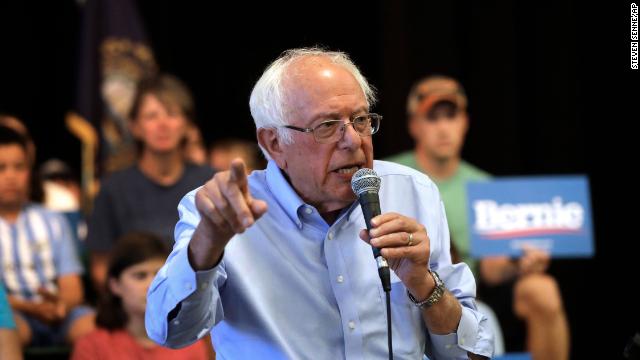 When our poll came in showing Sanders getting his highest polling numbers among Latinos, I wasn't too surprised. It fits with polling out last weekend that had him slightly ahead in Nevada, a heavily Latino state.
The real question is why is Sanders doing better among Latinos than he is among other racial groups. For instance, is it merely because Latinos tend to be younger than other racial groups?
I decided to run a little model that tried to figure out whether being Latino or not correlates highly with supporting Sanders, once we control for age, education and ideology.
It turns out that being a Latino ranks fourth in importance behind all three other variables in explaining whether or not a potential Democratic primary voter supports Sanders.
Now, being Latino still correlates positively with being more inclined to vote for Sanders, but it's far less determinative than being black is when folks are saying they are choosing Biden at this point.
Put another way: It seems to me that Sanders gets higher Latino support more because of the age, education and ideological makeup of the Latino voting bloc than some special connection with them.
4:59 p.m. ET, September 11, 2019
Joe Biden leads with black voters, while Sanders has edge with Latinos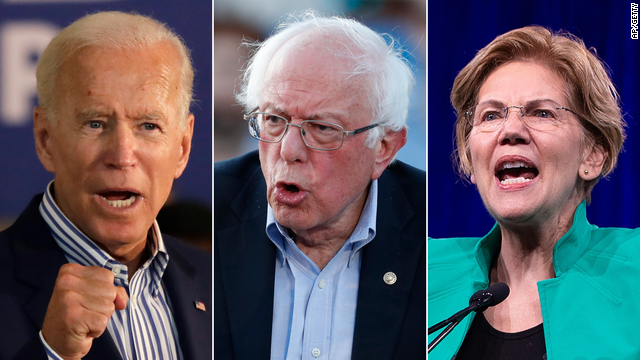 As I noted yesterday, our poll has a large subsample of African Americans and Hispanics. This allows us to pick up on certain breakdowns that we might not otherwise.
Right now, it's clear that blacks, Latinos and whites are viewing this Democratic primary very differently. Three different candidates lead among these three groups.
Black voters continue to be Biden's base. He's up 42% to Sanders' 13% and Warren's 10%. That looks like a lot of other polling we've seen.
Much less spoken about is Latino voters. They make nearly 20% of the potential Democratic primary electorate and are a large chunk of the Nevada caucuses, the third of the early state contests.
Sanders is actually slightly ahead among them with 24% to Biden's 18%. O'Rourke (whose home state of Texas is heavily Hispanic) is the candidate in third place with 14%. Warren's tied for fourth place at just 10%.
White voters, who make up the majority of the Democratic electorate, give Warren a small advantage with 23% to Biden's 21% and Sanders' 15%.
What's clear here is that Biden's advantage among nonwhite voters is a black voter phenomenon. It does not extend to Latino voters. Also, Warren is a candidate of white voters, not minorities.
4:18 p.m. ET, September 11, 2019
The case that Biden is slipping nationally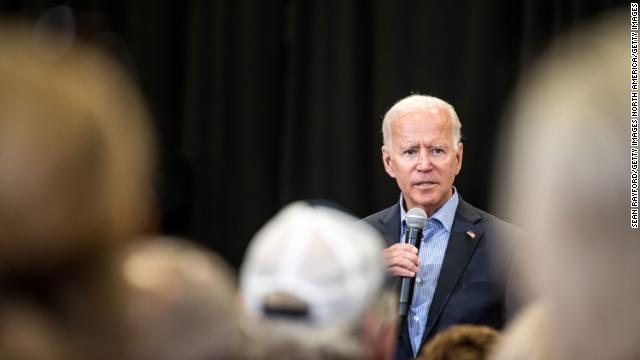 Our new poll has Biden dropping from 29% to 24%. That difference is not statistically significantly different. However, I think you can make the case that Biden's support may be dipping.
When you average the last five debate qualifying national polls, Biden's support stands at 27%.
When you average the previous five qualifying national polls (including CNN's last poll), he was at 32%.
That's a difference of 5 points.
Now, I'm not saying Biden's lost 5 points necessarily; he may have lost only 2 or 3 points. Averages of only five polls are imperfect. Moreover, this average finds our latest CNN poll perhaps pegs his support a little lower than other polls do.
Still, I think you can make a pretty decent case that Biden's support over the last month isn't where it was in the period from mid-July to mid-August, when he stood at 32%.
In these same polls, Warren jumped from 16% to 18%. Sanders is the one who picked up slightly more ground by going from 13% to 17%. Sanders and Warren's support in the average matches what our latest CNN poll showed.