The latest CNN poll on 2020 Democrats
12:50 p.m. ET, April 30, 2019
Tldr: Biden gets a big bounce, but it's early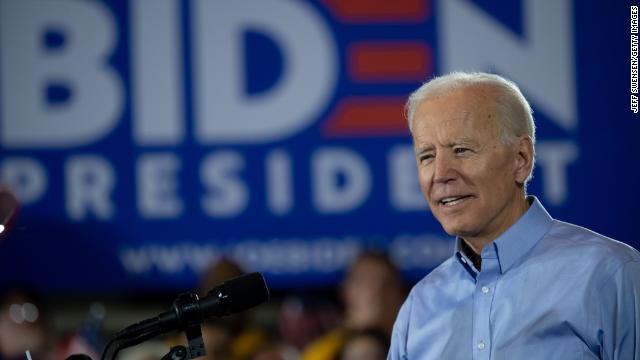 Our first national poll taken after Biden announced his bid has him well ahead of the Democratic field with 39% to his closest rival at 14% for Sanders. This represents a double-digit Biden bounce from our last poll. Other polls also indicate Biden's up since his announcement.
Here are a few other key takeaways from poll:
Biden's advantage is being powered by the base of the Democratic Party (more moderate, non-college educated, nonwhite and older voters)
Buttigieg is up from our last poll to 7%, but hasn't risen compared other more recent polls because he hasn't expanded beyond his wealthier, whiter, more liberal base
Harris and O'Rourke has seen their numbers drop 7 points to the mid-single digits after announcement bumps
Warren continues to stick around with 8% and is now in third place. She may be due for rise as other candidates have their moment and fade.
Finally, turnout is likely going to be huge in 2020. A record percentage of voters say they are enthusiastic about voting in next year's election.
9:49 a.m. ET, April 30, 2019
The hidden Democratic Party is why Biden leads
A few weeks ago I pointed out "the Democratic electorate is older, more moderate and less educated than you think". This article was written in response to what I felt what was a growing belief that Democrats are a bunch of woke millennials snapping fingers at some organic coffee shop.
The idea being that despite what you may have read:
A majority of Democrats are over the age of 50
At least 50% of Democrats call themselves moderate or conservative
A majority lack a college degree
These three demographic and ideological facts are why our poll has Biden so far ahead.
Age: Biden's up 30% to 19% over Sanders among Democrats under the age of 50. Among those age 50 and older, Biden holds an astounding 48% to 11% over Sanders. That is, his lead more than triples among older voters.
Ideology: Biden and Sanders are about even among those who call themselves "very liberal." Biden though gains support as you go from left to right in the party. He holds an over 30 point advantage among moderate and conservative Democrats.
Education: Biden is up just 11 points among Democrats with a college degree. That climbs to 32 points among those without a college degree. (Note too this occurs on a continuous scale. Biden is weakest among postgraduates and strongest among those who never even attending college, let alone graduated from it.)
9:41 a.m. ET, April 30, 2019
Elizabeth Warren is holding her own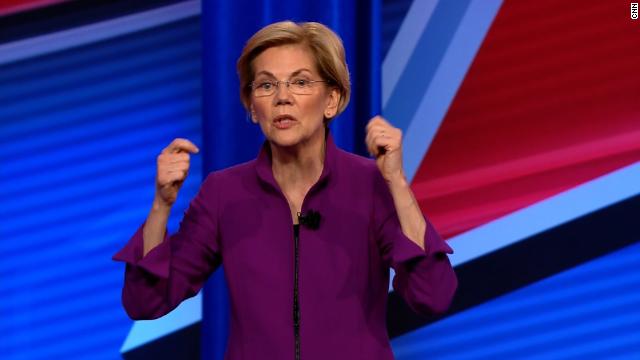 You haven't heard me mention Sen. Elizabeth Warren's name much so far. We have her at 8% in our poll. That's not really different from the 7% we had her at in our poll last month. But there's something to be said about stability in a crowded field.
We've seen other candidates climb only to come back to Earth (see Harris and O'Rourke).
Warren's ability to maintain her poll numbers means among other things that she doesn't seem likely to fall off the map with the electorate. Despite not so great press, she has shown an ability to stay in the top 5.
That may not seem like much but getting listed in the top 5 every time the media reports on a poll can be useful. It tells people that while you're not necessarily top tier your campaign is still alive, and you're a viable option.
Indeed, Warren remains fairly well liked by Democrats. Although our poll didn't test favorable ratings, a Monmouth University poll earlier this month found her net favorability standing at +32 points.
The longer Warren can stick around the better the shot she has of having a breakout moment with the electorate. It may never come, but the electorate is listening.
9:16 a.m. ET, April 30, 2019
Why attacks on Biden's record may fall short
Democratic voters are most familiar with Biden's role as Obama's vice-president. His detractors and opponents are hoping that voters will be less enthusiastic about Biden's bid once they learn about his Senate record (Anita Hill, busing, etc.). They may be right.
I, though, am at least somewhat skeptical that is the pathway to beat Biden. Much of that has to do with the fact that Democrats are more moderate than you might think. Further, voters in general tend to forgive past transgressions if newer information flows against it. (Remember, Trump was a Democrat only about a decade ago.)
Our poll suggests another reason: his backers are actually more likely to say they know about his record than other Democrats. In our poll, 60% of Biden voters know a fair amount or great deal about the positions he took in the Senate. Among those who say they are undecided or voting for another candidate, it's only 43%.
The fact that Biden voters know about his Senate record shouldn't be to surprising. The vast majority of Biden voters are over the age of 50, so they remember his time in the Senate.
One more little nugget: the Biden voters least likely to say they know at least a fair amount his record? Those who call themselves either moderate or conservative. In other words, those who who may not mind it too much that Biden has a moderate record.
9:00 a.m. ET, April 30, 2019
Eric Swalwell qualifies for the Democratic debates
Receiving 1% in three polls pre-approved by the Democratic National Committee is one way a candidate can qualify for the first debates of the Democratic primary season in June.
Rep. Eric Swalwell just hit three with the release of our CNN national poll.
Of note, this poll also marks Rep. Tulsi Gabbard's third pre-approved poll where she got at least 1%. She, though, had already met a threshold for number of donors (65,000 donors, including 200 donors in 20 states) to get into the debates.
Finally, the poll is the start of good news for Marianne Williamson. This was the first pre-approved in which she got 1%. If Williamson gets two more polls to go her way or reaches the fundraising threshold, she is in the debates too.
All told currently 17 Democrats have qualified for the debates in June. Others may qualify too (such as Mayor Wayne Messam, Rep. Seth Moulton or Williamson), which means we're going to have very packed stages.
The June debates will be held on back-to-back nights with random allocation of the different qualified candidates.
8:42 a.m. ET, April 30, 2019
Climate change is a top issue for a change (aka Jay Inslee anyone?)
When Washington Gov. Jay Inslee entered the race two months ago, I was skeptical. The fact that he's at only 1% in our poll doesn't alleviate that skepticism.
Inslee, though, is running a campaign with the main purpose of elevating the importance of manmade climate change as an issue. Right now, Democratic voters seem very open to it.
A near unanimous percentage of Democratic voters (96%) it at least very important a presidential candidate supports "taking aggressive action to slow the effects of climate change". That 96% makes it the most important issue tested in our poll.
Importantly, ours is not the only poll to find that climate change is big on voters' minds. Climate change was ranked as a top issue by the second highest number of Democratic voters in a Monmouth University Iowa poll earlier this month.
This is a big time reversal from what earlier surveys would have suggested. Climate change has generally not been listed as a top issue for all voters and even specifically among Democrats.
The problem for a candidate like Inslee is that Democratic candidates are largely in agreement about the fact that man made climate change is real and dangerous if not addressed.
8:21 a.m. ET, April 30, 2019
Warning signs for Buttigieg in CNN's new poll
I was one of the first to note that Pete Buttigieg was breaking out. Indeed, his 7% in our poll is up from 1% last month.
A few weeks afterward, however, I noted what I thought were warning signs for Buttigieg:
A lack of nonwhite support
A lack of working class support
A lack of support from moderate Democrats
Our new poll doesn't alleviate those concerns.
He continues to poll poorly among nonwhites (3%), those making less than $50,000 a year (3%) and moderates (4%). Each of these are significant blocs within the Democratic Party. Even if Buttigieg is hitting double-digits with white, more fortunate economically and liberal voters, it likely won't be enough if he can't win over support in other parts of the party.
To that point, Buttigieg's momentum seems like it may have stalled a little bit. His 7% in this poll is a point lower than the 8% he hit in Monmouth University poll found two weeks ago.
Now, it's not as if Buttigieg is falling or anything like that. But Buttigieg had generally been gaining from March to April.
The 7% received here is equal to the 7% he has received on average over the last month in national polls.
8:07 a.m. ET, April 30, 2019
Kamala Harris and Beto O'Rourke struggle in CNN's latest poll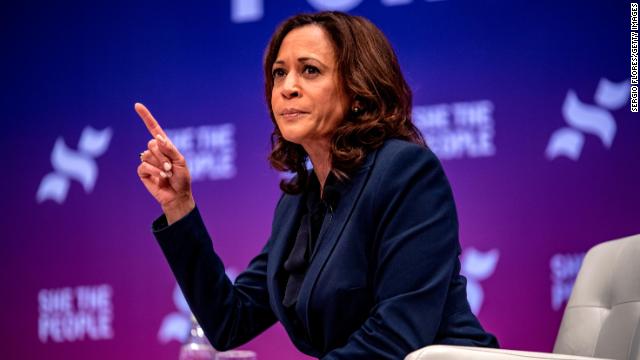 As I noted a few posts ago, Kamala Harris and Beto O'Rourke saw appreciable declines in our new poll:
Harris dropped 7 points from 12% to 5%
O'Rourke fell 7 points from 13% to 6%
In some ways, these declines are not surprising. Both saw bounces from their announcements and have now seen a return to where they were at their lower points in our four polls taken since October. This matches the pattern of Sanders who saw a slight decline.
It also is roughly consistent with what we've seen in other data: Candidates who receive an announcement bounce then see that bounce subside after a few months.
Importantly, of course, this may mean that Biden too will see his numbers return to where they were before.
The results, however, have to be disappointing. Harris, who Chris Cillizza and I have consistently ranked high in our presidential rankings, doesn't seem to have caught on. Even before Biden announced, Harris was running third place in her home state of California.
It's much the same story for O'Rourke. He busted out of the gate with fundraising and decent poll numbers, but he has seen his fundraising slow and his polling fall. Much of his energy seems to have been eclipsed by Pete Buttigieg.
8:07 a.m. ET, April 30, 2019
Biden's supporters are plenty enthusiastic, CNN's new poll shows
If you look on the internet or television, you might think that all the enthusiasm in the Democratic Party is on the left. After all, Democrats have a very progressive field of candidates, and no one can match the small dollar donations of Sanders.
This poll, however, suggests Biden, a comparative moderate, has plenty of enthusiastic backers.
Our poll asked voters how enthusiastic they were for voting in next year's elections.
Biden received 40% among those who said they were at least very enthusiastic. That's basically the same as the 39% he gets among all Democrats.
Biden's numbers are representative of the same trend seen throughout the poll: no candidate seems to have more enthusiastic supporters than others.
That shouldn't be too surprising because most Democrats are very enthusiastic about next year's election. An astounding 78% of those who voters who lean Democratic say that they are very or extremely enthusiastic about voting next year. This includes those on the left as well as the center of the party.