2020 Democratic candidates debate in Atlanta
10:59 p.m. ET, November 20, 2019
Booker takes a jab at Biden's recent remarks on legalizing marijuana
Former Vice President Joe Biden continued to face criticism tonight from his 2020 rivals for his stance on the legalization of marijuana.
New Jersey Sen. Cory Booker went after Biden's recent remarks at a town hall in Las Vegas, where he said he still opposes legalizing marijuana on the federal level and told attendees that he wants to see more study on whether it is a "gateway drug."
"I thought you might have been high when you said that," Booker told Biden.
The remark drew laughter from the audience.
Biden went on to defend his position, saying he thinks marijuana should be decriminalized.
"Anyone who has a record should be let out of jail, their records expunged and be completely zeroed out, but I do think it makes sense based on data that we should study what the long-term effects are for the use of marijuana," he said.
10:54 p.m. ET, November 20, 2019
Biden says the culture of violence against women needs to be addressed by "punching at it"
During a discussion on sexual violence and harassment against women in the US, former Vice President Joe Biden explained that the US needs to change its culture.
"No man has a right to raise a hand to a woman in anger other than in self-defense and that rarely ever occurs. So we have to just change the culture. Period. And we have to keep punching at it and punching at it and punching at it. I really mean it. It's a gigantic issue," Biden said.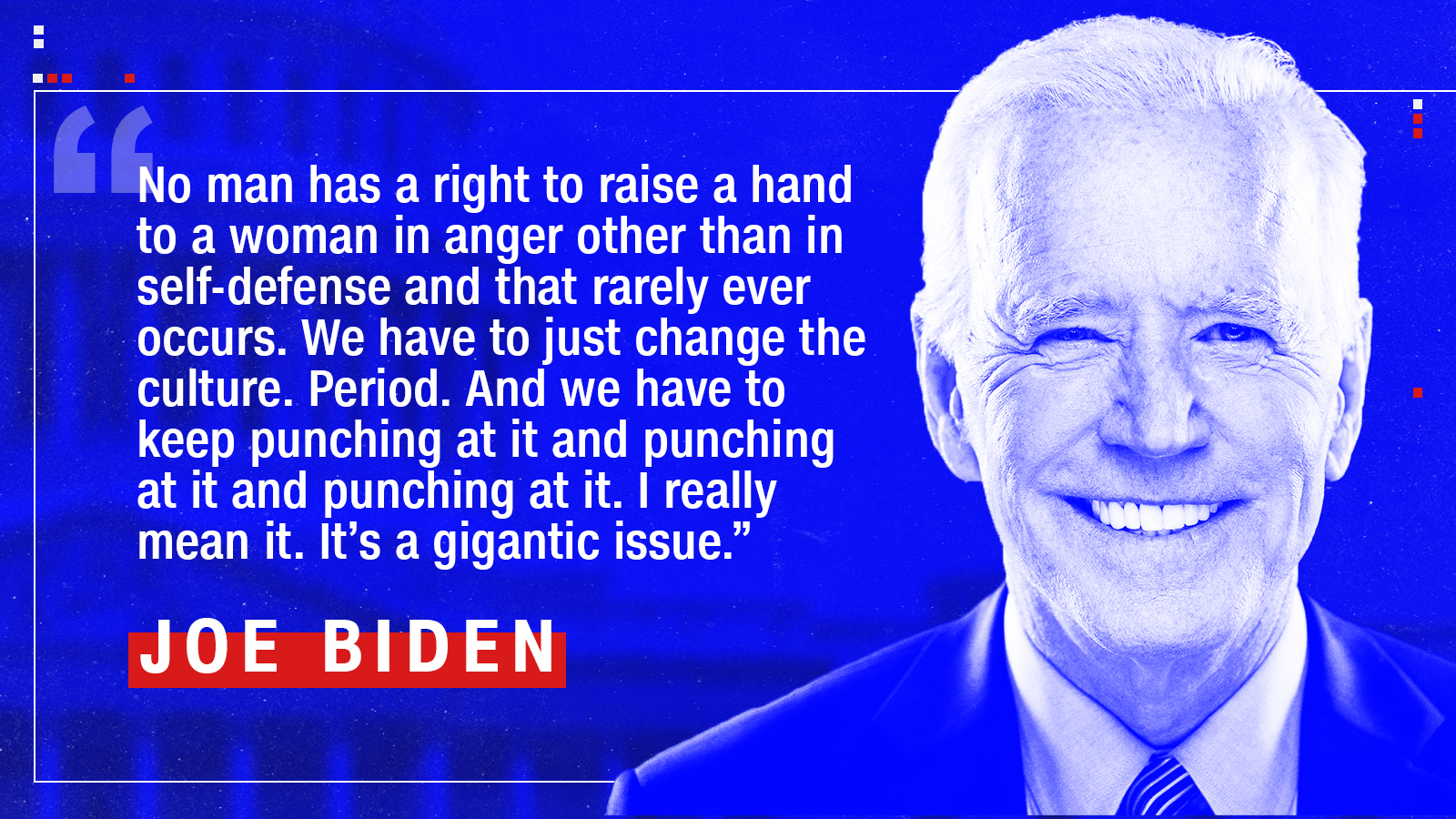 10:42 p.m. ET, November 20, 2019
Sanders calls out Biden over war votes, criticizes Israel's actions in Gaza
Vermont Sen. Bernie Sanders drew a bright line between his and former Vice President Joe Biden's foreign policy views, pointing to his opposition to both of America's wars in Iraq.
"One of the big differences between the Vice President and myself is he supported the terrible war in Iraq and I helped lead the opposition against it," Sanders said. "And not only that, I voted against the very first Gulf War."
Sanders pushed further, saying as he so often does on the trail, that "we need a foreign policy which understands who our enemies are" and "that we don't have to spend more money on the military than the next 10 nations combined."
He responded to the initial question, which asked whether he would negotiate with the Taliban as a means of ending the war in Afghanistan, with a pledge to work with allies to do whatever it takes to stop the conflict.
"I will (end the war there) by working with the international community," Sanders said, "and, if it's necessary to negotiate with the Taliban, then of course we will do that."
But, given the current administration's recent actions to pull troops out of Syria without warning, Sanders also said he would take a different approach to the process.
"Unlike Trump, I will not do it through a tweet at 3 o'clock in the morning," Sanders said. "I will do it working with the international community.
Sanders also took a step away from the party establishment consensus by calling out Israel's treatment of Palestinians in Gaza.
"It is no longer good enough for us simply to be pro-Israel. I am pro-Israel," he said. "But we must treat the Palestinian people as well with the respect and dignity they deserve," to applause from the debate hall.
10:34 p.m. ET, November 20, 2019
Fact check: Sanders claims Americans spend twice as much on health care than other countries. But this is not true.
Sen. Bernie Sanders said the US has a health care system "in which we spend twice as much as do the people of any other country."
Facts First: This is not true. The US spent twice as much per capita on health care last year than the average for Organisation for Economic Co-Operation and Development (OECD) countries, but not twice as much as every single one of the organization's 35 other members.
At $10,586 per capita in 2018, US spending was well over twice the OECD average ($3,992) and well over twice the figures for some other major countries, including Canada ($4,974). But Switzerland ($7,317), Norway ($6,187) and Germany ($5,986) were all substantially above half the US level. Sweden ($5,447), Austria ($5,395) and Denmark ($5,299) were also above half, though more slightly.  
Sanders has been repeating this exaggeration since at least 2009, when fact-checkers at PolitiFact first noted that it wasn't true. CNN fact-checked him during the Democratic debate in September. 
10:41 p.m. ET, November 20, 2019
Here's who's talked the most so far
We are more than an hour into tonight's Democratic debate, and former Vice President Joe Biden is out front with the most speaking time so far.
Here's the full rundown of how much everyone has spoken as of 10:30 p.m. ET:
Follow our live graphic for the latest figures.
10:27 p.m. ET, November 20, 2019
Here's what Yang would tell Putin if elected president
Businessman Andrew Yang didn't pull punches when asked about what he would tell Russian President Vladimir Putin during their first call if elected president.
"First I'd say I'm sorry I beat your guy," Yang said, to laughs and applause. "Or not sorry. And second I would say the days of meddling in American elections are over. And we will take any undermining of our democratic processes as an act of hostility and aggression."
Yang added that the Russia had "made it so that we can't even trust our own democracy."
10:42 p.m. ET, November 20, 2019
Harris: "Donald Trump got punked" on North Korea
California Sen. Kamala Harris went after President Donald Trump on his response to North Korea.
Asked whether she'd make concessions to the North Korean leader to keep talks going, Harris said, "Donald Trump got punked."
She went on to say that Trump has conducted his foreign policy "born on a fragile ego." Harris listed a series of Trump administration policies that she considered failures, including pulling out of the Paris climate agreement.
Harris said Trump is the "greatest threat to the national security of our nation at this moment."
10:22 p.m. ET, November 20, 2019
Buttigieg: "I don't think this President cares one bit about farmers"
South Bend, Indiana, Mayor Pete Buttigieg slammed President Donald Trump for the ongoing trade war impacting farmers across the country, bluntly stating that he doesn't believe "this President cares one bit about farmers."
Buttigieg said he would continue to provide farm subsidies as President, something Trump has done to help farmers deal with the trade war. But he added that he doesn't believe farmers would need them under his leadership "because we are going to fix the trade war."
Buttigieg noted that those payments aren't "even making farmers whole" and specifically called out soybean farmers, who he said are getting "killed" by the tariffs and other factors.
The Trump administration, in response to retaliatory tariffs implemented by China on a host of American agriculture products, has begun a series of direct payments to farmers who are struggling to sell their products.
Farmers have already received $6.8 billion this year from the trade mitigation package, according to the US Department of Agriculture. The first round of payments was made over the summer and was meant to cover 50% of what farmers are due this year.
But Democrats have argued that those payments would not be needed if the President hadn't started the trade war to begin with.
10:16 p.m. ET, November 20, 2019
Steyer calls climate change a top priority and a "state of emergency"
Billionaire businessman Tom Steyer was animated tonight in Atlanta when discussing climate change, a top priority for his presidential campaign and a "state of emergency."
"I'm the only person on this stage who will say that climate is the number one priority for me. It's a state of emergency and I would declare a state of emergency on day one," Steyer said to applause.
What else Steyer has said about climate change: During his town hall on Nov. 10, he also pledged to demand Congress to pass a version of the Green New Deal during his first 100 days in office.
"I've spent over a decade fighting oil companies and beating them at the ballot box. I've led the charge for clean energy across the country at the ballot box," Steyer said. "I've worked to stop pipelines. I've worked to stop fossil fuel plants. We're talking about the future, but you can look at my history and know that this is something that is an absolutely top priority for me."