2020 Democratic candidates debate in Atlanta
12:01 a.m. ET, November 21, 2019
Who won the Atlanta debate?
Ten Democratic presidential candidates took the stage tonight in Atlanta for the fifth debate in the 2020 election.
Here are the winners and losers from tonight's debate:
Winners: Amy Klobuchar, Andrew Yang, Kamala Harris, Pete Buttigieg
Losers: Joe Biden, Tom Steyer
11:57 p.m. ET, November 20, 2019
Here's a minute-by-minute breakdown of who spoke the most during the debate
After more than two hours spent discussing topics like the impeachment inquiry and climate change, Sen. Elizabeth Warren and Mayor Pete Buttigieg spoke the most at tonight's debate.
Watch a minute-by-minute breakdown of where each candidate ranked:
11:42 p.m. ET, November 20, 2019
Fact check: Yang claims only the US and Papua New Guinea don't have paid family leave
In response to a question about child care costs tonight, businessman Andrew Yang said, "There are only two countries in the world that don't have paid family leave for new moms: the United States of America and Papua New Guinea." 
Facts First: It's true that America ranks behind all other major developed nations when it comes to statutory paid family leave. But Yang's claim that only the US and Papua New Guinea offer no paid family leave appears to be based on a report that is more than five years old. 
The United States is the only member of the Organisation for Economic Co-Operation and Development that doesn't offer statutory paid family leave, according to a report from August 2019. 
A May 2014 report by the International Labor Organization showed that out of 185 countries and territories that share information on parental leave, only Papua New Guinea and the United States "have no general legal provision for cash benefits."  
The Yang campaign did not immediately respond to a request for comment on its sources.  
9:50 p.m. ET, December 19, 2019
Fact check: Harris' claim that Gabbard spent 4 years on Fox News criticizing Obama is misleading
In a heated exchange, California Sen. Kamala Harris said Hawaii Rep. Tulsi Gabbard "during the Obama administration spent four years full time on Fox News" criticizing President Barack Obama. 
Facts First: Harris' characterization is misleading. Gabbard did appear on Fox News during the Obama administration, and often criticized the administration's Middle East policy. But she has appeared much more frequently on Fox News since President Trump took office.
Gabbard appeared on Fox News at least 15 times between January 2013, when she first took office, and January 2017 when Obama left office. She often criticized the Obama administration but primarily in the context of Middle East policy.
By comparison, Gabbard has appeared on Fox News far more frequently during the Trump administration, and since she announced her presidential campaign – appearing at least 15 times in 2019 alone.
11:40 p.m. ET, November 20, 2019
Here's what each candidate said in their closing statements
The fifth Democratic presidential debate has just wrapped up with each candidate making their closing case to be the party's nominee.
Here are some of the key lines from their closing statements:
Cory Booker: "We all owe a debt that we cannot repay. We all drink deeply from wells with freedom and liberty that we did not dig. This is the moment in America where we need a leader that can inspire us."
Tom Steyer: "If you want to pass all the progressive policies that everyone on this stage wants, then I am the person who can do it."
Tulsi Gabbard: "Working side by side, let's defeat the divisiveness of Donald Trump, come together and usher in a 21st century of racial harmony, of racial justice, peace, inclusion and true equality."
Andrew Yang: "Our kids are not all right. They're not all right because we're leaving them a future that is far darker than the lives that we have led as their parents. We are going through the greatest economic transformation in our country's history."
Amy Klobuchar: "I want us to remember that this election is, yes, an economic check on this President and I have bold ideas that we can do to move forward as a country to make college more affordable and bring down the cost of healthcare, yes. This is also a patriotism check. A value check. A decency check."
Joe Biden: "I'm so tired of everybody walking around like, woe is me, what are we going to do. Let's remember, this is the United States of America. There has never ever, ever, been a time where we set our mind to do something we've been unable to do it. Never, never, never. Get up, let's take back our country and lead the world again."
Pete Buttigieg: "I'm not only running to defeat Donald Trump. I am running to prepare for the day that begins when Donald Trump has left office. To launch the era that must come after Trump. That era must be characterized not by exclusion, but by belonging."
Kamala Harris: "So we're in a fight. This is a fight for our rule of law, for our democracy and for our system of justice, and it's a fight we need to win. And to fight this fight, I believe we have to have the ability to not only have a nominee who can go toe-to-toe with Donald Trump...I know I have the ability to do that."
Bernie Sanders: "I will lead an administration that will look like America. We'll end the divisiveness by Trump and bring us together."
Elizabeth Warren: "We have to have the courage not to just make individual changes, not to fight for little pieces. We want to make real progress on climate, then we have to start by attacking the corruption that gives the oil industry and other fossil fuel industries a stranglehold over this country."
11:26 p.m. ET, November 20, 2019
Who spoke the most during tonight's debate
The final count is in, and Sen. Elizabeth Warren led the group with more than 13 minutes in speaking time. Mayor Pete Buttigieg, who had more than 12 minutes, came in second.
See the full breakdown: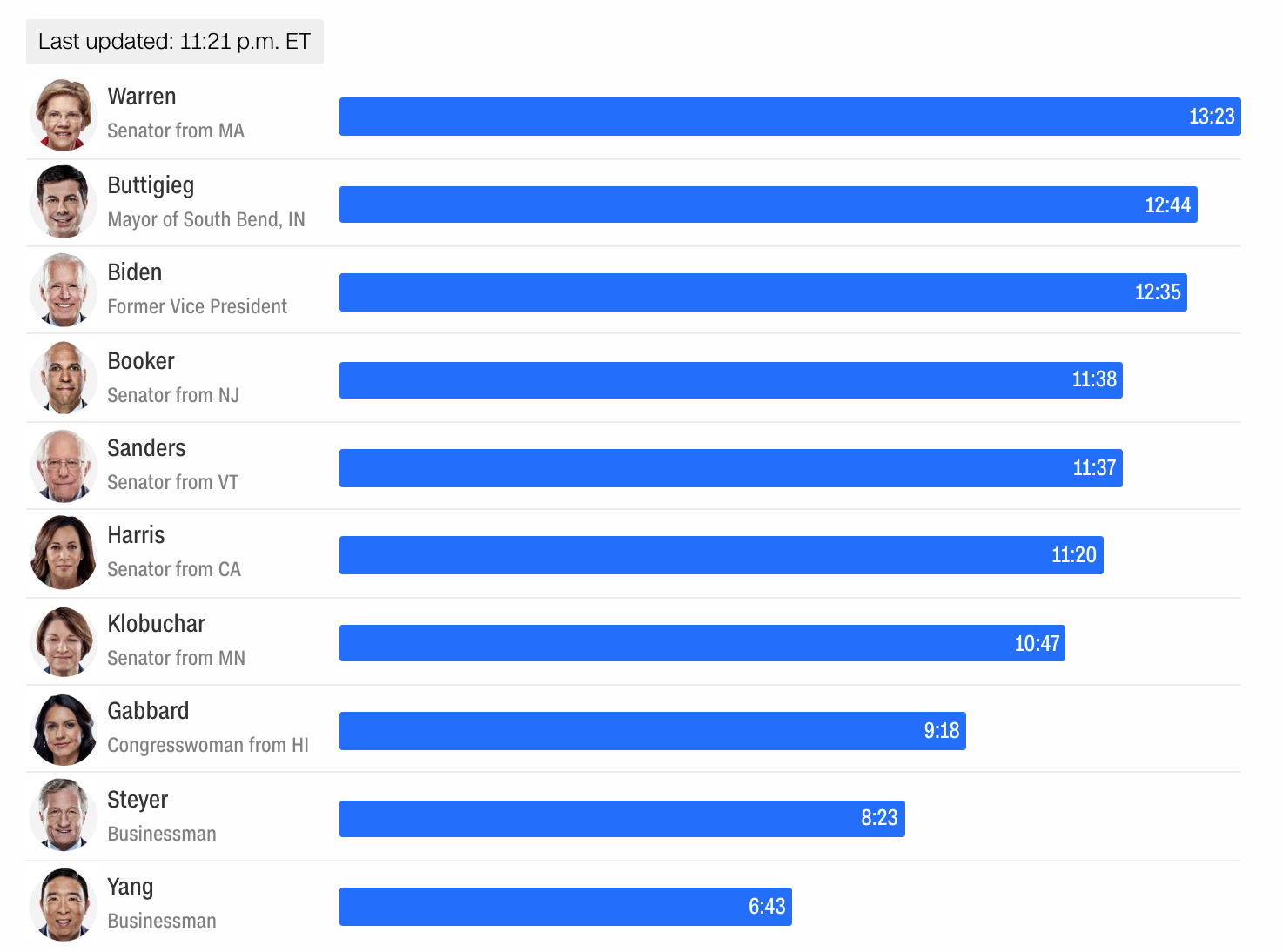 11:23 p.m. ET, November 20, 2019
Buttigieg: "Washington experience is not the only experience that matters"
Pete Buttigieg defend his level of experience on Wednesday in contentious exchanges with Minnesota Sen. Amy Klobuchar and Hawaii Rep. Tulsi Gabbard, using the debate to argue "Washington experience is not the only experience that matters."
The most contentious point of Buttigieg's defense came when the mayor said, "There's more than 100 years of Washington experience on this stage, and where are we right now as a country."
Buttigieg's experience – he leads a city of just over 100,000 people, has only ever been elected by a few voters thousand and lost his only statewide election – has been a central question about his candidacy. And it was clear on Wednesday that his competitors came into the debate looking to questions his qualifications.
When Buttigieg mentioned voting rights, Klobuchar jumped in and said the issue is a "good example of where (Buttigieg) has said the right words" but not followed it up with action and called the mayor a "local official."
"I have actually done this work," Klobuchar said.
Buttigieg fired back.
"Washington experience is not the only experience that matters," he said, nodding not only his time as mayor, but his experience as a war veteran.
"I would submit that this is the kind of experience we need, not just to go to Washington, but to change it before it is too late," Buttigieg said.
Then Gabbard jumped and said Buttigieg showed a lack of judgment when he suggested using the U.S. military to help combat cartel violence along the border for security cooperation.
"That is outlandish, even by the standards of today's politics, Buttigieg responded. "Do you seriously think anybody on this stage is proposing invading Mexico? … I'm talking about building alliances."
The mayor then hit Gabbard for meeting with Syrian President Bashar al-Assad.
"Let's also talk about judgment. One of the foreign leaders you mentioned meeting was Bashar al-Assad," Buttigieg said.
Gabbard responded by noting how past leaders met with opposing leaders, citing when President John F. Kennedy met with Soviet Union Premier Nikita Khrushchev and former President Franklin Roosevelt met with Russian leader Joseph Stalin.
Buttigieg interrupted, "Like Donald Trump who met with Kim," a nod to North Korean Leader Kim Jong Un.
11:10 p.m. ET, November 20, 2019
Biden says he was endorsed by the only black woman elected to the Senate (then corrects himself)
Former Vice President Joe Biden said Wednesday that he was endorsed by the only African American woman ever elected to the Senate, leading California Sen. Kamala Harris, his 2020 rival and the second black woman elected to the Senate, to laugh and point out that Biden was wrong.
Biden appeared to be referring to former Illinois Sen. Carol Moseley Braun, the first black woman elected to the Senate -- though not the only one. Moseley Braun is a strong Biden supporter.
"I said the first," Biden said as Harris reacted.
11:12 p.m. ET, November 20, 2019
Pete Buttigieg acknowledges the challenge he faces with winning over black voters
South Bend, Indiana, Mayor Pete Buttigieg acknowledged the most existential threat to his candidacy at Wednesday's debate – his lack of African American support – and accepted implicit criticism by California Sen. Kamala Harris by saying he agrees with her views on the importance of black voters.
Buttigieg's lack of black support, especially in South Carolina, has been a critical issue for the mayor of South Bend and something he has been trying to address for months. But his work has done little and a recent poll in the southern state – where the Democratic primary electorate is expected to be heavily African American – found he has 0% support.
Harris, in response to question about past comments she made about Buttigieg's support, said that her answer came in response to the Buttigieg campaign using a stock photo that was taken in Kenya as an image related to his plan aimed at racial equality on a host of issues. The Buttigieg campaign apologized for using the photo, but said they were not aware the photo was taken in Kenya when it was used.
Harris didn't focus on the photo issue very long – "I believe the mayor has made apologies for that," she said – and instead turned to the importance of black voters in an implicit criticism of the mayor.
"The larger issue is that for too long candidates have taken for granted constituencies that have been the backbone of the Democratic Party and has overlooked those constituencies," she said.
When the conversation turned to Buttigieg, the mayor said, "I completely agree."
"And I welcome the challenge of connecting with black voters in America who don't yet know me," Buttigieg said. "And before I share what's in my plans, let me talk about what's in my heart and why this is so important."
Buttigieg went on to talk about his time as mayor of South Bend, a city that is over a quarter black, and his faith.
"I care about this because my faith teaches me that salvation has to do with how I make myself useful to those who have been excluded, marginalized, and cast aside and oppressed in society," he said.
But he closed out the answer by talking about his sexuality:
"While I do not have the experience of ever having been discriminated against because of the color of my skin, I do have the experience of sometimes feeling like a stranger in my own country, turning on the news and seeing my own rights come up for debate, and seeing my rights expanded by a coalition of people like me and people not at all like me," he said. "Making it possible for me to be standing here, wearing this wedding ring in a way that couldn't have happened two elections ago, lets me know just how deep my obligation is to help those whose rights are on the line every day, even if they are nothing like me in their experience."