CNN Democratic debate night 1
9:41 p.m. ET, July 31, 2019
How to watch night two of the Democratic presidential debate on CNN
12:48 a.m. ET, July 31, 2019
Who won — and lost — tonight's debate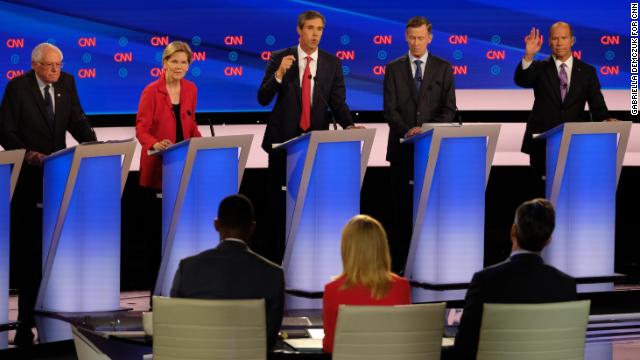 Ten Democrats took the stage tonight in Detroit for the first night of CNN's debate.
Here's a look at some of the candidates who performed the best:
Bernie Sanders: The Vermont senator clearly got the message that he wasn't lively or active enough in the first debate of the cycle. He came out feisty — and stayed that way.
Steve Bullock: The Montana governor, to his immense credit, understood that this debate was his one big chance to make an impression with voters. Bullock went for it — from his opening statement on.
Pete Buttigieg: As in the first debate, the South Bend, Indiana mayor played it (relatively) safe. But unlike the first debate, there was a clear message: I am young, yes, but the older people on stage with me haven't fixed any of these problems, so it's time for something different.
John Delaney: Before this debate, no one knew who Delaney was or what he believed. If you watched this debate, both of those questions were answered. 
Elizabeth Warren: Her retort to Delaney was the line of the night — and encapsulates for a lot of Democrats why it's so important to nominate someone who is willing to take on big fights, unapologetically. 
And here are a few of the Democrats who didn't fare as well:
Beto O'Rourke: While he was mildly more energetic than in the first debate, there were large swaths of the debate where he simply disappeared from the conversation.
Amy Klobuchar: She seems to be treading water in search of a moment or a surge. She didn't get one tonight. And candidly, she didn't really come close.
12:48 a.m. ET, July 31, 2019
Tim Ryan did a lot of breathing before tonight's debate
Ohio Rep. Tim Ryan, a self-proclaimed yogi, said he did "a lot of breathing today" before the debate.
The congressman needed it tonight for the more than two-hour debate.
The Democratic presidential candidate, speaking from the spin room in Detroit, said he wished he had talked more about K-12 education.
"This is the second debate ... and we have not talked about K-12 education when we have a crisis going on with our kids," he said.
Ryan said he tried to touch on the issue in his closing remarks but "we gotta be talking about K-12."
12:35 a.m. ET, July 31, 2019
Marianne Williamson on her performance: "I don't know. I am inside my head."
Spiritual author Marianne Williamson said she doesn't really have a feeling about her performance this time around.
Asked how she thought she performed tonight, the presidential hopeful said, "I don't know. I am inside my head. I haven't watched the tape."
Williamson said she plans on watching her performance tomorrow.
12:40 a.m. ET, July 31, 2019
Beto O'Rourke says Flint will make a comeback if we "invest in them"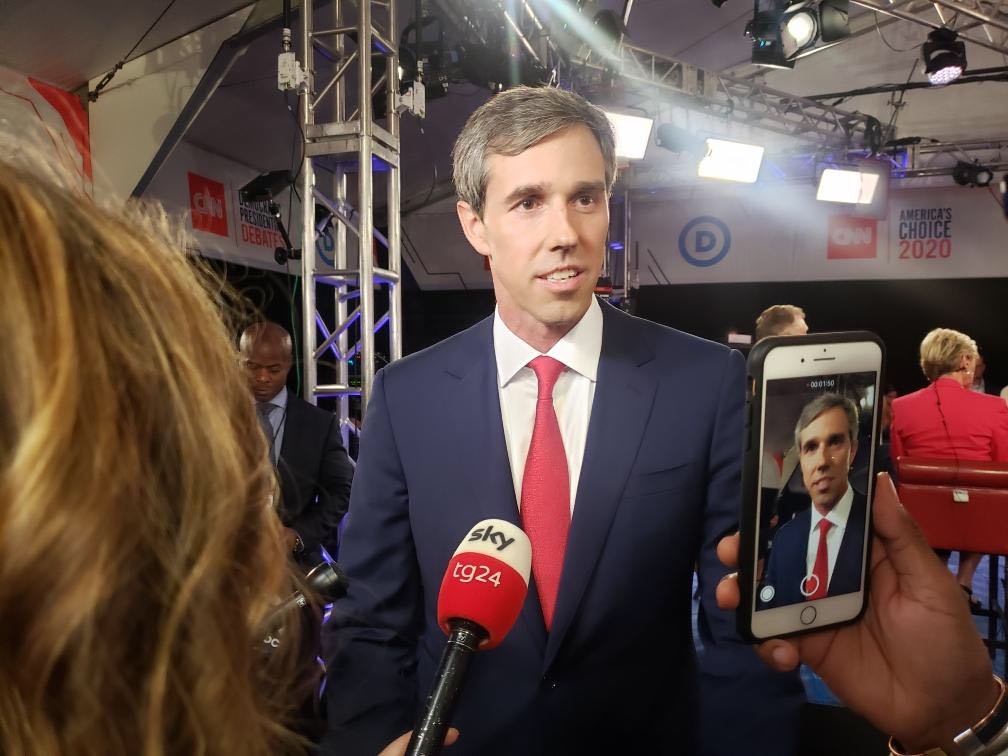 Beto O'Rourke, speaking to reporters after the debate, said the state's city of Flint will one day be the center of "innovation and enguiniety" again.
Flint's economy has been suffering for decades. The city's problems were put on the map with Michael Moore's 1989 documentary "Roger & Me." The Flint water crisis began in 2014 — and trash bags still cover the water fountains in parts of the city.
"I see a lot of pride in Flint, a lot of entrepreneurs who want to make Flint the center of manufacturing and innovation and enguiniety again," O'Rourke said. "And they will — but we've gotta invest in them."
He continued: "We gotta invest in their ability to have a world-class public school, their ability to attend higher education, and their ability to have access to capital for those entrepreneurs to come up with the next great ideas, especially in communities of color."
11:56 p.m. ET, July 30, 2019
Marianne Williamson's most quotable lines from tonight
She only spoke for a little under nine minutes tonight, but Marianne Williamson was at her most quotable.
Here are a few of her lines:
On stimulating the economy:
"I wonder why you're Democrats. You think there's something wrong about using the instruments of government to help people. That is what government should do."
On crafting a message:
"If you think any of this wonkiness is going to deal with this dark psychic force of the collectivized hatred that this president is bringing up in this country, then I'm afraid that the Democrats are going to see some very dark days."
On reparations:
"We need to recognize when it comes to the economic gap between black and whites in America, it does come from a great injustice that has never been dealt with."
On inequality:
"We need to say it like it is, it's bigger than Flint. It's all over this country. It's particularly people ... who do not have the money to fight back, and if the Democrats don't start saying it, why would those people feel they're there for us, and if those people don't feel it, they won't vote for us and Donald Trump will win."
On why you should vote for her:
"You can't fight dog whistles. You have to override them. With new voices. Voices of energy that only come from the fact that America has been willing to live up to our own mistakes. Atone for our mistakes. Make amends. Love each other. Love our democracy and future generations."
Watch more:
11:14 p.m. ET, July 30, 2019
This is where the candidates go after the debate stage
It's called the "spin room," and it's set up in a tent near the Fox Theater here in Detroit tonight.
The candidates file into this area, walk down a red carpet and speak with reporters about their debate performance.
Here's what it looks like to be there right now: