Democratic candidates debate in Houston
9:32 p.m. ET, September 12, 2019
Castro correctly says Biden's health care plan leaves 10 million uncovered
Former Secy. Julián Castro attacked former Vice President Joe Biden's health care plan, saying "the problem with your plan is that it leaves 10 million uncovered."  
Facts first: Castro is right.  
It's not the first time a Democratic contender has criticized Biden's plan. Sen. Kamala Harris made an issue of it on the debate stage in Detroit. https://www.cnn.com/politics/live-news/democratic-debate-july-31-2019/h_15d6c3c87a7150d7d7e2c9db01f64e83 
Biden's proposal -- which builds on the Affordable Care Act by creating a government-backed health insurance option and increasing Obamacare's federal subsidies – would insure more than an estimated 97% of Americans, according to his plan. https://joebiden.com/healthcare/  
That means out of the population of 327 million in the country, roughly 10 million would be left without any health insurance.  
However, it's unclear exactly who would be uninsured. But under Biden's plan, families buying coverage on the Obamacare exchanges would spend no more than 8.5% of their income on health insurance – a sum that might be too pricey for some Americans. 
9:27 p.m. ET, September 12, 2019
Beto O'Rourke receives praise from other candidates over El Paso response
Other Democratic candidates praised former Texas Rep. Beto O'Rourke, an El Paso native, for his response to the mass shooting that left 22 dead in his hometown in early August.
"The way he handled what happened in his hometown -- to look in the eyes," former Vice President Joe Biden said.
Fellow Texan Julián Castro praised O'Rourke for "how well he has spoken to the passion and the frustration and the sadness" after the El Paso shooting.
"And Beto, God love you for standing in the middle of that tragedy," California Sen. Kamala Harris said.
"I so appreciate what the congressman's been doing," Minnesota Sen. Amy Klobuchar said.
The praise teed O'Rourke up to make his case for a mandatory buyback of assault-style firearms.
"Hell yes, we're going to take your AR-15, your AK-47," he said. "We're not going to allow it to be used against our fellow Americans any more."
New Jersey Sen. Cory Booker needled O'Rourke later, saying he was sorry it took the El Paso shooting for O'Rourke to embrace the position Booker already held, backing a mandatory buyback and national gun registration.
9:21 p.m. ET, September 12, 2019
Biden says you can't ban weapons with an executive order. Harris responds: "Let's say, 'Yes we can.'"
Sen. Kamala Harris has said she would take executive action on guns in the first 100 days of her presidency.
Meanwhile, former Vice President Joe Biden has stressed there's "no constitutional authority" to issue executive orders that would eliminate assault weapons.
Harris was just asked if Biden has a point. The former vice president jumped in before Harris could answer. "Some things you can, many things you can't," he said.
Here's how Harris responded:
"I would just say, 'Hey Joe, instead of saying, 'No we can't' let's say, 'Yes we can,'"
What is an assault weapon anyway? The assault weapons ban enacted in 1994 named 19 semi-automatic firearms, as well as semi-automatic rifles, pistols, and shotguns with specific features.
"In general, assault weapons are semi-automatic firearms with a large magazine of ammunition that were designed and configured for rapid fire and combat use," the Justice Department said at the time.
That law expired in 2004, and has never been renewed.
9:08 p.m. ET, September 12, 2019
Castro takes a jab at Biden: "I am fulfilling the legacy of Barack Obama, and you are not"
Julián Castro and Joe Biden, who both worked for former President Barack Obama, got into a heated debate over his legacy on health care.
Castro, Obama's former housing and urban development secretary, challenged the former vice president's health care plan.
"Barack Obama's vision was not to leave 10 million people uncovered. He wanted every single person in this country covered. My plan would do that, your plan would not," Castro said.
Biden defended his plan, saying people "don't not have to buy" into his plan. But Castro challenged him, responding, "You just said that two minutes ago."
During the exchange, Castro went further, saying to Biden, "Are you forgetting what you said just two minutes ago."
They went back and forth on their plans.
Castro then took a jab at Biden, saying, "I am fulfilling the legacy of Barack Obama and you are not."
Biden didn't hold back and told Castro, "That would be a surprise to him."
Here's what Biden said just a few minutes before Castro spoke: "I know a lot about cancer. Let me tell you something. It's personal to me. Let me tell you something, every single person who's diagnosed with cancer or any other disease, can automatically become part of this plan. They will not go bankrupt because of that. They will not go bankrupt because of that. They can join immediately and we're talking four, six, eight, 10 years, depending on how long you (sic) talk about before you get to Medicare for All."
9:04 p.m. ET, September 12, 2019
We're 1 hour into the debate. Here's who's talked the most
Former Vice President Joe Biden has had the most talk time so far, with more than 8 minutes. Here's where the rest of the candidates stand: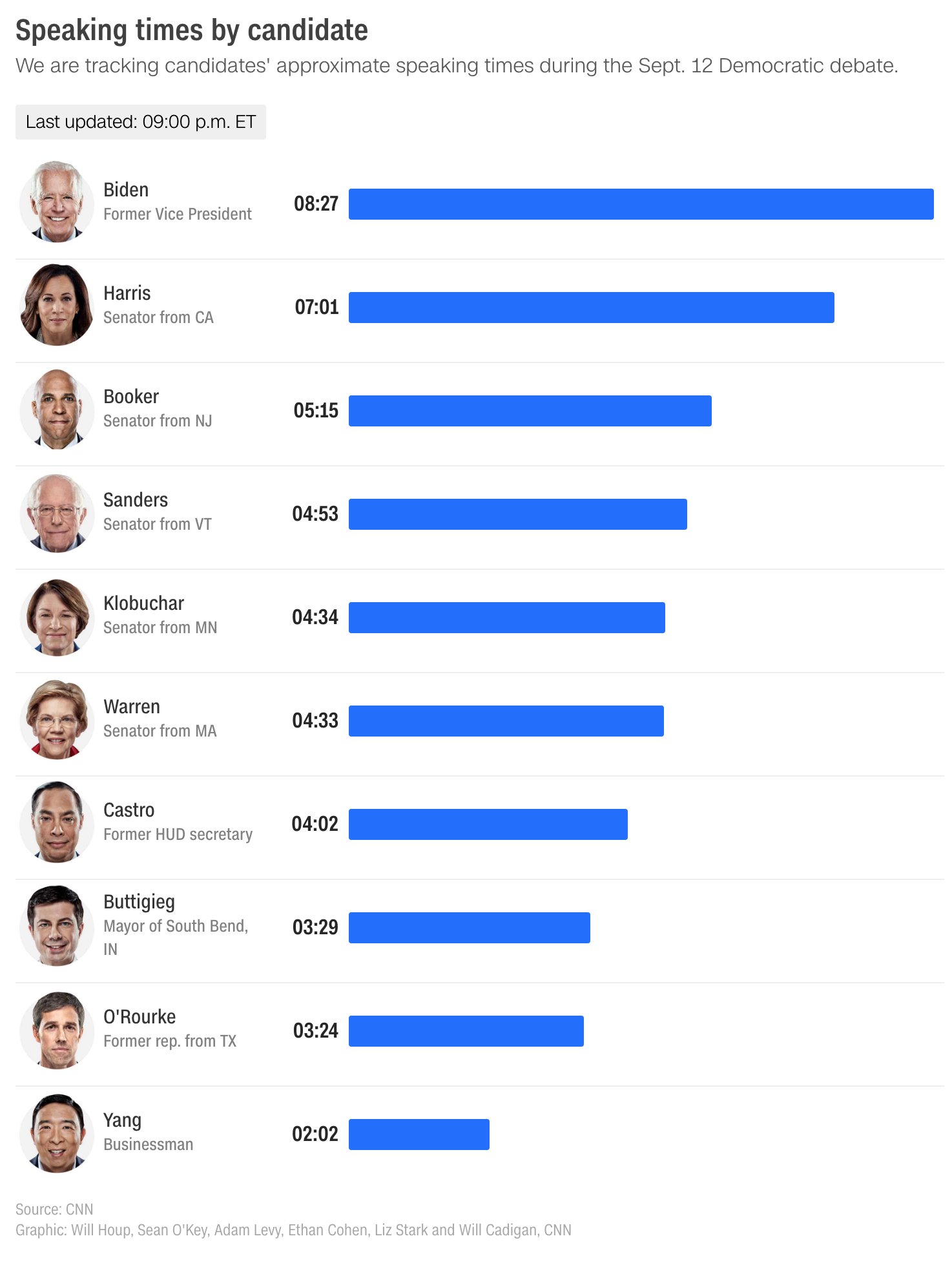 9:05 p.m. ET, September 12, 2019
Castro says El Paso gunman targeted "people who look like me"
Former Housing and Urban Development Secretary Julián Castro personalized the early August mass shooting in El Paso, pointing out that the gunman, who police have described as a white supremacist, targeted Latinos.
"A few weeks ago a shooter drove ten hours to kill people who look like me, people who look like my family," said Castro, a Texan who was also the mayor of San Antonio.
"White supremacy is a growing threat to this country, and we have to root it out," he said.
9:10 p.m. ET, September 12, 2019
The original Warren and Biden policy beef was about credit
Policy disagreements between Elizabeth Warren and Joe Biden stretch back more than a decade, to when she was a consumer advocate and Harvard Law School professor and he was the long-time senator representing Delaware. 
Warren, back in 2005, was an academic who studied the ability of people to repay loans in times of medical hardship and unexpected job loss. Biden represented Delaware, home to many credit card companies.
A clip from C-Span of Biden (as a senator) squaring off against Warren (as a consumer advocate) shows how much they differed on the issue.
"You're very good, professor," he said at one point, after challenging her about whether credit card companies should be forced to lower rates.
The law, which Biden had come to support after he said it was made more friendly to consumers than previous versions, made it much more difficult for people to declare bankruptcy, according to CNN's reporting at the time. It took away the leeway of bankruptcy judges to sidestep income to debt ratios in deciding repayment plans.
How much more difficult did it become to declare bankruptcy?
In the year after the law was passed, there were more than 2 million individual bankruptcy filings. In the first year the law was in effect, there were less than 600,000, according to historical data maintained by the American Bankruptcy Institute. Filings shot up again to more than a million from 2008 to 2013 during and after the Great Recession. But they've fallen again in recent years; 773,375 people declared bankruptcy in 2018, according to an annual report from Chief Justice John Roberts. 
Warren actually cites her research on bankruptcies and the passage of this bill as the issue that turned her from conservative to liberal. It set her on the path to leaving academia and entering politics. This year, Warren is again talking about bankruptcies. She wants to cut down on private equity loading companies up with debt and then using bankruptcy as way to cut it loose. It's part of a larger plan she has to rein in Wall Street.
But this issue also shows how the party has changed even over the past ten years. More difficult to imagine a Democrat voting for such a bill today and it's that kind of party change that Biden continues to reckon with.
It's also a good reminder that Warren came to politics relatively recently and had a singular issue on which she lobbied for years.
8:59 p.m. ET, September 12, 2019
Yang jokes about being Asian and knowing doctors
Presidential candidate Andrew Yang joked about being Asian at Thursday's debate during an exchange about "Medicare for All."
"Now, I am Asian, so I know a lot of doctors," Yang said. He noted, as president, he would try to control soaring costs that doctors warn him against.
It was not the first time Yang has joked about being Asian. He often tells audience that the biggest change from Donald Trump would be an "Asian guy who likes math."
The comments, while usually winning laughs, were not universally celebrated on Twitter.
Jonathan Yuan, a student at the Harvard Kennedy School tweeted, Yang "please stop it with the lame Asian jokes. Not helping any of our causes. It's in fact, an embarrassment."
8:49 p.m. ET, September 12, 2019
Buttigieg calls debate fighting "unwatchable." Castro calls it "an election"
Pete Buttigieg and Julián Castro just got into a spat ... about on-stage spats.
After Castro and Joe Biden argued about former President Barack Obama's legacy, Buttigieg jumped in to bemoan the in-party fighting.
"This is why presidential debates are becoming unwatchable," Buttigieg said. "This reminds everybody of what they can not stand about Washington — scoring points against each other, poking at each other and telling each other that you're, my plan..."
That's when Castro interrupted him.
"That's called the Democratic primary election," Castor said. "That's called an election."
Amy Klobuchar then seemed to get the last word: "But a house divided can not stand," she said.