6:14 p.m. ET, November 6, 2018
Exit polls: Most voters feel good or great about the economy
President Trump has repeatedly highlighted how good the economy is doing under his watch.
Many voters agreed: More than two-thirds said the economy is excellent or good, though Republicans were much more likely to feel that way, according to preliminary results from CNN's national exit poll.
Just under a third of voters said the economy is not good or poor, and about 85% of them were Democrats.
The economy, however, was not the key issue for many voters this midterm election. It ranked third, behind health care and immigration but well ahead of gun policy. The economy mattered more to Republicans than Democrats.
Nearly half of voters felt their financial situation is the same as it was two years ago. Just over a third said it was better, while a little less than 15% said it was worse.
Republicans were initially running on the tax cut package they passed at the end of 2017, though that fervor faded as the midterms approached. Voters were more muted about the tax cuts' effect on their lives. Nearly half said it had no impact, while just under a quarter said it hurt them. Just over a quarter said they were helped by the tax cuts.
6:17 p.m. ET, November 6, 2018
Meghan McCain remembers her dad on Election Day
Meghan McCain, the daughter of late Sen. John McCain, tweeted a photo of her father on Tuesday afternoon.
In the photo, Sen. McCain cradled Meghan, then 15 days old, while at the polls.
"My first Election Day of my life without you - miss you so much today Dad. Thank you for always involving me in our amazing American political process and bringing me everywhere you went," McCain wrote.
Here's the tweet:
Watch below: Why John McCain was a politician unlike any other
6:06 p.m. ET, November 6, 2018
Voters decided a long time ago, exit poll shows
A big majority of voters, about two-thirds, made their 2018 election decision before the last month, according to preliminary exit poll results.
Only one-in-five said they decided in the last month and even fewer said they made up their minds in the last few days or last week.
About four-in-five have voted in a midterm election before, but about 15% said that this is the first time they've voted in a midterm. About 10% said they were first-time voters in the 2016 election.
6:44 p.m. ET, November 6, 2018
He was told he couldn't vote in his Trump shirt, so he voted without it
A man was asked to remove his Trump shirt before voting at the Murrells Inlet-Garden City Fire Department in South Carolina, according to Todd Price, who was in line to vote.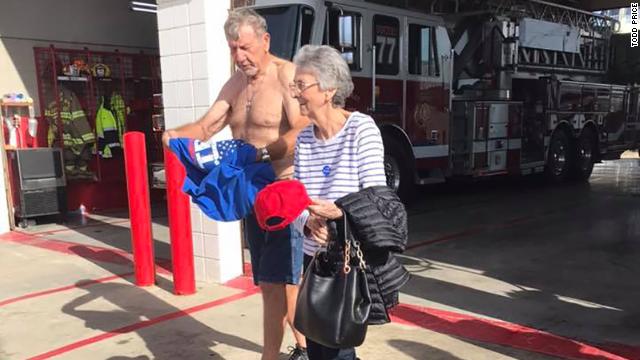 "When this gentleman got up to the poll worker, they told him he couldn't come in with his shirt on, so he just took it off, tossed it down on the ground there and voted shirtless and then came out and put it back on," Price told CNN.
But here's the thing: South Carolina Election Commission spokesman Chris Whitmire told CNN the man's shirt did not violate the rules about campaign materials because the T-shirt advertised Donald Trump, who is not on the Midterm election ballot.
"The shirt in question didn't relate to a candidate in this election," Whitmire told CNN. "It's an understandable mistake. Poll managers are volunteers that are working hard out there, trying to do the right thing. If you closely read the handbook on campaign material, that didn't violate the definition of material."
6:03 p.m. ET, November 6, 2018
JUST IN: Polls are closed in most of Indiana and Kentucky
Polls have closed in most of Indiana and Kentucky. Parts of both states are in the Central time zone, so it'll take time to see whether Indiana Democratic Sen. Joe Donnelly survives a challenge from Republican businessman Mike Braun.
The one we'll all be talking about first: Kentucky's 6th District. Amy McGrath, a former combat pilot, is challenging Republican Rep. Andy Barr.
It might not be a great national bellwether. In an unusual twist -- in part due to the brutal ads Barr has aired -- the race has largely become about McGrath and whether she is too progressive for the district, rather than a referendum on Trump or the incumbent congressman. But it will be an early indicator of the environment, and a Barr loss would give Republicans reason to panic.
Expect to see McGrath up early as the city of Lexington's results come in first -- but the margin is likely to tighten up quickly.
6:37 p.m. ET, November 6, 2018
Parents whose son was killed in Florida school shooting vote for the first time
Manuel and Patricia Oliver, whose son Joaquin Oliver was killed in the massacre at Marjory Stoneman Douglas High School, voted for the first time today in Parkland, Florida. 
They are immigrants from Venezuela, and this is their first opportunity to vote as US citizens.
They became citizens 24 days before their son was killed.
The Olivers started a nonprofit organization called "Change the Ref" in their sons honor. The Olivers have crisscrossed the country with powerful art installations and messages to stop violence. They said they cast their vote for their son and the others who were killed in Feb. 14 shooting. 
Here's why they are voting today: "We are leading a fight in my son's honor," Manuel Oliver said. "I am sad but needed to make my voice active (and) make these politicians accountable." 
He believes in democracy and wants other Latinos to get out and vote. 
"You are not criminals and you can make a change. We have the opportunity to do that by voting," Manuel Oliver said.
"I am mad because my son would've been 18 and voted today for the first time too," he added.
Manuel Oliver said they will not stop their fight.
5:47 p.m. ET, November 6, 2018
Beyoncé is for Beto
With four hours before polls will close in Texas, Beyoncé came out in support of Beto O'Rourke in a series of Instagram posts wearing a "Beto For Senate" hat.
"I'm feeling grateful for everyone before me who fought so hard to give us all the right to have a voice," she wrote in the caption. "We can't voice our frustrations and complain about what's wrong without voting and exercising our power to make it right. We need you."
A Texas native, Beyoncé has backed politicians before, including Hillary Clinton and Barack Obama's presidential campaigns, but she's remained mum on her home state's Senate race until Election Day.
On Monday night, she sent a call to vote with a link to vote.org to her email list.
O'Rourke is running against Republican Sen. Ted Cruz in one of the nation's most anticipated and closely-watched races.
Watch below: Chris Cillizza explains why Texas Senate race is a big deal
5:38 p.m. ET, November 6, 2018
Voters visit Susan B. Anthony's grave, leave "I voted" stickers
On November 5, 1872, Susan B. Anthony voted in a presidential election. At the time, it was an illegal act, and two weeks later she was charged with and fined for illegal voting.
It took nearly 50 years for the efforts of the women's suffrage movement to finally come to fruition with the passing of the 19th Amendment, which enshrined women's right to vote.
On Tuesday, 146 years later, women are visiting her final resting place in Rochester, New York, to place their "I voted" stickers on her grave.
Susan B. Anthony's gravesite has long been a hot destination during election season, and was particularly popular during the 2016 presidential election, when hundreds made the pilgrimage and left flowers and tributes.
Watch below: Voters pay tribute to suffragist
5:30 p.m. ET, November 6, 2018
Exit poll: More voted opposing Trump than supporting him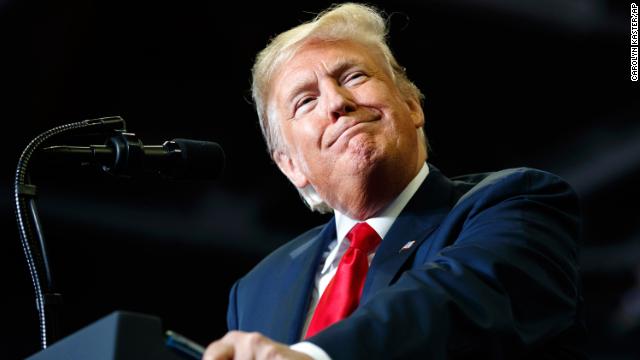 More than 40% of voters in the 2018 election approve of the job Trump is doing as President, according to the preliminary results from CNN's national exit poll. About three-in-10 said they strongly approve of Trump while almost half said they strongly disapprove of him.
Almost two-thirds said that Trump was a factor in their vote for the House today. About a quarter said their vote was in support of the President — and almost 40% said that their vote was in opposition to him.
A majority, a little more than half, said things in the country are on the wrong track. About 40% say they're going in the right direction.