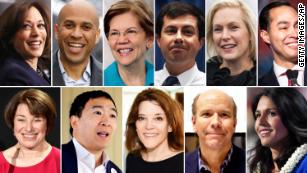 Presidential candidates hit the campaign trail
8:56 p.m. ET, February 16, 2019
Our live coverage has ended. Scroll through the posts below to recap the weekend or follow CNN Politics.
5:51 p.m. ET, February 16, 2019
Kamala Harris meets with female business owners in South Carolina 
By Liz Turrell and Kate Sullivan, CNN
Presidential hopeful Sen. Kamala Harris made a few stops along Lady Street in Columbia, South Carolina, to meet with female business owners on Saturday. 
Harris visited a second-hand clothing store "Styled By Naida," run by Naida Rutherford, who told Harris that her upbringing in the foster care system had inspired her to open the store. Rutherford told Harris that her mantra is "you don't have to look like what you've been through."
Harris also met with two young children who came over to chat with the senator about a group they belong to that promotes kindness in the community, "With Everyone for Everyone." Harris said she wanted to join and took the "WEFE Warrior pledge." Afterward, she told the kids that "every member of Congress should have to take that pledge," and added that "you don't have to be an adult to be a leader."
Harris also paid a visit to the Lavish Salon and Extension Bar, where she chatted with the owner about the challenges of taxes on her business. Harris ended her visit at the clothing store DMR Fashion.
CNN's Alberto Moya contributed to this report.
5:33 p.m. ET, February 16, 2019
Harris' answer doesn't sway 'terrified' voter who wants to beat Trump in 2020
By Maeve Reston and Kyung Lah
Columbia, South Carolina -- In polls and interviews with Democratic voters, one thing is clear. What they care most about in 2020 is selecting a candidate who can defeat President Donald Trump
Is Kamala Harris the one to do it? That was the question that Marianne Cleary, a voter who drove an hour-and-a-half from Evans, Georgia, posed to Harris at a town hall meeting here Saturday afternoon. But the candidate's answer didn't make the sale.
Her voice shaking with emotion, Cleary told Harris that she has two granddaughters and while she has "lived her years," she is "terrified about the world that we may leave to our children and our grandchildren."
"We can't afford another four years," Cleary told Harris. "What sets you apart, Senator Harris, from (a) growing pack of declared candidates and undeclared candidates that will assure us that you can fulfill our dream in 2020?"
The California senator thanked Cleary for her courage and for voicing "what so many are feeling." And she proceeded to reel off a number of key pieces of her platform from improving public education to climate change.
"There is so much at stake. It is about what we are doing on a variety of issues from public education to what we are we doing, as we discussed, with the criminal justice system. Climate change," Harris replied. "Listen, it's an existential threat, and we have an administration that is in utter denial of the realities of what this means. Or they are rejecting it because they are in the pocket of lobbyists paying them to overlook that (human activity) is contributing to the decline of our environment and our planet."
"So what sets me apart?" Harris continued. "I think this is a moment in time for us to have people who have the courage to speak the truth, and I have the demonstrated ability to fight for justice. I believe this is a moment in time when we need fighters on the stage who know how to fight. I know how to fight. I know I do."
Harris received strong applause from the crowd, but Cleary said in an interview with CNN after the event that she wasn't sold. She called the answer "generic" – adding that while Harris didn't win her over, it was still early, and she didn't "lose me" either.
Cleary, 63, spent her career in Philadelphia directing transportation for a school district.
"I care deeply about children," said Cleary, who relocated to Georgia to be near her own grandchildren. "It's not about me anymore, it's about them. When I see what this administration is doing at the border or with the climate, I'm extremely concerned."
She said that Democratic voters need to stay focused on the things that will make the world a better place. She was disappointed that Harris only took a handful of questions from the audience.
"I was disappointed in Sen. Harris that she left the crowd waiting and then only fielded three questions," said Cleary of the West Columbia town hall. "That was a little disappointing. That doesn't mean she doesn't have a chance in my mind. I am of open mind."
"We're desperate for all the things we once held dear in our country. It's not there anymore. It's not by and for the people. It's for the Trump family. That's scary."
She lined up after the town hall to meet Harris and took a picture with her. But she told CNN that Harris' response "was a pretty generic answer."
"They're all going to say they're fighters," she told CNN.
6:51 p.m. ET, February 16, 2019
Klobuchar stands her ground on 'yes' vote for border barriers as part of spending bill
By CNN National Correspondent Suzanne Malveaux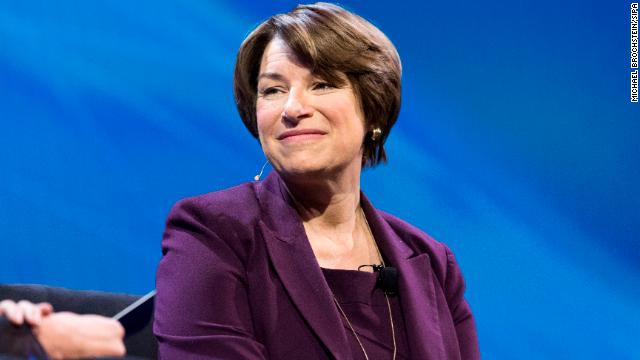 In a packed coffee shop in Eau Claire, Wisconsin, Sen. Amy Klobuchar defended her "yes" vote for the spending bill that President Donald Trump signed into law Friday that keeps the government open, but also gives him $1.3 billion for so-called "border barriers."
"The question is not really what's wrong with that compromise because it's very similar to what we had in the beginning," Klobuchar told CNN. "I think the question is why did he put America through a shutdown, the longest shutdown in history, 800,000 workers not being paid, TSA agents at the front line doing their job, workers furloughed with the doors shut to their workplace. That's a better question, because once again, he was governing from chaos and not opportunity."
The Minnesota senator is attempting to set herself apart from some of the more progressive, liberal-leaning Democratic candidates in an already crowded field of presidential hopefuls. Fellow democratic primary candidates Sens. Elizabeth Warren, Cory Booker, Kirsten Gillibrand and Kamala Harris voted "no" on the spending bill.
Harris, who recently referred to Trump's border wall "a waste of money" and "vanity project," says she voted no on the bill over concerns regarding funding for ICE. Klobuchar defended her position, telling CNN, "I have always supported border security, I just think we have to be smart about how we do it, and that means some fencing, it means some barriers, and certainly it means a focus on the ports of entry with what we're seeing with the drug trafficking."
Klobuchar also noted the bill was very similar to legislation introduced in the fall which garnered overwhelming Democratic and Republican support, and seemed to be OK with Trump before conservative pundits excoriated the President for abandoning the border wall.
Potential Democratic primary candidates Sens. Bernie Sanders, Sherrod Brown, Jeff Merkley, and Michael Bennet all supported the spending measure, as did Reps. Tulsi Gabbard and Eric Swalwell.
Klobuchar, like her Democratic competitors, is challenging Trump's declaration of a national emergency along the border. The lawyer and former prosecutor sees legal challenges ahead for the administration.
"When you look at the declaration of national emergencies in the past, it has been for actual national emergencies. It has been for things like hurricanes and firefighters and earthquakes and things like that ... Where is he gonna get this money? He's gonna take it from other security priorities and disaster priorities for our country," she said.
Klobuchar continues onto Iowa, making three stops there over the weekend, before heading to Manchester, New Hampshire, for a CNN town hall.
The three-term senator is presenting herself as a proud pragmatic moderate, able to work with Republicans on a host of issues including cybersecurity, election security and prescription drug costs.
4:28 p.m. ET, February 16, 2019
2020 Democrats react to Aurora shooting, call for tougher gun laws
By Veronica Stracqualursi, CNN
A day after marking the one-year anniversary of the Parkland school shooting, the nation grappled with another tragedy Friday when a gunman opened fire in Aurora, Illinois, killing five people.
Beginning Friday and into the weekend, the 2020 candidates called for gun control legislation, with some reacting to the Aurora shooting. Here's what the candidates said:
Kamala Harris: "The reality is that on this issue of gun safety, we're not sitting around waiting for a tragedy to occur in order to do the right thing because we've seen the worst tragedies you can imagine. So it can't be we are waiting for a tragedy to occur....I support the Second Amendment and I also support the need for universal background checks, I support the need for assault weapons ban, I also support the need for smart gun safety laws, so we can live in a society where our babies can go to school every day not worried if they're going to be the victim of the next mass shooting."
Elizabeth Warren: "We need to treat gun violence like the public health emergency that it is, and do real research about what works, what we could do to make this better, safer. The NRA holds Congress hostage. And the only way that is going to change is if we get out there and say—enough is enough—we're not doing this anymore. So, I am ready to fight back against the NRA, ready to fight for some change."
Kirsten Gillibrand: "We don't pass gun reform in this country because of the NRA. But it's not about the Second Amendment or hunter's rights; let me be really clear: It's about the gun manufactures that fund the NRA that want to sell more weapons. They don't care that they're selling a gun to a teenager, an assault rifle, a military assault rifle, to a teenager in Walmart. They don't care they're selling a gun to a terrorist on a terror watch list. They don't care that they're selling a gun to someone who has grave mental illness and a violent record or someone with a criminal conviction or a violent crime. And that's why they oppose universal background checks. It's why they don't want, basically, a federal anti-trafficking law so guns can't be trafficked into our communities just through bad gun dealers and people who want to sell guns to gang members. That happens in my state all the time. They just don't care. They just want to have those quarterly profits. And that's not capitalism, actually, that's called greed. So let's name it for what it is." 
ON THE AURORA SHOOTING
4:05 p.m. ET, February 16, 2019
Elizabeth Warren challenges Trump's "legal authority" to declare national emergency at border
By Kate Sullivan and Jasmine Wright, CNN
Sen. Elizabeth Warren challenged President Donald Trump's "legal authority" to declare a national emergency at the border on Saturday. 
When asked repeatedly if Warren would declare a national emergency on guns or climate change—two issues the 2020 presidential hopeful tweeted Saturday are in fact national emergencies— Warren did not answer directly.
"I think that the President is wrong," Warren told reporters at an event in Greenville, South Carolina. "I don't think that what's happening at the border is a national emergency, and I don't think he has legal authority to declare it a national emergency, that's why it's going straight to the courts." 
Trump declared a national emergency on Friday to unlock billions of dollars in federal funds to build a wall on the southern border.
"If the President wants to talk about places where we need to make urgent change, let's talk about the ones where children are dying everyday across this country from gun violence," Warren said. "Let's talk about a climate catastrophe that will touch every family in America and around the globe."
"Let's talk about those serious issues, let's make them urgent, let's put them at the top of the agenda and let's make real change," Warren said. "Let's not play politics the way the President is trying to do."
4:29 p.m. ET, February 16, 2019
Presidential hopeful John Delaney says the Green New Deal is "a step back" and lays out "unrealistic expectations"
By Jamie Ehrlich, CNN
2020 hopeful and former Democratic Maryland congressman John Delaney said Saturday that the Green New Deal proposal is "a step back" and lays out "unrealistic expectations." 
"Impractical is one word. Impossible," Delaney said of the proposal by Rep. Alexandria Ocasio-Cortez and Sen. Ed Markey in an interview on "CNN Newsroom" with Ana Cabrera. 
Delaney was the first to announce his candidacy for president in July of 2017. While he was in Congress, his moderate positions have put him at odds with many Democratic primary voters.
Delaney also expressed optimism at the diversity of the 2020 field thus far.
"As you know, the Democratic voters and the base becoming more diverse. The country is more diverse. Does being a white man put you at a disadvantage?" Cabrera asked.
"I think what's happened to the Democratic Party and the country is we have become much more diverse, meaning we represent the American people," Delaney answered. "I think if I would have run 30, 40 years ago, as president, being a white man would have been an advantage. The way I think of it now is we're all on a level playing field. And isn't that the way it should be? Because that is really where we've come to. And I think that's great. I mean, our party represents the American people. And I don't have any advantage running for president as a white man, which I would have across history. Right? So the way I look at it right now is I think the Democratic Party voters are going to elect the person who they think is the best leader. And they're not going to think about all of all this other stuff. They're going to look at the person, figure out what is in their heart and what is in their head and who do they think can lead our country the best, and that's how I think about it."
Delaney is among a crowded and diverse field of candidates vying for the Democratic nomination. Of the nine candidates who have announced their candidacy, five are women and more than half of them are people of color.
3:43 p.m. ET, February 16, 2019
Cory Booker says other 2020 Democrats are "siblings in the Senate, and right now we're in the midst of some sibling rivalry" 
By Kate Sullivan, CNN
New Jersey Sen. Cory Booker said he and some of the other Democrats running for president in 2020 are "siblings in the Senate, and right now we're in the midst of some sibling rivalry." 
A reporter at an event in New Hampshire pointed out Booker is running against many of his friends and asked, "This has been a really nice primary so far — do you expect there's going to be a point where you have to stop being so nice to each other?" 
"We are real legitimate friends," Booker said, adding he and Sens. Kirsten Gillibrand, Kamala Harris, and Elizabeth Warren have worked on legislation together.
"We are in many ways siblings in the Senate, and right now we're in the midst of some sibling rivalry," Booker said. "But at the end of the day, we're family. And so I will conduct myself the way I'm calling on this country right now."
"We need to understand that we are all in this together," Booker said. We can't get to places by denigrating, demeaning or dividing. We have to keep that spirit in our country — that's the best of who we are."
Booker praised his colleagues and said Democratic voters "have a great set of choices," and said, "There are such good people running."
The senator said "when the dust settles and we have a nominee — God willing I'm that nominee — but whoever that nominee is, we all should commit ourselves to unifying behind that candidate."
"Not just because the urgency that exists because of the person that occupies that seat now," Booker continued, "but the larger urgency."
3:04 p.m. ET, February 16, 2019
Klobuchar says Trump is going to take money "from other security priorities" for border wall
By Kate Sullivan, CNN
Presidential hopeful Sen. Amy Klobuchar criticized President Donald Trump's declaration of a national emergency on Saturday and wondered what would be affected by his moving money from other national priorities.
The Minnesota Democrat told CNN's Suzanne Malveaux, "When you look at the declaration of national emergencies in the past it has been for actual national emergencies, it has been for things like hurricanes and firefighters and earthquakes and things like that." 
"Where's he going to get this money? He's going to take it from other security priorities and disaster priorities for our country," Klobuchar told Malveaux. 
Trump declared on Friday a national emergency at the southern border to unlock billions of dollars in federal funds to build a border wall, while also signing a spending bill from Congress that includes $1.375 billion for new fencing along the border. The spending bill averted another government shutdown.
Klobuchar said she voted for the spending bill because she has "always supported border security," adding, "I just think we have to be smart about how we do it." The senator said she supported "some fencing," "some barriers," and a focus on ports of entry, where drug traffickers are a concern. 
Klobuchar told Malveaux the spending bill that Trump signed on Friday is "very similar to what we had in the beginning." She added, "the question is, why did he put America through a shutdown - the longest shutdown in history?"