G20 summit 2019: Trump meets leaders in Osaka
3:26 a.m. ET, June 29, 2019
Trump appears to soften his tone on Huawei
US President Donald Trump has appeared to soften his tone on Chinese communications giant Huawei, suggesting that he would allow the company to once again purchase US technology.
Speaking at a press conference in Osaka, Saturday, Trump said that the US sells a "tremendous amount of product" to Huawei. "That's okay, we will keep selling that product," said Trump.
"The (US) companies were not exactly happy that they couldn't sell."
The US Commerce Department formally added Huawei to the list of companies the US government considers to be undermining US interest in May.
It effectively meant that companies would need to apply for a US export license to sell to Huawei, cutting off its primary supply chain.
Trump added that while he did discuss Huawei, he didn't talk about Huawei Chief Financial Officer Meng Wanzhou, who is detained in Canada and facing extradition to the US.
"We did discuss Huawei but didn't discuss her situation," Trump said.
3:35 a.m. ET, June 29, 2019
Trump: I won because I was "better, smarter, harder" than Hillary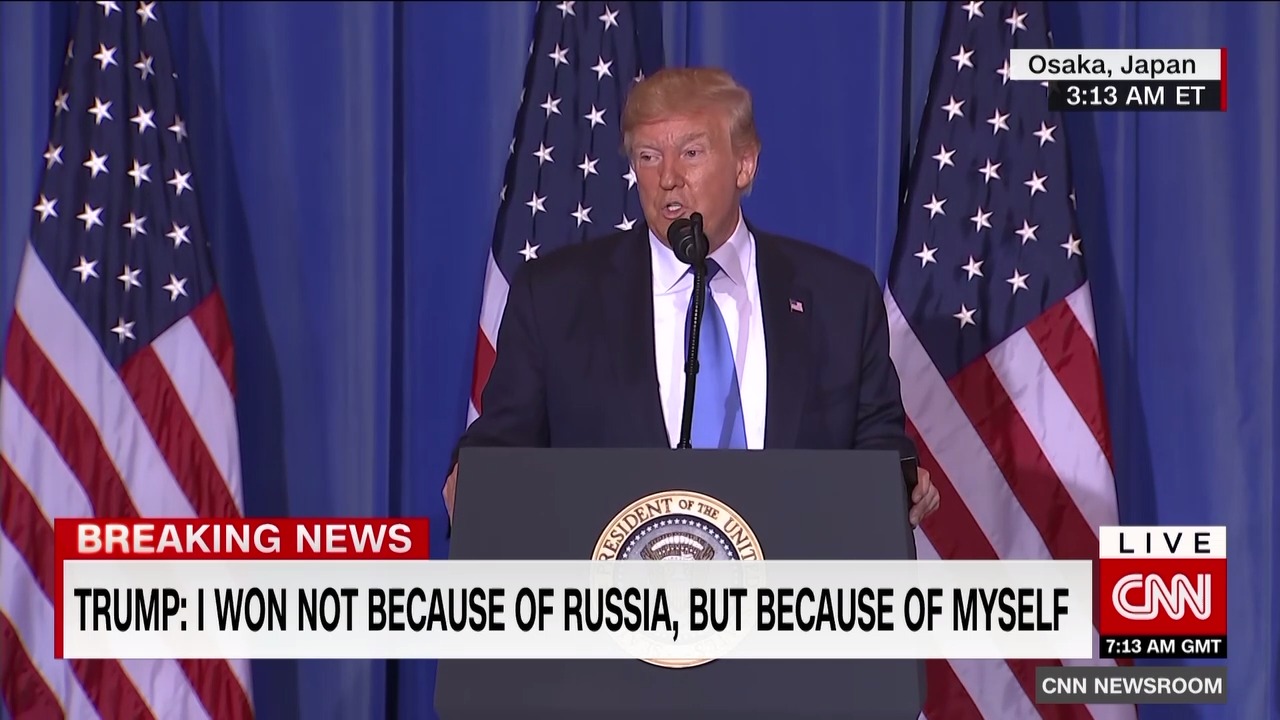 When a journalist at the press conference asked US President Donald Trump about former President Jimmy Carter's criticisms, Trump sighed. "Russia, Russia, Russia. Okay."
"Jimmy Carter -- look, he's a nice man, he was a terrible president. He's a Democrat, and it's a typical talking point. He's loyal to the Democrats and I guess you should be, but as everybody now understands, I won not because of Russia, not because of anybody but myself. I went out and I campaigned better, smarter, harder, than Hillary Clinton," Trump said.
"This had nothing to do with anybody but the fact that I worked harder and much smarter than Hillary Clinton did," he added.
3:12 a.m. ET, June 29, 2019
Trump: US will not apply more tariffs to China
US President Donald Trump addressed his trade talks with China at the press conference today, saying trade negotiations were continuing and that the US would not add additional tariffs.
"We won't be adding an additional tremendous amount of $350 billion dollars left which could be taxed or could be tariffed. We're not doing that, we are going to work with China on where we left off to see if we can make a deal. China is going to be  consulting with us and spending money even during the negotiations will, to our great farmers in the midwest and the great patriots -- because that's what they are. China is going to be buying a tremendous amount of food and agricultural products and they're going to start their very soon and almost immediately," Trump said.
"Basically we said today that we were going to continue with negotiations, which I ended a while back. We agreed that I would not be putting tariffs on the $325 billion that I would have the ability to put on if I wanted."
3:34 a.m. ET, June 29, 2019
Trump on Japan: "They send us millions of cars and we send them wheat"
US President Donald Trump is moving between criticizing the US trade relationship with other countries and praising the current state of the economy.
The US leader said that he'd had meetings with many leaders, as well as some trade negotiations.
"We spent a lot of time with a lot of countries. Japan, we're negotiating with them because they send us millions of cars and we send them wheat," he said.
But Trump said that the US economy was booming, claiming that "a lot of activity" was coming back to the United States.
"We're the hottest show in town ... One thing that virtually every leader I deal with said was 'congratulations'," he said.
"We have the lowest unemployment numbers, best numbers."
3:02 a.m. ET, June 29, 2019
Trump: US immigration laws are "a disaster"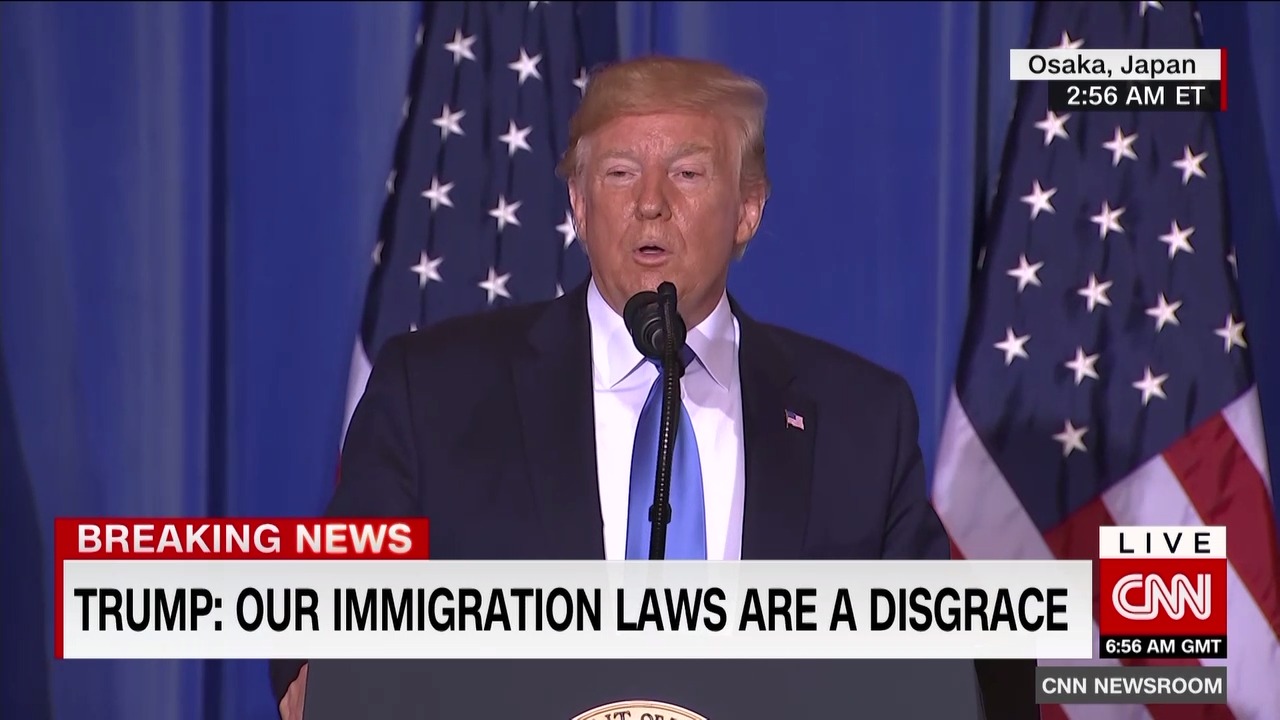 Mexico has been doing "an incredible job" with border security, US President Donald Trump said at a press conference in Osaka, where he slammed the Democratic presidential candidates for being weak on immigration.
"They have 6000 troops on their southern border like Guatemala, very hard to come in now. It was somewhat of a surprise, 16,000 troops at our southern border. Their immigration laws are very strong, ours are a disaster, ours are a disgrace to a country. We have loopholes and asylum that  -- we could fix the asylum really quickly, we could get rid of and fix the loopholes, we get rid of loopholes and have absolutely no problem at the border, but if you watch the debates -- if you call them debates, whatever they were -- I think they want open borders," Trump said.
3:01 a.m. ET, June 29, 2019
Trump on Xi: "We had a great meeting"
US President Donald Trump said that he had a "great meeting" with Chinese leader Xi Jinping in Osaka earlier today.
"We've known each other for as long as I'm president," Trump said, praising his relationship with the Chinese leader.
Trump said that the two sides had agreed to leave tariffs unchanged for now. "We won't be lifting tariffs on China, for the time being," Trump said.
There are no further details yet on what other agreements were made but Trump hinted that there would be increased purchases of US goods as part of the deal.
"We're going to give them lists of things that we'd like them to buy," he said.
2:56 a.m. ET, June 29, 2019
Trump says he's hopeful to meet with Kim at DMZ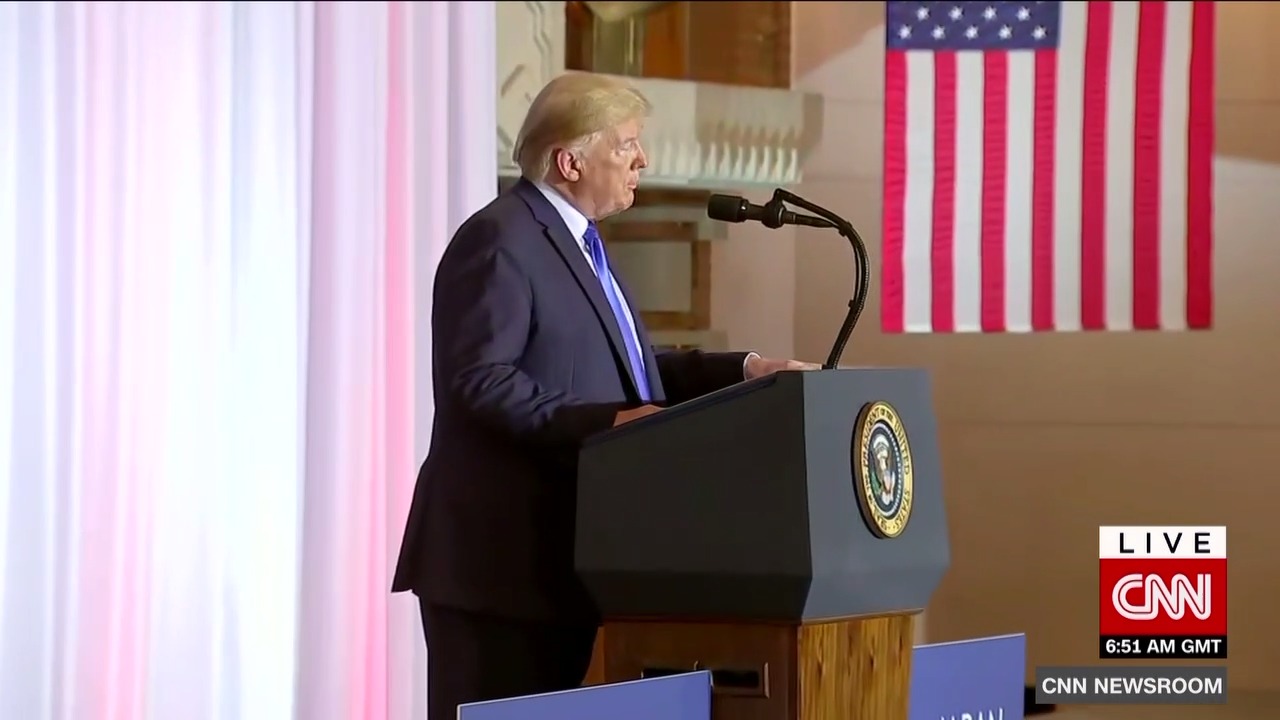 US President Donald Trump told reporters at his G20 press conference that he was hopeful of meeting with North Korea's Kim Jong Un during his forthcoming trip to the DMZ -- the demilitarized zone that separates the two Koreas.
After Trump leaves Osaka, he'll be heading to South Korea to meet with President Moon Jae-in.
This morning, the US leader tweeted an invitation to Kim that he would like to meet him and "shake hands" at the DMZ during his visit.
"Kim Jong Un was very receptive," Trump told the press. "He responded, so we'll see."
3:03 a.m. ET, June 29, 2019
Trump arrives on stage for G20 press conference
US Presidential Donald Trump has arrived on stage to begin his closing press conference in Osaka, Japan, capping off his visit.
2:50 a.m. ET, June 29, 2019
The world's media has descended on Osaka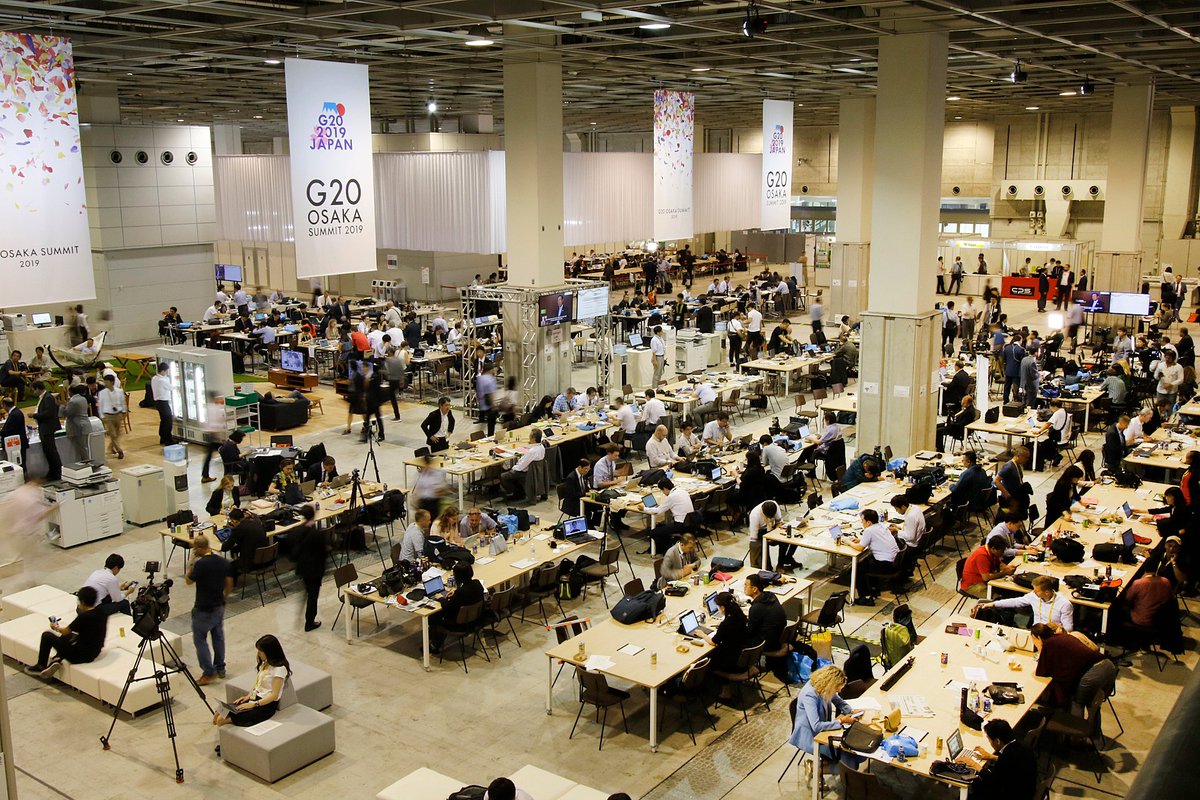 Journalists from across the world are gathered at the International Media Center in the Osaka G20 venue.
A photo tweeted by the official G20 Japan account shows a conference hall packed with journalists and members of the media, with outlets setting up shop on different tables.
The photo captures the frenetic energy that has defined this year's G20 summit. Journalists are drinking canned coffee, answering phones, hunched over laptops -- one has even slumped over on his table for a bit of shuteye.