G20 summit 2019: Trump meets leaders in Osaka
4:03 a.m. ET, June 29, 2019
Trump says it won't be a bad sign if Kim doesn't show up at DMZ
US President Donald Trump said he's hoping to give a "quick hello" to Kim Jong Un tomorrow at the DMZ, but insisted it would not be a bad sign if he doesn't show up. 
"No, of course I thought of that," Trump said when asked if it should be interpreted as a bad sign if Kim failed to meet him, noting that he expects critics to say "Oh, he was stood up" should that happen. 
"It's very hard," he said of the US-North Korea situation, noting that Kim "follows my Twitter." 
Asked if he knew that to be a fact, Trump said his team "got a call very quickly" after his tweet, adding, "A lot of people follow it." 
As for what he would expect for a potential meeting, Trump said, "We're not talking about extended -- just a quick hello."
4:46 a.m. ET, June 29, 2019
Trump says Harris-Biden squabble overblown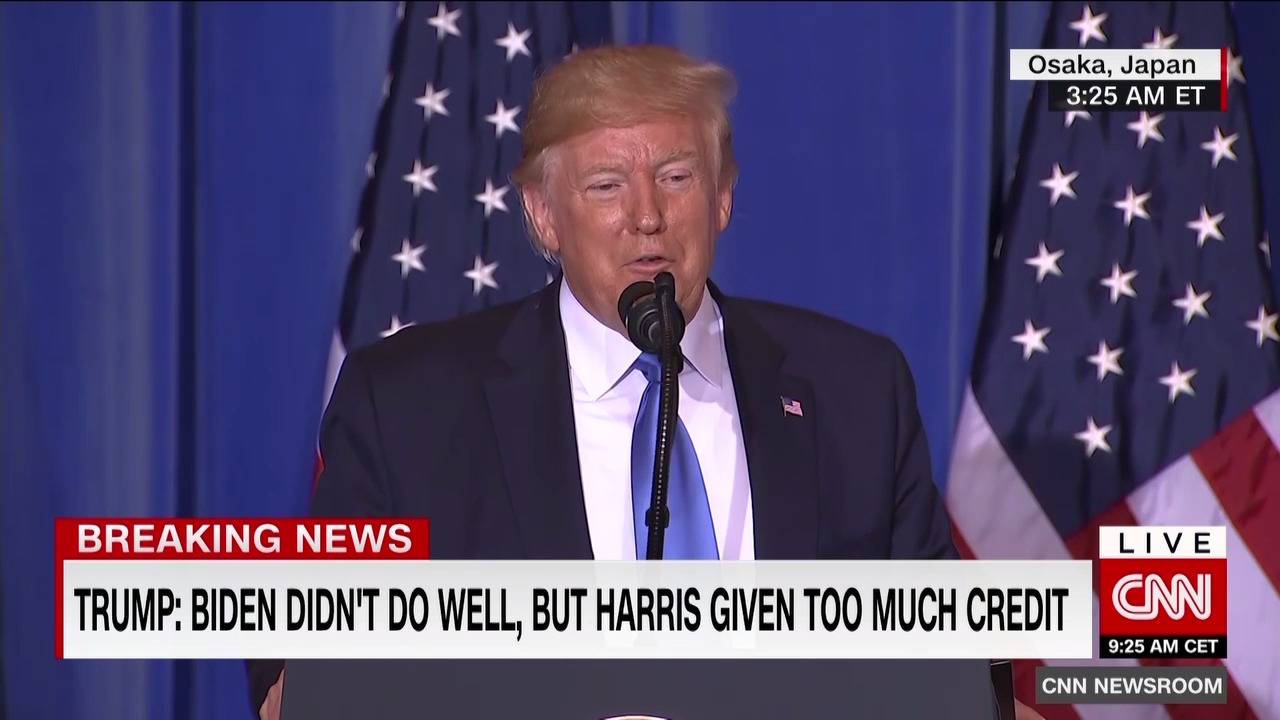 President Trump says a squabble between two of his potential Democratic rivals was given too much attention.
Speaking at a news conference in Japan, Trump said Sen. Kamala Harris was overly praised for her rebuke of former Vice President Joe Biden for his opposition to federal mandated school bussing.
"I thought that she was given too much credit," Trump said. "He didn't do well, certainly, and maybe the facts weren't necessarily on his side. I think she was given too much credit for what she did. It wasn't that outstanding and I think he was probably hit harder than he should have been hit."
Asked if he viewed Harris as a tough challenger, Trump said it was too early to tell.
"You never know who's going to be tough. You never know," Trump said. "The one that you think is going to be tough turned out to be not much."
Hear Trump's comments:
3:51 a.m. ET, June 29, 2019
Trump defends joking with Putin about election interference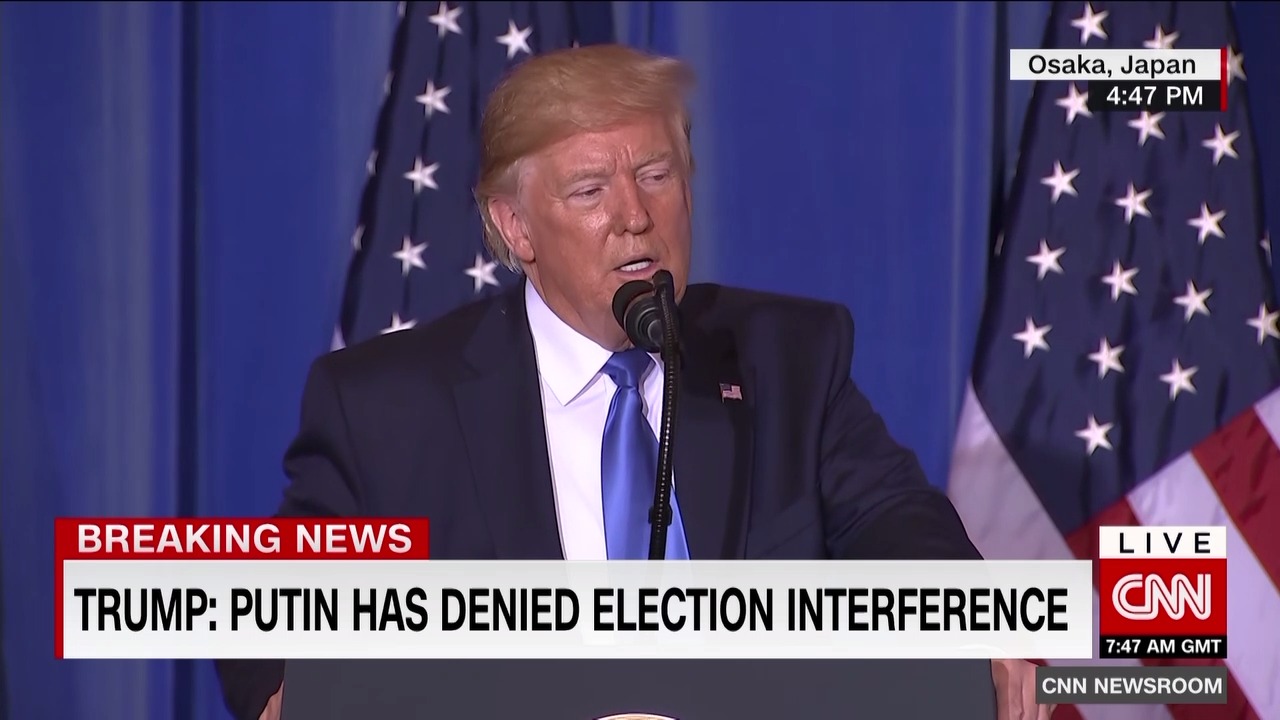 US President Donald Trump was asked to clarify his sentiments to Russian President Vladimir Putin when he appeared to make light of Russian meddling in the 2016 presidential election. 
"You have to take a look at the word. I did say it," Trump said during a press conference in Osaka.
On Friday, Trump lightheartedly told Putin, "Don't meddle in the election" when asked by a reporter if the topic would come up during their bilateral meeting. The offhand remark, perhaps an attempt at levity, drew swift criticism. 
Trump said he had a "tremendous discussion" with the Russian leader, and suggested it came up again later in their meeting. 
"He denies it totally, by the way. How many times can you get somebody to deny something? But he has in the past, he's denied it also publicly," Trump said.
He added that they discussed other topics as well, including nuclear purchases and other arms control.
3:50 a.m. ET, June 29, 2019
Trump says Huawei issue will be saved for end of US-China trade talks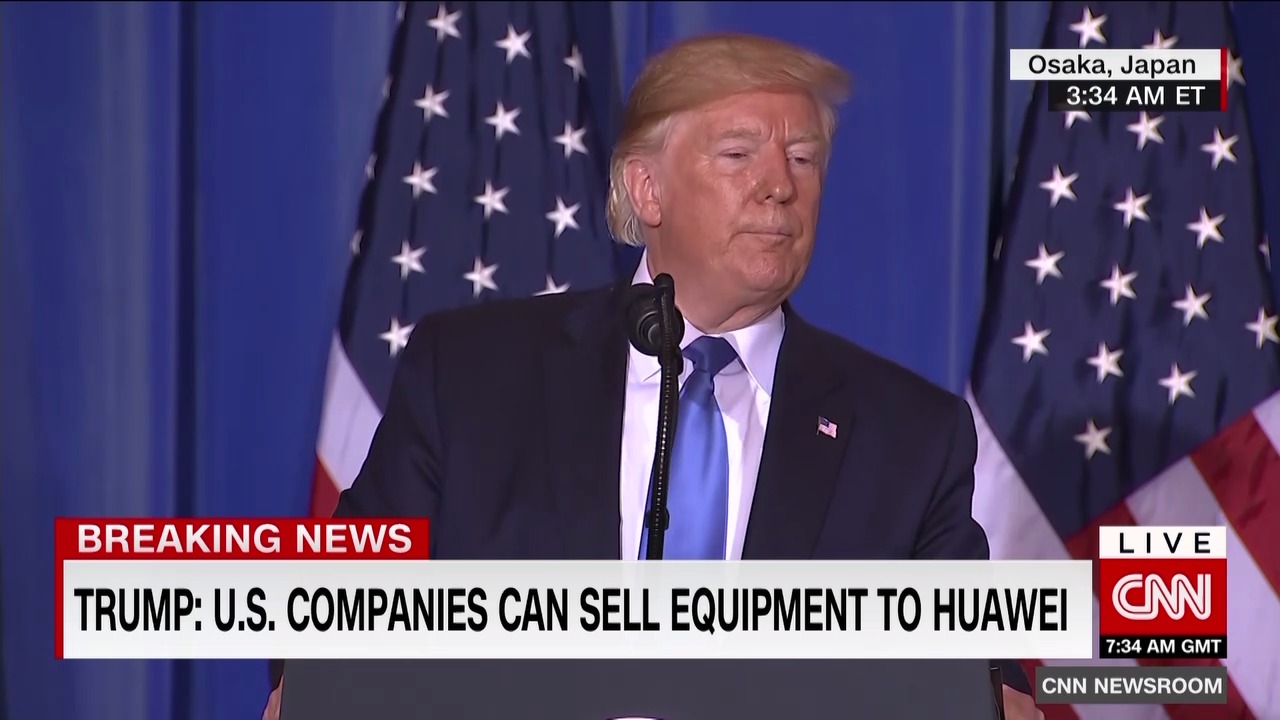 US President Donald Trump said Friday he would save the issue of Huawei for the end of US-China trade talks.
"We mentioned Huawei," Trump said of his talks with President Xi Jinping of China earlier Saturday. "We'll have to save that for the very end."
He said he "agreed easily" in his meeting with Xi to continue allowing US companies to do business with the telecom giant.
The announcement appears to contradict previous assessments by US government officials that Huawei poses a spying risk to Western infrastructure networks.
Trump called the matter "very complex" and "highly scientific," but said the matter of Meng Wanzhou, the Huawei executive who was arrested in Canada, didn't come up.
3:46 a.m. ET, June 29, 2019
Trump: With a wall, immigrant father and daughter who drowned "would be saved"
Speaking at a press conference in Osaka, US President Donald Trump said that if his border wall had been built the lives of migrants could be saved.
"The father and the beautiful daughter who drowned ... if they thought it was hard to get in, they wouldn't be coming up... Lives would be saved," Trump said.
Trump was referring to the viral picture of a father and his young daughter who drowned in the Rio Grande trying to get to the United States.
The US President again pushed for tougher border control policies, saying that illegal immigration was "very unfair."
"You have millions of people on line for years to get into a country. They take tests, they study ... and these people have worked hard, they've been on line for seven, eight, nine years, then someone walks in. Honestly it's very unfair," he said.
Watch the moment here:
5:48 a.m. ET, June 29, 2019
Trump on Jamal Khashoggi: Saudi Arabia is "a terrific ally"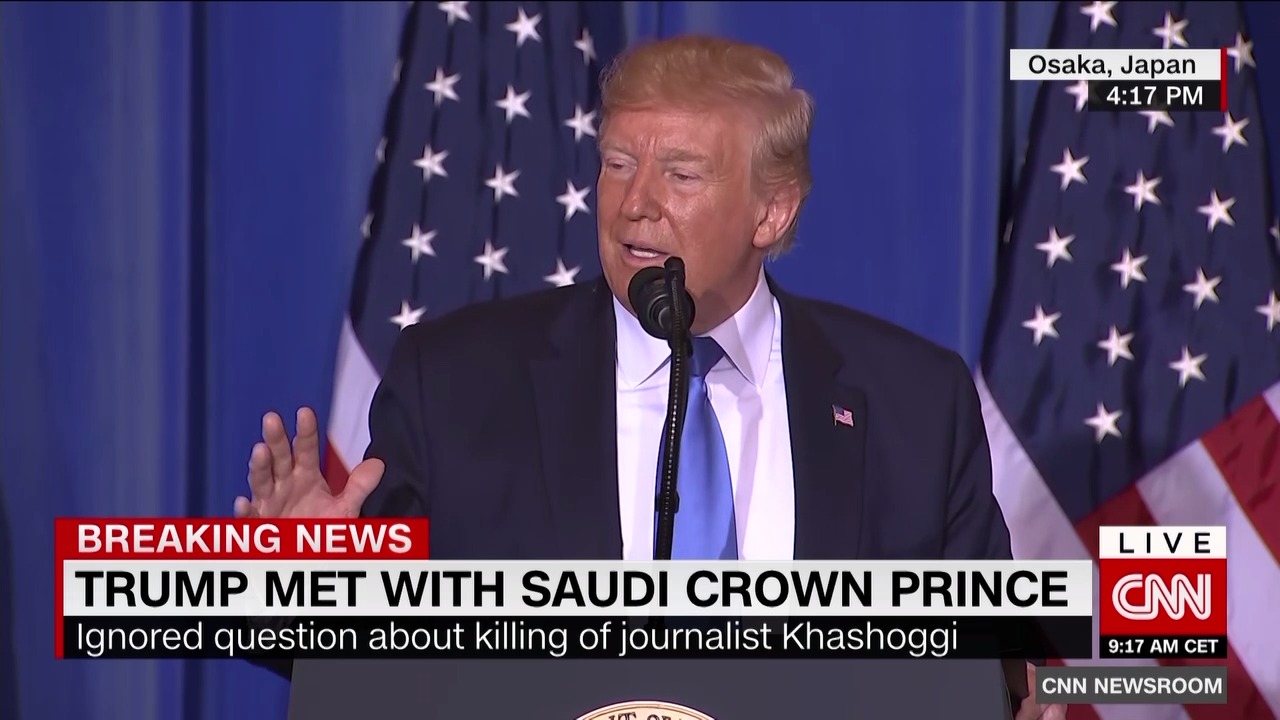 At an ongoing press conference in Osaka, US President Donald Trump criticized Saudi Arabia's persecution and detention of citizens, but deflected a question about the alleged murder of journalist Jamal Khashoggi.
CNN's Jim Acosta asked: "Do you agree that it is despicable for a government to kill a journalist?"
Trump responded: "Yes I do. I think it's horrible and if you look into Saudi Arabia and see what's happening, 13 people or so have been prosecuted... And I've let everybody know that I'm very unhappy about that whole event. 
At the same time I will also say -- nobody so far has directly pointed a finger at the future king of Saudi Arabia. I will say I spoke to his father at great length. They've been a terrific ally, they're creating millions of jobs in this country. They are ordering equipment, not only military equipment, but $400 billion worth and even more than that over a period of time worth of different things. 
With that being said, I'm extremely angry and unhappy about a thing like that taking place. But as of this moment, more than 13 people are being prosecuted and I hear the numbers are going to be going up."
Afterward, CNN's Jim Sciutto tweeted: "False: US intel and UN found evidence Crown Prince directed the killing."
Hear Trump's comments:
An earlier version of this post incorrectly identified the reporter who questioned Trump. This has been corrected.
3:34 a.m. ET, June 29, 2019
Trump: US companies can sell to Huawei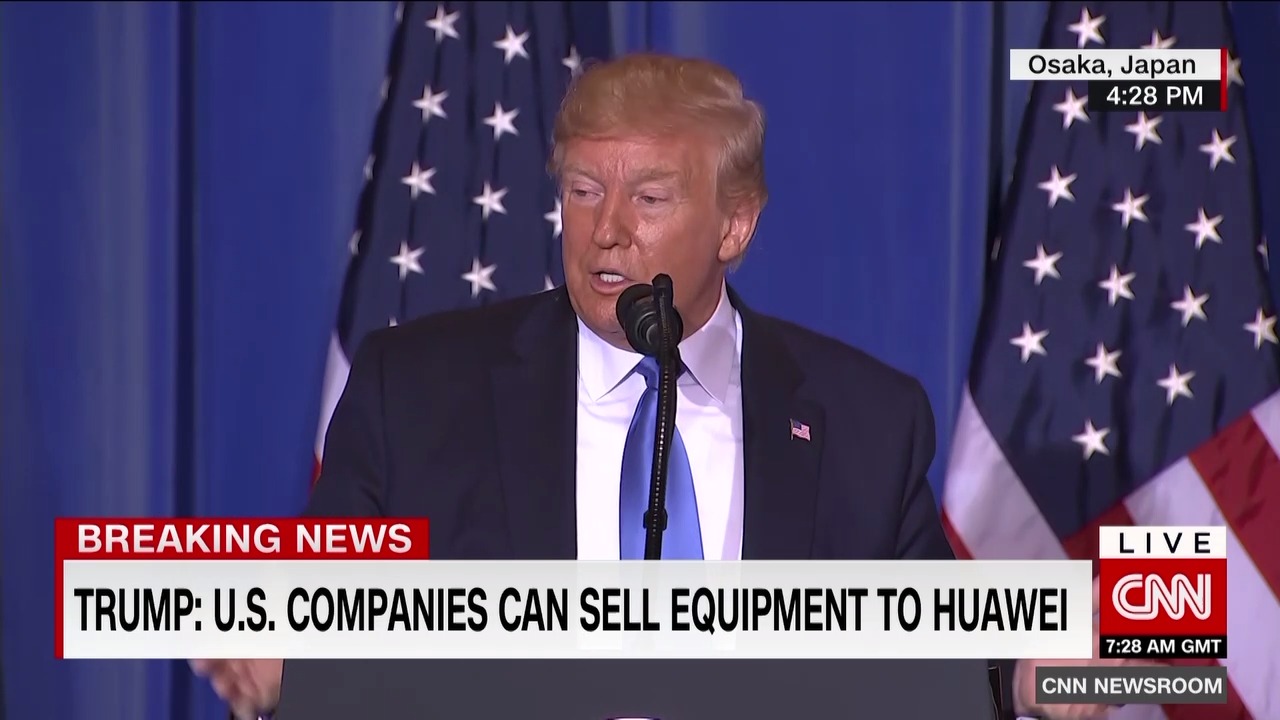 US President Donald Trump said that US companies can again sell products to Chinese technology giant Huawei after an effective ban in May.
Trump clarified his comments earlier in the press conference, saying after his meeting with Chinese leader Xi Jinping he would allow Huawei to once again buy US products.
"US companies can sell their equipment to Huawei... there's no great, national emergency problem," Trump told reporters.
The US Commerce Department formally added Huawei to the list of companies the US government considers to be undermining America's interests in May.
Experts said that Huawei would be crippled by the effective ban, which would stop them buying advanced US chips over security concerns.