The government is STILL shut down
3:54 p.m. ET, January 10, 2019
Air traffic controller's pay stub shows $0 as shutdown grinds on
William Striffler, an air traffic controller and local union president at Newark Liberty International Airport, has been working without pay as a result of the partial government shutdown. He shared with CNN an image of his first empty paycheck since the shutdown began.
Air traffic controllers are just a small fraction of the overall federal workforce that's been impacted by the shutdown. Earlier Thursday, a group representing them were cosignatories on a letter to President Trump, House Speaker Nancy Pelosi and Majority Leader Mitch McConnell, appealing for the government to be reopened.
"As the shutdown persists, excepted air traffic controllers and workers in technical operations, who operate and maintain safety-critical navigational aids, surveillance, and communications equipment, are performing highly skilled and safety-critical services without pay," they write, while predicting the overall impact will make it harder to recruit aviation professionals in the future.
3:38 p.m. ET, January 10, 2019
Lindsey Graham says he sees no pathway forward as compromise hits a wall
Yet another move to find compromise to end the government shutdown appeared to stall today.
Republican Sen. Lindsey Graham, one of the senators who tried to reach across the aisle, was at a loss today as he told reporters that he sees no pathway forward.
'I have never been more depressed about moving forward than right now. I just don't see a pathway forward," he lamented. "Somebody's gotta get some energy to fix this."
Graham said that while he was hopeful about a proposal he had put together that included measures Democrats might agree to, he said that it fell flat.  
Other senators said they recognized that the only way out of the standoff is for President Trump, House Speaker Pelosi, and Senate Minority Leader Chuck Schumer to reach a deal that would be acceptable to them and that could pass the House and Senate and be signed into law. 
"The President and Schumer and Pelosi are going to have to get together and say, 'this is what we agree on.' Otherwise, we can create a forum. It goes nowhere," said Republican Sen. Richard Shelby who chairs the Appropriations Committee and who sat in talks with the compromise group. 
"You create a lot of noise. You create some optics, but you do you create substance? I don't think so," he said about the Graham effort.
3:22 p.m. ET, January 10, 2019
Pence: Trump hasn't decided if he'll declare an emergency — but he believes he has the right to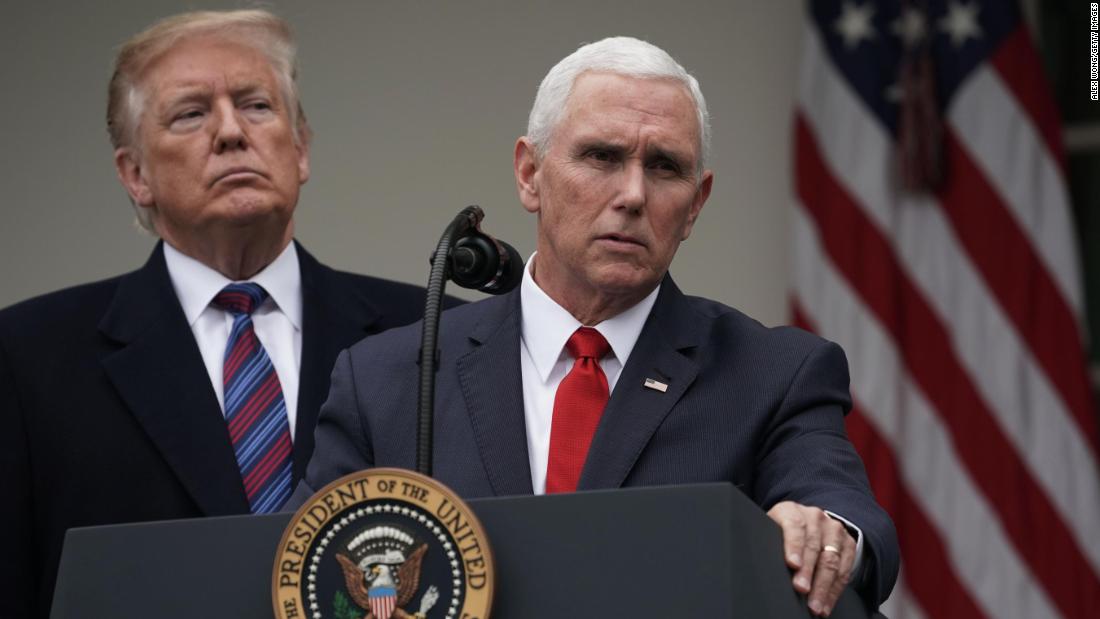 Vice President Mike Pence, speaking to reporters, again blamed Democrats for the stall in shutdown negotiations.
"From the very first day of this partial government shutdown, this administration has been making an effort to negotiate, to address the crisis on our southern border and to end the shutdown. And the American people deserve to know that every day since, the Democrats have refused to negotiate," he said Thursday.
Trump has still not made a decision on declaring a national emergency, Pence said
"Look the President has made no decision," he said definitively, adding, "Our conviction is that Congress should do their job."
Pence, however, wholly defended the President's ability to declare the emergency.
"The President believes that he has an absolute right to declare a national emergency under his authority as President of the United States," he said.
Pence said that the "facts argue otherwise" when he hears that this crisis is manufactured. Pence used the word "crisis" at least a dozen times and defended the administration's use of it. "This is not a manufactured crisis. It's not," he said.
A note on the term "crisis": Part of the White House counsel's office review of declaring a national emergency has included laying the groundwork for a legal defense of the move, according to officials familiar with the matter. That has included advising the President's aides on ramping up talk of the humanitarian and security "crisis" — a characterization that administration lawyers could use later in court to defend a national emergency.
1:45 p.m. ET, January 10, 2019
TSA workers are protesting outside of the Atlanta airport
Dan Gabor was at the Hartsfield-Jackson Atlanta International Airport for a shutdown protest led by Transportation Security Administration workers today.
Protesters carried signs and chanted outside terminals:
What do we want? Government funding. When do we want it? Now.
Gabor said he is not a government employee himself, but he came to the protest to stand with those who are not getting a paycheck.
Elise Durham, the director of communications for the airport, told CNN the protest with TSA workers was scheduled, and organizers had a permit with about 25 people participating. She added that the protest was not affecting security lines, flights or any other travel. 
Here's footage of the protest:
1:44 p.m. ET, January 10, 2019
Federal employees in Dallas rally to reopen the government
Many federal government workers won't receive a paycheck tomorrow.
Dallas Federal Reserve employees took to the streets today to protest against the shutdown and demand that lawmakers reopen the government.
CNN affiliate KTVK's Steve Pickett took this video of the protest.
Here's what it looked like:
1:22 p.m. ET, January 10, 2019
Trump will cancel his Davos trip
President Trump just announced he will cancel his "very important" scheduled trip to Davos, Switzerland for the World Economic Forum later this month "because of the Democrats intransigence on Border Security and the great importance of Safety for our Nation."
Here's the tweet:
12:47 p.m. ET, January 10, 2019
What happens at the Defense Department if Trump declares a national emergency
A defense official who follows border wall issues very closely pointed out there are a number of issues the Pentagon and White House must resolve in order to make a possible national emergency declaration workable.
As CNN has reported, the Department of Defense, even without a declaration, is already working to identify the funds that are not yet under contract for military construction projects. 
How they're planning to the fund the wall: Defense Department officials told CNN that the Pentagon is planning a figure of about $2.5 billion in funds they believe they can tap to support construction of a border wall if Trump declares an emergency and orders the military to build a wall. Those funds fall under the "unobligated" pool of funds, which means the funds are earmarked but have no signed contracts signed for spending that money. Anything beyond that would require the cancellation of  existing military construction projects, which might come with costly termination fees.
If Trump wants additional funds from projects that are already in contract, he'd have to cancel projects like a fire station at Quantico, child development at Joint Base Andrews or Navy Seal training facilities improvements for combat training.
The official said one concern is that once the money goes to a wall: How do you get re-funded by Congress for the construction of these other projects so readiness is not impacted?
If a decision is made for a national emergency, the Pentagon will offer different courses of action to proceed.
12:35 p.m. ET, January 10, 2019
Trump is meeting with the Pope's favorite nun in Rio Grande
The "Pope's favorite nun" Sister Norma Pimentel will be participating in roundtable with President Trump in Rio Grande this afternoon, according to her spokesperson.
Pimentel's spokesperson Brenda Riojas Nettles said her message will be: "What it always is, taking care of the people in front of her."
Pimentel wrote an op-ed addressed to Trump on Jan. 9, in which she said "regardless of who we are and where we came from, we remain part of the human family and are called to live in solidarity with one another."
In 2015, Pope Francis personally thanked Pimentel for her work on the border, saying "I want to thank you."
"And through you to thank all the sisters of religious orders in the US for the work that you have done and that you do in the United States. It's great. I congratulate you. Be courageous. Move forward."
Then the Pope, 78, said something she could never have imagined: "I'll tell you one other thing. Is it inappropriate for the Pope to say this? I love you all very much."
12:17 p.m. ET, January 10, 2019
Employee unions are rallying to end the shutdown across the country today
Federal government employee unions, from across all government agencies, are unifying across the US to demand the government shutdown end.
Some of the states with rallies include Ohio, Kentucky, West Virginia, Florida, Utah, Colorado, New York, California, North Carolina, Illinois and Texas.
"These people need a voice," Eric Engle, who's organizing a rally in Parkersburg, West Virginia. "They need a rally like this to be able to come out and publicly say that they will not tolerate being used as pawns in this battle over a wall."
In Denver, hundreds of federal employees, in addition to their friends and families, are expected to rally.
And in Chicago, rallies could become a weekly occurrence (if the shutdown continues).
"We plan on rallying every Thursday until the Trump Shutdown ends," Matt Muchowski, American Federal Government Employee union District 7 officer manager, told CNN.