The government is STILL shut down
4:31 p.m. ET, January 4, 2019
Trump refuses to back off his $5.6 billion demand for border wall in meeting with lawmakers, sources say
President Trump mentioned extending the standoff "to the election" and refused to back off his demand for $5.6 billion in funding for a border wall during his meeting with congressional leaders in the White House Situation Room, two people familiar with the meeting said.
He opened the talks by launching into a 15-minute salvo that also included griping at the House speaker for recent comments from Democratic lawmakers raising the specter of impeachment.
The Democratic leaders again pitched the House-passed plan to the President to re-open the government and continue negotiations. While Trump demurred, and at one point said it would make him look "foolish" to accept the plan in the meeting earlier this week, today Trump flat out rejected the idea to the Democratic leaders, telling them bluntly: "No." 
Democrats made clear early in the meeting that their threshold for talks on a border security deal was Trump agreeing to re-open the government. Trump, as he made clear during his opening statement to the leaders, said the government would remain shuttered until a deal was reached.
One of the sources said bluntly: "There was no progress made." 
5:15 p.m. ET, January 4, 2019
She isn't able to make ends meet because of the shutdown
Janitor Lila Johnson, 71, said she won't receive any back pay for the hours missed during the government shutdown because she works at the Department of Agriculture on a contract basis.
"My rent has to be paid. My other bills like my credit cards and loans that I owe, that's doubling up on me... It's hard," she told CNN.
Johnson receives a pension from a previous janitor job she retired from but she said that even with her pension and social security, she isn't able to make ends meet. That's why she took the contract janitor job.
"I'm going deep in a hole by extending these bills," she says adding, "I'm losing in the 401(k) Plan so everything is just piling up, you know."
"When I go back to work, I still will have to work at least two months before I see a decent check," Johnson added.
Watch below:
3:32 p.m. ET, January 4, 2019
Trump's desires for wall funding, in one tweet
CNN's Manu Raju sums up what we just heard:
3:20 p.m. ET, January 4, 2019
Trump asks debt collectors and landlords to go "nice and easy" on unpaid federal workers
President Donald Trump was asked if he thought landlords and bill collectors should be lenient on federal employees whose paychecks are affected by the shutdown.
"I think they will. I've been a landlord for a long time… they work with people," Trump said.
He continued, "I would encourage them to be nice and easy."
By the numbers: There are approximately 380,000 federal employees on furlough and another 420,000 working without pay. Trump has claimed they support the shutdown, but many have begun spoken out, saying they are worried about buying food or paying rent.
Watch below:
3:10 p.m. ET, January 4, 2019
The safety net for federal workers who are furloughed during shutdown is a strong border, Trump says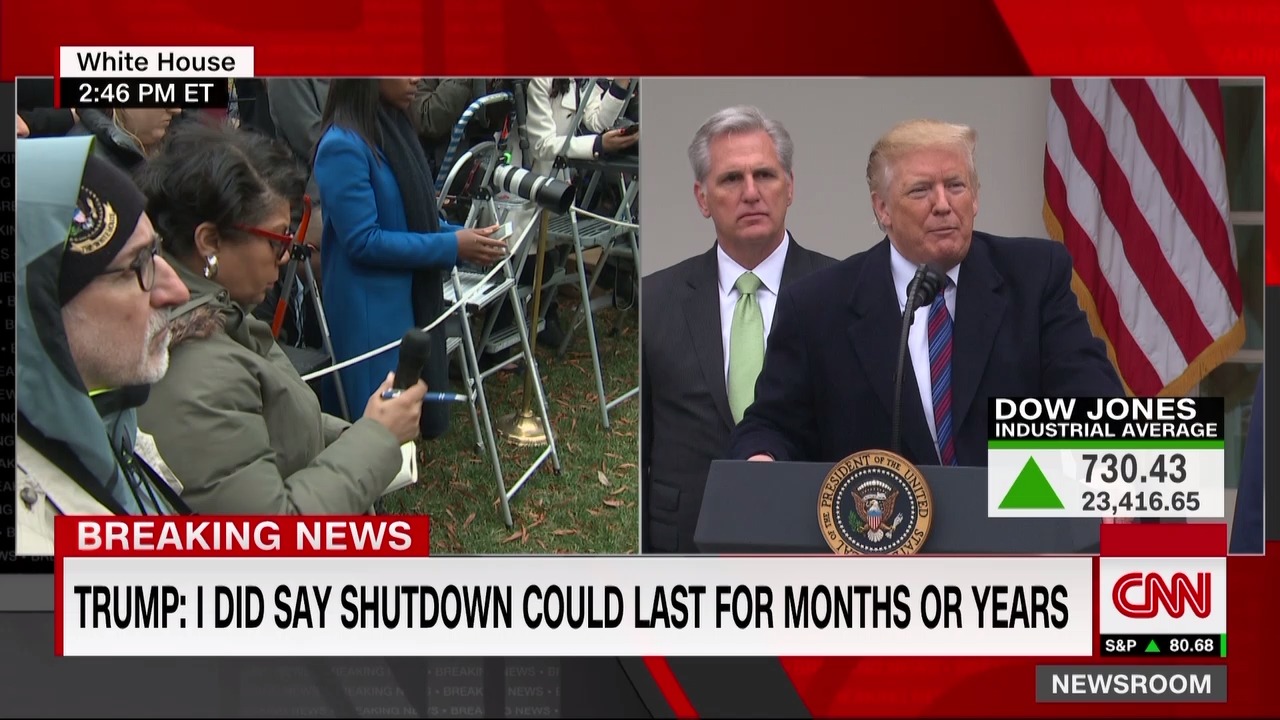 Asked what financial and social safety net is available for federal workers out of a job during the government shutdown, President Trump told reporters that "the safety net will be a strong border."
"The safety net will be a strong border because we're going to be safe," Trump said. "I'm not talking about economically, but ultimately economically, I really believe that these people … believe in what we're doing."
He continued: "I think a lot of the people you're referring to ... are really wanting that to happen, too. I really believe a lot of them want to see border security and they're willing to give it up."
Watch below:
3:17 p.m. ET, January 4, 2019
Trump "might consider'" asking Cabinet to forego raises
President Trump was asked about the $10,000 raise that his Cabinet members, Vice President Mike Pence, and other senior administration officials are due to receive.
Asked if he would ask them to not accept the raise due to the shutdown, Trump expressed some openness. 
 "Well I might consider that, that's something I might consider," he said. 
Pence nodded following the news conference when he was asked if he would turn down a $10,000 pay raise he's slated to potentially be issued during the partial government shutdown.
CNN reported earlier Friday that Pence and senior political aides may see their paychecks go up soon if Congress does not pass legislation that would extend a pay freeze for those officials, according to documents from the Office of Personnel Management.
Watch below:
3:03 p.m. ET, January 4, 2019
Trump says he has considered calling a national emergency to build wall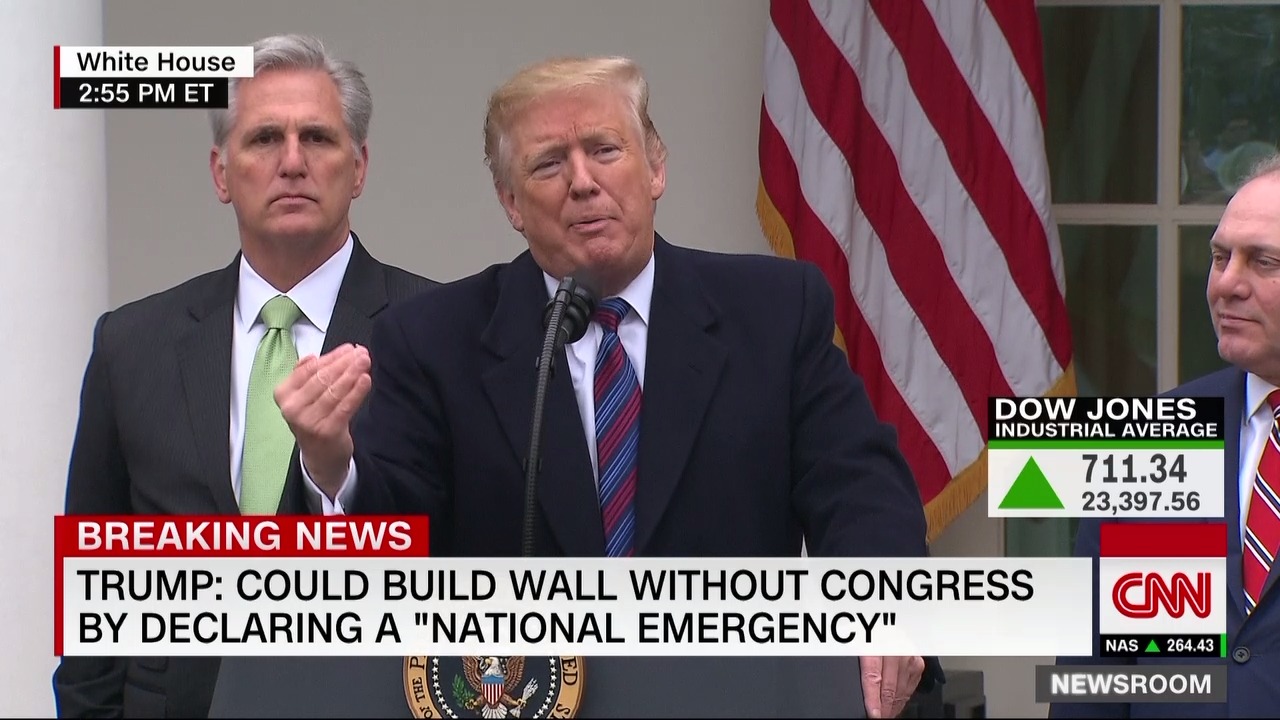 A reporter just asked President Trump if he has considered using emergency powers to build his wall without Congressional approval and necessary funds.
"Yes, I have. And I can do it if I want," Trump claimed.
The reporter asked if that means he doesn't need Congressional approval to build the wall, then.
"Absolutely," Trump said. "We can call a national emergency. I haven't done it. I may do it. I may do it. We can call a national emergency and build it very quickly. It's another way of doing it."
Asked if that was a threat to Democrats, Trump replied, "I never threaten anybody, but I am allowed to do it -- call a national emergency."
Watch below:
2:57 p.m. ET, January 4, 2019
Trump explains desire for funds to pay for steel wall after promising supporters Mexico would pay for a concrete one
CNN's Kaitlan Collins pressed President Trump on how he can say he's not failing on delivering his campaign promise to build a concrete wall and have Mexico pay for it. 
"A very nice question so beautifully asked," he said dismissively. "I just told you that we just made a trade deal," he said, calling the $5.6 billion for the wall "peanuts" compared to the revenue the trade deal will generate.
He noted that "steel is stronger than concrete."
"I know you're not into the construction business, you don't understand something. We now have a great steel business," he told Collins.
Trump then touting the steel industry's growth under his administration. 
"If I build a wall and the wall is made out of steel instead of concrete I think people will like that… I'll have it done by companies in our country that are now powerful great companies again," he said.
Trump did not explain any justification for shutting down the government over border wall funding.
Watch below:
3:21 p.m. ET, January 4, 2019
Trump: "I'm very proud of doing what I'm doing"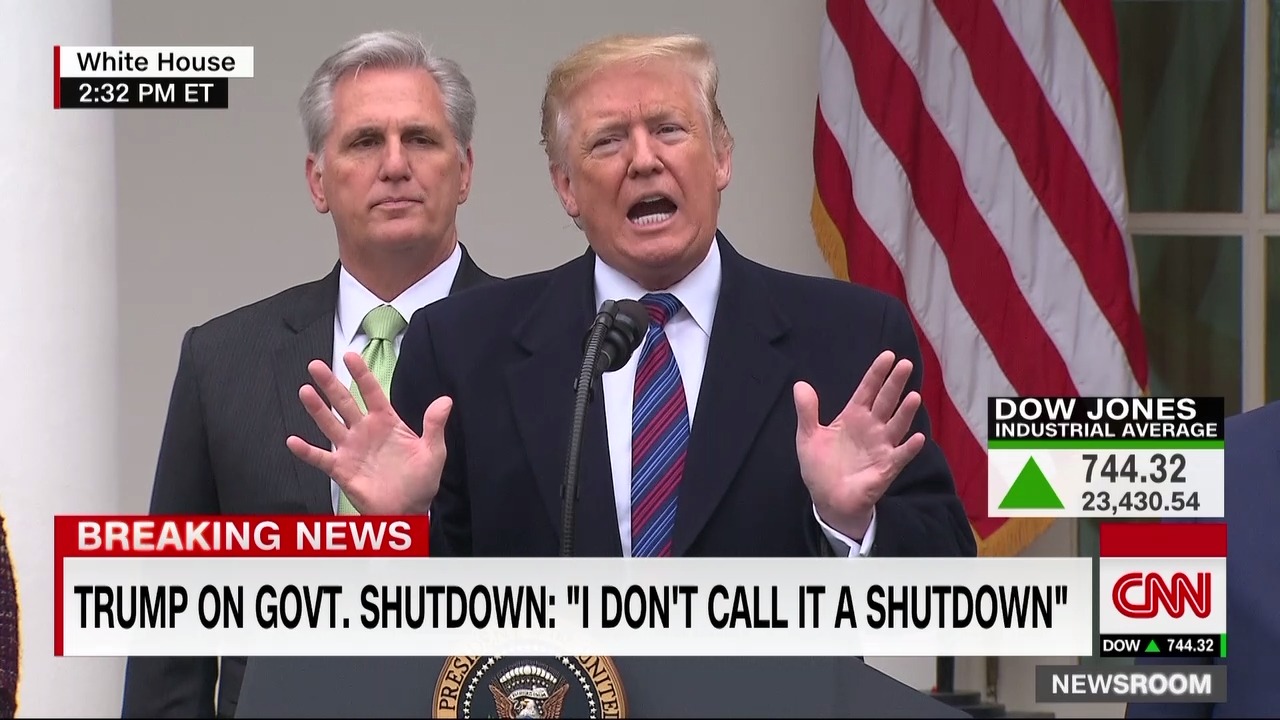 Asked if he was proud about owing the shutdown, as he said he would be in early December, President Trump said he's "very proud of doing what I'm doing."
"Well, you know, I appreciate the way you say that but once -- I'm very proud of doing what I'm doing. I don't call it a shutdown. I call it doing what you have to do for benefit and for the safety of our country. ...So can you call it whatever you want. You can call it the Schumer or the Pelosi or the trump shutdown, it doesn't make any difference to me. Just words," Trump said.
Watch below: