What's happening at the US border
1:34 p.m. ET, June 19, 2018
Trump: "You have to take the children away" to prosecute parents
President Trump said he doesn't "want the children to be taken away from parents" — but added that it's necessary if the US wants to prosecute the parents.
"We want to solve family separation, and I don't want the children to be taken away from parents, and when you are prosecute the parents for coming in illegally, which should happen, you have to take the children away."
Trump added that he wants to "end the border crisis" by giving officials the authority and resources to "detain and remove illegal immigrant families altogether."
Watch more:
1:35 p.m. ET, June 19, 2018
President Trump claims the media is helping "smugglers and traffickers"
President Trump issued another attack on the news media, claiming the press is assisting criminal immigrants.
"They are helping these smugglers and these traffickers like nobody would believe," Trump said.
"They know it. They know exactly what they're doing, and it should be stopped," Trump said. "Because what's going on is very unfair to the people of our country, and they violate the law."
1:36 p.m. ET, June 19, 2018
Trump: Mexico does "nothing" to help US with border crossings
President Trump, speaking at a National Federation of Independent Businesses event, said Mexico does "nothing" to stop undocumented immigrants from crossing into the US.
"They come up through Mexico. Mexico does nothing for us. You hear it here: They do nothing for us. They could stop it. They have very, very strong laws. Try staying in Mexico for a couple of days, see how long that lasts. OK? They do nothing for us."
Watch more:
1:36 p.m. ET, June 19, 2018
Democratic senator says he was denied entry into children's shelter: "They obviously are hiding something"
Sen. Bill Nelson traveled to Homestead, Florida, today to tour a temporary shelter for unaccompanied children. But he tells reporters that he was not allowed inside.
"They obviously are hiding something," Nelson said. "They are using the excuse — get this — 'You have to apply two weeks in advance.'" 
Nelson, a Democrat, said it was "not a good reflection on the Trump administration."
"They are embarrassed and don't want us to check on the comfort and welfare of these children. This is absolutely ridiculous," Nelson said. "I am ashamed of this administration that they are doing this."
He told reporters he is traveling back to Washington and plans to be on the Senate floor tonight.
12:26 p.m. ET, June 19, 2018
Capitol Hill is "totally enveloped" by the family separation issue
President Trump will head to Capitol Hill this evening to meet with lawmakers about immigration. CNN's Phil Mattingly, who's reporting from the Capitol, described the mood there:
"Uneasy is probably the way to describe lawmakers right now. When the President comes to the Capitol, he will be visiting basically a place that has become totally enveloped by this issue, by this crisis, by lawmakers on both sides trying to figure out a way out of it."
House Republicans are planning to vote on immigration bills this week, but the efforts were not originally intended to address the issue of family separation.
"The President is going to talk about a broad immigration — mostly related to DACA — effort that's occurring on the House floor later this week. The family separation issue has now been combined with that. And this is a confluence of basically two very different issues that have now crashed into one another, are both very complicated and very emotional and at this point don't have any type of bipartisan support."
Watch Mattingly explain more:
12:09 p.m. ET, June 19, 2018
Senior Republican calls for a "pause" in family separations until Congress can change policy
Utah Sen. Orrin Hatch, a senior Republican, has called on the Department of Justice to "pause" the family separations at the southern border until Congress can pass legislation that would stop them for good.
He just tweeted:
The Trump administration has vigorously defended its zero-tolerance policy amid outrage over the family separations.
Speaking at the White House Monday, Department of Homeland Security Secretary Kirstjen Nielsen reiterated the administration's position that it is enforcing the law and called on Congress to take action.
Previous administrations, however, have avoided separating parents from their children, instead releasing families with court dates for immigration proceedings and various monitoring tactics.
Asked about the policy on Fox News Monday night, Sessions said authorities are "taking care of these children."
With CNN's Laura Jarrett
11:45 a.m. ET, June 19, 2018
Washington state leaders: Trump administration didn't "even have the decency" to let kids and parents say goodbye
Washington Gov. Jay Inslee and state Attorney General Bob Ferguson wrote a letter to Trump officials, demanding an end to the family separation policy.
In the letter, addressed to Attorney General Jeff Sessions and Homeland Security Secretary Kirstjen Nielsen, Inslee and Ferguson said there are more than 200 people detained at the Federal Detention Center, SeaTac facility near Seattle.
"Many of these detainees are parents who were separated from their children by border officials," they wrote. "And many came to this county seeking asylum." 
The state officials ask about the whereabouts and conditions of these children, and question why the parents are being held in prison during the resolution of their asylum claims.
"You and the Trump Administration took their kids away and are detaining them separately," they wrote. "You did not even have the decency to allow many parents to say goodbye to their children."
11:38 a.m. ET, June 19, 2018
Have you or your loved ones have been affected by border separations? Tell CNN.
Have you or someone you know been affected by family separations at the US border? CNN's reporters want to hear about it.
You can reach us by sending a text, WhatsApp message or iMessage to CNN at +1 347-322-0415.
A reporter may be in touch.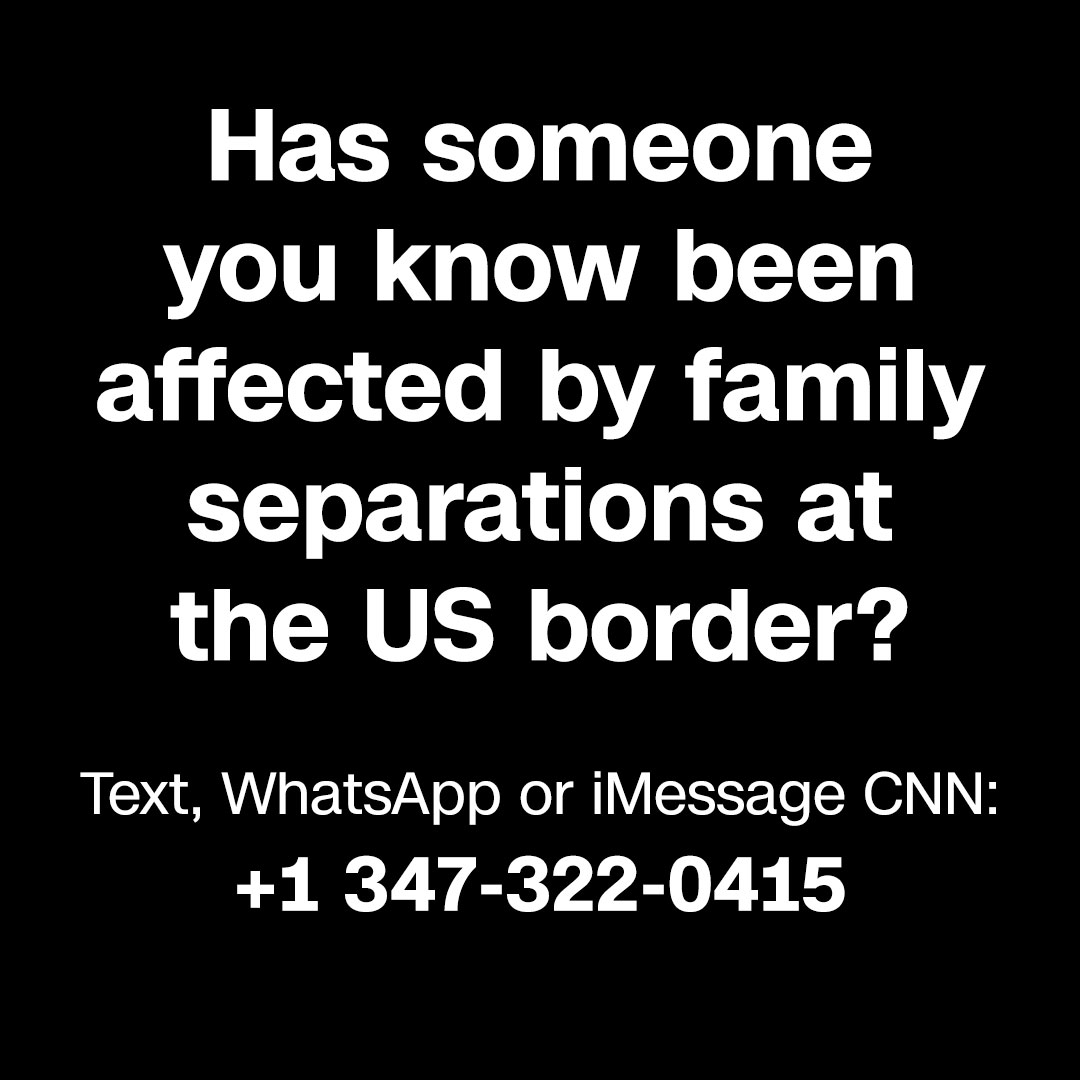 3:18 p.m. ET, June 19, 2018
Rhode Island governor says she won't deploy National Guard troops to the border
Rhode Island Governor Gina Raimondo sent CNN a statement this morning announcing that Rhode Island would not be sending its National Guard to the southern border.
"The Trump Administration's family separation policy is immoral, unjust and un-American," Raimondo said. 
Noting she hadn't yet been asked to do so, Raimondo said she wouldn't deploy troops to the southern border to support the Trump Administration's policy "that is ripping families apart."
She continued:
"Children should be with their families, not trapped in cages, sobbing and calling out for their parents. The Administration's immigration policy goes against everything we value as Rhode Islanders, as Americans and as decent people. The President alone can end family separation. I'm standing with all good-hearted people in our nation and calling on President Trump to end this inhumane policy."
In April, President Trump signed a memorandum to deploy the National Guard to the southwest border. The Pentagon said the troops would "act in support of Border Patrol agents who are performing law enforcement duties."
Since then, a number of states, including New York and Massachusetts, said they would not participate in the effort.
There are currently about 2,000 members of the National Guard operating across four border states -- Arizona, California, New Mexico and Texas -- according to Kurt M. Rauschenberg, National Guard Bureau Spokesman.