Next phase in Trump impeachment inquiry begins
5:23 p.m. ET, December 4, 2019
A GOP representative listed a series of bad actions by past presidents. Here's what know about them.
Rep. Ken Buck, a Republican from Colorado, presented a unique argument in today's House Judiciary Committee hearing: Plenty of other presidents engaged in impeachable conduct who were never impeached.
Addressing the Republican witness, law professor Jonathan Turley, Buck asked a series of rhetorical questions about bad actions by past presidents, from Abraham Lincoln to Barack Obama, that he argued rose to the level of impeachable based on the standards set by Democratic members.
Here's a brief list of some of the arguably impeachable actions Buck listed:
"Lyndon Johnson directed the Central Intelligence Agency to place a spy in Barry Goldwater's campaign."
The facts of this claim are in some dispute, but reporting out of the Senate Watergate committee in 1973 was that E. Howard Hunt, one of Richard Nixon's infamous "plumbers" who plotted the Watergate burglary, told investigators he also spied on the 1964 Goldwater presidential campaign on behalf of Johnson's White House. Hunt was a CIA employee at the time. In 1975, CIA director William Colby testified to Congress that spying on Goldwater's campaign did take place but attributed the idea to a CIA officer.
"Franklin Delano Roosevelt, when he was president, directed the IRS to conduct audits of his political enemies. Namely Huey Long, William Randolph Hearst, Hamilton Fish, Father Coughlin."
There is evidence Roosevelt did use the IRS to investigate a number of his political opponents, some of whom were listed here by Buck.
"How about when President Kennedy directed his brother Robert Kennedy to deport one of his mistresses as an east German spy?"
Ellen Rometsch was thought to be an East Germany spy when she was deported by John F. Kennedy's Justice Department, headed by his brother Robert Kennedy, in 1963. There were also allegations she was a girlfriend of JFK, but that's never been proven and Rometsch reportedly denied being both a spy and a Kennedy mistress.
"When Barack Obama directed, or made a finding that the Senate was in recess and appointed people to the National Labor Relations Board and lost 9-0, Ruth Bader Ginsburg voted against the President on this issue, would that be an abuse of power?"
Obama's 2012 recess appointments to the National Labor Relations Board were controversial at the time because the Senate had not recessed for long enough. Republicans argued the appointments were unconstitutional. The case made it to the Supreme Court after the DC Circuit Court ruled against Obama. The Supreme Court unanimously affirmed the lower court's ruling.
"How about when the President directed his national security adviser and the secretary of state to lie to the American people about whether the ambassador to Libya was murdered as a result of a video or was murdered as a result of a terrorist act?"
This refers to the September 11, 2012, terrorist attack on the US consulate in Benghazi, Libya. There is a dispute about why Obama's national security adviser, Susan Rice, and his secretary of state, Hillary Clinton, publicly stated the attack was a spontaneous reaction to an inflammatory anti-Muslim online video when others in the administration had concluded the attack had been premeditated. There's no evidence Obama directed Rice and Clinton to lie.
"How about when Abraham Lincoln arrested legislators in Maryland so they wouldn't convene to secede from the Union?"
Federal troops did have orders to arrest pro-Confederate members of Maryland's General Assembly during a special session in 1861 to consider secession, according to the Maryland state archives.
5:39 p.m. ET, December 4, 2019
Melania Trump: Pamela Karlan should be "ashamed" for bringing up Barron Trump
First lady Melania Trump said Pamela Karlan should "be ashamed" after the law professor brought up Barron Trump at today's impeachment hearing.
"A minor child deserves privacy and should be kept out of politics," she tweeted.
This is her first public comment of any kind about the impeachment inquiry.
Earlier today, White House press secretary Stephanie Grisham called Karlan's mention of Barron Trump "classless."
What this is all about: During today's hearing, Karlan was asked to compare the fears of the framers of the US Constitution — who worried that a monarchy could prevail in the US — to President Trump's behavior.
She said that "kings could do no wrong, because the king's word was law." But in the US, "contrary to what President Trump has said, Article II does not give him the power to do anything he wants."
That's when she brought up Barron Trump as a specific example: "The Constitution says there can be no titles of nobility. So while the President can name his son Barron, he can't make him a baron."
A Republican congressman later read the first lady's tweet during the hearing and entered it into the official record.
5:12 p.m. ET, December 4, 2019
A GOP congressman just asked the 4 professors if they voted for Trump
GOP Rep. Tom McClintock just asked the four law professors testifying at today's hearing about how they voted in the 2016 election.
"With a show of hands, how many on the panel actually voted for Donald Trump in 2016?" he asked.
Pamela Karlan, a professor from Stanford Law School, immediately protested. 
"I don't think we're obligated to say anything about how we cast our ballots," Karlan said.
"I will not —" she continued, before McClintock interrupted her.
McClintock continued: "I think you made your positions, professor Karlan, very, very clear."
Jerry Nadler, the chair of the Judiciary Committee, said McClintock could ask the question — but also said the witnesses did not have to respond.
"How many of you supported Donald Trump in 2016? Show of hands." he asked again.
None of the four witnesses — including Jonathan Turley, the sole GOP witness — raised their hand. That's when Noah Feldman added: "Not raising our hands is not an indication of an answer, sir."
Watch here:
5:02 p.m. ET, December 4, 2019
GOP representative claims professor has contempt for conservatives
Republican Rep. Matt Gaetz spent much of his five minutes of allowed questioning time focusing on one of the four expert witnesses before the House Judiciary Committee: Pamela Karlan, a Stanford Law professor.
In his questioning, Gaetz attempted to paint Karlan as a liberal elite biased against conservatives.
Gaetz first noted that Karlan had previously given money to Democrats, including $1,200 to Barack Obama, $2,000 to Hillary Clinton and $1,000 to Elizabeth Warren. Karlan did not dispute these figures, but later noted that she has a constitutional right protected by the First Amendment to give money to candidates.
Gaetz then pressed Karlan over her appearance at an event affiliated with a podcast called Versus Trump, during which she said that conservatives generally spread out, geographically, "perhaps because they don't even want to be around themselves," Gaetz noted.
When asked if she realized that the comment "reflects contempt on people who are conservative," Karlan replied that she "was talking about there was the natural tendency, if you put the quote in context, the natural tendency of a compactness requirement to favor a party whose voters are more spread out."
"And I do not have contempt for conservatives," Karlan concluded.
Gaetz then moved on to attack her reference to President Trump's son, Barron, when she joked that while Trump could name his son Barron, it does not make him a king.
"Let me also suggest that when you invoke the Presidents son's name here," Gaetz said, "when you try to make a little joke out of referencing Barron Trump, that does not lend credibility to your argument. It makes you look mean. It makes you look like you're attacking someone's family. The minor child of the president of the United States."
Gaetz did not permit Karlan to respond.
Watch here:
4:33 p.m. ET, December 4, 2019
The hearing has resumed
Members will continue their 5-minute rounds of questioning.
4:24 p.m. ET, December 4, 2019
January is missing from the 2020 Senate calendar due to "uncertainty over impeachment," aide says
Senate Majority Leader Mitch McConnell's office has released the Senate schedule for 2020. The month of January is absent from the 2020 calendar.
January was left off the calendar because of "uncertainty over impeachment," according to a GOP leadership aide.
Another GOP aide said there was pressure to get the calendar out so the Senate community can set vacations. Not knowing exactly how to set the Senate schedule for January – with so much up in the air about how or if a trial will proceed – was holding them up, the aide said.
They do expect to send out a January schedule at some point, one of the aides said.
Note: The days in red are the weeks the Senate plans to be in recess.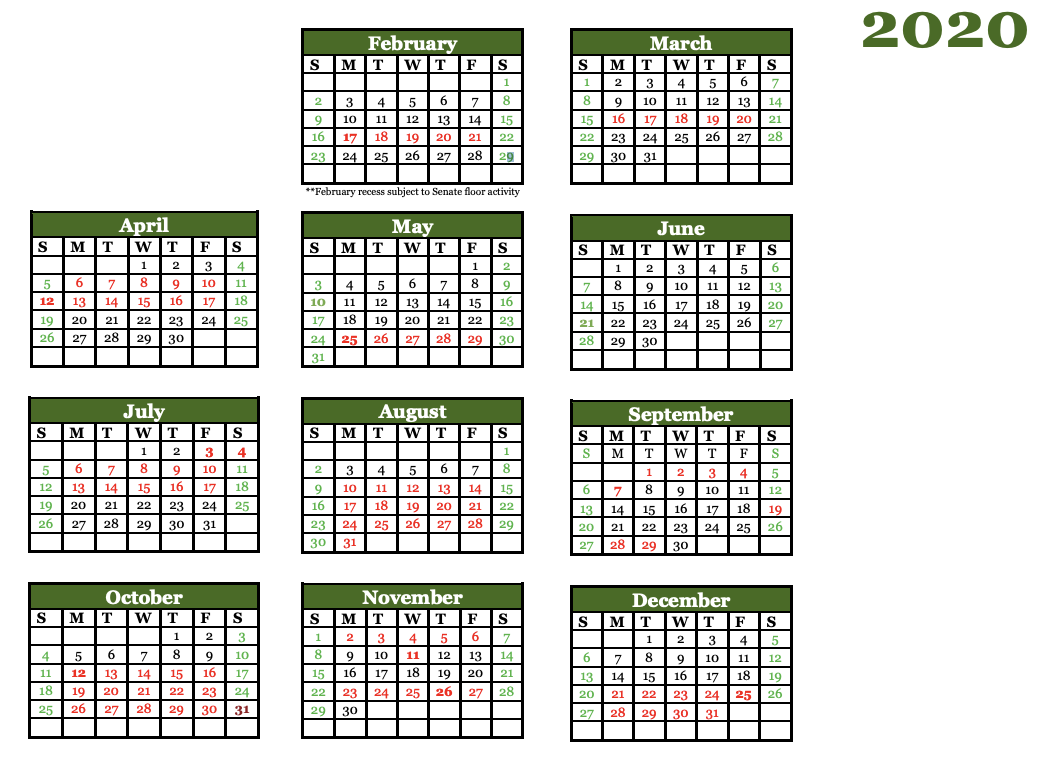 4:17 p.m. ET, December 4, 2019
The hearing is on a short break
4:22 p.m. ET, December 4, 2019
Karlan reminds committee that she has a constitutional right to donate money to candidates
In a rebuttal to earlier comments by Republican Rep. Matt Gaetz — who brought up that she donated money to several Democratic politicians, including Hillary Clinton, Barack Obama and Elizabeth Warren — professor Pamela Karlan pointed out that she has a constitutional right under the First Amendment to donate money to candidates.
"I have a constitutional right under the First Amendment to give money to candidates," Karlan said. "At the same time, we have a constitutional duty to keep foreigners from spending money in our elections — and those two things are two sides of the same coin." 
4:15 p.m. ET, December 4, 2019
Any interference in our electoral process by foreign governments is "a disaster," Feldman says
Harvard Law professor Noah Feldman called any interference from foreign governments in the electoral process "a disaster."
The question was posed by David Cicilline, a Democrat from Rhode Island, during the Judiciary Committee hearing.
"How would it impact our democracy if it became standard practice for the President of the United States to ask a foreign government to interfere with our elections?" Cicilline asked.
"It would be a disaster for the functioning of our democracy if our presidents regularly, as this president has done, ask foreign governments to interfere in our electoral process," Feldman said.