The latest on the Trump impeachment inquiry
8:36 p.m. ET, October 29, 2019
Rep. Adam Schiff praises White House official's testimony
Rep. Adam Schiff, the chairman of the House Intelligence Committee, praised Lt. Col. Alex Vindman's testimony today and slammed the attacks on him over his Ukrainian origins.
Vindman, the National Security Council's top Ukraine expert, faced attacks by President Trump and Republicans ahead of his testimony.
Schiff, a Democrat from California, also criticized Trump and his allies in Congress over their attacks on the whistleblower, though he did not mention any efforts inside the room to out the whistleblower's identity.
"They have the right to remain anonymous," Schiff said of whistleblowers." They certainly should not be subject to these kind of vicious attacks and other words and actions that threaten their safety for doing their patriotic duty."
Schiff did not respond to questions about the whistleblower.
8:16 p.m. ET, October 29, 2019
The White House's top Ukraine expert is done testifying
Army Lt. Col. Alexander Vindman, the National Security Council's top Ukraine expert, has just wrapped up his deposition with House impeachment investigators.
Vindman testified for more than 10 hours today.
Some background: Vindman, a decorated veteran of the Iraq War with a lengthy military record, planned to tell lawmakers he was so troubled by President Trump's July phone call with Ukraine's president that he reported his concerns to a superior, according to a copy of his opening statement obtained by CNN.
7:55 p.m. ET, October 29, 2019
House and Justice Department ask judge to postpone court hearing on impeachment witness
The Justice Department and the House have asked a federal judge to postpone a court hearing Thursday regarding impeachment witness Charles Kupperman's testimony.
Judge Richard Leon has not yet responded.
Leon had scheduled the hearing after Kupperman, who served until last month as deputy national security adviser at the White House, asked the court whether he needed to testify. The House has subpoenaed Kupperman, but the White House had blocked him from testifying on Monday, claiming absolute immunity for White House officials in the impeachment probe. 
The House and Justice Department agreed to seek the postponement, according to today's filing, because they are attending another court hearing happening the same afternoon before a different judge. That case is also about the immunity from Congressional testimony for another White House staffer, former White House Counsel Don McGahn, as the House seeks his testimony in its impeachment probe.
Both sides have asked Leon to reschedule the Kupperman court hearing for sometime before Nov. 6.
8:45 p.m. ET, October 29, 2019
Appeals court pauses deadline for Justice Department to turn over Mueller grand jury materials
The DC Circuit Court of Appeals has paused the deadline this week the Justice Department had to turn over grand jury secrets from special counsel Robert Mueller's investigation to the House.
The court said the deadline will be suspended "pending further order of the court." This will allow the appeals court to consider arguments on a lower-court judge's ruling last Friday.
About the ruling: DC District Court Chief Judge Beryl Howell ordered the Justice Department to release grand jury information redacted from special counsel Robert Mueller's investigation to the House. Howell's decision to share the grand jury details with the House was significant because it underlined the legal validity of the impeachment effort, which the Trump administration has questioned as it attempts to stonewall the House probe.
The Justice Department has appealed that ruling and asked for the stay on the deadline.
7:08 p.m. ET, October 29, 2019
White House Ukraine expert characterized call transcript as mostly accurate
Lt. Col. Alexander Vindman, the National Security Council's top Ukraine expert, testified today that the White House's rough transcript was mostly accurate in describing the contents of the July 25 phone call between President Trump and the Ukrainian president, but there were a couple of changes he would have made, according to multiple sources familiar with the testimony.
Vindman said that he would have made edits to the transcript, the sources said, who added they were only minor changes. One of the edits Vindman said he would have made was to specifically say Burisma rather than just "the company." Burisma is the company that hired former Vice President Joe Biden's son Hunter.
"He or she will look into the situation, specifically to the company that you mentioned in this issue," the rough transcript cites Ukrainian President Volodymyr Zelensky as saying. 
Vindman also testified that he spoke to his twin brother, who works in the National Security Council's ethics office, to discuss his concerns about the July 25 call, according to multiple sources.
In the hearing, Republicans questioned why there weren't more people who raised concerns to the National Security Council lawyers about the call, according to sources. He responded that he was unaware of what his colleagues chose to do.
6:53 p.m. ET, October 29, 2019
Mitch McConnell's extraordinary efforts to say nothing at all
Senate Majority Leader Mitch McConnell went to extraordinary lengths today to avoid giving substantive answers to direct questions about the allegations made by Army Lt. Col. Alexander Vindman, the first current White House official to testify in the House impeachment inquiry about President Trump's controversial call with the Ukrainian president that is at the heart of the probe.
McConnell was pressed by a reporter about Vindman's testimony at his weekly news conference in the Capitol, as several other members of the Senate GOP leadership stood stoically — and silently — behind him.
Notably, the Kentucky Republican's nonresponses came just a day after Trump had implored congressional Republicans to spend more energy defending his actions on that phone call, which he has described as "perfect," and not just to complain about the closed-door investigative process by House Democrats.
"Concerning Col. Vindman's testimony, what he heard on the President's call, that conversation with the Ukrainian leader was so concerning that he worried it might undermine US national security. Does it concern you? Are you worried about the President's behavior at all?" the reporter asked McConnell. 
In response, the GOP Senate leader answered a different question, one that was never asked, about charges from some of Trump's supporters that Vindman might not be patriotic because he was born in Ukraine.
"I'm not gonna question the patriotism of any of the people who are coming forward," McConnell volunteered.
He then shifted topics to speak about a key impeachment resolution the House is set to vote on Thursday — one that is expected open up the investigative process — something Republicans have pressed for but were still waiting to see the final language of to determine whether they considered it satisfactory.
6:04 p.m. ET, October 29, 2019
2 State Department Ukraine experts are scheduled to testify tomorrow
Two State Department experts on Ukraine are slated to become the latest diplomats thrust into the spotlight as part of the House impeachment inquiry.
Catherine Croft and Christopher Anderson are scheduled to testify in separate closed-door hearings before the House Intelligence, Oversight and Foreign Affairs committees tomorrow.
Kathryn Wheelbarger, acting assistant Secretary of Defense for International Security, was also scheduled to testify tomorrow, but an official working on the impeachment inquiry said her deposition will be rescheduled for a future date.
Here's who else is scheduled to testify this week:
Thursday: Timothy Morrison, a top Russia and Europe adviser on the National Security Council.
Friday: Robert Blair, senior adviser to acting chief of staff Mick Mulvaney
5:30 p.m. ET, October 29, 2019
Negotiations for Don McGahn's testimony are still at an impasse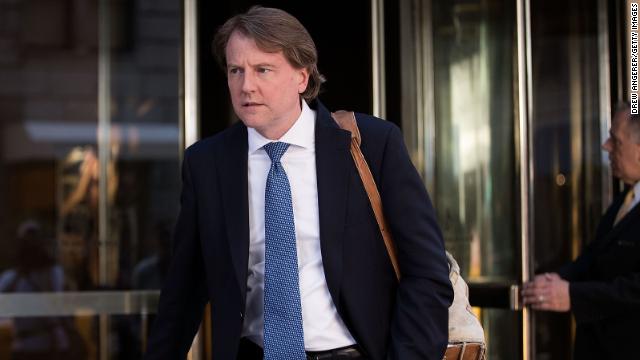 The House Judiciary Committee and former White House counsel Don McGahn haven't been able to negotiate a way for him to testify in the impeachment inquiry, the committee told a federal judge this afternoon.
The Trump administration has tried to put limits on how he could testify, such as an interview not being included in the current impeachment probe. The House said that's unacceptable, and has separately made clear that McGahn would be a key witness in examining whether President Trump obstructed justice.
The House said it's been trying this month to negotiate McGahn's appearance, which they've been seeking for nearly half a year.
"The parties have spoken on several occasions since October 1, 2019, when McGahn raised the notion that the White House Counsel's Office would 'consider an interview' of him by the Committee, and the Committee has offered a variety of accommodations in a good faith effort to pursue a compromise," lawyers for the House wrote on Tuesday. "In response, however, the White House has insisted on terms that are unacceptable to the Committee."
What we know: The House, Justice Department and McGahn attorneys will be in court arguing over his refusal to testify on Thursday. The arguments are scheduled to happen at nearly the same time another impeachment witness, Charles Kupperman, is in court over the White House's assertion he is immune from testifying. The White House made similar claims, keeping McGahn from testifying as well.
5:23 p.m. ET, October 29, 2019
White House blasts "sham" impeachment resolution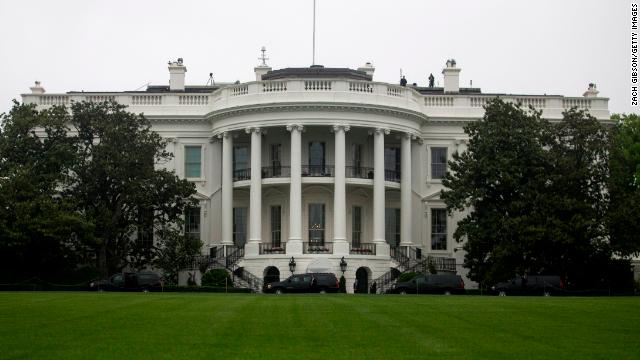 White House press secretary Stephanie Grisham slammed the Democrats' resolution to formalize the impeachment proceedings against President Trump in a new statement today.
"This resolution does nothing to change the fundamental fact that House Democrats refuse to provide basic due process rights to the Administration," she said.
Read Grisham's full statement:
"The resolution put forward by Speaker Pelosi confirms that House Democrats' impeachment has been an illegitimate sham from the start as it lacked any proper authorization by a House vote.
It continues this scam by allowing Chairman Schiff, who repeatedly lies to the American people, to hold a new round of hearings, still without any due process for the President.
The White House is barred from participating at all, until after Chairman Schiff conducts two rounds of one-sided hearings to generate a biased report for the Judiciary Committee. Even then, the White House's rights remain undefined, unclear, and uncertain – because those rules still haven't been written. 
This resolution does nothing to change the fundamental fact that House Democrats refuse to provide basic due process rights to the Administration."