House votes to formalize impeachment inquiry
9:50 p.m. ET, October 31, 2019
Our live coverage of the impeachment inquiry has ended for the day. Read below to get the latest updates.
7:15 p.m. ET, October 31, 2019
2 Democrats voted against the impeachment inquiry resolution today. The White House is looking to seize on that.
From CNN's Pamela Brown and Kevin Liptak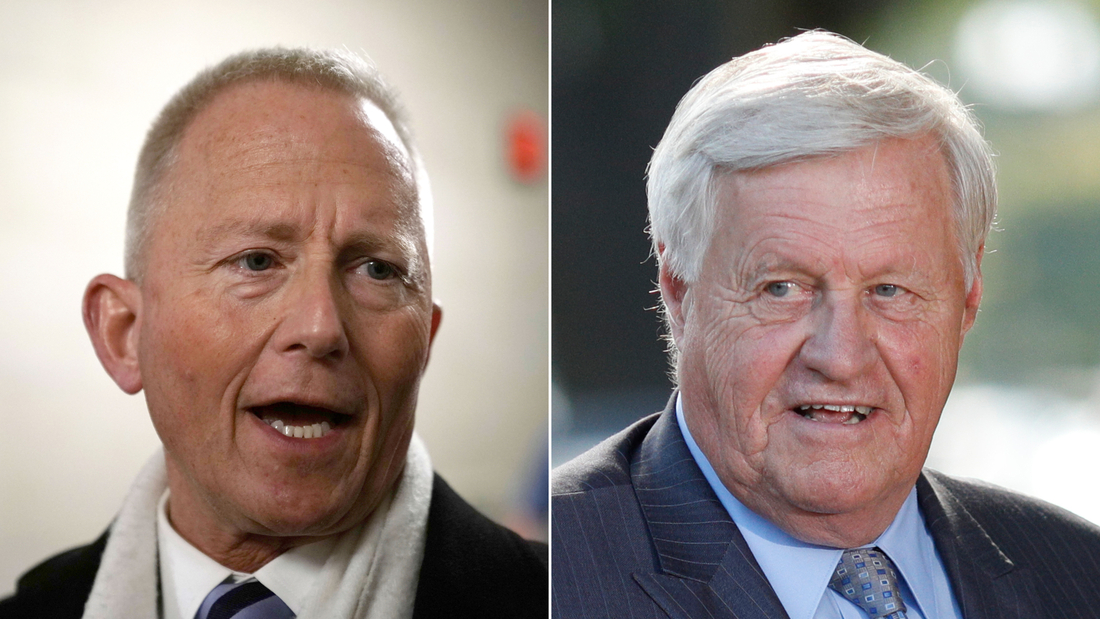 Following the 232-196 vote in the House on a resolution guiding impeachment proceedings, the White House is seizing on the two Democrats who voted against it as evidence of "bipartisan" opposition to the measure.
Two White House officials said the administration will continue to argue that it's a 'big deal' two Democrats sided with Republicans in "bipartisan opposition" and that two is actually not such a small number in these partisan times.
"Two has always been a threshold with a bipartisan vote. In today's partisan times, that's huge," one official said.
The White House will try to make the case that leadership wasn't totally successful with two Democrats jumping over for a vote of this magnitude.
"Today, the opposition was bipartisan," White House senior counselor Kellyanne Conway tweeted.
"The only bipartisan thing about this impeachment sham is the opposition to it," the White House tweeted on its official account.
In terms of the GOP arguments against process being undercut by the Democrats' vote, officials say that messaging doesn't need to change as of now because closed-door hearings are still taking place next week. The official said until the President's team begins getting access to witnesses and is able to exercise due process rights, the White House will continue to argue the process is flawed.
One official said it remains to be seen how it will play out and that Democrats want a trial after the verdict has been reached.
White House officials said the unified Republican opposition — which came after massive pressure from Trump — stands in contrast to the two Democratic defectors.
About the votes: Two votes out of 232 is a minuscule figure and hardly represents a bipartisan consensus and Democrats are largely unified in their approach to impeachment. It is also worth noting that both Democrats who crossed party lines come from districts that Trump won by double digits in 2016. 
6:38 p.m. ET, October 31, 2019
White House ramps up its outreach to Senate Republicans
From CNN's Pamela Brown and Sarah Westwood
After weathering criticism of paying too little attention to the President's defenders in the House, the White House has been ramping up its outreach to Senate Republicans ahead of a likely trial in the upper chamber in the weeks ahead.
Some White House aides and advisers still feel as though President Trump hasn't allowed his people to form an adequate team to defend against impeachment, as he's resisted forming a war room or hiring more staff and lawyers. However, the President and staff have spent more time in the past week reaching out to the senators who will likely decide Trump's fate when the House impeaches him.
What happened today: Over plates of chicken in the Roosevelt Room, Trump talked impeachment with a handful of senators just hours after the House voted to formalize the process. Like many White House officials today, Trump focused on the pair of Democratic members who bucked leadership, according to Sen. Josh Hawley, one of more than a half-dozen senators who met with the President at the White House.
White House officials said Trump monitored the impeachment proceedings on the House floor today. Several pointed out that Trump and his team have been stepping up their Senate outreach to shore up support as the inquiry progresses at a remarkable pace in the House.
Many Republicans and advisers remain deeply frustrated with the way the White House is handling the entire situation. But some point to these signs that the President and his staff may be preparing to handle the second phase of impeachment better than the first, as many even within the White House have acknowledged hasn't gone well.
6:14 p.m. ET, October 31, 2019
White House claims testimony from NSC official is good for them
From CNN's Pamela Brown
A senior White House official said the administration's view is that Tim Morrison's testimony is good for them because he thought the memo of the call was an accurate and fair representation of President Trump's conversation with Ukrainian President Volodymyr Zelensky. 
This is noteworthy following the testimony from Lt. Col. Alexander Vindman, who raised doubts about the transcript's accuracy because of two omissions regarding Burisma and Biden recordings. 
Morrison, the top White House official on Trump's National Security Council for Europe, also said he didn't think there was anything wrong with the call legally and that the only concern was how it would play in the polarized Washington environment if it leaked out. 
The official claimed he conveyed the concern was more about politics in Washington than the actual contents of the call. 
The White House is downplaying Morrison's corroboration of quid pro quo based on what US Ambassador to the European Union Gordon Sondland told him. Morrison pointed out that Sondland himself said there wasn't quid pro quo and what Morrison was told didn't come directly from Trump. 
6:16 p.m. ET, October 31, 2019
Justice Department predicts "proliferation of subpoenas" if court sides with House
From CNN's Marshall Cohen
US District Court Judge Ketanji Brown Jackson disagreed today with the Justice Department's claim that there would be "a proliferation of subpoenas to an extraordinary degree" if the House won its case on whether former White House counsel Don McGahn must testify.
She pointed out that the House won a case involving former nominee to the US Supreme Court Harriet Miers 10 years ago. In July 2007, Miers was subpoenaed by the House Judiciary Committee to testify on what she knew about the controversial firing of eight US attorneys in 2006. Former President George W. Bush ordered her not to appear before the House Judiciary Committee. 
"We haven't seen the slew of subpoenas that you're now suggesting would come," Jackson said.
Jackson also brought up US vs. Nixon, saying Nixon was told to turn over actual tapes of actual conversations, which she said was more invasive than having top aides such as McGahn testify.  
The Justice Department pushed back, saying the Nixon case was criminal inquiry and this was not. House lawyer Doug Letter reacted to the Justice Department arguments, saying, "This is what they wish the law were. It is not what the law is."
About today's case: The hearing is part of a lawsuit over whether McGahn must appear for testimony in the House. The House subpoenaed McGahn in April as it examined whether the President obstructed justice by attempting to stymie the Russia investigation. 
The White House had claimed McGahn has "absolute immunity" from being forced to speak to Congress.
Brown didn't say today when she would issue a ruling in the McGahn's case. The timing of her decision could have a domino effect on other witnesses in the fast-moving impeachment inquiry. If the parties want to expedite her decision, Jackson said she is open to ruling from the bench, with a written opinion to follow, but the parties would need to make a formal request.
5:16 p.m. ET, October 31, 2019
House lawyer argues impeachment witness' lawsuit is attempt to delay inquiry
From CNN's Katelyn Polantz
In the legal fight over impeachment witness Charles Kupperman's testimony, a major question will be whether he can even sue, and whether the court has a role to play in this case.
A lawyer for the House of Representatives told the judge today this isn't a legitimate case.
Kupperman's attorney Chuck Cooper noted that the Justice Department has been arguing in another hearing today that federal judges should stay out of witness subpoena fights. A lawyer for the Justice Department, representing President Trump in this lawsuit, didn't show her side's cards.
Cooper, speaking for Kupperman, said he believed the court should take this case. But he said he wouldn't side with the White House's immunity assertion or the House subpoena, when the case got to that point.
"We have no dog in the merits fight, your honor," Cooper said.
Todd Tatelman, a lawyer for the House, called Kupperman's lawsuit one that "serves no other purpose than to attempt to delay" the House's inquiries.
The judge responded by saying the lawsuit may potentially be more efficient, compared to holding Kupperman, Trump's former deputy national security adviser, in contempt of Congress, then pushing his abstention into court.
5:05 p.m. ET, October 31, 2019
Attorney won't say if John Bolton will file a lawsuit if subpoenaed by House
From CNN's Katelyn Polantz
The attorney for Charles Kupperman, who served until last month as deputy national security adviser at the White House, and President Trump's former national security adviser John Bolton wouldn't say in court today whether Bolton will file a lawsuit asking the courts to decide what he should do if he's subpoenaed by the House.
Kupperman filed a lawsuit last week after he was subpoenaed by the House committee to testify. The White House told him he was immune from testifying and should not appear this past Monday. Bolton is scheduled for a deposition in the House next Thursday.
Judge Richard Leon addressed Bolton's scheduled testimony and asked Kupperman's attorney if the issues for the former national security advisor would be the same.
Bolton's attorney Chuck Cooper didn't give a straight answer on his plan, and instead kept open the possibility he could also file a lawsuit for Bolton.
7:42 p.m. ET, October 31, 2019
NSC official is done testifying on Capitol Hill
Tim Morrison, the top Russia and Europe adviser on President Trump's National Security Council, has just wrapped up his testimony before House impeachment investigators.
About his deposition: Morrison told lawmakers that he was concerned the July 25 call transcript between Trump and Ukrainian President Volodymyr Zelensky would leak and could have negative ramifications, according to multiple sources. But he made clear he saw nothing wrong with the July call, saying he was "not concerned" that "anything illegal" was discussed, according to one source.
Morrison was involved with discussions after the call about how to handle the transcript, the sources said. Ultimately, the call transcript was filed in a highly classified system, a decision that's among the issues Democrats are seeking answers about in their impeachment investigation into Trump and Ukraine.
5:17 p.m. ET, October 31, 2019
Legal fight over key impeachment witness' testimony won't be resolved by court anytime soon
From CNN's Katelyn Polantz
The issue over whether witness Charles Kupperman must testify in the impeachment inquiry won't be resolved soon.
US District Court Judge Richard Leon told the Justice Department, the House of Representatives and Kupperman that he will hear arguments on Dec. 10 on whether Kupperman needs to testify.
That means Kupperman's testimony and potentially the testimony of his former boss John Bolton may not be resolved until then or later.
What we know: Kupperman, who served until last month as deputy national security adviser at the White House, was listening in on the July 25 phone call when, according to a White House transcript, Trump pressed Ukrainian President Volodymyr Zelensky to investigate former Vice President Joe Biden.
The House has subpoenaed Kupperman but the White House blocked him from testifying on Monday, claiming absolute immunity for White House officials in the impeachment probe.