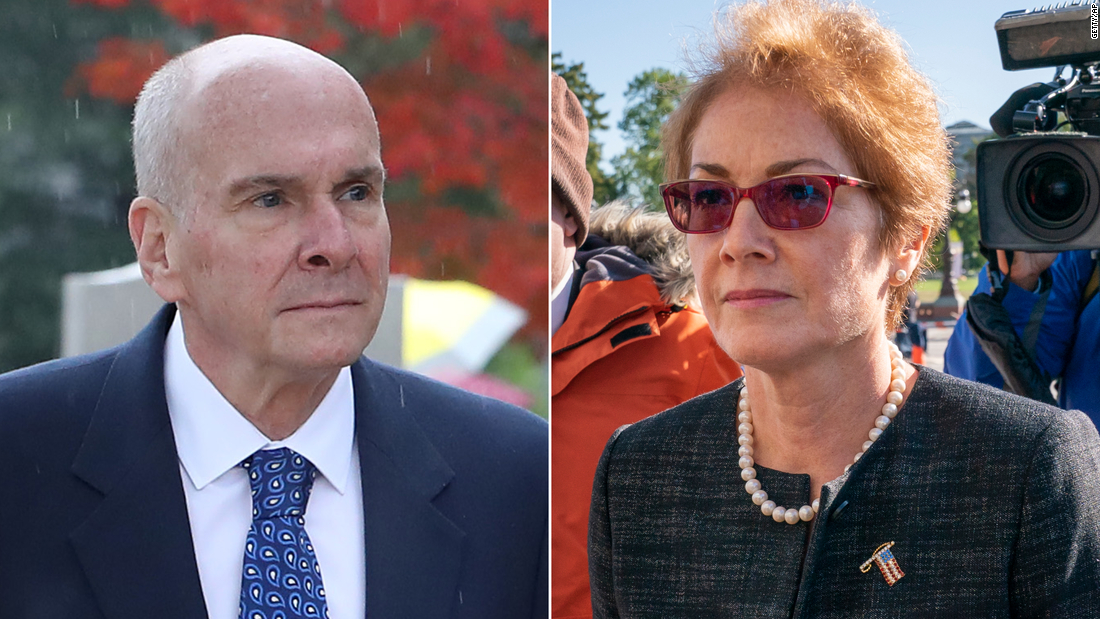 The House Intelligence Committee released transcripts from interviews with two US officials, which were conducted as part of the impeachment inquiry into President Trump.
The transcripts were from depositions with former US ambassador to Ukraine Marie Yovanovitch and former State Department adviser Michael McKinley.
We're still going through the documents, and we'll keep posting highlights here. So far, here are some of the key lines:
Yovanovitch's testimony
She said a Ukrainian official warned her to "watch my back" as Trump associates worked to undermine her and have her removed.
A Ukrainian official also told Yovanovitch that he believed it "dangerous" to engage with Trump's personal lawyer Rudy Giuliani "because of his concerns about what they were doing." 
Yovanovitch said she felt threatened after Trump used her name on the July 25 phone call to the Ukrainian president.
Yovanovitch said Giuliani's shadow diplomacy "cut the ground out from underneath us" at the US embassy and hampered her efforts to represent the US as the senior-most diplomat in Ukraine.
She said it was "not good policy" and not in the interests of the United States to get the State Departments involved in Trump and Giuliani's efforts to solicit political help from the Ukrainian government.
McKinley's testimony
McKinley testified that he never had any discussions with anyone at the State Department about Giuliani.
McKinley said he raised the idea of sending a statement of support for former US ambassador to Ukraine Marie Yovanovitch three separate times with Secretary of State Mike Pompeo and never received a substantive response from him. 
McKinley told lawmakers that he spoke with a fellow ambassador about what McKinley believed sounded like "bullying tactics" within the State Department toward officials who might comply with the impeachment investigation.
He testified that he chose to resign because in part because of what he saw as the use of ambassadors "to advance domestic political objectives."
McKinley said he "was 'disturbed' by the implication that foreign governments were being approached to procure negative information on political opponents."