The latest on the Trump impeachment inquiry
5:45 p.m. ET, November 7, 2019
Damning testimony from Kent on Trump's motivations
Career diplomat George Kent said in his testimony that former Vice President Joe Biden was promoting the "national interest" when he threatened to withhold US aid from Ukraine unless they fired the former Ukrainian prosecutor-general Viktor Shokin.
President Trump was pursuing "partisan interest" when his diplomats withheld a White House invitation until Ukraine launched investigations into Biden and the Democratic National Committee.
This distinction touches directly on whether what Trump did was potentially impeachable, and whether Trump abused his office by using his presidential powers for partisan gain instead of for the national interest of the US.
5:37 p.m. ET, November 7, 2019
Kent described Oval Office meeting days after inauguration of Ukraine president
George Kent, the deputy assistant secretary of state for European and Eurasian Affairs, testified that Ambassador to the European Union Gordon Sondland's role in the Ukraine policy portfolio increased after former US Ambassador to Ukraine Marie Yovanovitch was recalled on April 26.
Yovanovitch left the country by the time Ukrainian President Volodymyr Zelensky was inaugurated on May 20, according to Kent. 
Sondland went to Zelensky's inauguration. On May 23, Sondland, former US special envoy to Ukraine Kurt Volker and Energy Secretary Rick Perry briefed President Trump in the Oval Office.  
"They came out of that meeting asserting that going forward they would be the drivers of the relationship with Ukraine," said Kent, who was not in the briefing but later learned about it.  
"The three of them asserted that," Kent later added. "And citing the fact that they had briefed the President coming out of that meeting, they felt they had the mandate to take the lead on coordinating efforts to engage the new Ukrainian leadership."
Kent said Sondland's connection to White House chief of staff Mick Mulvaney got them the meeting with Trump, rather than National Security Council staff.
Kent said that he eventually heard from Volker himself about the White House briefing on July 1 and 2 at the Ukraine Reform Conference.
"He said that President Trump had been very angry about Ukraine, he said that they were corrupt, and they had wished him ill in 2016," Kent testified. "The last point that I recall from the readouts was that there would be an accelerated search for a political nominee for Ambassador, as opposed to having a career Foreign Service officer proposed from the State Department."
Later, Kent testifies that "our engagement with Ukraine shifted into, shall we say, unusual channels." 
"I think it's somewhat unusual to have an Ambassador to the E.U., plus the Secretary of Energy engaged deeply in the policy towards a country that is not a member of the EU," Kent said. "It was just—again, we had our Special Representative for Ukraine Negotiations, and I know you've talked to former Ambassador Volker. His listed responsibilities were focused on negotiating with Russia over their war in Ukraine, and then Charge Taylor as the lead representative in country. And so frankly, in that constellation, Charge Taylor was the primary voice for our full interests as the Charge of our mission in Kyiv."
5:32 p.m. ET, November 7, 2019
Kent: The US shouldn't "ask other countries to engage in politically associated investigations and prosecutions"
Deputy Assistant Secretary of State George Kent was asked by a member of Congress whether it is "appropriate for the President of the United States in the context of an ally seeking military support, to ask that ally to investigate his political rival." 
Here's how Kent responded:
"As a general principle, I do not believe the U.S. should ask other countries to engage in politically associated investigations and prosecutions."
He continued: "As a general principle, I don't think that as a matter of policy the U.S. should do that period, because I have spent much of my career trying to improve the rule of law. And in countries like Ukraine and Georgia, both of which want to join NATO, both of which have enjoyed billions of dollars of assistance from Congress, there is an outstanding issue about people in office in whose countries using selectively politically motivated prosecutions to go after their opponents. And that's wrong for the rule of law regardless of what country that happens."
Kent said a request by the President of the United States to have a foreign entity investigate his political rival would not align with US policy. 
"I would say that request does not align with what has been our policy towards Ukraine and may other countries," he said. 
5:29 p.m. ET, November 7, 2019
Kent described Volker's "awkward conversation" with Ukrainian president's aide
Senior State Department official George Kent described to lawmakers a pivotal conversation between former special envoy for Ukraine Kurt Volker, diplomat Bill Taylor and the Ukrainian president's top aide Andriy Yermak on Sept. 14.
Volker didn't allow Kent to participate in this meeting, but Kent got a readout from Taylor the next morning. 
The meeting featured an "awkward conversation" where Volker told Yermak that he thought it would be inappropriate for Ukrainian President Volodymyr Zelensky's administration to investigate former Ukrainian President Petro Poroshenko.
"And then Andriy Yermak said: What? You mean the type of investigations you're pushing for us to do on Biden and Clinton?" Kent told lawmakers, retelling what he heard from Taylor's readout.
Volker did not respond to that, Kent said. But later, the conversation touched on the quid pro quo.
"Later on in the conversation, when it came to the potential for Zelensky and President Trump to meet, according to Charge Taylor, Special Representative Volker said: And it's important that President Zelensky give the message that we discussed before," Kent said. But Taylor told Yermak "don't do that," Kent said.
The "message that we discussed before," Kent said, was understood to be a public announcement by Zelensky that he was investigating Burisma, former Vice President Joe Biden's son, Hunter Biden, and the hacking of Democratic National Committee's server.
One possibility was that it would take place in a CNN interview during the UN General Assembly in New York City. Zelensky never gave that interview.
5:15 p.m. ET, November 7, 2019
Kent said a former Ukrainian prosecutor met Giuliani in February 2019 "to throw mud" at Yovanovitch
Career diplomat George Kent testified that on Feb. 11, 2019, he was told by Ukraine's minister of Interior, Arsen Avakov, that former Ukrainian prosecutor general Yuriy Lutsenko had made a private trip to New York to meet with President Trump's personal attorney Rudy Giuliani. 
When Kent asked what the purpose of the meeting was, Avakov responded: "To throw mud," according to the transcript.
Kent said he asked: "To throw mud a whom?" and Avakov replied, "Towards Masha, towards you, towards others." 
Avakov clarified that he was referring to former US ambassador to Ukraine Marie Yovanovitch mentioning her by name, according to Kent's testimony. 
"Mr. Lutsenko is somebody with whom the embassy had a long relationship dating back to the Orange revolution period, which is the first time I met him," Kent said, adding that he had a series of meetings with Lutsenko in 2016. "Subsequent to that time, it was very clear that Mr. Lutsenko was not any more serious about reforming the corrupt prosecutorial service than Viktor Shokin had been."
5:09 p.m. ET, November 7, 2019
Kent said he was concerned there was "an effort to initiate politically motivated prosecutions"
Career diplomat George Kent said during his deposition that he "had concerns that there was an effort to initiate politically motivated prosecutions that were injurious to the rule of law." 
"I wrote a note to the file saying that I had concerns that there was an effort to initiate politically motivated prosecutions that were injurious to the rule of law, both in Ukraine and the U.S," Kent said, adding, "I informed the senior official still present and the European Bureau at 7:30 on a Friday night in the middle of the summer, which was Michael Murphy, and informed him of my intent to write a note to the file, which he agreed was the right thing to do." 
Kent was asked if he was referring specifically to investigations referenced in the July 25 call record between President Trump and the Ukrainian president.
He responded:
"At the time, I had no knowledge of the specifics of the call record, but based on Bill Taylor's account of the engagements with Andriy Yermak that were the engagements of Yermak with Kurt Volker, at that point it was clear that the investigations that were being suggested were the ones that Rudy Giuliani had been tweeting about, meaning Biden, Burisma, and 2016." 
5:06 p.m. ET, November 7, 2019
Kent said key Ukraine diplomat wanted to convey to Ukrainians the importance of cooperating with Trump
George Kent, a career diplomat, described attending an event called the Ukraine Reform Conference, saying that he and Kurt Volker, the former US special envoy for Ukraine, were the ranking US officials who attended and that Ukrainian President Volodymyr Zelensky also attended along with senior aides, according to a transcript of Kent's closed-door deposition.
During that time, Kent said, "Ambassador Volker told me that he would need to have a private meeting separately with the President, that he would pull him aside. And he explained to me that the purpose of that private conversation was to underscore the importance of the messaging that Zelensky needed to provide to President Trump about his willingness to be cooperative." 
Kent then described how Volker "went around to the Ukrainian side of the table and pulled Zelensky, his chief of staff, Bohdan, and the translator," saying, "Volker had several minutes with Zelensky, his chief of staff and the interpreter." 
When Kent was asked if what the cooperation was referring to, he replied, "the details at that point were not clear to me. I would say that Kurt Volker had not provided additional details. It was more that President Zelensky needed to be signaling something in his cooperative attitude towards something the President was interested in." 
Kent is then asked why Volker wanted to convey this "in a private pull-aside meeting rather than with everything there," to which Kent says, "it was clear that he both wanted to restrict knowledge of it, and considered the matter sensitive." He added, "What I was aware of what that there was an interest, and Kurt was sending a signal of a desire to have Zelensky be cooperative, but I did not know the details of what the ask was on that date, July 2."
5:00 p.m. ET, November 7, 2019
Kent describes raising concerns in 2015 over Hunter Biden and the potential for "the perception of a conflict of interest" 
Career diplomat George Kent was asked if he is aware of "any discussions of a perceived conflict of interest on the part of either Hunter Biden or the Vice President" referring to Joe Biden. 
In response to a Republican staffer's question, Kent recounted in 2015 being on "a call with somebody on the Vice President's staff," though he says he can't recall who, when he raised concerns he heard "that Hunter Biden was on the board of a company owned by somebody that the US Government had spent money trying to get tens of millions of dollars back and that could create the perception of a conflict of interest."  
Kent continued: "The message that I recall hearing back was that the Vice President's son Beau was dying of cancer and that there was no further bandwidth to deal with family related issues at that time."
"That was the end of that conversation," he added.
Kent was asked if that took place in mid-2015, to which he responds, "That would have been in February, because to the best of my recollection Beau Biden died that spring. I then returned to Ukraine in August of 2015 and I believe he passed before then. So the only time that conversation could have happened is in that narrow window between January, February, 2015."  
The diplomat was then asked, "did you ever think through with other State Department officials about maybe we should try to get Hunter Biden to leave the board or maybe we should get the Vice President to transition his key responsibilities on Ukraine to some other senior US official?"  
He responded, "No. It's easy in a conference room like this to have a considered discussion about things. In Ukraine at that time, we had a war with Russian occupation, we had an embassy staff going from 150 Americans to 250 Americans, from no Special Force US Government soldiers to close to 70 in country, our assistance went from $130 million to nearly a billion. And we were working nearly nonstop. Ambassador Pyatt, I can tell you from working for him, would wake up between 4:58 and 5:01, because that was when I got the first email from him, and went to bed between 12:59 and 1:01, because that's when I would get the last email. He had an internal clock. He only slept 4 hours. And it was nonstop. 20 hours a day, 7 days a week." 
More context here: CNN previously reported that a spokesman for Joe Biden's presidential campaign defended the former vice president's conduct in Ukraine in a statement last month after reports emerged that Kent told congressional investigators that he had voiced concerns in early 2015 about Hunter Biden working for a Ukrainian natural gas company.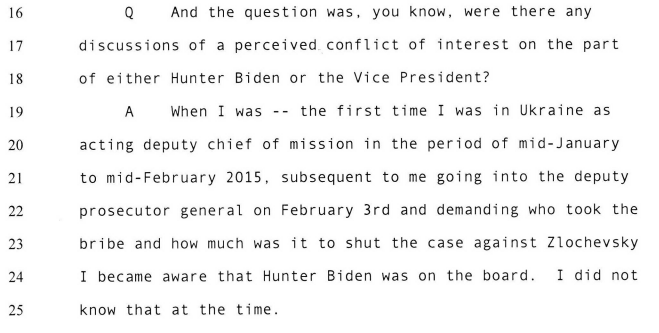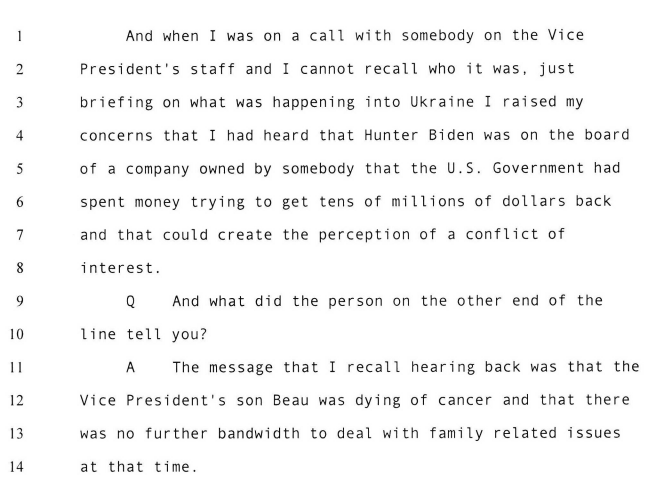 4:47 p.m. ET, November 7, 2019
Kent said he believes there was a quid pro quo for a White House visit, but not military aid
Senior State Department official George Kent said he believes there was a quid pro quo, with President Trump's appointees using a White House invitation to press the Ukrainian president to investigate Trump's political rivals.
But Kent testified that he didn't think US military assistance for Ukraine was associated with the quid pro quo.
Kent hedged that this is just his "personal opinion" of the matter. But it is an informed opinion – as a senior official, Kent was privy to many internal details about the Trump administration's dealings with Ukraine.