The latest on the Trump impeachment inquiry
10:23 p.m. ET, November 7, 2019
Our live coverage of the impeachment inquiry has ended for the evening. Read the posts below for the latest news.
10:19 p.m. ET, November 7, 2019
Mulvaney will not appear to testify despite being subpoenaed by House
From CNN's Jim Acosta
A White House official says acting chief of staff Mick Mulvaney is not expected to appear Friday despite the subpoena issued to compel his testimony in the impeachment inquiry.
The subpoena was expected and doesn't change the White House view on the matter, the official said.
9:52 p.m. ET, November 7, 2019
Mick Mulvaney subpoenaed by House and told to appear Friday morning
From CNN's Manu Raju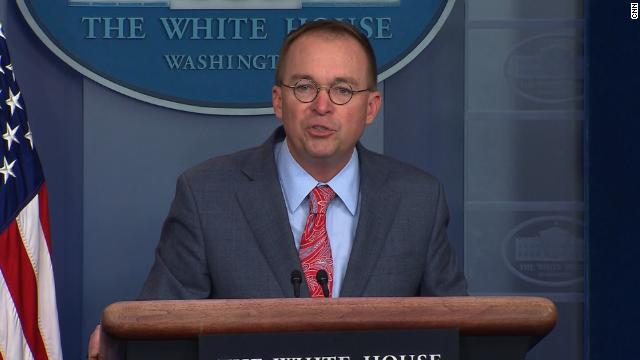 Acting White House chief of staff Mick Mulvaney has been subpoenaed to appear at 9 a.m. ET Friday before the House Intelligence Committee which is leading the impeachment inquiry into President Trump, an official working on the impeachment inquiry tells CNN. 
On Oct. 17 in the White House briefing room, Mulvaney admitted that the President withheld vital military aid in order to pressure Ukraine to conduct investigations that would benefit the President's personal and political interests, not the national interest, the official said.
Other testimony during this inquiry also has indicated that Mulvaney could shed additional light on the President's abuse of power for personal gain, the official added.
"Mulvaney has the opportunity to uphold his oath to the nation and constitution by testifying tomorrow under oath about matters of keen national importance. We hope Mr. Mulvaney does not hide behind the President's ongoing efforts to conceal the truth and obstruct our investigation," the official said.
8:57 p.m. ET, November 7, 2019
Lawyer for Ukraine whistleblower sends White House cease and desist letter to stop Trump's attacks
From CNN's Paul LeBlanc
A lawyer for the Ukraine whistleblower, whose complaint document triggered the House impeachment inquiry of President Trump, has sent a letter to the White House warning the President to "cease and desist" attacking his client. 
"I am writing out of deep concern that your client, the President of the United States, is engaging in rhetoric and activity that places my client, the Intelligence Community Whistleblower, and their family in physical danger," Andrew Bakaj wrote to White House counsel Pat Cipollone in a Wednesday letter obtained by CNN's Anderson Cooper. "I am writing to respectfully request that you counsel your client on the legal and ethical peril in which he is placing himself should anyone be physically harmed as a result of his, or his surrogates', behavior."
Trump has repeatedly attacked the whistleblower and tried to discredit the individual, saying he, Trump, deserves to "meet his accuser" and has demanded the whistleblower's identity be revealed.
The President has also accused the whistleblower of partisanship though Trump said he had no personal knowledge of the person's identity.
The whistleblower's complaint alleges Trump abused his official powers "to solicit interference" from Ukraine in the 2020 election and that the White House took steps to cover it up. Trump has denied any wrongdoing.
6:49 p.m. ET, November 7, 2019
White House's top Ukraine expert was on Capitol Hill to review his testimony
From CNN's Phil Mattingly 
Lt. Col. Alexander Vindman, the National Security Council's top Ukraine expert who testified last week before House impeachment investigators, was on Capitol Hill for more than 10 hours today to review his previous testimony.
About last week's testimony: For more than 10 hours, Vindman testified that he reported concerns about President Trump's July 25 call with the leader of Ukraine to the top National Security Council lawyer within hours, and said some of the changes he tried to make to the since-published transcript were left out, though he didn't say why. Later, he was told not to discuss the call with anyone else.
Despite testimony that will likely only fuel further inquiry, Vindman has been seen at work in the building next door to the White House. His return, multiple sources say, has been a mixture of business as usual with a pervasive sense of tension among staffers who are hoping to stay above the political fray that has consumed the typically inconspicuous council.
Vindman has no intention of leaving his post at the NSC, officials familiar with the matter said. Vindman, an Army officer who is currently detailed to the NSC, is expected to stay on in his role until his time is finished next summer, people around him believe, despite the recent spotlight he's found himself in.
6:01 p.m. ET, November 7, 2019
CNN host Fareed Zakaria was set to interview Ukrainian president until scandal took shape
From CNN's Caroline Kelly
CNN host Fareed Zakaria said on Thursday that he had been set to interview Ukrainian President Volodymyr Zelensky before news about the Ukrainian's call with President Trump broke.
The New York Times reported on Thursday that Zelensky had planned to announce an investigation into Trump's political rivals during a September interview on CNN, but those plans had been scrapped once Trump released promised security aid. Zakaria told CNN's Brooke Baldwin today that the interview had been months in the making, but it fell apart when the Ukraine scandal began to unfold.
"We had been negotiating with President Zelensky and his office for a while, for months, to try to get an interview with him anyway, ever since he was elected President," Zakaria, host of "Fareed Zakaria GPS," told Baldwin.
"Once all this came to light, once the transcript of the call, as I recall, once that became public, or maybe once the whistleblower complaint, I can't remember exactly when — it became clear to us that the interview was off," he continued.
The Times reported that the decision to unfreeze the aid to Ukraine erased the need for Zelensky's televised appearance
5:56 p.m. ET, November 7, 2019
Kent: Investigating Biden "is not anti-corruption"
From CNN's Marshall Cohen
Career diplomat George Kent testified that pressing Ukraine to investigate the Bidens and the Democratic National Committee servers "is not anti-corruption," and actually resembles a selective prosecution of political opponents.
This undercuts a key defense from President Trump and his Republican allies, who say the President had a good-faith desire to clean up corruption in Ukraine.
Some have pointed out that defense has been weak from the start: Trump's anti-corruption push only focused on Biden, and Trump only started raising it as the campaign heated up.
5:45 p.m. ET, November 7, 2019
Kent detailed 4 story lines pushed by Giuliani and Ukrainian media
From CNN's Zachary Cohen
George Kent, the deputy assistant secretary of state for European and Eurasian Affairs, testified that Rudy Giuliani was "almost unmissable" starting in mid-March as the "news campaign or campaign of slander" against former US ambassador to Ukraine Marie Yovanovitch and others unfolded, according to the transcript released today.
"He had very high -- a media promise, so he was on TV, his Twitter feed ramped up and it was all focused on Ukraine, and it was focused on four story lines that unfolded in those days between March 20 and 23rd," he told lawmakers, adding that the story lines unfolded in both the US media and the Ukrainian media, "simultaneously in peril."
Here's what Kent said were the story lines:
The first story line involved attacks against anti-corruption actors in Ukraine and the US embassy, according to Kent.
The second was "the 2016 cycle, allegations that somehow, somebody, whether it was Ukrainians or people at the embassy had animus towards Paul Manafort," he said.
The third line of reporting was related to the Bidens, and the interconnectivity between Vice President Joe Biden's role and pushing anti-corruption agenda, and the presence of his son, Hunter Biden, on the board of the gas company Burisma, he added.
"The fourth line of attack was alleging that certain civil society organizations were funded by the Soros organization," he said.
Kent told lawmakers that, based on his experience and expertise, he did not believe there was any merit to any of those four story lines.
5:45 p.m. ET, November 7, 2019
Damning testimony from Kent on Trump's motivations
From CNN's Marshall Cohen
Career diplomat George Kent said in his testimony that former Vice President Joe Biden was promoting the "national interest" when he threatened to withhold US aid from Ukraine unless they fired the former Ukrainian prosecutor-general Viktor Shokin.
President Trump was pursuing "partisan interest" when his diplomats withheld a White House invitation until Ukraine launched investigations into Biden and the Democratic National Committee.
This distinction touches directly on whether what Trump did was potentially impeachable, and whether Trump abused his office by using his presidential powers for partisan gain instead of for the national interest of the US.