The latest on the Trump impeachment inquiry
10:21 p.m. ET, November 14, 2019
Our live coverage of the impeachment inquiry has ended for the day. Read up on the latest news below.
9:45 p.m. ET, November 14, 2019
Justice Department asks to dismiss Kupperman subpoena lawsuit
From CNN's Katelyn Polantz
The Justice Department, speaking for the White House, has asked a federal judge to dismiss a lawsuit from a former national security official over whether he should testify under House subpoena.
The new filing is the first time the administration had formally taken a position in this lawsuit after former administration official Charles Kupperman sued, claiming he was torn between his House impeachment inquiry subpoena and the White House's assertion of immunity. He still has not testified.
The Department of Justice (DOJ) calls the House subpoena power a "grave threat" to the confidentiality of the presidency in the filing tonight.
"Dr. Charles Kupperman seeks an opinion from this Court on whether the President's senior-most advisors share the President's absolute immunity from testimonial compulsion by Congress. Although the answer to that critical question is undoubtedly 'yes,' Dr. Kupperman has no business asking this Court to answer it," the DOJ said.
Kupperman, in this case, has been widely considered a stand in for former national security adviser John Bolton, and acting White House chief of staff Mick Mulvaney late last week tried to join Kupperman's lawsuit, before ducking out of it.
The lawsuit is not expected to be resolved until, at earliest, after a mid-December court hearing. At this point, the White House is aligned with the House in its ultimate goal of dismissing the case.
9:23 p.m. ET, November 14, 2019
Trump claims the impeachment inquiry has been hard on his family
From CNN's Nikki Carvajal 
A combative President Trump mocked Democrats and lamented how hard impeachment proceedings have been on his family tonight at a rally in Louisiana, but also said that Republicans have asked him to "keep this sucker going for a while" 
"It's been very hard on my family," Trump said, "It's been very unfair. You think this is fun don't you? But it's been very hard on my family, very, very hard."
Trump added that Republicans have, "really stuck together, it's a beautiful thing to see."
He claimed the proceedings have been so good for the party that Republicans want to keep them going.
9:14 p.m. ET, November 14, 2019
Trump incorrectly takes credit for liquefied natural gas facility in Louisiana
From CNN's Daniel Dale
President Trump said the whole country is doing well economically, but said Louisiana is doing poorly compared with other states even after, he said, "I gave you" a $10 billion liquefied natural gas facility he visited earlier in the year.
The Cameron LNG facility received its permits during President Barack Obama's tenure, as the facility's website explains. 
Trump has repeatedly claimed that he was responsible for getting these permits. He did not have anything to do with them.
9:08 p.m. ET, November 14, 2019
Trump makes false claims about the Bidens and Ukraine
From CNN's Daniel Dale
President Trump recounted two of his regular false claims about the Bidens' dealings in Ukraine tonight during a rally in Louisiana.
Trump claimed there is evidence of "corruption" in the 2018 video of former Vice President Joe Biden explaining how he pressured Ukrainian leaders to fire the country's prosecutor general.
There is no evidence of corruption in the video; the prosecutor was widely considered ineffective or corrupt and Biden was executing official US policy.
Trump also claimed that this prosecutor, Viktor Shokin, was investigating Joe Biden's son Hunter Biden. There is no evidence Hunter Biden was ever under investigation, and Shokin's former deputy has said that even the probe into the owner of Burisma, the company where Hunter Biden sat on the board, was dormant at the time Joe Biden applied his pressure.
8:59 p.m. ET, November 14, 2019
Trump employs his "sir" refrain tonight at rally in Louisiana
From CNN's Daniel Dale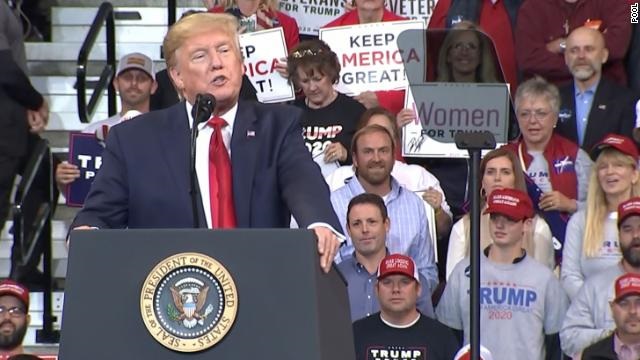 President's Trump's long history of telling stories in which he has unnamed people referring to him as "sir" has been reported in the past and was a talking point once again tonight at a "Keep America Great" rally held in Louisiana.
Trump told another "sir" story at the rally, saying Republicans are approaching him to urge him to prolong the impeachment saga because it is helping them politically.
Trump's account of the supposed conversation: "'Sir, our poll numbers are going through the roof, do you think we could keep this going?' I said, 'Do me a favor, let's get it ended.' They said, 'But let's keep it going, President, it's so great.'"
As has been repeatedly documented, there is no sign of an impeachment spike in Trump's own approval numbers despite his claims otherwise.
7:08 p.m. ET, November 14, 2019
Budget official will testify in inquiry if subpoenaed, his lawyer says
From CNN's Sara Murray
Mark Sandy, an official at the Office of Management and Budget, will testify in the House impeachment inquiry if he is subpoenaed, his lawyer said today.
The House Intelligence Committee scheduled a closed-door deposition for Sandy on Saturday.
"If he is subpoenaed, he will appear for the deposition," his lawyer Barbara "Biz" Van Gelder said.
Van Gelder said he has not received a subpoena yet. The common practice in these proceedings has been the House committees deliver the subpoena the morning of the day of scheduled testimony.
The Washington Post first reported.
6:43 p.m. ET, November 14, 2019
A diplomat who overheard a call between Trump and the EU ambassador is scheduled to testify tomorrow
From CNN's Kylie Atwood and Nicole Gaouette
A US diplomat who overheard President Trump ask the US Ambassador to the European Union about the status of "investigations" during a cellphone conversation in a Kiev restaurant is set to appear before the House impeachment inquiry behind closed doors tomorrow.
David Holmes, the counselor for political affairs at the US Embassy in Ukraine, overheard the conversation between Trump and Gordon Sondland the day after Trump spoke with the Ukrainian president by phone in July, according to testimony Wednesday from Bill Taylor, the top US diplomat in the country.
Taylor did not name Holmes, but sources tell CNN that he is the member of the embassy staff Taylor was referencing.
What we know about Holmes: He is a career foreign service officer who arrived in Ukraine in 2017, according to a source who knows him and describes him as a "sharp guy." He joined the foreign service in 2002, according to the American Foreign Service Association, and has previously served in Kabul, New Delhi, Kosovo, Bogota and Moscow.
Holmes has also served as a special assistant for South and Central Asia to former Under Secretary of State for Political Affairs Bill Burns and spent time on the National Security Council staff at the White House as director for Afghanistan from 2011 to 2012.
"He is a decent guy and a smart, competent foreign service officer," said a second source who has worked on US policy in Ukraine and knows Holmes.
As political counselor, his main job is to determine what is going on in Ukrainian politics.
Holmes often accompanied top US officials to meetings with Ukrainians as the note-taker in the last few years. It would not be unusual for him to accompany Sondland to these meetings, or for the two grab a meal in-between or after, the second source said.
5:36 p.m. ET, November 14, 2019
Podcast: In a political fight, the truth might be a sideshow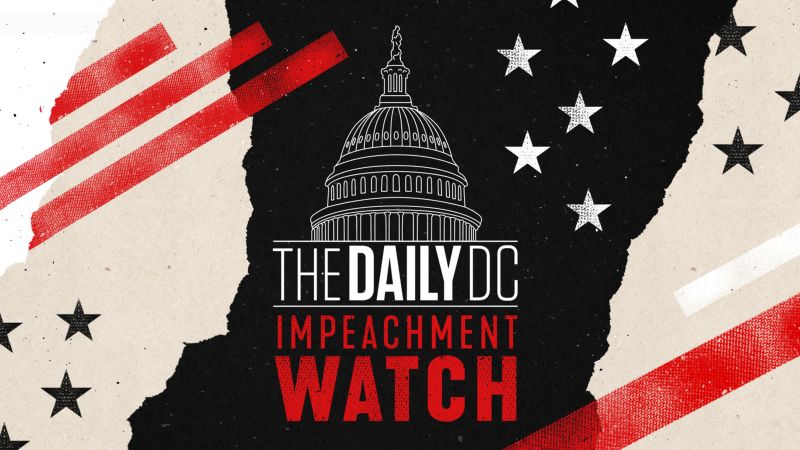 In today's episode of "The Daily DC: Impeachment Watch" podcast, CNN Political Director David Chalian looks at diplomat Bill Taylor's testimony and his new revelation alleging a direct link between President Trump and a Ukraine pressure campaign.
Chalian also covers:
How Trump and the GOP are dismissing the testimony as hearsay 
House Speaker Nancy Pelosi's comments that impeachment is about patriotism, not politics
Whether a public testimony can cut through partisan media bubbles
Why Rudy Giuliani isn't nervous about the inquiry
Chalian is joined today by CNN White House reporter Stephen Collinson and CNN political commentator Matt Lewis.