The latest on the Trump impeachment inquiry
7:09 p.m. ET, November 16, 2019
Morrison says he had "concerns" about National Security Council's top Ukraine expert
Tim Morrison, the former National Security Council official, testified he had "concerns" about National Security Council official Lt. Col. Alexander Vindman's judgement in regards to policy.
Morrison said he was unaware that Vindman, who was on his staff, went to NSC lawyers to raise concerns about the July 25 call between President Trump and the Ukrainian president. Morrison himself told the committee he was not concerned about the conversation but was worried if it leaked it would be a problem for US-Ukraine relations.
Morrison said he only learned about it as he prepared for his own testimony and suggested he was bothered by what Vindman did.
The criticisms of Vindman, a critical witness for the democrats, could put the NSC official further in the crosshairs of the President who has called Vindman a "never Trumper" for his testimony about being alarmed about the push for Ukraine to pursue political investigations.
"I had concerns about Lieutenant Colonel Vindman's judgement," Morrison continued.  "That he did not always exercise the best judgment in terms of the policymaking process and -- the policy process."
At another point Morrison said that he limited conversations to ensure that there be no suggestion witnesses were coordinating testimony once there was an awareness of an investigation regarding the Ukraine matters.
Morrison said former White House aide Fiona Hill had also alerted him to concerns about Vindman's judgement. 
Morrison said he didn't have concerns Vindman might leak something, but that others brought concerns believing he would.
"Do you know whether Colonel Vindman ever had access to information he was not supposed to see?" Morrison was asked.
"Not firsthand," Morrison answered.
When asked if Vindman talked "too much," Morrison said Vindman "did not exercise appropriate judgment as to whom he would say what."
Vindman said he was excluded from some trips and calls, including an August call between Morrison and charge d'affaires for Ukraine, Bill Taylor. The conversation, Morrison said, pertained to security assistance in Ukraine. Morrison said he wanted to have the conversation alone.
6:46 p.m. ET, November 16, 2019
White House budget official details unusual process in freeze of Ukraine aid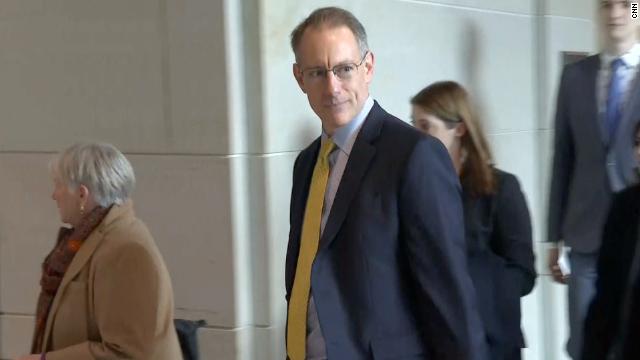 A senior career official at the Office of Management and Budget testified today about a budget process that went off the rails when nearly $400 million in US military aid to Ukraine was withheld earlier this year, and that he did not know the reasoning behind the freeze in funds, sources familiar with his testimony told CNN.
Mark Sandy arrived on Capitol Hill for a more than five-hour closed-door deposition in the House impeachment inquiry into President Trump.
He spoke about how unusual of a process it was that a political appointee came in, took over the apportionment process and placed a hold on the military aid, a source told CNN.
CNN previously reported that Michael Duffey, the OMB's associate director for national security programs and a Trump political appointee, signed at least some of the documents delaying aid to Ukraine, according to two sources. Normally a career budget official signs such documents.
Sandy testified that he raised questions to the OMB general counsel about whether the move violated the Congressional Budget and Impoundment Control Act of 1974, the source said. He would not discuss what the OMB general counsel said because of concerns it could violate privilege.
More about the aid: This past summer, the Trump administration took the unusual step of freezing nearly $400 million in aid to Ukraine -- intended in part to help the country counter Russian aggression -- before the President's July 25 phone call with Ukrainian President Volodymyr Zelensky.
The administration eventually released the military aid in September after congressional Republicans raised concerns and the White House was made aware of a whistleblower complaint about the July call.
6:31 p.m. ET, November 16, 2019
Williams says she flagged news articles to Mike Pence on Rudy Giuliani and Ukraine
Jennifer Williams, an aide to Vice President Mike Pence, said she flagged news articles to the vice president about Rudy Giuliani's dealings in Ukraine, "but had no personal conversations with him about it."
"I had flagged the May 28th Ukrainian interview -- Ukrainian media interview in a daily update for the vice president," she said.
In that interview, Williams testified that Giuliani referenced investigations he wanted the Ukrainians to undertake.
"They related to the 2016 election, and what role, if any, Ukraine may have played in that, as well as looking into the situation with former Vice President Biden's son and Burisma," she said.
Williams said at the time she didn't know at whose direction Giuliani was working, and she only knew from press reports that Giuliani was working as the President's personal attorney. She said she has "never interacted with Mr. Giuliani or seen him in person with the President."
6:05 p.m. ET, November 16, 2019
Williams describes a second call Mike Pence had with Ukrainian president
An aide for Vice President Mike Pence detailed a second call between the vice president and Ukrainian President Volodymyr Zelensky, which took place Sept. 18 after the hold on security assistance to the country was lifted.
Jennifer Williams was asked if on the call Pence gave Zelensky any advice on how to approach Trump when they met at the forthcoming UN General Assembly meeting. 
Williams said Pence told Zelensky, "President Trump would be eager to hear about President Zelensky's progress in his reform agenda."
When asked by House investigators to define "reform agenda" Williams said, "on anticorruption reforms, on reforming the judiciary, and the legislative action that his administration was undertaking, but there was no discussion of any specific investigations."
At this point, Zelensky was already aware the military aid was released. But it's worth noting Williams referred vaguely to "reforms" earlier in the transcript when discussing the Pence-Zelensky meeting in Warsaw.
5:55 p.m. ET, November 16, 2019
Transcript was mistakenly moved into classified server, Morrison said
Tim Morrison, the former National Security Council official, testified he was told the moving of the transcript between the President and Ukraine's leader to a highly classified server was a "mistake."
During his deposition, Morrison relayed senior NSC lawyer John Eisenberg's explanation that Eisenberg's executive secretary mistakenly put it in the highly classified system. Morrison acknowledged that he and Eisenberg had previously discussed that access to the transcript should be restricted.
They found out that it was in the classified server while they were "trying to gain access to it to prepare the President for the planned Warsaw meeting," in September, Morrison said.
Upon finding the transcript in the special server, they asked themselves, "how did it get on there?"
Morrison continued, "John (Eisenberg) related that he did not ask for it to be put on there, but that the Executive Secretariat staff misunderstood his recommendation for how to restrict access."
Morrison testified that there was nothing in the call transcript that met the requirements to be put on a highly classified system. 
Morrison also said that despite Eisenberg telling him that the transcript was moved by mistake, it was not removed from the classified system after their conversation.  
He said he did not know why.
"As of the third week of September, it was not—it had not been taken off," said the former NSC official.
Morrison also testified that he was concerned the July 25 call would wind up becoming a partisan political issue if it leaked.
He asked White House legal staff to restrict access to the Trump-Zelensky call transcript because he was afraid it would leak.
He testified that he never asked for something like this to be done before for any other presidential phone call.
The whistleblower complaint said, and the White House later confirmed, that National Security Council officials moved the transcript into a highly classified server that is typically meant for top national security secrets or military intelligence.
Morrison testified that he didn't ask for this to happen.
5:45 p.m. ET, November 16, 2019
Williams agreed with Taylor that withholding aid was "folly"
Jennifer Williams, an aide to Vice President Mike Pence, told lawmakers she agreed with Ambassador Bill Taylor that holding up security assistance to Ukraine was "folly."
Williams said she found a cable written by Taylor outlining his view of the importance of the security assistance to be "persuasive" and she believes that she provided a copy of the cable to Gen. Keith Kellogg, the vice president's national security adviser, but can't recall if he included it in Pence's briefing materials for his trip.  
Williams described why she thought his argument was persuasive, saying "I thought he Iaid out a very strong case for the effectiveness of US security assistance to Ukraine, as we've discussed before, not just because of the actual physical and substantial support that it provides, but also the symbolic value of it; and that at this particular critical moment in Ukrainian politics and security environment, that any signal of wavering US support would send the wrong message to President Zelensky just as he was trying to implement his reform agenda."
She said "yes," when asked if she agreed with Taylor's written assessment that the security hold was "folly."
5:32 p.m. ET, November 16, 2019
Williams gives first details of Pence call, meeting with Ukraine's president
Jennifer Williams, and aide to Vice President Mike Pence, told lawmakers that she was on the call between Pence and Ukrainian President Volodymyr Zelensky, and that it was "similar" to the April 21 call between President Trump and Zelensky.
"It was an offer of congratulations for President Zelensky's recent victory, which was an overwhelming victory in that race," Williams testified. "They talked, again, also about the importance of the US-Ukraine relationship and how eager we were, the U.S. was, to see President Zelensky take steps to implement the agenda on which he had run, which was very much focused on anticorruption, and looking to realIy bring Ukraine even closer to the trans-Atlantic and European community."
Williams said they also discussed the vice president going to Zelensky's inauguration in Ukraine. When asked to her knowledge or recollection if there was any reference into investigations into Burisma, the Bidens, or 2016 in that call, Williams said, "there was not."
Williams also provided details on Pence's Sept. 1 meeting with Zelensky and highlighted how concerned Zelensky was about US military aid being withheld saying it was the first question he asked Pence when the press left their bilateral meeting in Warsaw, Poland.
In his response, Pence said he wanted to hear about the progress of "reforms" in Ukraine so he could relay them to President Trump.
"The VP responded by neatly expressing our ongoing support for Ukraine, but wanting to hear from President Zelensky, you know, what the status of his reform efforts were that he could then convey back to the President," Williams said of Pence, according to a transcript of her deposition as part of the House impeachment inquiry released today. 
 At the end of their discussions, Pence said he would relay progress on said reforms to Trump. 
"He assured President Zelensky that there was no change in U.S. policy in terms of our fuII -- full-throated support for Ukraine and its sovereignty and territorial integrity, and assured that he would convey back to President Trump what he had heard from President Zelensky in terms of Zelensky's good progress on reforms, so that hopefully we could get a decision on the security assistance as soon as possible," Williams said of Pence.
5:27 p.m. ET, November 16, 2019
European Union ambassador was viewed as a "problem" by National Security Council staff
Tim Morrison, a a former National Security Council official, testified that he agreed with Fiona Hill that the European Union ambassador was a "problem."
Morrison was asked about a conversation with Hill, his predecessor at the NSC, where they discussed Gordon Sondland, the American envoy to the European Union.
"She described Ambassador Sondland as a problem," Morrison said. "We both discussed that Ukraine was not in the EU, which led to the follow-on question of, why is he involved in Ukraine? And, as I mentioned, she mentioned Bunisma, which I nearly did not know what that was."
Morrison explained their concern: "It was less about his role in Ukraine and more about how he conducted himself. He did not participate in the process. So we are very process-oriented on the NSC; we have a way we do things that works. And so when people come in and get involved in issues and they're not of that process, it creates risk."
Morrison describes Sondland as a not-always-welcome presence, characterizing him as calling frequently and inserting himself in areas without prior warning.
 "I had made the mistake of giving Ambassador Sondland my work ceIl phone number. So, again, sometimes these conversations would occur and they weren't formally scheduled so they weren't on my calendar," he said.
He said Sondland once quipped to him that it was easier for him to get ahold of President Trump than Morrison — which led Morrison to respond, "Well, the President doesn't work for Ambassador Bolton; I do." 
Morrison's description of Sondland is similar to the testimony of his predecessor at the NSC, Fiona Hill. She said Sondland gave out her cell phone number to European officials, who would call her at random moments to try scheduling White House meetings.
4:54 p.m. ET, November 16, 2019
Schiff calls out Mulvaney for not testifying after others have done so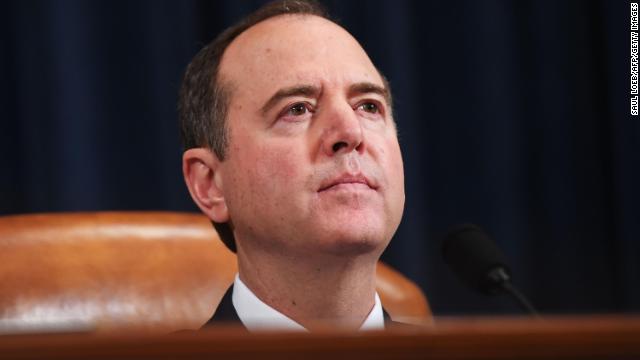 House Intelligence Chairman Adam Schiff again called on acting White House chief of staff Mick Mulvaney and others to comply with a congressional subpoena.
"This stands in stark contrast to the actions of Acting Chief of Staff Mick Mulvaney, who not only has refused to testify, but actively worked to block others from complying with subpoenas, and refused to provide Congress with documents relating to Trump's suspension of Congressionally approved military aid to Ukraine. This is the same Mick Mulvaney who publicly admitted from the White House podium that Trump withheld the military aid in order to pressure Ukraine to conduct investigations meant to help the President's re-election campaign, and the same Mick Mulvaney who was a direct firsthand participant in and witness to the scheme," Schiff said in a statement after Office of Management and Budget official Mark Sandy testified today.
This comes as Mulvaney first mulled joining an existing lawsuit and then instead filed his own suit to determine whether he had to comply with a subpoena or follow instructions from the White House in defying it.
Instead he decided to follow the White House instructions – something Schiff again criticized.
"If Mulvaney had evidence that contradicted what we've already heard, he'd be eager to testify and provide documents. Instead, he's hiding behind, and assisting in, Trump's efforts to conceal the truth from the American people," Schiff said.