The latest on the Trump impeachment inquiry
9:22 p.m. ET, November 26, 2019
Trump falsely accuses media of reporting he had a "massive heart attack"
President Trump went on a nearly 10-minute rant, falsely accusing the media of reporting that he had a "massive heart attack" and that he stayed over night at Walter Reed National Military Medical Center — neither of which were reported by any credible, mainstream news outlets.
Trump specifically targeted CNN over the coverage of his visit at the start of his rant as "stupid, corrupt, horrible CNN." CNN at no point reported that Trump had a heart attack or chest pains, which Trump claimed the media had reported.
"They said I had a massive heart attack and it wasn't true, they knew it wasn't true, they were with me," Trump said of the media.
In a story riddled with "sir" mentions, Trump claimed that as he returned to the White House, multiple people began asking him, "Sir, are you OK?"
"I said, 'Yeah what's that all about?'" Trump said. "I go a few feet further and another security said, 'Sir, are you ok, sir?' and I said, 'Yeah I'm fine.' Nobody's ever asked me that."
Trump then claimed that after pushback, the media instead began reporting that he had "tremendous chest pains," which was also not reported by any mainstream news outlets.
He also offered a new version of how he came to go to Walter Reed on a Saturday for what he claimed was a "routine" visit.
While the White House physician explained in a memo that the visit was kept off the record due to "scheduling uncertainties" — not because it was spur of the moment — Trump claimed that the White House physician called him on Saturday and said: "Sir, you're home today...I wondered, maybe, could I do some of the physical?"
8:54 p.m. ET, November 26, 2019
Trump makes false claims about the border at his Florida rally
President Trump made two false claims about the border at his rally tonight in Florida.
He said "the Democratic Party wants open borders."
Facts First: Even 2020 Democratic presidential candidates who advocate the decriminalization of the act of illegally entering the country, such as Massachusetts Sen. Elizabeth Warren and former Housing and Urban Development Secretary Julián Castro, do not support completely unrestricted migration, as Trump suggests.
He said that "the wall is happening, it's getting built rapidly" and "the wall is going up faster than anybody ever would have thought."
Facts First: On Nov. 14, Mark Morgan, acting commissioner of US Customs and Border Protection, admitted no new wall has been built. Over Trump's tenure in office, 78 miles of barriers had been constructed in places where "dilapidated and outdated" barriers had existed before; that's a pace of about half a mile of renovated replacement barrier per week.
8:09 p.m. ET, November 26, 2019
Trump supporters join the President in quoting Sondland's testimony at his rally
In case there was any question that President Trump's messaging on the Ukraine scandal is getting through to his supporters, the effectiveness of Trump's messaging to his base was just on display at his rally tonight.
Just as he did last week, Trump began quoting from Ambassador Gordon Sondland's testimony, recounting a call Sondland and Trump had in early September.
"I want nothing, I want no quid pro quo," Trump said. "I want nothing."
As he said that, much of the crowd quickly joined him, chanting those words at the same time, almost verbatim — similar to when the crowd jumps in for "Build that wall" without any prompting.
8:07 p.m. ET, November 26, 2019
Trump claims Americans are not supportive of the impeachment inquiry
President Trump, speaking at a packed rally in Sunrise, Florida, claimed that Americans are not supportive of the Democrat-led impeachment inquiry.
"The same maniacs are pushing the deranged impeachment," Trump said, after talking about special counsel Robert Mueller's investigation. 
"They're pushing this impeachment witch hunt, and a lot of bad things are happening to them, 'cuz you see what's happening in the polls? Everybody said that's really bullsh**," he said.
The crowd erupted in cheers, despite Trump's claim not being entirely accurate.
More on this: A CNN poll released today shows that half of Americans say Trump should be impeached and removed from office while 43% say he should not. Neither figure has changed since October, with support for impeachment remaining at its highest level thus far in CNN polling.
8:10 p.m. ET, November 26, 2019
Trump touts military pardons over objections from "deep state"
President Trump touted his move to pardon service members accused of war crimes at his campaign rally tonight, framing the objections he faced from senior Pentagon officials as coming from the "deep state."
"Just this week I stuck up for three great warriors against the deep state. You know what I'm talking about," Trump said. "And so many people said, sir, I don't think you should do that."
Trump argued: "People have to be able to fight."
"They can't think gee wiz, if I make a mistake ... they wanted to put them in jail for 25 years," he added.
"I will always stick up for our great fighters. People can sit there in air conditioned offices and complain, but it doesn't matter to me whatsoever," Trump said.
Some background: Earlier this month, Trump pardoned Army Lt. Clint Lorance and Maj. Matthew Golsteyn.
He had also previously intervened in the case of Chief Petty Officer Eddie Gallagher and over the weekend Trump ordered Defense Secretary Mark Esper to allow Gallagher to retain his trident.
9:03 p.m. ET, November 26, 2019
Trump kicks off Florida rally with false claims
President Trump kicked off his rally in Sunrise, Florida, tonight touting his accomplishments, starting with what he's done for veterans.
He claimed that previously "you read in the paper about our veterans being mistreated. They were doing such a poor job. You don't hear that anymore."
Facts First: We can't speak for what Trump himself has been reading, but it's just not true that there are no longer news reports about veterans being treated badly at Veterans Affairs facilities. Since August, there have been news stories about "11 suspicious deaths at the Louis A. Johnson VA Medical Center," "how Veterans Affairs failed to stop a pathologist who misdiagnosed 3,000 cases" and wasn't fired until 2018, how "a Veterans Affairs medical center in West Virginia is being investigated over allegations that one of its physicians sexually assaulted more than a dozen patients," and how a veteran at a Veterans Affairs facility in Georgia was allegedly bitten by ants "100 times before his death."
Talking about attendance at rallies like the one he's at tonight, Trump said, "We never have an empty seat."
Facts First: There have been empty seats at various Trump events, including a July rally in Greenville, North Carolina, an October 2018 rally in Houston, Texas and an April 2017 rally in Harrisburg, Pennsylvania, according to journalists on the scene.
Trump said he was just told that his poll numbers are "through the roof."
Trump said last Monday he flew to Texas and "opened up an Apple computer plant. "
Facts First: The plant Trump visited did not open that day. The Flex Ltd. facility has been making Apple's Mac Pro computers since 2013. Apple did break ground that day on a $1 billion campus in Austin, about a mile from the plant Trump toured with Cook, but no manufacturing is expected to be done at the campus.
Commenting on what he called the Russia hoax, Trump said "they spent 45 million dollars."
Facts First: Special counsel Robert Mueller's investigation cost $32 million, not $45 million, according to figures released by the Justice Department. The government is expected to get back about $17 million as a result of the investigation, according to a CNN analysis of the sentences handed out to people charged by Mueller. The vast majority of this $17 million is expected to come from former Trump campaign chairman Paul Manafort, who was ordered to forfeit assets and pay millions to the Internal Revenue Service.
The President claimed "unemployment has reached its lowest level in more than 51 years."
Facts First: This is Trump's usual slight exaggeration of an already-impressive number. The 3.6% unemployment rate for October is the lowest in just under 50 years (if you ignore the fact that it was slightly lower, 3.5%, in September).
Trump claimed tonight that "the United States is now the number one producer of oil and natural gas anywhere in the world."
Facts First: The US has not just "now" become the world's top energy producer. It took the top spot in 2012, according to the US government's Energy Information Administration – under the very Obama administration Trump has repeatedly accused of perpetrating a "war" on the industry. The US did become the top producer of crude oil in particular during Trump's tenure.
On the topic of health care and medicine, Trump exaggerated and said that drug prices have declined in our country for the first time in more than 50 years.
The President also vowed to strongly protect patients with pre-existing conditions.
Facts First: While we usually don't fact-check promises, this one has already proved untrue. The Trump administration and congressional Republicans have repeatedly put forward bills and filed lawsuits that would weaken Obamacare's protections for people with pre-existing conditions. Trump is currently supporting a Republican lawsuit that is seeking to declare all of Obamacare void. He has not issued a plan to reinstate the law's protections for people with pre-existing conditions if the suit succeeds.
7:45 p.m. ET, November 26, 2019
New York Times: Trump knew about whistleblower complaint when he released Ukraine aid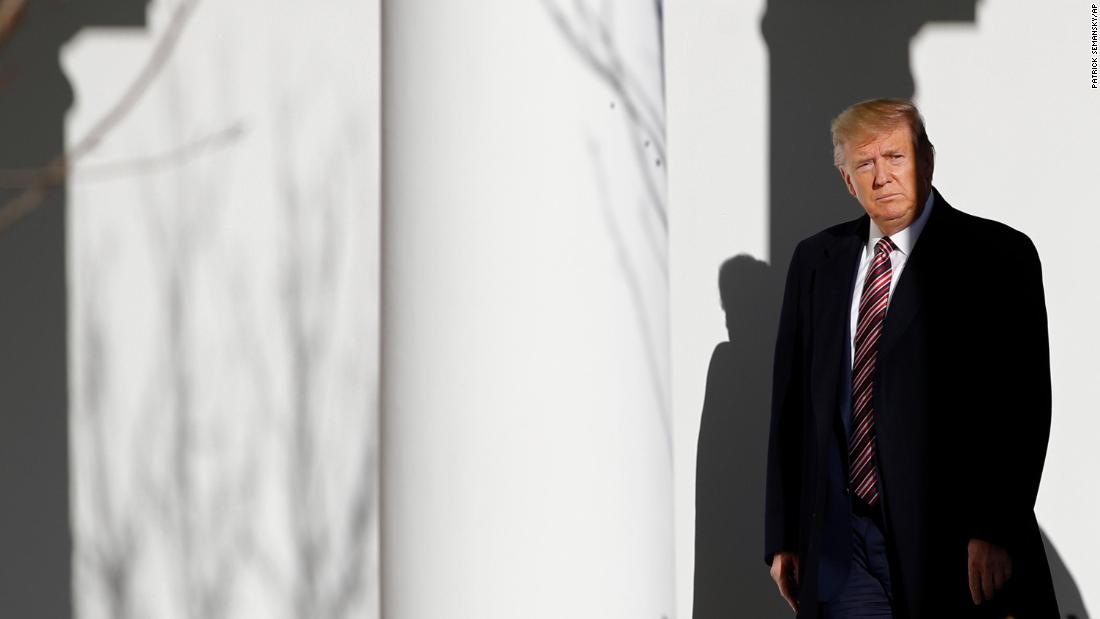 President Trump had been briefed on the whistleblower complaint that's now at the heart of the House impeachment inquiry when he released military aid to Ukraine in September, The New York Times reported Monday, citing two people familiar with the matter.
The people told the Times that lawyers from the White House counsel's office briefed Trump on the complaint and explained that they were attempting to ascertain whether they were legally obligated to give it to Congress.
News of Trump's knowledge of the complaint before his decision to release the security assistance underscores a key question at the heart of the impeachment inquiry about whether the aid was tied to Trump's wish for Ukraine to investigate former Vice President Joe Biden and his son, Hunter.
CNN reported earlier Monday that the White House budget office's first official action to withhold $250 million in Pentagon aid to Ukraine came on the evening of July 25, the same day Trump and Ukrainian President Volodymyr Zelensky spoke on the phone, according to a House Budget Committee summary of the office's documents.
A hold had been placed on the Ukraine aid at the beginning of July, and the agencies were notified at a July 18 meeting that it had been frozen at the direction of the President, a week before the Trump-Zelensky call.
7:02 p.m. ET, November 26, 2019
State Department official: Volker wanted to get Giuliani to stop giving Trump a negative narrative on Ukraine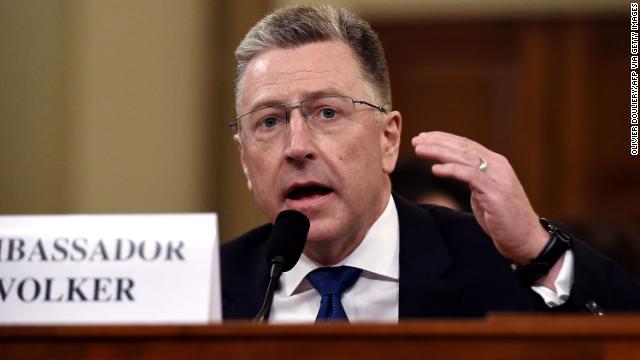 Kurt Volker, the former US special envoy to Ukraine, was at one point trying to get in touch with President Trump's personal lawyer, Rudy Giuliani, to try and tamp down the negative narrative Giuliani was relaying to Trump about corruption in Ukraine, according to State Department official Philip Reeker.
Reeker said Volker told him that he was planning to reach out to speak with Giuliani to spin him on positive developments in Ukraine. 
"I do recall him telling me … that, well, he was going to reach out to or was going to speak to Giuliani," Reeker said of Volker. "And I think Ambassador Volker felt that there was this very good story to tell about President Zelensky and a new chapter in Ukraine. And that was his goal, was to hopefully take away some of that, what we sense was a negative stream coming from Mr. Giuliani to the President." 
Later, Reeker said more specifically said Volker's goal was to "tell the good story that there is to tell with the hope that that would get Mr. Giuliani to a different place in terms of what he was saying about Ukraine."
6:30 p.m. ET, November 26, 2019
OMB official warned boss Ukraine aid freeze may have been illegal 
Right after Mark Sandy, an official at the Office of Management and Budget, learned that President Trump froze US aid to Ukraine, he told his boss that the move might have violated a federal law about congressional appropriations and said OMB lawyers should review the matter.
Sandy learned about the holdup on July 19, after returning from a vacation. He was told about it by his boss, Michael Duffey, a Trump political appointee at OMB. 
"So, on that day, I emphasized that that would noise a number of questions that we would need to address," Sandy said. "And so I advised that we would want to consult with our Office of the General Counsel on those questions first."
Sandy, who is not an attorney, said he raised the legal concerns because "these moneys are what we call one-year funds, which means that their period of availability was expiring on September 30th, and consistent with a layman's understanding of the Impoundment Control Act, we need to ensure that agencies are able to obligate funds before they expire." 
The Impoundment Control Act, a federal law passed in the 1970s, prohibits a sitting US president from unilaterally withholding funds that were appropriated by Congress. Some liberal-minded scholars have opined that Trump broke the law when he froze $390 million in military aid for Ukraine because it was appropriated by lawmakers.  
On July 30, political appointee Michael Duffey took over responsibility for the Ukraine money. (Up until that point, Sandy had been signing the documents about the freeze. After that, until the aid was lifted in September, Duffey signed the papers.)  
Sandy learned about this change in a conversation with Duffey, who told him "that there was interest among the leadership in tracking the uses of moneys closely." Duffey also said he "had an interest in being more involved in daily operations… he regarded this responsibility as a way for him to learn about more specific accounts within his area."
Sandy raised concerns about this move — he said because it would take up so much of Duffey's time, if he were to assume responsibility for these funds and others. He also said that it was not the most efficient way to learn about how OMB formally doles out federal funding.