The latest on the Trump impeachment inquiry
8:56 p.m. ET, November 27, 2019
Our live coverage of the impeachment inquiry has ended for the day. Read up on the latest news below.
6:23 p.m. ET, November 27, 2019
Trump's whistleblower briefing is a knock on his impeachment defense
From CNN's Jeremy Herb
News that President Trump had been briefed in late August on a whistleblower complaint alleging he pressured Ukraine to investigate his political rival, while withholding security aid to Kiev, raises new questions about conversations he had before the aid was released in September.
Trump was briefed by lawyers from the White House counsel's office about the whistleblower complaint, The New York Times reported Tuesday, and they explained they were trying to determine whether they were legally required to provide the complaint —alleging he sought help with his political campaign from Ukrainian President Volodymyr Zelensky — to Congress.
While it's not clear how much detail Trump received in the briefing, the revelation further undermines Republican defenses of Trump's actions surrounding the aid, given that his decision to release the aid roughly two weeks later occurred with his knowledge of the complaint.
Andrew Bakaj, one of the whistleblower's lawyers, told CNN today that it would be "appropriate" for White House counsel to be notified of the complaint early on, and as a result he expected that office to brief Trump on the matter since it contained allegations related to his conduct.
Still, the briefing also adds a new layer of intrigue over Trump's September comments to US Ambassador Gordon Sondland, which have become a key line for the President. "I want nothing. I want no quid pro quo," he told Sondland at the time — and has since repeated to reporters and even at rallies.
It's just one of several statements that prompt reinspection in light of the new timeline for when Trump learned about the complaint.
5:29 p.m. ET, November 27, 2019
Justice Department argues why impeachment witness' case should be dismissed in latest court filing
Following court filings today from former White House official Charles Kupperman and the House, the Department of Justice has now filed arguments in the case. 
In its latest court filing, the Justice Department argued why the former deputy national security adviser's case should be dismissed.
The Justice Department said Kupperman doesn't face any real risk even if the House were to hold him in contempt. The executive branch wouldn't pursue a contempt charge against a White House official who's instructed not to appear before Congress, and the House's contempt power is "long dormant," the DOJ said.
"He disclaims any personal stake in whether he is required to testify or not, and faces no risk of future criminal liability for following the President's directive. Nor does Dr. Kupperman face any appreciable risk that the House Defendants would (or could) exert their long dormant inherent contempt authority to enforce a withdrawn subpoena that they have foresworn any intent to re-issue," the DOJ wrote. "The bottom line is that Dr. Kupperman has properly honored the President's directive, has suffered no adverse consequences as a result, and will suffer no adverse consequences in the future."
They also noted just how significant Kupperman was to Trump. 
"There are few advisors, if any, in whom a President places greater trust and confidence to carry out 'responsibilities of utmost discretion and sensitivity,' than President Trump placed in Dr. Kupperman," the DOJ wrote, citing wording from a previous court opinion.
The DOJ then addressed why the White House needs absolute immunity, and can't just have its officials appear before Congress and assert executive privilege in order not to answer questions about sensitive matters.
"Reliance on executive privilege to decline to answer specific questions at a committee hearing would be insufficient even to eliminate threats to the President's constitutionally protected interests in confidentiality, as discussed above. The theoretical ability to invoke executive privilege offers at best a flimsy and uncertain safeguard against disclosures of confidential information during the crucible of a committee hearing," DOJ lawyers wrote.
4:39 p.m. ET, November 27, 2019
Whistleblower's lawyer responds to New York Times report regarding complaint
From CNN's Zachary Cohen
Andrew Bakaj, one of the whistleblower's lawyers, told CNN that it would be "appropriate" for White House counsel to be notified of his client's complaint early on and thus, expected that office to brief President Trump on the matter since it contained allegations related to Trump's conduct.
That said, Bakaj emphasized it does not "undo the fact that an illegal or improper act may have taken place, in this case, by the President."
"Since the matter was initially taken to a member of the Office of General Counsel, it would be appropriate for attorneys to run it up the chain of command. That could be viewed as one of the ways to try and address the issue. Thus, when the President's attorneys are informed of the situation, they themselves have a duty to discuss the issue with the client and to address any concerns, issues, remedies, ways forward," Bakaj told CNN.
Bakaj added: "Now, this does not undo the fact that an illegal or improper act may have taken place, in this case by the President. Put differently, it doesn't mean that the whistleblower didn't have a reasonable belief of something wrong taking place, meriting elevating this to an entity that can independently investigate the matter. As such, filing the complaint with the ICIG [intelligence community inspector general], in my opinion, is one of the most effective ways of elevating the issue so that any and all appropriate oversight entities may take appropriate action, be it investigation or corrective action."
Why this matters: The New York Times reported that Trump had already been briefed on the whistleblower's complaint about his dealings with Ukraine when he released military aid for the country in September. 
4:11 p.m. ET, November 27, 2019
House files additional arguments in former White House official's lawsuit
From CNN's Katelyn Polantz 
The House of Representatives filed additional arguments about why their subpoena of President Trump's former deputy national security adviser Charles Kupperman is valid, and why the court should dismiss Kupperman's case.
Kupperman filed a lawsuit asking a federal judge to rule on whether he is obliged to testify before House investigators.
"A President with unchecked power to obstruct his own impeachment by preventing individuals with relevant information from speaking to Congress would be a President who is above the law," the House wrote.
The House also cited Judge Ketanji Brown Jackson's opinion against former White House counsel Don McGahn on Monday, specifically a line in her opinion about how White House officials' supposed absolute immunity from congressional testimony is in conflict with "with key tenets of our constitutional order." They cited other parts of the McGahn opinion as well.
They also pointed out that top officials and even past presidents have testified to Congress, including President Gerald Ford about why he pardoned Richard Nixon.
3:30 p.m. ET, November 27, 2019
New York Times: Rudy Giuliani sought business from Ukrainian officials while pursuing political dirt for Trump
From CNN's Chandelis Duster
Rudy Giuliani, President Trump's personal lawyer, privately sought hundreds of thousands of dollars in business from Ukrainian officials while trying to get dirt on former Vice President Joe Biden and his son, Hunter, The New York Times reported today.
The report comes as Giuliani continues to face questions about his work for Trump following the release of a whistleblower complaint at the center of impeachment proceedings involving the President and Ukraine.
The complaint alleges the President abused his official powers "to solicit interference" from Ukraine in the 2020 election and that the White House took steps to cover it up. Trump has denied any wrongdoing.
Giuliani and other lawyers made repeated attempts to make Ukrainian officials their clients, the Times reported, citing documents they reviewed. One proposal signed by Giuliani in February involved the Ukrainian Ministry of Justice. The former New York mayor would have helped the Ukraine government find stolen money in return for a payment to his firm of $300,000.
In another proposal from February, The Times reports Giuliani would represent former Ukraine Prosecutor General Yuriy Lutsenko to advise "on Ukrainian claims for the recovery of sums of money in various financial institutions outside Ukraine" if he paid $200,000 to Giuliani Partners and Joseph E. diGenova and Victoria Toensing, a legal team associated with Trump.
An updated proposal, signed by Giuliani, included directions on how to wire money to his firm and did not mention Lutsenko, the Times reports, but instead asked for $300,000 from the Ukrainian Ministry of Justice and the Republic of Ukraine.
4:08 p.m. ET, November 27, 2019
Former White House official wants to add House Sergeant-at-Arms to his subpoena testimony lawsuit
From CNN's Katelyn Polantz 
President Trump's former deputy national security adviser Charles Kupperman wants to sue the House Sergeant-at-Arms Paul Irving, in addition to the House members and the White House. Kupperman has already sued the House members and the White House in his quest for a judge's ruling on whether he must testify in the impeachment probe.
Kupperman's case appears to have major issues regarding whether he can sue those parties, because House members say they cannot be sued under the Speech and Debate Clause of the Constitution.
Kupperman also doesn't appear to be opposed to the White House's position in this lawsuit, saying that he should not testify because he is immune, making his lawsuit a potentially problematic sell to Judge Richard Leon for even more reasons.
Kupperman's request to add Irving as a defendant is a way to potentially save his case.
"Even if the House Defendants are immune from suit, the Speech or Debate Clause does not here apply to the Sergeant-at-Arms," Kupperman's attorney, Chuck Cooper, wrote to the judge on Wednesday.
Cooper notes that the White House has no opinion on whether Irving should be added to the case, but the House might respond at a later time.
1:44 p.m. ET, November 27, 2019
Bloomberg campaign manager: Impeachment makes Trump's reelection more likely
From CNN's Ben Kirby
Michael Bloomberg's campaign manager Kevin Sheekey just spoke with CNN's Christiane Amanpour about why Bloomberg is jumping in 2020 presidential race now.
Sheekey said that "the impeachment proceedings are making the President's re-election more likely, not less likely."
More on Bloomberg: His late 2020 bid — along with the money the billionaire can spend to fund his campaign — injects a new level of uncertainty into the race less than three months before the first voting in the race begins.
Bloomberg, who had said earlier this year that he would not run, reversed his decision because he doesn't think there's a candidate in the current field of Democrats who can beat President Trump next November, several people close to the former mayor told CNN. That includes former Vice President Joe Biden, who Bloomberg has watched fade in Iowa polling and struggle with fundraising.
12:11 p.m. ET, November 27, 2019
McGahn gets temporary pause on testimony from judge
From CNN's Katelyn Polantz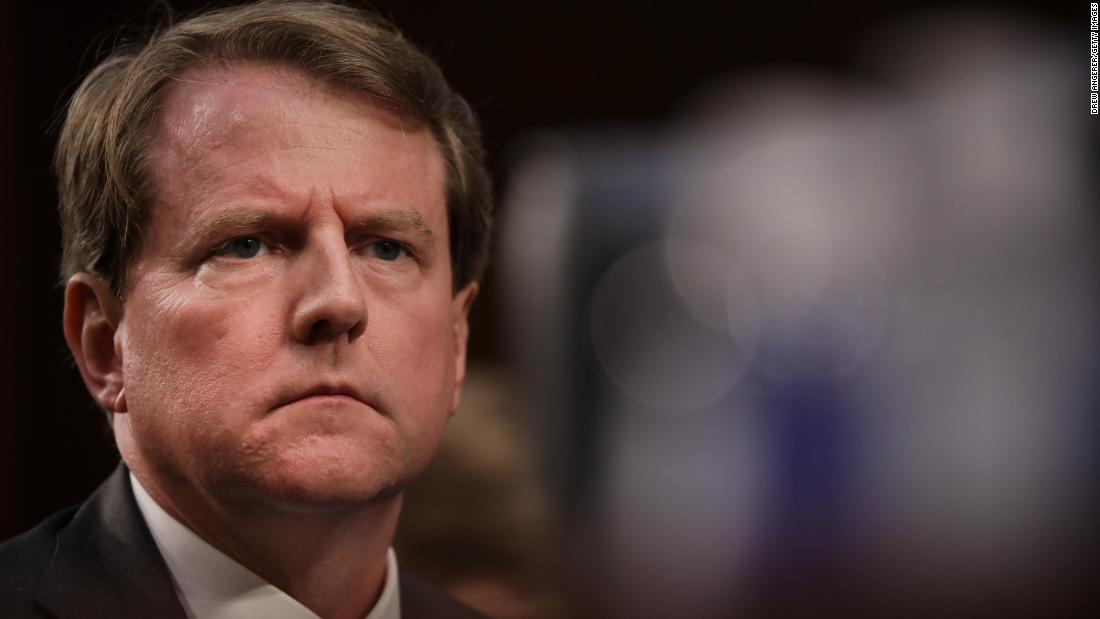 Former White House counsel Don McGahn will get the temporary pause he requested from federal Judge Ketanji Brown Jackson after she ordered him to testify to the House in its impeachment inquiry.
Jackson will continue to consider whether her ruling Monday should be kept on hold as he appeals her ruling. 
The Justice Department has filed paperwork to appeal the judge's opinion. The department had also asked Jackson to pause her ruling pending appeal.
What this means: At least for now, McGahn doesn't have to testify.