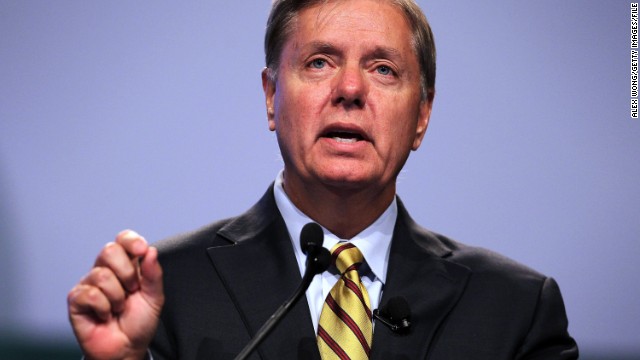 Sen. Lindsey Graham, a Republican from South Carolina, spoke to reporters this afternoon on Capitol Hill about Russian election interference and Ukraine's role.
Asked if he believed that Ukraine meddled in 2016 election, here's what he said:
"I don't know. I do believe — I've got no doubt that it was the Russians who stole the DNC emails. It wasn't the Ukraine. Russia was behind the stolen DNC emails and [John] Podesta and all that good stuff. There are articles about Ukrainian officials talking to Democratic officials — I don't know if that's true or not, I've had nobody in the intelligence community verify that. I'm hoping somebody's looking at that. I just want to know, did it happen. You've got Politico article and a few others that suggest Democratic operatives met with Ukrainian officials. I don't know if it's true or not. But let somebody look, but when it comes to hacking into the DNC, that was all Russia. The Ukraine had nothing to do with it. It wouldn't be much of a stretch to think that Manafort had some enemies in the Ukraine. So as to the Ukraine, they had zero to do with the hacking of the DNC and the stealing of the emails. Whether or not people from the Ukraine met with DNC operatives, I don't know. All I've seen is press reports that no one has validated."
More on this: The theory that Ukraine interfered in the 2016 US election has been continuously debunked. Dr. Fiona Hill, the White House's former Russia adviser, called the idea that Ukraine — and not Russia — meddled a "fictional narrative" in her impeachment inquiry testimony.