Articles of impeachment against President Trump unveiled
9:01 p.m. ET, December 10, 2019
Our live coverage has ended, but you can scroll through the posts below to read more.
8:50 p.m. ET, December 10, 2019
Trump makes a series of false claims at tonight's rally
From CNN's Tara Subramaniam and Holmes Lybrand 
President Trump repeated several inaccurate statements at tonight's rally in Pennsylvania, including his most-repeated claims about the Veterans Choice Program and the Democrats' position on immigration reform.
Trump slid in a false claim about Veterans Choice Program. "Look what we did for our vets with choice," he said.
Facts First: President Barack Obama signed the Choice program into law in 2014; in 2018, Trump signed the VA MISSION Act, that expanded and modified the program.
Trump said under his administration median household income went up $5,000 in less than three years, "and then when when you add energy savings and you add tax savings, you have almost a $10,000 gain in three years."
Facts First: There is no basis for Trump adding $2,000 or $3,000 for "regulatory and energy cuts" over and above the "$5,000" income growth he is asserting. The figures Trump is citing for income growth came from a company called Sentier Research, not the Census Bureau. Sentier is run by former Census Bureau officials, so its figures should not be dismissed out of hand, but it's important to note that the Census Bureau, which uses a different methodology, has found a smaller increase in Trump-era growth. We won't get into the debate about which numbers are better. What we can say for sure is that it does not make sense to add $2,000 or $3,000 for the supposed impact of Trump's loosening of regulations. Trump has not provided a source for these numbers. (Sentier confirmed they did not come from the firm.) Regardless: Sentier's income numbers are for pre-tax household income. Those pre-tax income numbers would include any income benefits from Trump loosening red tape on businesses. In essence, Trump is trying to double-count the impact of his regulatory reductions. In addition, it is entirely unclear what Trump is referring to when he talks about "energy savings." Household energy costs have increased since Trump took office, as have gasoline costs. (Gasoline costs are lower than they were for most of Obama's presidency, but higher than they were in 2016.)
When talking about former 2020 candidate Beto O'Rourke, Trump claimed that O'Rourke wanted to "get rid of religion — the Bible."
Facts First: Beto has not talked about getting rid of the Bible or religion. He did answer "yes" when asked by CNN's Don Lemon if he thought "religious institutions like colleges, churches, charities, should they lose their tax-exempt status if they oppose same-sex marriage?" But O'Rourke has never said he wanted to get rid of the Bible, or religion.
Trump said "Mexico is now giving us 27,000 soldiers on our border."
Facts First: Mexico has deployed around 27,000 troops, but Trump exaggerated how many are being stationed near the US border in particular. On Nov. 2, CNN reported that nearly 15,000 troops were deployed to Mexico's northern border, where they set up 20 checkpoints, Mexican Defense Minister Luis Cresencio Sandoval said at the time. At the southern border, 12,000 troops were deployed and 21 checkpoints were set up. Acting US Customs and Border Protection Commissioner Mark Morgan has offered similar numbers, telling reporters in September that 10,000 of approximately 25,000 troops were on Mexico's southern border.
Trump claimed that Democrats "are now the party…of open borders."
Facts First: Even 2020 Democratic presidential candidates who advocate the decriminalization of the act of illegally entering the country, such as Massachusetts Sen. Elizabeth Warren and former Housing and Urban Development Secretary Julián Castro, do not support completely unrestricted migration, as Trump suggests.
Trump claimed, "we haven't taken in money from China, ever. And it's coming in now by the billions."
Facts First: It's not true that the US has never received any money from China. The US has had tariffs on China for more than two centuries. FactCheck.org reported that the US generated an "average of $12.3 billion in custom duties a year from 2007 to 2016, according to the US International Trade Commission DataWeb." That's in addition to China's hundreds of billions of dollars in purchases of US goods – more than $300 billion during Trump's presidency alone.
8:20 p.m. ET, December 10, 2019
Trump says he faces "the lightest impeachment in the history of our country"
From CNN's Jeremy Diamond 
President Trump said the impeachment he now faces from the House is "impeachment-lite" and argued he faces "two flimsy, pathetic, ridiculous articles of impeachment."
Trump mocked the articles of impeachment Democrats unveiled earlier today, arguing "these two things, they're not even a crime."
"Everyone said this is impeachment-lite. This is the lightest impeachment in the history of our country, by far. It's not even like an impeachment," Trump said.
He argued that by not including articles of impeachment on "collusion" or "obstruction of justice," the Democrats are "admitting" that neither of those occurred.
"They're impeaching me and there are no crimes. This has to be a first in history," Trump said.
8:14 p.m. ET, December 10, 2019
Fact check: Trump makes series of claims about US energy production. Here's what we know.
From CNN's Tara Subramaniam and Holmes Lybrand 
President Trump made a series of claims at tonight's rally about energy production in the US.
Here's what we know:
Trump told his usual semi-comedic story about how, if "windmills" are used for energy as he said Democrats want, people's televisions will go out if the wind is not presently blowing: "Darling, I want to watch television tonight and there's no damn wind."
Facts First: Democrats support the use of wind turbines. Using wind power as part of a mix of power sources does not cause power outages even when the wind isn't blowing, as the federal Department of Energy explains on its website. "Studies have shown that the grid can accommodate large penetrations of variable renewable power without sacrificing reliability, and without the need for 'backup' generation," the Department of Energy says.
During the rally, Trump claimed that the US is "now number one in the world" in energy.
Facts First: The US has not just "now" become the world's top energy producer: it took the top spot in 2012, according to the US government's Energy Information Administration – under the very Obama administration Trump has repeatedly accused of perpetrating a "war" on the industry. The US became the top producer of crude oil in particular during Trump's tenure. "The United States has been the world's top producer of natural gas since 2009, when US natural gas production surpassed that of Russia, and it has been the world's top producer of petroleum hydrocarbons since 2013, when its production exceeded Saudi Arabia's," the Energy Information Administration says.
Following Trump's claim about energy production, he said "our air and our water are cleaner now than it's ever been."
Facts First: By several measures, US air was cleaner under President Barack Obama than it has been under Trump. Three of the six types of pollutants identified by the Clean Air Act as toxic to human health were more prevalent in the air as of 2018 than they were before Trump took office, according to Environmental Protection Agency data. Additionally, there were more "unhealthy air days" for sensitive groups in 2018 than in 2016 — 799 days across the 35 American cities surveyed by the EPA, up from 702. Though there were significantly more "unhealthy air days" in Obama's first term than there have been in Trump's, the lowest amount of unhealthy air days — 598 — occurred in 2014 under Obama.
8:02 p.m. ET, December 10, 2019
Fact check: Trump says the whistleblower's complaint was "totally untrue." But it's largely been proven accurate.
From CNN's Tara Subramaniam
President Trump, discussing the impeachment inquiry at his rally tonight, said "the whistleblower defrauded our country, because the whistleblower wrote something that was totally untrue."
Facts First: The whistleblower's account of the call has largely been proven accurate. In fact, the rough transcript released by Trump himself showed that the whistleblower's three primary allegations about the call were correct or very close to correct. (You can read a full fact check here.)
Talking about his July 25th call with Ukrainian President Volodymyr Zelensky, Trump said "they didn't know we had it transcribed. Word for word transcribed. So beautiful."
Facts First: The document released by the White House explicitly says, on the first page, that it is not an exact transcript of Trump's phone call with Ukrainian President Volodymyr Zelensky. In testimony in late October, the National Security Council's top Ukraine expert, Lt. Col. Alexander Vindman, said that he tried to make edits to the document to include two things that were said on the call but not included in the document, a source told CNN. Trump appeared to inadvertently use the word "meeting" in his interview with Nigel Farage; he quickly made clear he was talking about the phone call.
7:46 p.m. ET, December 10, 2019
Fact check: Trump says his polling is "through the roof," but there's no sign his numbers are significantly increasing
From CNN's Tara Subramaniam
President Trump kicked off his rally in Hershey, Pennsylvania, by commenting on his accomplishments.
He told the crowd "our polling has been going through the roof."
Facts First: "Through the roof" is a vague phrase, but there is no sign of Trump's poll numbers significantly increasing as a result of Democrats' impeachment inquiry or their investigation into his dealings with Ukraine.
The day he spoke here, he had a 41.7% approval rating and a 53.6% disapproval rating in FiveThirtyEight's aggregate measure. CNN senior writer and analyst Harry Enten wrote about how recent polls don't show evidence of a pro-Trump backlash.
7:41 p.m. ET, December 10, 2019
Trump says Democrats announced trade deal today "because they're embarrassed by the impeachment" 
From CNN's Jeremy Diamond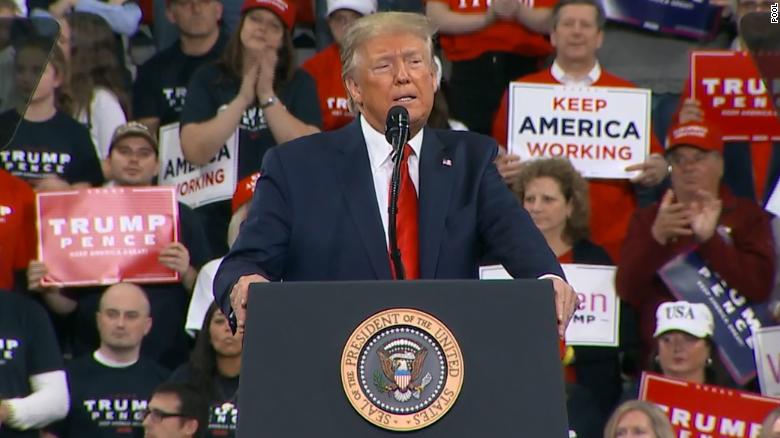 President Trump claimed tonight at his rally in Pennsylvania that Democrats announced the USMCA deal earlier today "because they're embarrassed by impeachment" and called it a "silver lining."
"The reason they announced it on the same day ... It's a huge deal and it plays down the impeachment because they're embarrassed by the impeachment," he claimed.
Trump noted that his administration has been "waiting a long time for Nancy Pelosi" to back the trade agreement.
He slammed the impeachment process and claimed that "our poll numbers have gone through the roof because of her stupid impeachment."
But Trump argued that USMCA was the "silver lining of impeachment."
"That's the reason they approved USMCA and that's OK with me," Trump said. "They approved it and they're very happy to have it."
7:07 p.m. ET, December 10, 2019
Censure is "unacceptable" for Trump, official says
From CNN's Jim Acosta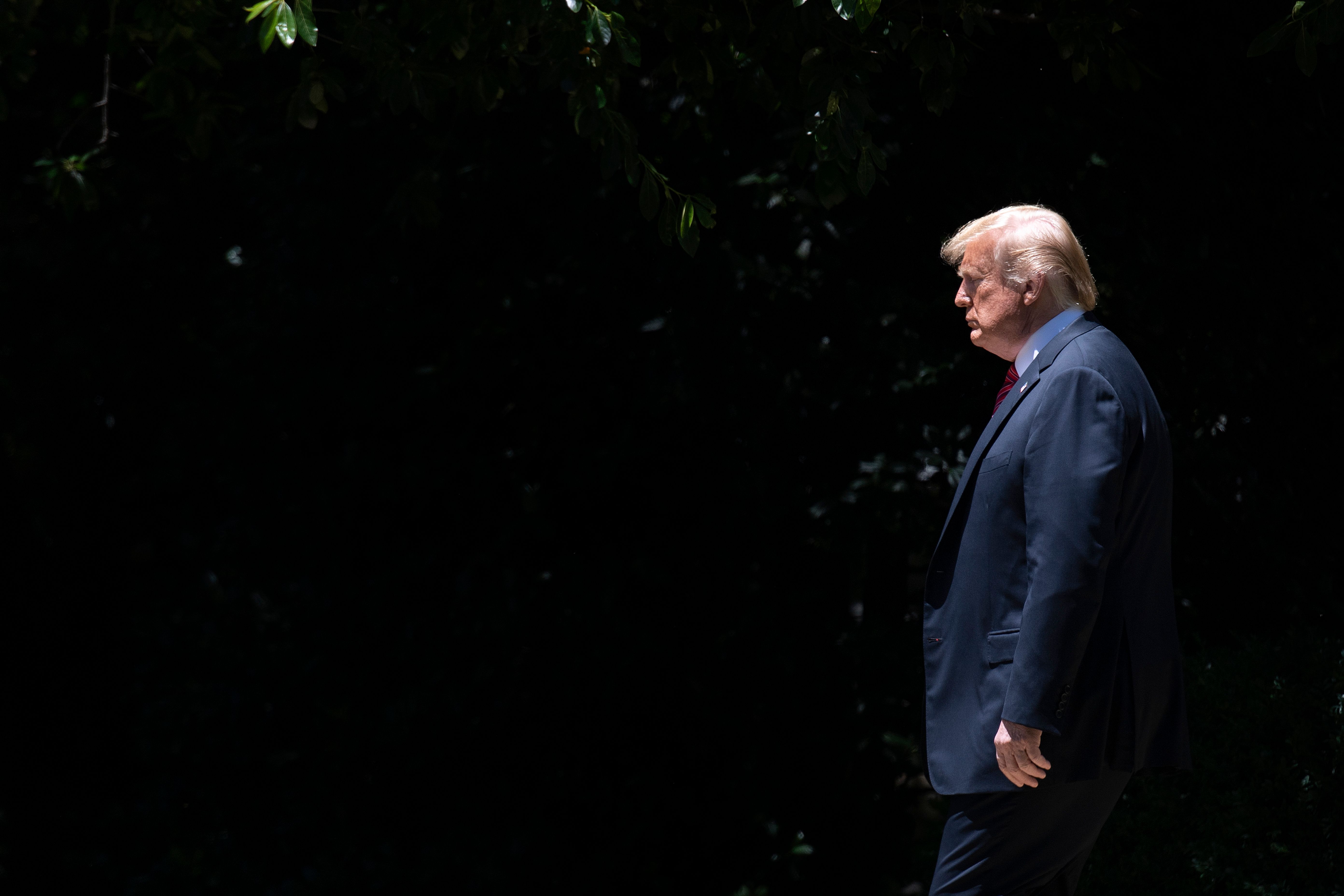 Responding to reports that some moderate Democrats are proposing a censure of President Trump as a compromise in the impeachment inquiry, a senior administration official dismissed the idea as "unacceptable."
"Why would you censure the President when he hasn't done anything wrong?" the official asked.
The official pointed to polling that the White House believes is indicative of support slipping for impeachment.
As for the next steps, the official repeated what press secretary Stephanie Grisham observed earlier in the day and said White House officials were surprised that Democrats only announced two articles of impeachment, saying the President's legal team had expected more than that. It's too early to forecast what a trial would look like, the official added, saying the question of Trump's participation has not been resolved.
The official who spotted Trump before leaving for his rally in Pennsylvania said the President did not seem distracted by the inquiry and was preparing for tonight's speech.
5:46 p.m. ET, December 10, 2019
Trump calls articles of impeachment "very weak"
From CNN's Maegan Vazquez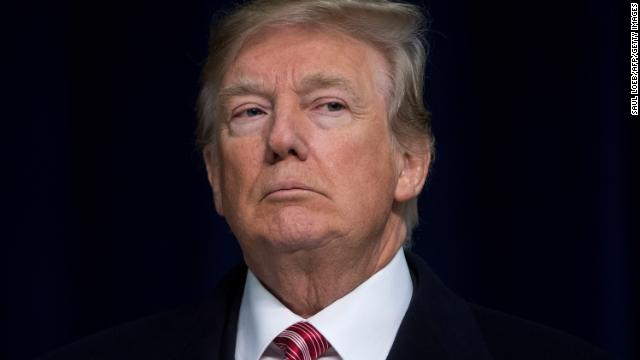 President Trump asserted that Democrats announced they reached a deal on USMCA today to "muffle down" the House's introduction of articles of impeachment.
"They wanted to muffle down the impeachment because they were embarrassed by it and they couldn't get the votes," Trump said on the south lawn of the White House ahead of his departure to a campaign event in Pennsylvania.
"They approved today, of all days — we've been waiting a year and they approved today the USMCA. And I call that the silver lining to impeachment, because without the impeachment, they would have never approved it, in my opinion. The impeachment is the reason they approved it and interestingly one hour after the news conference, they went out and did a news conference on the big trade deal," he said.
Trump also called the articles of impeachment introduced earlier today introduced "very weak."
"It's a witch hunt. It's a terrible thing. But even the Democrats, they couldn't find very much, because they put up two articles that frankly are very weak and they're very weak," he said.
Trump also asserted that the "favor" he mentioned on his call with the Ukrainian president was in relation to doing the US a favor, not him.