Iran shoots down US drone
7:09 p.m. ET, June 20, 2019
7:08 p.m. ET, June 20, 2019
GOP leaders react to Iran drone attack: "There must be a measured response to these actions"
Republican Reps. Kevin McCarthy, Michael McCaul, Devin Nunes and Mac Thornberry called for a "measured response" following Thursday's drone attack by Iran.
The lawmakers, who were briefed on the attack at the White House Thursday, issued this statement:
"Iran directly attacked a United States asset over international waters. This provocation comes a week after they directly attacked and destroyed two commercial tankers in international waters. There must be a measured response to these actions. President Trump and his national security team remain clear-eyed on the situation and what must be done in response to increased Iranian aggression. In Congress we stand ready to support our men and women in uniform, our country, and our allies in the region."
6:18 p.m. ET, June 20, 2019
Democratic leader calls for "robust, open debate" on Iran
Senate Minority Leader Chuck Schumer said he spoke to President Trump about the Iran drone attack during a briefing for congressional leaders at the White House today.
"Now I told the President that these conflicts have a way of escalating. The President may not intend to go to war here, but we're worried that he and the administration may bumble into a war," Schumer told reporters.
He continued: "We told the room that the Democratic position is that congressional approval must be required before funding any kind of conflict in Iran. One of the best ways to avoid bumbling into war, a war that nobody wants, is to have a robust, open debate and for Congress to have a real say. We learned that lesson in the run-up to Iraq."
House Speaker Nancy Pelosi, who also attended the meeting, said it is essential the US remain "engaged with our allies."
"In light of the targeting of an unmanned US drone by Iran, it is essential that we remain fully engaged with our allies, recognize that we are not dealing with a responsible adversary and do everything in our power to de-escalate," she said in a statement.
5:05 p.m. ET, June 20, 2019
Mitch McConnell says the administration is considering "measured responses" to Iran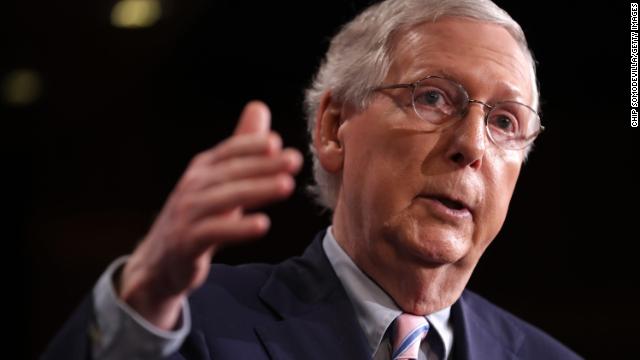 Senate Majority Leader Mitch McConnell just returned from a briefing on Iran at the White House.
He said the briefing confirmed what the Pentagon has said publicly.
"The UAV was fired on from Iranian soil. It was in international waters," McConnell said.
McConnell called it a good briefing and said the administration is considering "measured responses."
4:39 p.m. ET, June 20, 2019
Iran says US drone was "blatant violation of international law"
Iran said the US drone they shot down was a "blatant violation of international law," calling on the international community to demand the US end "its continued unlawful and destabilizing measure in the already volatile region of the Persian Gulf."
In a new letter to the United Nations Secretary General António Guterres and United Nations Security Council, Majid Takht Ravanchi, Iran's ambassador to the UN, wrote:
"While the Islamic Republic of Iran does not seek war, it reserves its inherent right, under Article 51 of the United Nations Charter, to take all appropriate necessary measures against any hostile act violating its territory, and is determined to vigorously defend its land, sea and air."
Ravanchi added: "Iran condemns, in the strongest possible terms, this irresponsible and provocative wrongful act by the United States, which entails its international responsibility."
Earlier today, the UN secretary general said he was very concerned about developments in the Gulf region, including the reported downing of a US drone by Iran. 
"He appeals to all sides to exercise maximum restraint and avoid any action that can escalate the already tense situation," his spokesperson Stephane Dujarric said in a statement.
4:22 p.m. ET, June 20, 2019
Pompeo is "a triangulator" between Bolton and Trump on Iran, source says
Secretary of State Mike Pompeo is "a triangulator" between President Trump and national security adviser John Bolton on the topic of Iran, a senior diplomatic source of a US ally told CNN.
"From what we've seen, Pompeo has made an effort to be a sort of triangulator between Bolton's well-known views, and the President. Somewhere in between. He maintains that the goal is reestablishing deterrence, but that is still very risky," the source said.
A senior White House official told CNN that there is a Bolton v. Trump debate on how to proceed on Iran, and Trump definitely does not want conflict. The source said Pompeo, Vice President Mike Pence and incoming acting Secretary of Defense Mark Esper are the "swing votes."
4:01 p.m. ET, June 20, 2019
The downed US drone cost about $110 million, Navy official says
A US Navy official told CNN that approximate cost of the RQ-4A Global Hawk drone is $110 million.
What we know: Both the US and Iran say Iranian forces shot down the US drone. However, the two countries have given different reports on where it went down.
Iran's Revolutionary Guard said it had shot down an "intruding American spy drone" after it entered into the country's territory Thursday.
A US official confirmed to CNN a drone had been shot down, but said the incident occurred in international airspace over the Strait of Hormuz, one of the world's most vital shipping route.