Democratic debate in Iowa
9:24 p.m. ET, January 14, 2020
This is the 5th election with a debate over the Iraq War
Sen. Bernie Sanders touted his vote against the Iraq war and Sen. Amy Klobuchar also mentioned that she opposed the 2003 invasion from the start.
With those comments, the 2020 election marks the fifth straight US presidential election to include a debate over the war in Iraq that started in 2003.
9:28 p.m. ET, January 14, 2020
Democrats make their case for why they're qualified in foreign policy
Vermont Sen. Bernie Sanders attacked former Vice President Joe Biden's 2002 vote to authorize the use of military force in Iraq in the opening minutes of Tuesday night's Democratic primary debate in Iowa.
It's how he began an answer to the question of why his experience best qualifies him to handle foreign policy.
"Joe and I listened to what Dick Cheney and George Bush and Rumsfeld had to say. I thought they were lying. I didn't believe them for a moment. I took to the floor. I did everything I could to prevent that war," Sanders said, contrasting himself with Biden.
Biden acknowledged that his vote was a "mistake." But he also said former President Barack Obama -- who won the 2008 Democratic presidential primary in part because of his opposition to the Iraq war -- put Biden in charge of ending that war.
"I think my record overall, on every other thing we've done, has been -- compares to anybody on this stage," Biden said.
For her part, Massachusetts Sen. Elizabeth Warren pointed to her position on the Senate Armed Services Committee and three brothers' military experience. She also said the United States must "think about our defense in very different ways" -- including cyber warfare, climate change and closing what she called a revolving door between the defense industry and the Pentagon.
"That is corruption, pure and simple," she said. "We need to block that revolving door and cut our defense budget."
Former South Bend, Indiana, Mayor Pete Buttigieg pitched his own experience as a US Navy Reserves veteran who served in Afghanistan. "For me, those lessons of the past are personal," he said.
Minnesota Sen. Amy Klobuchar pointed to her efforts to limit President Donald Trump's war powers in the Senate. She also said she opposed the Iraq war from its outset.
And billionaire businessman Tom Steyer said the country spends "dramatically" too much on defense and that an outsider is needed.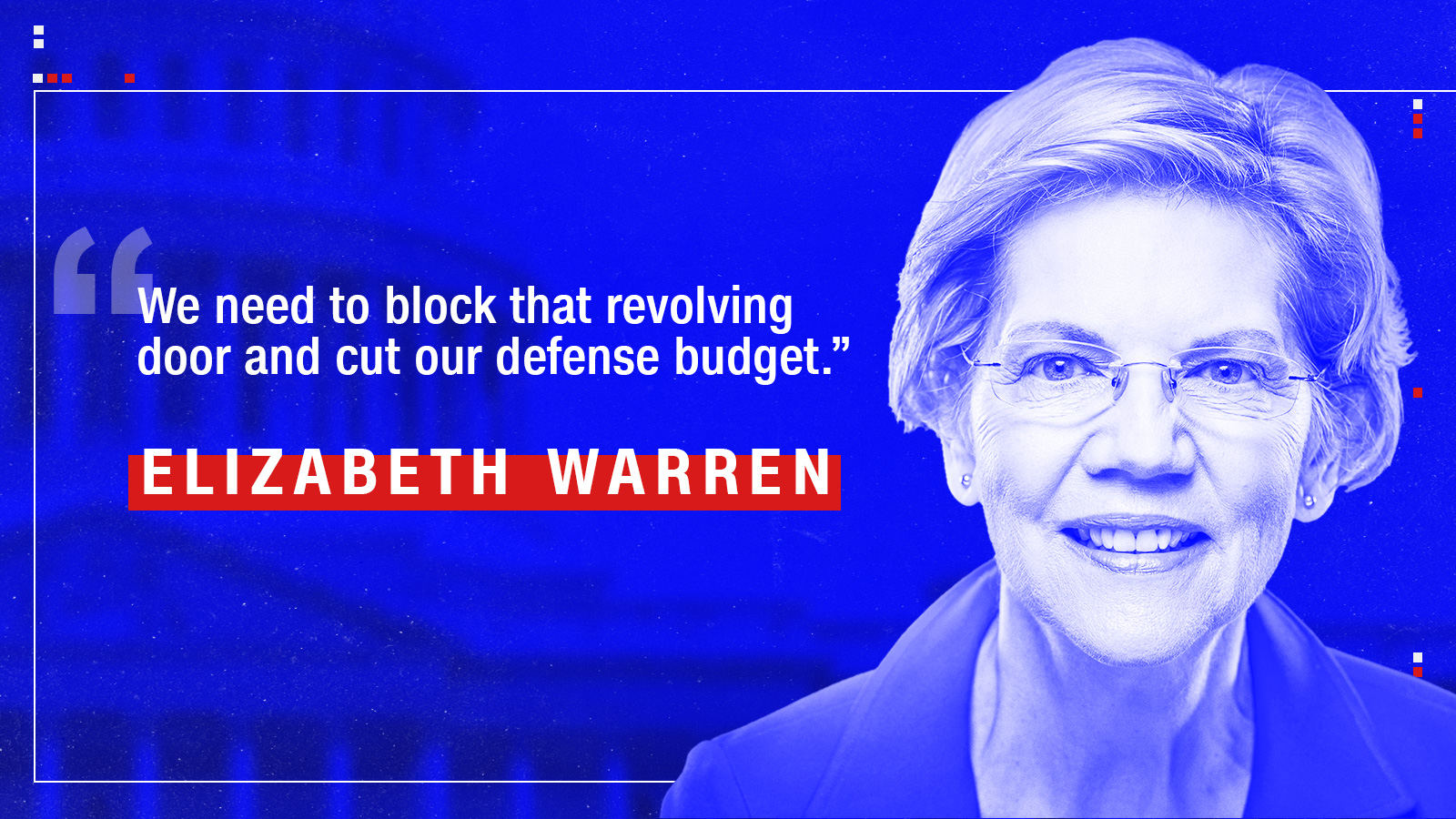 9:24 p.m. ET, January 14, 2020
Biden: "We have lost our standing in" the Middle East
Former Vice President Joe Biden addressed the latest tensions between the US and Iran and America's standing in the world at tonight's debate.
Here's what he said about the current crisis in the Middle East:
"We're in a situation where our allies in Europe are making a comparison between the United States and Iran, saying both ought to stand down, making a moral equivalence. We have lost our standing in the region. We have lost the support of our allies. The next president has to be able to pull those folks back together, re-establish our alliances and insist that Iran go back into the agreement, which I believe with the pressure applied as we put on before, we can get done," he said.
Biden went on to say that he would leave troops in the Middle East.
"I think it's a mistake to pull out the small number of troops that are there now to deal with ISIS," he said.
9:10 p.m. ET, January 14, 2020
Sanders brought up Iraq in the first question of the night
With the first question of the night, Sen. Bernie Sanders brought up foreign policy and Iraq.
CNN's Wolf Blitzer asked, "Why are you best prepared — the best prepared person on this stage to be commander in chief?"
In response, Sanders cited his opposition to the invasion of Iraq.
"I not only voted against the war, I helped lead the effort against that war," he said.
We're expecting a lot of foreign policy talk tonight: This is the first debate after President Trump's decision to order the strike that killed a senior Iranian military commander. That move is forcing Democratic presidential contenders for the first time to seriously detail their own views of foreign policy and the United States' role in the world.
9:11 p.m. ET, January 14, 2020
Sanders and Biden had a moment on stage
Former Vice President Joe Biden and Vermont Sen. Bernie Sanders shared a moment on stage as the candidates were introduced at tonight's debate.
Biden hugged Sanders and whispered, "We're close -- be careful of your arms."
Sanders laughed it off and the rest of the candidates were introduced.
9:01 p.m. ET, January 14, 2020
Tonight's debate just kicked off
The CNN/Des Moines Register Democratic presidential debate just started at Drake University in Des Moines. The candidiate are being introduced now.
Tonight's debate, which features six Democrats, is the last one before the Iowa caucuses next month.
8:54 p.m. ET, January 14, 2020
Here's who didn't qualify for the debate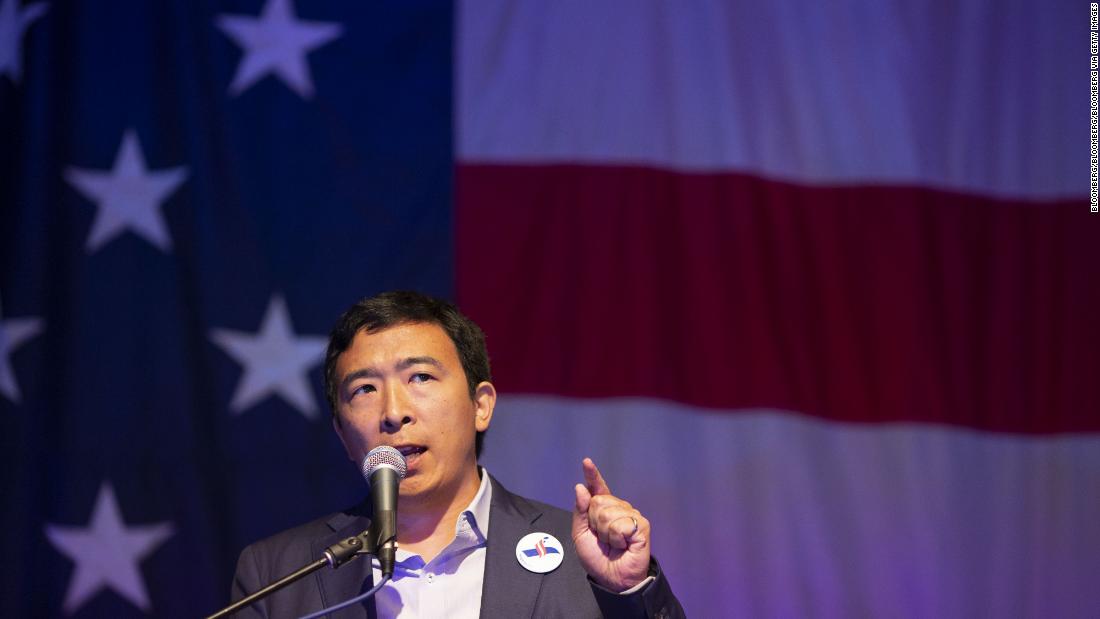 In order to qualify for tonight's debate, Democratic presidential candidates needed to meet both polling and fundraising minimums.
For the polling criteria, candidates needed to receive 5% in at least four DNC-approved national or early state (Iowa, New Hampshire, Nevada and South Carolina) polls, or receive 7% in two early state polls.
Candidates also needed to receive donations from at least 225,000 unique donors, and a minimum of 1,000 unique donors per state in at least 20 different states.
Only six candidates — Joe Biden, Bernie Sanders, Elizabeth Warren, Pete Buttigieg, Tom Steyer and Amy Klobuchar — met the criteria.
Here's who didn't make the cut:
Colorado Sen. Michael Bennet
Former New York Mayor Michael Bloomberg
Former Maryland Rep. John Delaney
Hawaii Rep. Tulsi Gabbard
Former Massachusetts Gov. Deval Patrick
Businessman Andrew Yang
8:52 p.m. ET, January 14, 2020
This is what it looked like outside today's debate
Six of the Democratic presidential candidates will take the stage at tonight's debate in Iowa.
Earlier today, the candidates' supporters — as well as President Trump's — gathered at Drake University in Des Moines ahead of the debate.
Here's what it looked like:
8:50 p.m. ET, January 14, 2020
Meanwhile, Trump is holding a rally in Wisconsin
As Democratic candidates gather in Iowa for tonight's debate, President Trump is holding a rally in Milwaukee.
Trump just told the crowd that he doesn't believe Sen. Bernie Sanders told Sen. Elizabeth Warren that he didn't believe a woman would succeed at running for president. 
"According to (Warren), Bernie said — and I don't believe that he said this because you know, I don't know him, I don't particularly like him, he's a nasty guy, but I don't believe he said it. It's not his deal," Trump said. 
He continued: "She said that Bernie stated strongly that a woman can't win for president. … I don't believe that Bernie said that. I really don't. … It's not the kind of a thing he'd say."
CNN first reported that Sanders told Warren during a private 2018 meeting that a woman wouldn't be able to win the presidency. Sanders denied the characterization of the meeting.