Attorney General Jeff Sessions fired by Trump
7:40 p.m. ET, November 7, 2018
Follow the story with CNN Politics
7:39 p.m. ET, November 7, 2018
Mitt Romney says "it is imperative" Mueller probe "proceeds to its conclusion unimpeded"
Mitt Romney, 2012 Republican presidential nominee and Utah Senator-elect, tweeted Wednesday: "I want to thank Jeff Sessions for his service to our country as Attorney General. Under Acting Attorney General Matthew Whitaker, it is imperative that the important work of the Justice Department continues, and that the Mueller investigation proceeds to its conclusion unimpeded."
Earlier this year CNN asked Romney about the Mueller investigation, and he warned that Congress would need to take action if Trump ever moved toward removing Mueller. 
"I do not believe for a moment that President Trump will remove Mueller," Romney said earlier this year. "If he does remove Mueller, I believe that Congress will reappoint him, and the most effective way to keep the investigation intact is for congressional leaders to make it clear to the President that if (Mueller) were removed by the executive branch, he would be rehired by the legislative branch. I presume that communication has happened already."
"I believe it's appropriate for the rule of law to proceed to reach the conclusion of this investigation — hopefully sooner rather than later," Romney said earlier this year when asked whether he still has confidence in Mueller.
7:33 p.m. ET, November 7, 2018
Source: Sessions supported Rosenstein's handling of Mueller probe but was frustrated the investigation is not over
While Deputy Attorney General Rod Rosenstein will no longer oversee the Russia investigation, former Attorney General Jeff Sessions privately believed that Rosenstein has handled the investigation properly after it was dropped "right in his lap," according to a source familiar with Sessions' thinking.
"[Rosenstein is] a professional, he's tried to do the right thing and he's handled it as well as anybody could," the source said of Sessions' views on the matter.
However, the source said that Sessions himself has been frustrated that Mueller's investigation has not yet concluded, but DOJ officials have "tried to do the right thing every day and not be involved in arguing the case in the media."
The insider described Sessions being "at peace" with the decision he made on recusal and having no regrets about taking the job as attorney general. Sessions hopes that he will be remembered for upholding the "integrity and core responsibilities of the Department of Justice," the source said. 
The source wouldn't rule out Sessions running for his old Senate seat in Alabama in 2020 against Sen. Doug Jones, demurring to say he "wasn't focused on it … it's two years off."
7:23 p.m. ET, November 7, 2018
Whitaker could try to rein in Russia probe by rejecting special counsel requests
As acting attorney general, Matthew Whitaker will be able to reject requests — such as for more funding or for subpoenas — from the special counsel's office. 
Two sources, one close to Whitaker and one White House official, suggested Whitaker could use this authority as a potential way to reign in special counsel Robert Mueller without firing him outright, should he choose to do so, although his plans for handling the Russia investigation are unclear. 
The White House source said Deputy Attorney General Rod Rosenstein did not expect to be given the acting attorney general position that instead went to former Attorney General Jeff Sessions' chief of staff. 
Rosenstein had told friends over the last several months he wanted to stay at the Department of Justice to protect the Russia probe. Now that it has been taken out of his hands with the appointment of a new acting attorney general who has oversight of the Russia probe, his future at DOJ remains unclear.
Trump and Whitaker had discussed him taking over the role previously, sources say, and Trump views Whitaker as a loyalist.
7:07 p.m. ET, November 7, 2018
How Trump and Sessions' relationship deteriorated: Video
Former Attorney General Jeff Sessions was one of the earliest supporters of President Donald Trump, but over time their relationship became strained. After Sessions recused himself from special counsel Robert Mueller's investigation into Russian interference in the 2016 election and whether Trump campaign associates colluded with Russia, Trump's attitude toward Sessions appeared to change. 
6:56 p.m. ET, November 7, 2018
Acting attorney general says he's committed to "leading a fair department"
Acting Attorney General Matthew Whitaker says he is committed to "leading a fair department with the highest ethical standards."
In a statement tonight, Whitaker also called departing AG Jeff Sessions a "man of integrity."
Read Whitaker's statement below:
"It is a true honor that the President has confidence in my ability to lead the Department of Justice as Acting Attorney General. I am committed to leading a fair Department with the highest ethical standards, that upholds the rule of law, and seeks justice for all Americans. I will work with our colleagues in Federal, State, local, and tribal leadership, including our partners in law enforcement and our U.S. Attorneys, to ensure the safety of all Americans and the security of the nation.
Attorney General Sessions has been a dedicated public servant for over 40 years. It has been a privilege to work under his leadership. He is a man of integrity who has served this nation well."
6:35 p.m. ET, November 7, 2018
Whitaker wrote op-ed in 2016 saying he would indict Hillary Clinton 
Acting Attorney General Matthew Whitaker wrote an op-ed in 2016 saying he would indict former Secretary of State Hillary Clinton. 
FBI Director James Comey announced in July of 2016 that he would not recommend charges against former Secretary of State Clinton over her use of private email servers, and said, "Our judgment is that no reasonable prosecutor would bring such a case." 
In a USA Today op-ed titled "I would indict Hillary Clinton: Opposing view," Whitaker wrote he disagreed with Comey's judgement. 
Whitaker, who was then employed as executive director of the Foundation for Accountability and Civic Trust, wrote that Clinton's emails contained information that was "classified at the time it was sent or received, of which eight email chains contained information that was top secret at the time it was sent."
He also said the "facts show it was gross negligence" when Clinton used a personal email system and therefore "removed the information from State Department security."
"A reasonable prosecutor may ask, if on numerous occasions, an unknown State Department employee had taken top secret information from a secured system, emailed that information on a Gmail account, and stored the information on a personal server for years, would that individual be prosecuted?" Whitaker wrote, "I believe they would."
6:13 p.m. ET, November 7, 2018
DOJ staffers applaud a departing Sessions
Ousted Attorney General Jeff Sessions left the Justice Department tonight while staff, including political appointees, waved goodbye. He exited through the department's courtyard to applause. 
Acting Attorney General Matthew Whitaker shook his hand.
Sessions said thank you to the crowd before getting in his vehicle.
5:46 p.m. ET, November 7, 2018
Sessions wanted to stay until the end of the week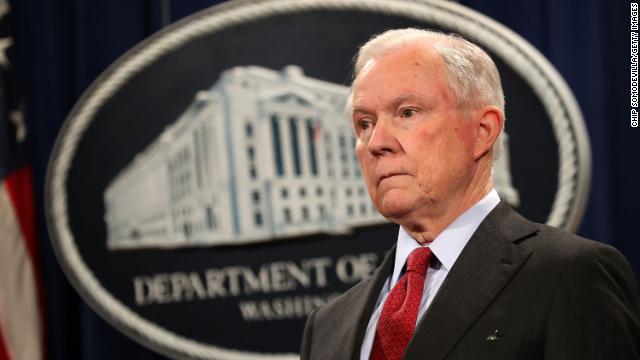 Former Attorney General Jeff Sessions wanted to try to stay until the end of the week, but White House Chief of Staff John Kelly told him no. Kelly was very firm it had to be today, according to administration officials.
A White House spokesman declined to comment on the subject.
The resignation letter submitted by Sessions today is not the old resignation letter that the former attorney general previously offered and President Trump rejected, a source familiar with the matter tells CNN.
There is no secret meaning to the fact that the letter is undated, the source says, adding, things were simply moving fast.