Inspector general testifies about Russia report
By Meg Wagner, Mike Hayes and Zoe Sottile, CNN
Updated
4:57 p.m. ET, December 11, 2019
4:47 p.m. ET, December 11, 2019
Our live coverage has ended, but you can scroll through the posts below to read more.
4:20 p.m. ET, December 11, 2019
The hearing just wrapped up
Today's Senate Judiciary Committee hearing just finished. Members asked Justice Department Inspector General Michael Horowitz questions about his report on the origins of the FBI's Trump-Russia investigation.
Chair Lindsey Graham closed the hearing with this thought:
"To my Democratic friends: This could happen to you one day"
What's in the report: The report said the start of FBI Russia probe was legally justified and unbiased, but it also cited significant errors in surveillance warrants.
The report essentially refutes more than two years of talking points by President Trump and Republicans about a deep-state effort to derail his campaign.
There were no FBI spies planted in Trump Tower, for instance. And the famed dossier by ex-British spy Christopher Steele was not the reason the investigation was launched, the IG report states.
4:48 p.m. ET, December 11, 2019
GOP senator describes reaction to reading the report: "I thought I had dropped acid"
Republican Sen. John Kennedy had a colorful way of describing how reading the revelations in the inspector general's report shocked him.
"I thought I had dropped acid," Kennedy said of his reaction to having read only about one fourth of the report. "It is surreal. I mean, I just couldn't believe it."
Horowitz agreed, saying that though he's read it "multiple times," the report still "surprises" him. 
Watch here:
4:29 p.m. ET, December 11, 2019
Inspector general says he hasn't decided not to investigate Ukraine incidents
Inspector General Michael Horowitz told Sen. Kamala Harris he has not decided not to investigate the incidents surrounding Ukraine.
"Earlier today, you said you are not investigating matters related to ongoing Ukraine issues does that mean that you have decided not to investigate these incidents?" she asked.
Here's how Horowitz responded: 
"No. As I think mentioned in a recent letter, and I've been in touch with fellow IGs who have been asked by members to look at those issues."
Horowitz pointed out potential limitations on jurisdiction. Rather than rely on news reports, he said, he would like to review the facts surrounding Rudy Giuliani's actions in Ukraine with law enforcement himself and return to the committee to speak to the issue.
Watch here:
3:37 p.m. ET, December 11, 2019
Horowitz: No evidence that FBI tapped phones or planted informants inside the Trump campaign
In an exchange with Democratic Sen. Richard Blumenthal, inspector general Michael Horowitz refuted a multitude of claims made by President Trump, including that the FBI tapped phones at Trump Tower and planted informants or spies in his campaign.
Here's some of the exchange:
Blumenthal: "Did you find any evidence that the FBI tapped the phones at Trump Tower?"
Horowitz: "No…the only wiretapping or the only surveillance we found was what's laid out here."
Blumenthal: "Did you find any evidence that the FBI planted informants in the Trump campaign?"
Horowitz: "No."
Horowitz added: "We did not find evidence that the FBI sought to place confidential human sources inside the campaign or plant them inside the campaign."
3:42 p.m. ET, December 11, 2019
Fact check: Lindsey Graham's said Trump's campaign only got "vanilla" FBI briefings. That's mostly true.
From CNN's Holmes Lybrand and Tara Subramaniam
During the hearing, Sen. Lindsey Graham made a point of contrasting the briefings on Russian meddling the FBI provided to the Hillary Clinton campaign and the Trump campaign.
Graham suggested that while Clinton was briefed about "foreign influences involving her campaign," the FBI provided only a "vanilla briefing" to Trump's campaign outlining that "the Russians are out there, you better beware." 
Facts First: This is largely true. According to the Justice Department inspector general's report on the Russia investigation, the Trump campaign did not receive a briefing on suspected Russian interference in the campaign. Instead, the campaign was briefed on potential interference from foreign actors including Russia. That might sound like a small difference but it means that the FBI did not tell the Trump campaign it was actively investigating whether the Russians were meddling in his campaign. 
In the recently released inspector general report, Bill Priestap, then-chief of the FBI's counterintelligence division, explained that the campaign was not briefed because it was possible that parts of the campaign were working with Russia.
"While the Counterintelligence Division does regularly provide defensive briefings to U.S. government officials or possible soon to be officials," Priestap said, "in my experience, we do this when there is no indication, whatsoever, that the person to whom we would brief could be working with the relevant foreign adversary."
In other words, Priestap is suggesting that at the time there was concern inside the FBI that one or more people in the Trump campaign may have been colluding with Russia. 
During today's hearing, Justice Department inspector general Michael Horowitz testified that the FBI "sent one of the supervisory agents" from the team investigating whether the Russians were colluding with the Trump campaign "to the briefing." That agent then reported back what Trump and others said during the briefing.
"So the agent was actually doing the briefing but also using it for the purpose of investigation," Horowitz testified.
3:50 p.m. ET, December 11, 2019
Ted Cruz: "This wasn't Jason Bourne. This was Beavis and Butt-Head."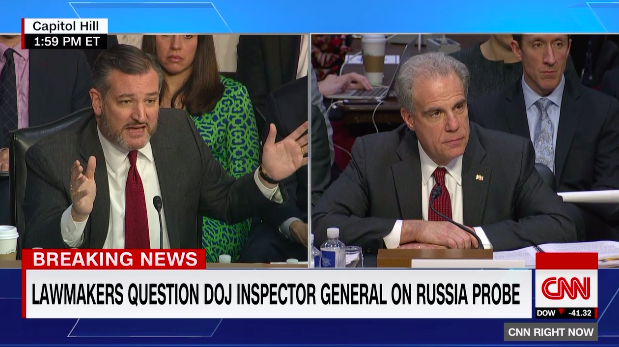 In closing out his questioning of inspector general Michael Horowitz, Sen. Ted Cruz criticized how the FBI investigation was run.
"This wasn't Jason Bourne. This was Beavis and Butt-Head," he said.
Watch here:
2:29 p.m. ET, December 11, 2019
Ted Cruz: The report is "a stunning indictment"
Republican Sen. Ted Cruz slammed the "pattern of abuse of power" in the Justice Department and the FBI during today's hearing, calling the inspector general's report "a stunning indictment."  
"Reading this report, this is a 434-page report that lays out what I consider to be a stunning indictment of the FBI and the Department of Justice, of a pattern of abuse of power," he said.
Cruz said the facts laid out in the report made him "angry."
"It makes anyone who expects law enforcement to be non-partisan and faithful to the law — it should make them angry as well," he said.
3:50 p.m. ET, December 11, 2019
Horowitz endorses Robert Mueller's report
From CNN's Marshall Cohen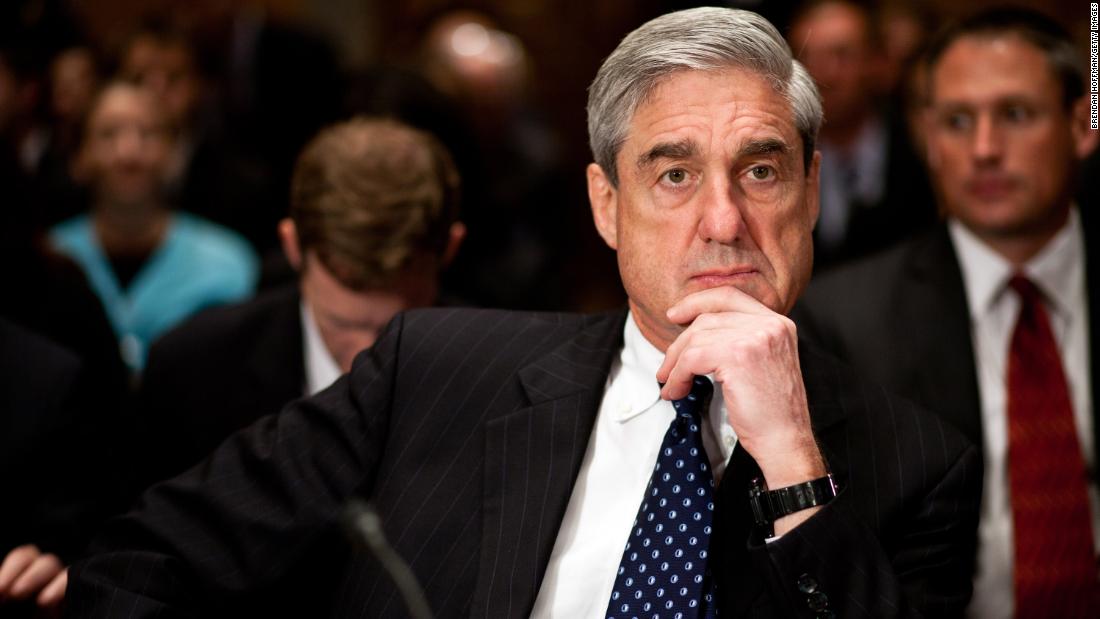 Democratic Sen. Amy Klobuchar asked inspector general Michael Horowitz whether he found any information that would undermine several of the most important findings from special counsel Robert Mueller's investigation. 
"We don't take issue with any part of the special counsel's report," Horowitz said. 
The inspector general also noted that his own report cites Mueller's report on several occasions. 
Some context: Horowitz reviewed the early stages of the Russia investigation, which was conducted by the FBI until it was handed off to Mueller after his appointment as special counsel in May 2017.
Watch here: