Brett Kavanaugh nomination faces delay
5:23 p.m. ET, September 28, 2018
Our live coverage of today's dramatic committee vote has ended, but stick with CNN Politics for more updates on Brett Kavanaugh's confirmation process.
In the meantime...
5:58 p.m. ET, September 28, 2018
Ford's lawyer welcomes FBI investigation, warns against "artificial" time limits
Debra S. Katz, one of Christine Blasey Ford's lawyers, released a statement Friday afternoon welcoming the FBI investigation:
"A thorough FBI investigation is critical to developing all the relevant facts. Dr. Christine Blasey Ford welcomes this step in the process, and appreciates the efforts of Senators Flake, Murkowski, Manchin and Collins -- and all other senators who have supported an FBI investigation -- to ensure it is completed before the Senate votes on Judge Kavanaugh's nomination. No artificial limits as to time or scope should be imposed on this investigation."
5:02 p.m. ET, September 28, 2018
Trump orders FBI supplemental investigation into Kavanaugh
In a tweet on Friday afternoon, White House press secretary Sarah Sanders issued a statement on behalf of President Donald Trump.
According to the statement, Trump has "ordered the FBI to conduct a supplemental investigation to update Judge Kavanaugh's file."
"As the Senate has requested, this update must be limited in scope and completed in less than one week," the statement continued.
Here's her tweet:
4:59 p.m. ET, September 28, 2018
Kavanaugh says he will continue to cooperate with the FBI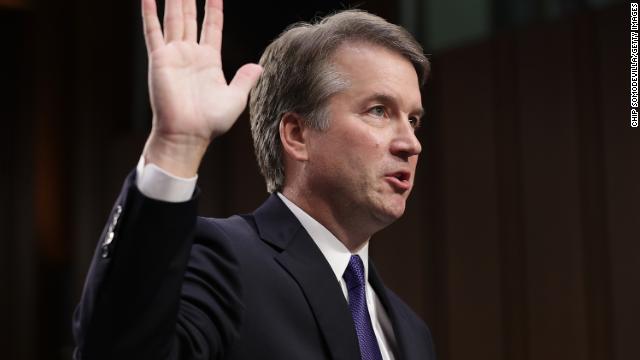 Supreme Court nominee Brett Kavanaugh issued a statement Friday afternoon, saying he will continued to cooperate with the FBI:
"Throughout this process, I've been interviewed by the FBI, I've done a number of 'background' calls directly with the Senate, and yesterday, I answered questions under oath about every topic the Senators and their counsel asked me. I've done everything they have requested and will continue to cooperate."
4:59 p.m. ET, September 28, 2018
Key GOP senator: Today was "a good step"
While getting into her car, Sen. Lisa Murkowski of Alaska, a key vote, remarked that Friday had been "a good step."
She had earlier expressed support for Sen. Jeff Flake's proposal for a delay, saying, "I support the FBI having an opportunity to bring some closure to this."
When asked if she would agree to move forward with the final vote if the investigation had not finished, she wouldn't say.
"We've asked the FBI to reopen and we've put priority on this obviously. And they will move as quickly as they can - and we will move forward from there," Murkowski said.
4:50 p.m. ET, September 28, 2018
Flake says FBI report could change his mind on Kavanaugh
Arizona Republican Sen. Jeff Flake told reporters that Senate Majority Leader Mitch McConnell said he would wait to move to a final vote "until the (FBI) report is filed."  
He said the report will be given to the White House and the committee, but he hasn't been given any assurances the FBI probe will be done in a week.
"Sure, you bet — that's why we are doing an extended background investigation," Flake said when asked if he may change his vote and oppose the nomination depending on what he learns.
Asked if he is prepared to vote to confirm Kavanaugh if probe is not done within a week, Flake replied: "All we can say it has to be done within a week or we move forward."
He said today's protestors did not change his mind necessarily. He couldn't "pinpoint" the reason, but he said he had sleepless nights.
Flake also said the FBI will determine what "credible" allegations to probe.
4:45 p.m. ET, September 28, 2018
White House official: Trump will authorize and order a supplemental FBI background investigation
A White House official says President Donald Trump will authorize and order a supplemental FBI background investigation into Brett Kavanaugh.
A written statement (or possibly a Tweet) is expected at some point to affirm what the President suggested earlier in the Oval Office when he said he would be "totally reliant on what Senator Grassley and the group decides to do."
It was 10 days ago when Trump first told us in the Oval Office that the FBI doesn't do these types of investigations. Tonight, he will order them to do just that — after a handful of Senate Republicans insisted upon it.
4:42 p.m. ET, September 28, 2018
Ted Cruz: We'll let the FBI determine which allegations are credible
Sen. Ted Cruz, emerging from the meeting in Majority Leader Mitch McConnell's office, said they will leave it to the FBI to decide which are the "credible" allegations.
When asked directly what the Senate GOP would do if the FBI probe is not completed, Cruz said the conference has agreed to move forward next week.
4:44 p.m. ET, September 28, 2018
Here's the latest whip count for the senators who control the vote
Earlier we brought you a whip count based on the senators -- Republican and Democrat alike -- who held the keys on moving the Kavanaugh nomination forward.
The 🕵️ indicates they support an FBI investigation.
Here's where they stand now after today's developments:
R - Sen. Susan Collins 🕵️
R - Sen. Lisa Murkowski 🕵️
D - Sen. Joe Manchin 🕵️
D - Sen. Heidi Heitkamp 🕵️
R - Sen. Jeff Flake 🕵️
R - Sen. Bob Corker ✅
D - Sen. Doug Jones ❌
D - Sen. Bill Nelson ❌
D - Sen. Joe Donnelly ❌
D - Sen. Jon Tester ❌