2022 midterm election results
By Aditi Sangal, Adrienne Vogt, Elise Hammond, Maureen Chowdhury, Clare Foran, Meg Wagner, Melissa Macaya, Joe Ruiz and Seán Federico-OMurchú, CNN
Updated
5:55 a.m. ET, November 9, 2022
9:00 p.m. ET, November 8, 2022
CNN Projection: Republican Sen. Jerry Moran will win reelection in Kansas
From CNN staff
Republican Sen. Jerry Moran will win reelection in Kansas, CNN projects, and defeat Democrat Mark Holland.
9:00 p.m. ET, November 8, 2022
CNN Projection: Senate Republican Whip John Thune will win reelection in South Dakota
From CNN staff
Senate Republican Whip John Thune will win reelection in South Dakota, CNN projects, and defeat Democrat Brian Bengs.  
9:12 p.m. ET, November 8, 2022
CNN Projection: Senate Majority Leader Chuck Schumer will win reelection in New York  
From CNN's Alex Rogers
Senate Majority Leader Chuck Schumer will win reelection in New York, CNN projects, and defeat Republican Joe Pinion.  
Pinion briefly hosted a show on Newsmax and has worked as the director of a youth development at Morris Height Health Center in the Bronx. 
Schumer's victory will make him the longest-serving senator from New York after he's sworn in next year.  
Over 48 years, Schumer has never lost a race, rising from the state Assembly to the House of Representatives to the pinnacle of power in the Senate.  
While seeking to keep Democratic control of the 50-50 Senate this year, Schumer continued his tradition of visiting the Empire State's 62 counties, and his campaign built an overwhelming financial advantage over his Republican opponent, Joe Pinion, a former host and conservative commentator on Newsmax.  
Pinion tried to turn Schumer's longevity into a weakness, blaming him for a poor economy and charging that it's time to turn the page. 
"He is, in fact, an exceptional politician, one of the best that has ever lived," said Pinion at a recent debate hosted by Spectrum News. "But he's a failed senator. He has failed the people of this state on multiple occasions." 
At the debate, Schumer touted the Senate's past two years and boasted that "for the first time," New York received more money from Washington than it sent. He then ticked off the major legislation passed by this Congress: granting Medicare the power to negotiate lower prices for some drugs, what he called "the most important climate change bill ever" and bipartisan gun safety and infrastructure bills. He also pledged to protect abortion rights after the Supreme Court overturned Roe v. Wade. 
"In the last two years, under my leadership, the Senate has had the most productive session in decades," said Schumer. 
The Brooklyn-bred New Yorker, the son of an exterminator and housewife, leaned into his Jewish background in one ad by teaching various Yiddish words -- calling Republican political leaders "schmos" and describing the "naches" he felt in passing the Inflation Reduction Act. 
"Fighting for New York is no shtick for me," he added. 
9:00 p.m. ET, November 8, 2022
It's 9 p.m. ET. Polls are closing in Arizona, Texas, New York and 12 other states 
From CNN's Ethan Cohen and Melissa Holzberg DePalo 
It's 9 p.m. ET, and polls are closing in these states: 
Arizona  
Colorado  
Iowa  
Kansas 
Louisiana  
Michigan  
Minnesota  
Nebraska  
New Mexico  
New York  
North Dakota  
South Dakota  
Texas  
Wisconsin  
Wyoming  
Here's what to know about the key races in Arizona: Republicans hope to take Arizona back after Democrats made inroads in the swing state in 2020 when President Biden won the state and Mark Kelly flipped a Senate seat for Democrats. 
However, the GOP isn't putting up moderate Republicans to help that cause. Republican gubernatorial nominee Kari Lake and GOP Senate nominee Blake Masters were both endorsed by Trump and have expressed skepticism that Biden legitimately won the state.  
These are the key races in Michigan: All eyes in Michigan will be on the state's gubernatorial race as Democratic Gov. Gretchen Whitmer faces conservative commentator Tudor Dixon, who's hoping her Trump endorsement will help turn the state back towards Republicans. 
The right to abortion will also be on the ballot. Democrats hope the issue will help boost turnout among their base voters. 
Voting and elections will also be key issues, as Michigan voters will decide on a ballot measure to expand access to the ballot, and elect a new secretary of state. Incumbent Democrat Jocelyn Benson faces Republican Kristina Karamo, who has backed Trump's lies about the 2020 election. 
And these are the races playing out in Wisconsin: Wisconsin is one of the most closely divided states in the nation, and GOP Sen. Ron Johnson and Democratic Gov. Tony Evers both face highly competitive reelection campaigns. 
Johnson, who has a history of controversial statements about the pandemic and the Jan. 6 attack, is facing Democratic Lt. Gov. Mandela Barnes, who at one point signaled support for removing police funding. 
Evers faces Republican businessman Tim Michels, who won Trump's support in the primary by aggressively amplifying the former president's 2020 election lies. 
CNN's Priya Krishnakumar and Will Mullery contributed reporting to this post. 
See an hour-by-hour guide to Election Night poll closings here.  
8:55 p.m. ET, November 8, 2022
Exit polls: Pennsylvania voters are split over Fetterman's health
From CNN's Tami Luhby
Voters in Pennsylvania are split over whether Democratic Senate candidate John Fetterman's health is good enough to represent the state effectively, according to the preliminary results of the Pennsylvania exit poll conducted for CNN and other news networks by Edison Research.
Fetterman, Pennsylvania's lieutenant governor, suffered a near-fatal stroke days before he won the May Democratic primary.
But a majority of voters said that Mehmet Oz, the Republican candidate for Senate, has not lived in the commonwealth long enough to represent it effectively. More than 4 in 10 said he had.
Oz has said he moved to Pennsylvania in late 2020 after living in New Jersey for decades.
Voters also split over which candidate's views are too extreme with more than 4 in 10 picking Fetterman and the same share selecting Oz.
More than one-third of Pennsylvania voters said that they care most about whether a candidate shares their values and whether a candidate has honesty and integrity. About 2 in 10 said the most important quality is that a candidate cares about people like them. Fewer than one in 10 said having the right experience matters most.
Men and women who cast ballots split their support, with more than half of men voting for Oz and more than half of women voting for Fetterman. Among independent voters, who made up about a quarter of the electorate, more than half voted for Fetterman.
For voters who thought that abortion was the most important issue, more than three quarters supported Fetterman. They made up just over one-third of the electorate.
But among those who said inflation was the most pressing issue, more than three-quarters cast ballots for Oz. They made up more than a quarter of the electorate.
To read more about the exit polling data, click here.
8:53 p.m. ET, November 8, 2022
Pennsylvania's Allegheny County receives final batch of mail-in and absentee ballots
From CNN's Brian Todd and Dugald McConnell
At the Allegheny County Elections warehouse in Pennsylvania, they're about to get the final mail-in and absentee ballots that were dropped off personally by voters. 
The last ones which were sent by mail were just dropped off here. There were 3,058 of those, the county spokesperson told CNN. 
A total of 156,000 mail-ins/absentee votes — which had already been sent in — were processed at the warehouse earlier today. 
Now that polls have closed, they will assign all those votes to candidates. 
Rich Fitzgerald, executive of Allegheny County, said that Democrats Josh Shapiro, candidate for governor, and John Fetterman, candidate for Senate, have out-performed Joe Biden in the mail-in and absentee voting in Allegheny County. 
In 2010 Biden got about 80% of the mail-in and absentee voting in Allegheny, Fitzgerald said.
Shapiro won 89% of that vote tonight and Fetterman won about 85% of it in the Senate race, he said.
Fitzgerald said he expects the Allegheny vote count, overall, to be done quickly tonight. 
9:23 p.m. ET, November 8, 2022
CNN Projection: Democrat Robert Menendez Jr. will win New Jersey's 8th Congressional District race  
From CNN staff
Democrat Robert Menendez Jr. — the son of Sen. Bob Menendez — will win New Jersey's 8th Congressional District race, CNN projects. 
Menendez defeated Republican Marcos Arroyo, who was running uncontested in the GOP primary.
Correction: An earlier version of this post gave the wrong name for the Republican challenger. Robert Menendez Jr. defeated Marcos Arroyo.
9:00 p.m. ET, November 8, 2022
Democrat leads in North Carolina's Senate race — but results are coming from mostly early voting
From CNN's Elise Hammond
In North Carolina's Senate race, Democratic candidate Cheri Beasley is leading her opponent, Republican Ted Budd — but most of those results are coming from early voting.
The polls closed at 7:30 p.m. ET and these early voting numbers show about 53% of the estimated vote being reported, CNN's David Chalian said in analysis. Of the current votes that are in, 96% are coming from early voting.
"At the end of the day we think in North Carolina, only 55% is going to be pre-election vote," Chalian explained, adding that generally, early voting tends to favor Democrats. "So right now most of what you are seeing there is pre-election vote."
Here's how the results break down even further:
Among people who voted by mail, Beasley leads by 46%, with still about 24% of ballots left to be counted.
For those who voted early, Beasley also leads by 6.2%, with about 5% still to be counted.
Budd, however, leads by more than 37% in votes cast on Election Day — but there is still a lot left to go. More than 95% of Election Day votes have not been counted yet.
CNN's David Chalian breaks it down:
8:44 p.m. ET, November 8, 2022
Here's what the Senate and House maps look like as of 8:30 p.m. ET
From CNN staff
Here's what the maps for Senate and House races looks like as of 8:30 p.m. ET.
Control of both chambers of Congress is on the line in Tuesday's election, with the GOP needing net gains of just one seat to win the Senate and five seats to win the House. 
Senate: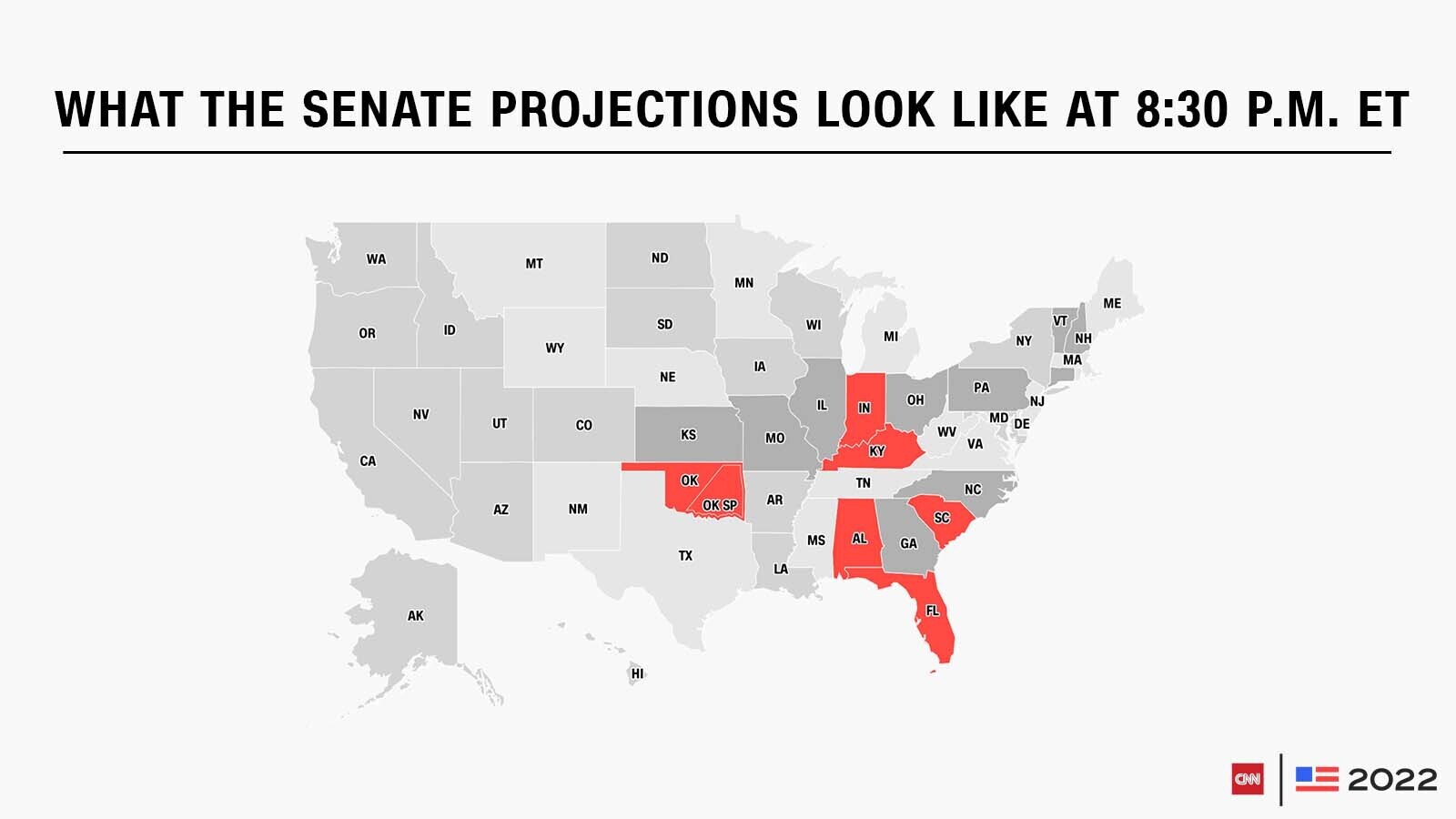 House: