Countdown to the midterms: 1 day out
5:39 p.m. ET, November 1, 2018
A bunch of celebrities are backing Stacey Abrams
Oprah isn't the only celebrity lending her support to Democratic gubernatorial Stacey Abrams.
Actor Mark Ruffalo tweeted his support for Abrams Thursday afternoon, declaring, "I'm proud to be on #TeamAbrams."
Singer John Legend, who spoke at one of Abrams' rallies in early October, tweeted on Thursday that Abrams' Republican opponent, Brian Kemp, "doesn't deserve to be dog catcher in Georgia."
Actress and singer Janelle Monáe also tweeted on Thursday: "Let's get rid of the abuser of power Brian Kemp and stay on the right side of history and elect #StaceyAbrams."
Other celebrities who have shown support for Abrams include singer Kelly Rowland, rappers Ludacris and Common, and actors Tiffany Haddish and Will Ferrell.
Kemp also enjoys support from some powerful names, though they come more from the world of politics than the realm of popular culture.
Donald Trump Jr. campaigned for Kemp earlier in October, and Vice President Mike Pence campaigned in Georgia today, where he said that Abrams was "being bankrolled by Hollywood liberals."
President Trump has also endorsed Kemp, and is expected to address the gubernatorial race during his Sunday rally in Macon, Georgia.
5:50 p.m. ET, November 1, 2018
Trump announces plan to change US asylum rules ahead of midterms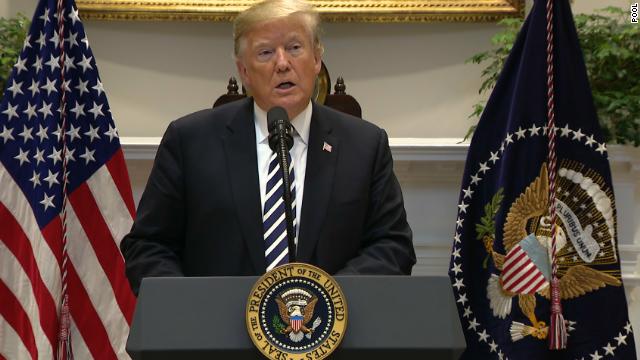 President Trump on Thursday announced a plan to change US asylum rules, as part of his closing argument to voters ahead of the midterms.
Trump did not release details on the asylum proposal or how it would be implemented. According to a White House aide, the administration will seek to require migrants to request asylum at legal points of entry, and prevent them from claiming asylum if they are caught crossing the border illegally. The President said he would sign an immigration-related executive order next week, but was not specific as to what it would address.
Trump has focused increasingly on immigration heading into the final days of the midterms, as Republicans across the country struggle to match their opponents in drumming up voter enthusiasm. 
The announcement also comes a day after the President tweeted a racist ad produced for the Trump campaign. The web video features Luis Bracamontes, a Mexican man who had previously been deported but returned to the United States and was convicted in February in the slaying of two California deputies.
The ad recalls the notorious "Willie Horton" campaign ad financed by supporters of the George H.W. Bush campaign in the 1988 presidential election. Horton was a convicted murderer who committed rape while furloughed under a program in Massachusetts where Democratic nominee Michael Dukakis was governor.
The ad has since come to be seen as one of the most racially problematic in modern political history since it played into white fear and African-American stereotypes. It was regarded at the time as devastating to the Dukakis campaign.
CNN's Jake Tapper did a quick fact check after Trump's speech. For example, Trump said there were about 20 million undocumented immigrants in the US (his own administration says there are only 12 million).
Watch more from Tapper's fact check:
3:46 p.m. ET, November 1, 2018
Oprah is going door-to-door for Stacey Abrams
Oprah Winfrey is canvassing door-to-door in Georgia today, hoping to drum up votes for Democratic gubernatorial Stacey Abrams.
Winfrey, armed with a clipboard, surprised at least one Georgia woman while canvassing for Abrams. The woman appeared to be stunned to find Winfrey standing at her front door. She told Winfrey that she was voting for Abrams.
Watch her reaction:
Winfrey also stopped this woman whom she spotted holding a sign in a Georgia neighborhood:
3:17 p.m. ET, November 1, 2018
Mike Pence's response to Oprah's campaigning: "I'm kind of a big deal, too"
Media mogul Oprah Winfrey and Vice President Mike Pence are both in Georgia today, campaigning for different gubernatorial candidates.
As Winfrey delivered an impassioned speech at a rally for Democrat Stacey Abrams, Pence reminded supporters of Republican Brian Kemp that he's "kind of a big deal, too."
"Brian Kemp's getting the support of all kinds of hard-working, good people all across Georgia, and Stacey Abrams is being bankrolled by Hollywood liberals," Pence said. "Some of them come into the state. Like, I heard Oprah's in town today."
The Vice President said he had a message for Abrams and her famous supporters.
"I'm kind of a big deal, too," he said. "This ain't Hollywood. This is Georgia."
Watch more:
1:05 p.m. ET, November 1, 2018
Oprah explains why she is campaigning for Stacey Abrams today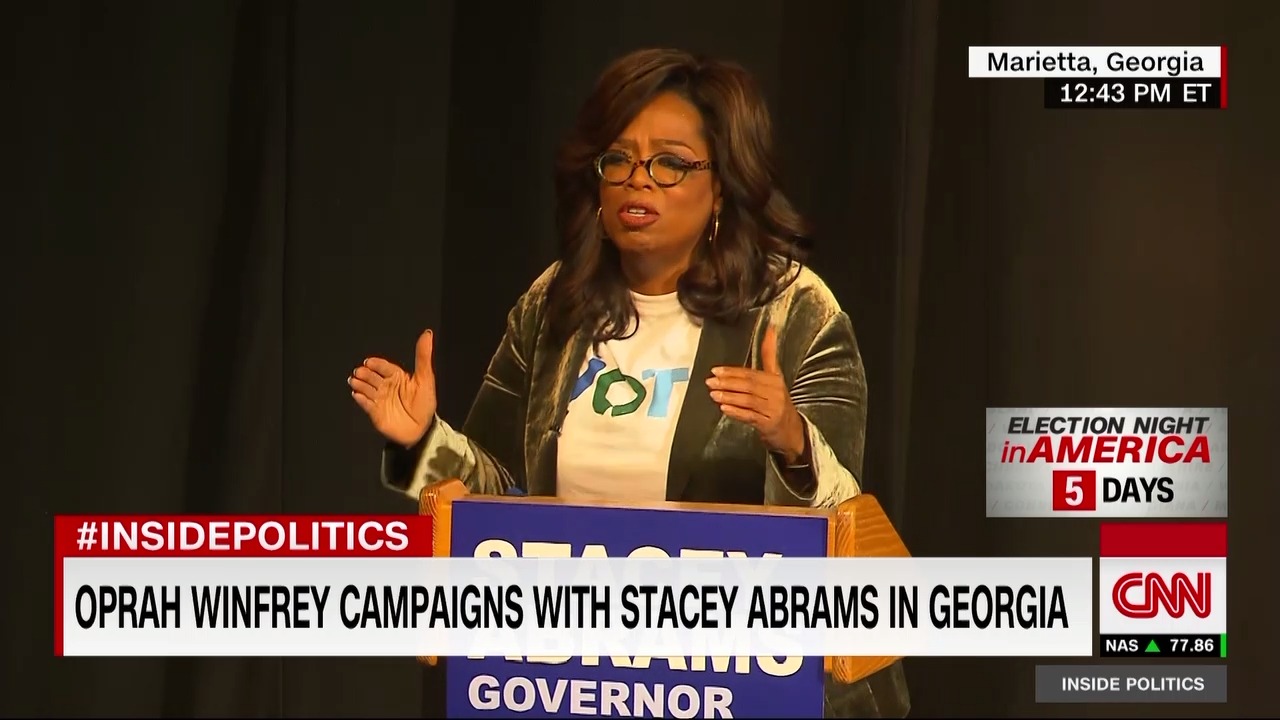 Oprah Winfrey is in Georgia today, where she is campaigning for Democratic gubernatorial candidate Stacey Abrams.
"I'm here today because Stacey Abrams cares about the things that matter," Winfrey said.
The media mogul said she didn't even know Abrams — she had to get the candidate's phone number from someone else — when she called her three days ago and told her she wanted to go to Georgia to "lend my support."
Here's what Winfrey said she told Abrams:
"I told her, here's why I want to come, Stacey: Because I have been reading about you. I have been reading about you in the Atlanta Journal. I've been reading about you in Time magazine. I've been reading about you in the New York Times. And I have been watching you, and I have been seeing how you handle yourself. I have been watching you in the midst of the onslaught of haters. And vitriol that is thrown against you. I have been watching you and you just keep coming ... And not only do you keep coming on, you keep standing strong for the values that matter to me and the values that matter to Georgians all over this state."
Later, she added: "I'm here today because of Stacey Abrams ... I'm here today because of the men and the women who were lynched, who were humiliated who were discriminated against , who were suppressed, who were repressed, who were oppressed for the right, for the equality at the polls."
Winfrey also insisted that today was about Abrams — and not about her own possible candidacy.
"I'm not here because I'm making some grandstand because I'm thinking about running myself. I don't want to run, okay?" she said.
Watch more:
11:23 a.m. ET, November 1, 2018
Elizabeth Warren campaigns in Ohio: "It's our time to fight back"
Sen. Elizabeth Warren, a Democrat from Massachusetts, is campaigning for candidates in Ohio today. She's stumping for join Rich Cordray, who is running for governor, and Betty Sutton, who is running for lieutenant governor. 
"I'm here today here in Ohio. I'm here to stand with Rich and Betty because it's our time to fight back. Are you ready to fight back?" Warren asked at a rally this morning.
In her speech, Warren criticized Republicans in Washington.
"I just want to talk to you just a minute about what's going on – what's going on right in now in Washington. I've been there now, unbelievably to me, six years. I stood on the floor of the United States Senate when health care for tens of millions of Americans hung by a single vote. When the Republicans lined up to take away protection for people with pre-existing conditions ....  I was on the floor of the United States Senate when the Republicans, having taken millions and millions of dollars from the oil industry — one of them stands up and declares again, climate change is a hoax. That's what we see day after day."
2:06 p.m. ET, November 1, 2018
Where politicians (and Oprah) are campaigning today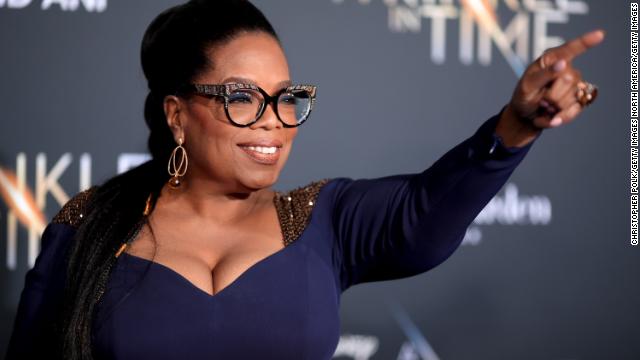 There's just five days left before election day, and politicians and elected officials are hitting the campaign trails to stump for candidates.
So is Oprah.
Here's a breakdown of who is campaigning where today:
House Speaker Paul Ryan is speaking in Waukesha, Wisconsin, this morning at an event in support of Gov. Scott Walker. 
A little bit later today, former Vice President Joe Biden will campaign for Sen. Heidi Heitkamp in Fargo, North Dakota. After that he'll head to Michigan and appear at an event alongside Sen. Debbie Stabenow and Michigan gubernatorial candidate Gretchen Whitmer.
Vice President Mike Pence will attend a rally for Georgia Secretary of State Brian Kemp — who is running for governor — in Dalton, Georgia.
Oprah Winfrey is also in Georgia today, campaigning for Democratic governor candidate Stacey Abrams. Winfrey will be in Marietta and Decatur.
And President Trump will host a Make America Great Again rally in Columbia, Missouri, this evening. He'll campaign for state Attorney General Josh Hawley, a Republican who is taking on Democratic Sen. Claire McCaskill.