A historic day in Congress
5:20 p.m. ET, January 3, 2019
Our live coverage of the first day of the new Congress has ended. Scroll through the posts below to read more or follow CNN Politics.
3:09 p.m. ET, January 3, 2019
Nancy Pelosi quoted Ronald Reagan in her first speech to the new Congress
House Speaker Nancy Pelosi evoked the memory of Ronald Reagan as she vowed to protect Dreamers — undocumented immigrants who were brought to the United States as children.
"And when we're talking about the Dreamers, let us remember what President Reagan said in his last speech as president of the United States," she said.
Pelosi then urged lawmakers to read the "beautiful speech" before quoting it.
"He said, 'If we ever close the door to new Americans, our leadership role in the world will soon be lost' — Ronald Reagan," she said.
She continued: "Our common cause is to find and forge a way forward for our country. Let us stand for the people to promote liberty and justice for all as we pledge every day. And always, always keep our nation safe from threats old and new, from terrorism and cyber warfare overseas and here at home to protect and defend."
Watch below:
3:20 p.m. ET, January 3, 2019
The new Congress has been sworn in
Holding their right hands up, House members were sworn in together Thursday under the administration of House Speaker Nancy Pelosi.
"Congratulations, you are now all members of the 116th Congress," Pelosi said.
They will take part in the ceremonial swearings-in this afternoon. 
Watch below:
3:02 p.m. ET, January 3, 2019
Nancy Pelosi takes the oath of office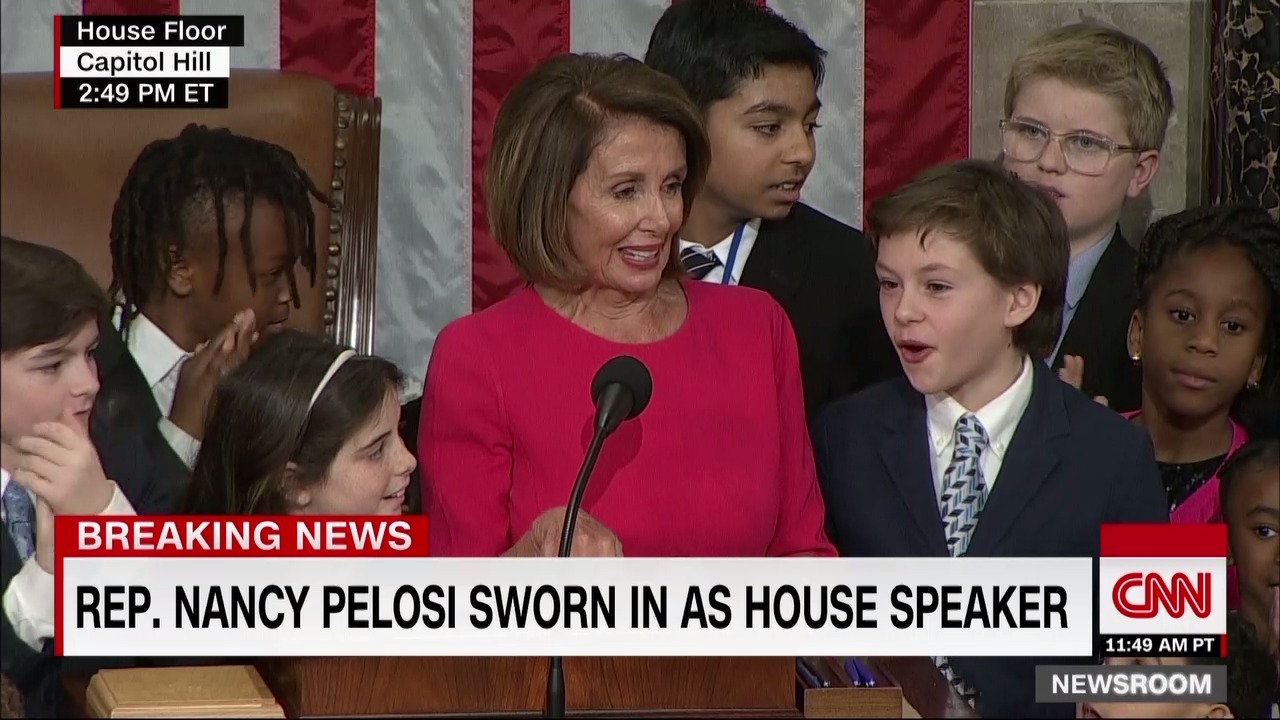 House Speaker Nancy Pelosi just took her oath of office and called the House to order.
"I now call the House to order on behalf of all of America's children. Go kids!" she said moments after being sworn in.
Before taking the oath, she called up her grandchildren, as well as any other children who wanted to join her.
Watch below:
2:56 p.m. ET, January 3, 2019
Nancy Pelosi welcomes "transformative freshman class" and calls for respect for the truth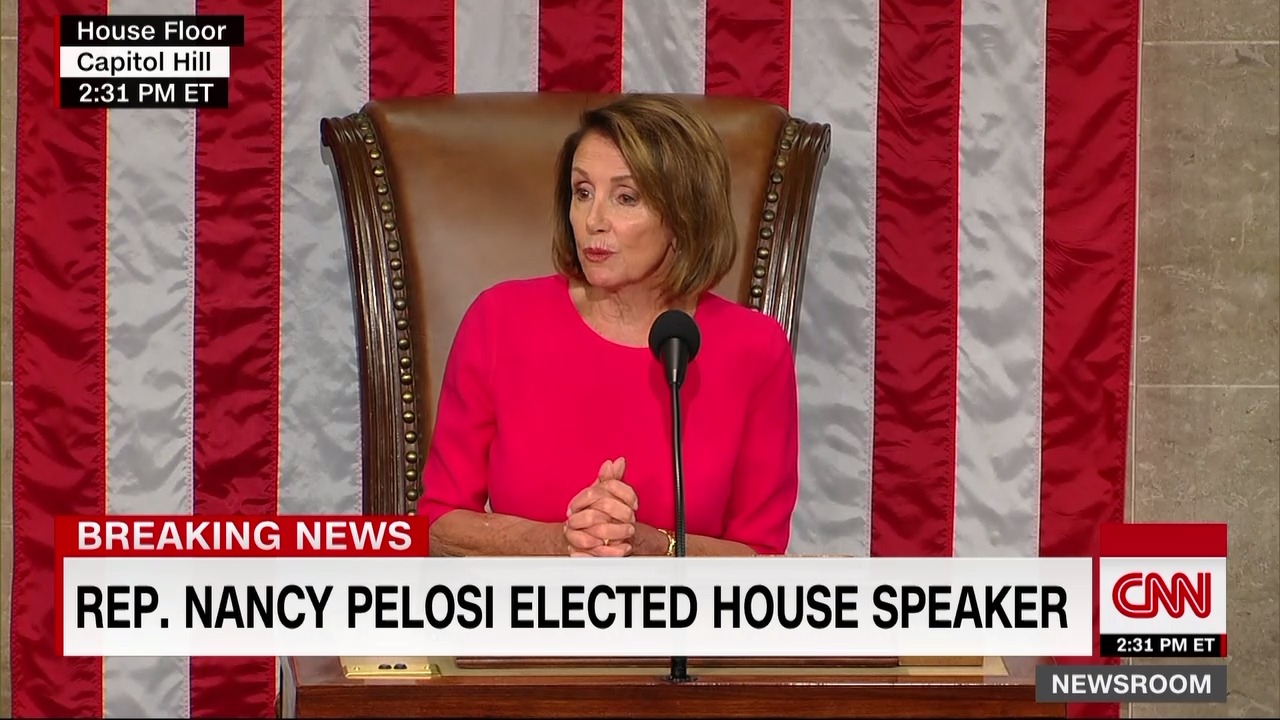 Nancy Pelosi opened her first speech as speaker of the House by calling for respect among colleagues and the truth.
"We have no illusions that our work will be easy and that all of us in this chamber will always agree, but let each of us pledge that when we disagree, we respect each other and we respect the truth," she said.
Pelosi also foreshadowed a Democratic proposal to reopen the government (It has been partially shutdown for 13 days now).
"We will debate in advance good ideas no matter where they come from, and in that spirit, Democrats will be offering the Senate Republican appropriations legislation to reopen government later today," she said.
During her speech, Pelosi thanked loved ones and friends and welcomed the "transformative freshman class."
There are a lot of historic firsts in this Congress, including a record number of women.
"When our new members take the oath, our Congress will be refreshed and our democracy will be strengthened by their optimism, idealism and patriotism of this transformative freshman class. Congratulations to all of you in the freshman class. Working together we will redeem the promise of the American dream for every family, advancing progress for every community," she said.
Watch below:
2:50 p.m. ET, January 3, 2019
It's official: Pelosi's name is up in the US Capitol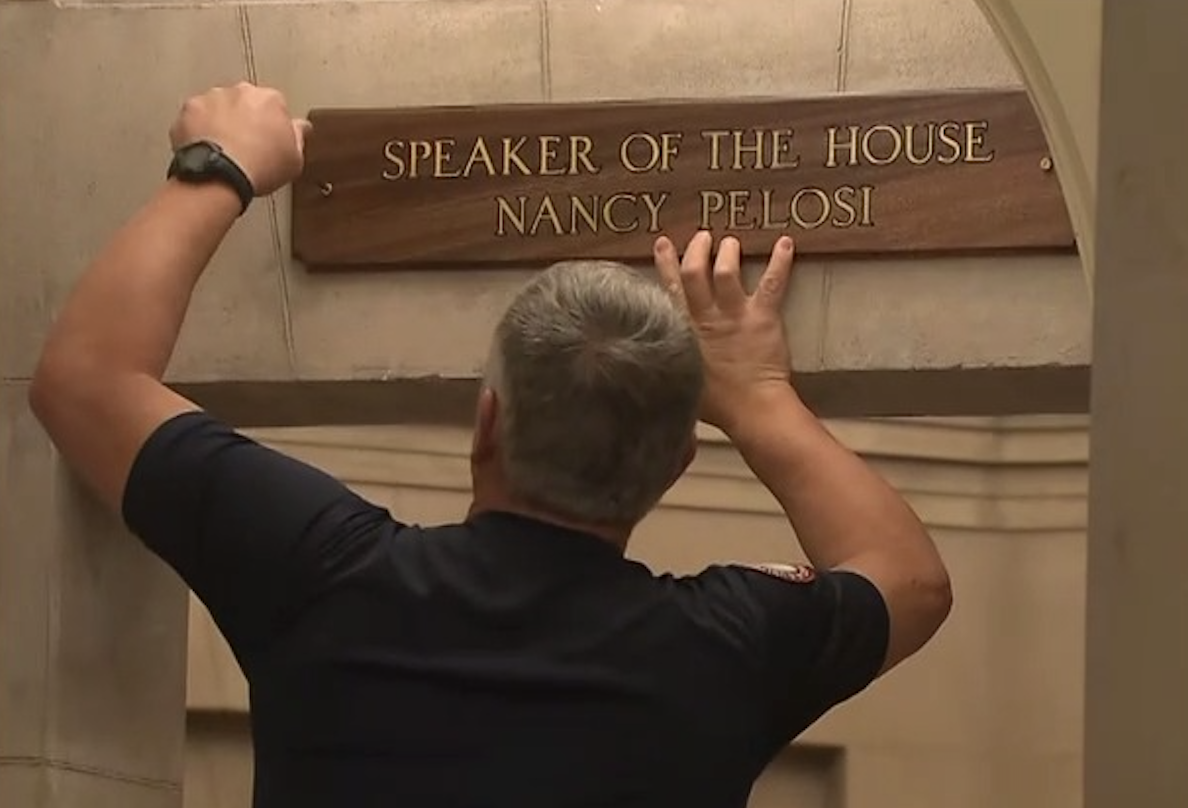 House Speaker Nancy Pelosi's name was just put up on a sign in the US Capitol. The plaque replaces one that had former House Speaker Paul Ryan's name on it, which has already been removed.
Someone could be seen installing the sign as Pelosi spoke on the House floor.
2:47 p.m. ET, January 3, 2019
New House Minority Leader Kevin McCarthy introduces Nancy Pelosi — and hands her the gavel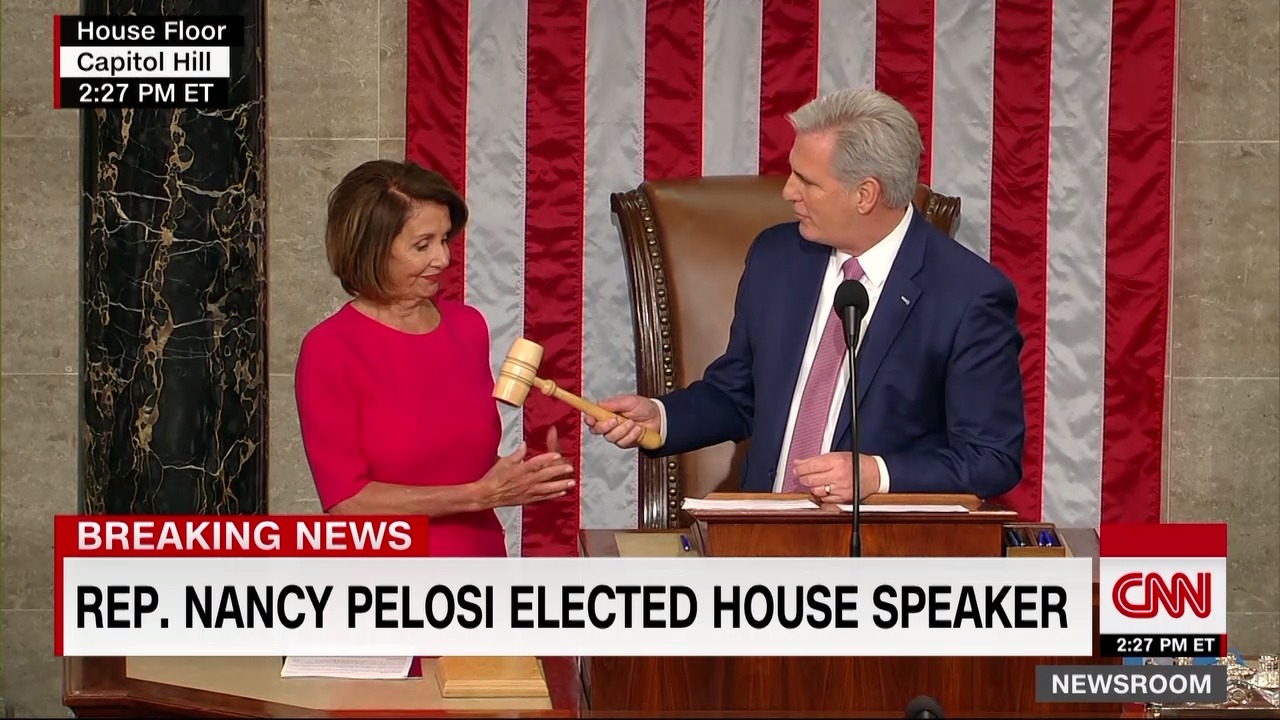 House Minority Leader Kevin McCarthy, a Republican from California, welcomed lawmakers to the first day of the 116th Congress before introducing newly-elected House Speaker Nancy Pelosi.
"Today marks a new chapter in this House pursuit of a more perfect union. The country knows Nancy Pelosi as an experienced leader with three decades of service in Congress, a fighter for her causes and a true trail blazer. Even when we disagree with one another completely, it is important to remember that we are bounded together in a common cause, our love for America," he said.
After speaking briefly, McCarthy handed Pelosi the gavel.
During his remarks, McCarthy went on to talk about divided government.
"When we work together, we succeed together as one nation. We're now entering a period of divided government, but that is no excuse for gridlock or inaction," he said. "We are at our best when we focus not on retribution but on building a more perfect union. But while we seek cooperation, there is one core principle upon which we will not compromise, Republicans will always choose personal freedom over government control."
Watch below:
2:17 p.m. ET, January 3, 2019
12 Democrats didn't vote for Pelosi. Here's how they voted.
Nancy Pelosi was just elected speaker of the House, garnering 220 votes from her colleagues.
Twelve Democrats, however, didn't vote for her.
Here's who they voted for instead:
Jason Crow of Colorado and Max Rose of New York voted for Sen. Tammy Duckworth of Illinois
Jared Golden of Maine, Joe Cunningham of South Carolina, Abigail Spanberger of Virginia and Mikie Sherrill of New Jersey voted for Rep. Cheri Bustos of Illinois
Anthony Brindisi of New York voted for former Vice President Joe Biden
Ben McAdams of Utah voted for Rep. Stephanie Murphy of Florida
Ron Kind of Wisconsin voted for Rep. John Lewis of Georgia
Conor Lamb voted for Rep. Joe Kennedy of Massachusetts
Kathleen Rice of New York voted for Stacey Abrams, who ran unsuccessfully for governor of Georgia.
Kurt Schrader of Oregon voted for Rep. Marcia Fudge of Ohio 
2:37 p.m. ET, January 3, 2019
JUST IN: Nancy Pelosi elected House Speaker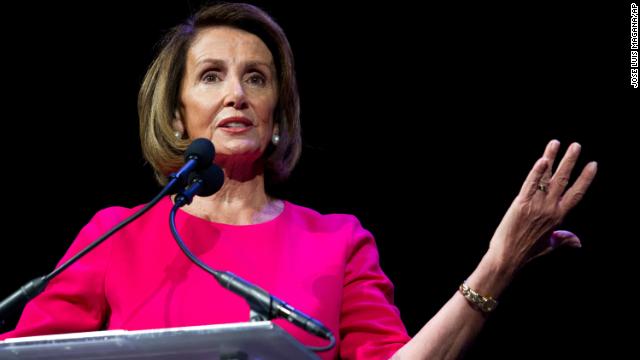 Rep. Nancy Pelosi has officially been elected the speaker of the House.
She defeated GOP nominee Kevin McCarthy, winning 220 votes.
Pelosi previously held the title when she served as the first and so far only female House speaker from 2007 to 2011. After that, she served as the House's minority leader.
Watch below: