The 2020 New Hampshire primary
8:09 p.m. ET, February 11, 2020
JUST IN: Andrew Yang to suspend 2020 presidential campaign
Andrew Yang plans to announce he is suspending his presidential campaign during a speech Tuesday night in New Hampshire, two sources tell CNN.
It's the end to an upstart run that vaulted the businessman from obscurity to a Democratic contender backed by a devoted following known as the Yang Gang.
Yang's decision will come a week after a disappointing finish in Iowa, where the campaign invested millions and spent two weeks on a bus tour leading up to the caucuses. The investment didn't pan out: Yang finished with just 1% support in Iowa and, after leaving the state with depleted resources, had to lay off staff as he looked to trim his campaign's costs.
"With a crystal ball, we might not have invested as much energy in Iowa, because I think that that lack of clarity afterwards hurt every candidate," Yang told CNN the day before the New Hampshire primary. "But we're excited about being here in New Hampshire."
See an update here:
8:01 p.m. ET, February 11, 2020
All of the polls are closed
All polls are closed in New Hampshire. You can follow for results here.
8:02 p.m. ET, February 11, 2020
Sanders is leading, based on early results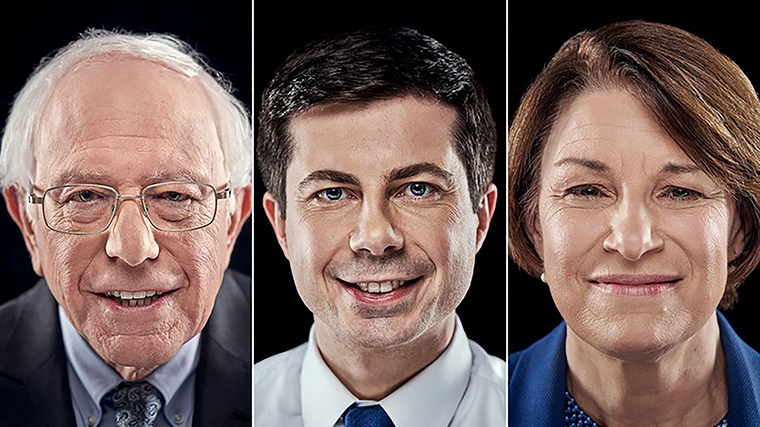 Sen. Bernie Sanders is leading in the New Hampshire primaries.
Pete Buttigieg is in second and Amy Klobuchar is in third, based on early results.
Watch more analysis:
7:46 p.m. ET, February 11, 2020
You might hear a lot about townships tonight. Here's what they are.
A township a nonfunctioning, nongovernmental subdivision of a county according to the US Census Bureau. 
There are six townships in Coos County, the northernmost tip of New Hampshire that pokes the Canadian border. One township, Dixville, is home to Dixville Notch, an unincorporated community famous for its longtime midnight voting tradition. Millsfield, another midnight voting locale, is also a township.
More broadly, towns and cities are governed differently in New Hampshire. Towns are primarily run through a "town meeting" form of government, while cities hold charters from the state legislature. 
New Hampshire has 10 counties, 13 cities, 221 towns and 25 unincorporated places.
7:25 p.m. ET, February 11, 2020
Biden has landed in South Carolina
The first results of New Hampshire are just coming in now, and Joe Biden is on the ground in South Carolina, a campaign official tells CNN.
His campaign has viewed states like South Carolina as bearing more diverse demographics than states like Iowa and New Hampshire. They believe that could be favorable to the former vice president. 
7:10 p.m. ET, February 11, 2020
Biden ally: Former vice president's path to nomination is "the Clinton model"
Joe Biden's campaign co-chairman, Rep. Cedric Richmond of Louisiana, said the former vice president's path to the Democratic nomination follows "the Clinton model" -- a reference to Bill Clinton's primary win in 1992. 
Of the first 11 primaries, the then-Arkansas governor had won just one -- Georgia. Then, on March 7, he won a dominating victory in South Carolina. 
"He won one of the first 11 primaries. And then he won the twelfth one in South Carolina and that launched him to the presidency," Richmond said. 
Biden bailed on a planned New Hampshire primary-night party in Nashua, getting out of the state before suffering another embarrassing result. He hopped on a private flight to Columbia, South Carolina, for an event launching his campaign there. 
Several of Biden's leading African-American supporters complained Tuesday that the former vice president was being counted out of the Democratic presidential race before black voters had any real say.  
"The base of the Democratic Party is not the left. The base of Democratic Party is black women, and they have not had their say in this race yet," said Birmingham, Alabama, Mayor Randall Woodfin. "So I think it would be not only premature, but not very smart, for anyone to count him out." 
Knowing Biden was almost certainly facing defeat Tuesday, North Carolina Rep. Alma Adams said she is "not discouraged by it at all." 
"When I look at the makeup of those states, those communities, it's really not reflective of what I know will be strong support for him," Adams said. 
7:12 p.m. ET, February 11, 2020
Polls are closing in New Hampshire, but Biden is on his way to South Carolina
Joe Biden is heading to South Carolina, a state he's described as his "firewall" in this 2020 race. 
Biden's expected appearance here demonstrates his eagerness to move past Iowa and New Hampshire — where he could sustain another loss this evening. The campaign views states like South Carolina as bearing more diverse demographics that could be favorable to the former vice president. 
Biden's allies are also eager for voting to get started in South Carolina.
"Iowa and New Hampshire with all due respect are not barometers for most of the nation," South Carolina state Senator Marlon Kimpson told CNN.
"We in the South are not familiar with those states," said Kimpson, a prominent South Carolina supporter of Biden. "I think the results there will be relegated to a footnote once the campaigns turn to more geographically and racially diverse states."
7:00 p.m. ET, February 11, 2020
Most polls are now closed in New Hampshire
It's 7 p.m. in New Hampshire, which means most of the state's polling locations are closed.
All of the polls will close by 8 p.m. ET.
You can follow here for live results.
6:54 p.m. ET, February 11, 2020
30% of voters say it'll be harder for a woman to beat Trump, exit poll says
Democratic voters in New Hampshire weighed in on the chances they give a woman beating President Trump in November.
According to CNN's exit poll, 30% of voters believe it would be harder for a woman to beat Trump while 11% said it would be easier. Of those polled, 58% said there would be no difference.
About the poll: The CNN Exit Poll was conducted by Edison Research for the National Election Pool. Results are based on interviews conducted throughout the day with 1,947 randomly selected Democratic primary voters at 45 wards in New Hampshire. Results for the full sample have a margin of error of plus or minus 4 percentage points.
Watch more analysis: