The 2020 New Hampshire primary
3:59 p.m. ET, February 11, 2020
Biden will head to South Carolina tonight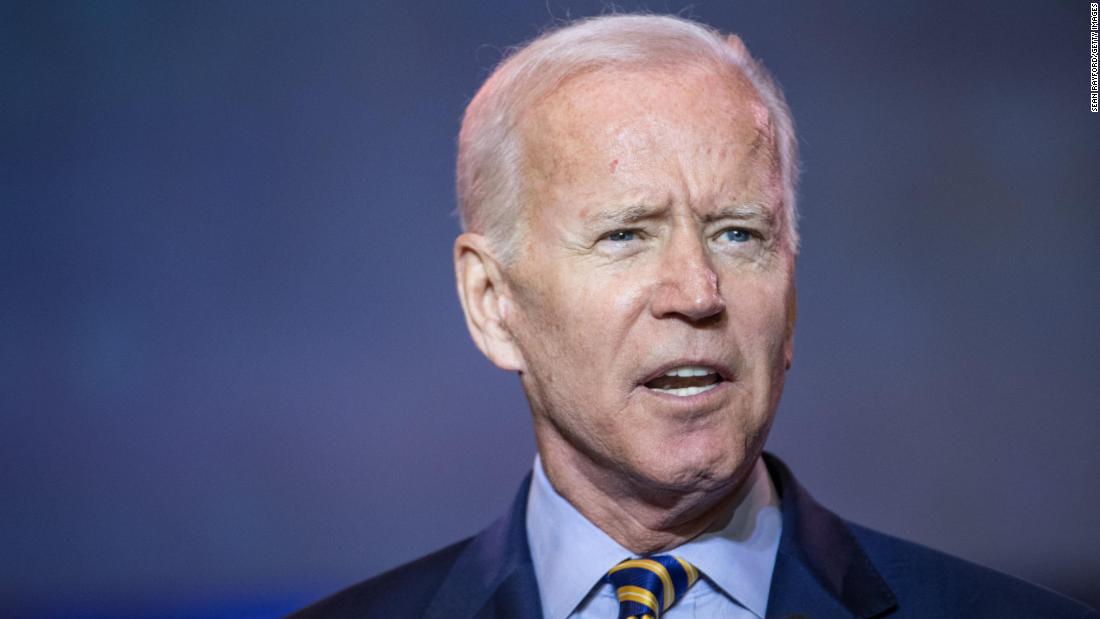 Former Vice President Joe Biden will travel to Columbia, South Carolina, tonight for a campaign launch party in the state, according to a statement from the campaign.
Biden will address New Hampshire supporters via livestream, the statement said.
At a local stop before he ordered Dunkin' Donuts today, Joe Biden was asked by reporters why he is going to South Carolina tonight instead of staying in New Hampshire.
He said he plans to do mildly well tonight but wanted to focus on South Carolina.
"Look, we got a lot of good friends here in New Hampshire but this race isn't over until you — got significant portions of the electorate who haven't voted yet. And I'm going — going to head to South Carolina tonight and I'm going to go to Nevada as I've said from the beginning, we gotta look at them all. And I'm feeling good about that, we've got a lot of great friends here who have helped us a lot. We're still mildly hopeful here in New Hampshire. And we'll see what happens," Biden said.
Asked if South Carolina was going to be do or die for the campaign, Biden said, "No I don't think so."
He continued:
"Look, remember, when everybody talks about how everybody won before. Clinton lost the first nine events, won one, won in Iowa went on to win the nomination. Look the rest of the nation is out there. There's an awful lot of electoral votes to be had, and we're gonna see. I think we're going to do well in Nevada and in South Carolina, and we'll go from there. We'll see."
Biden: Trump is obsessed with me because I will beat him
2:54 p.m. ET, February 11, 2020
Gabbard practically moved to New Hampshire. Will it matter?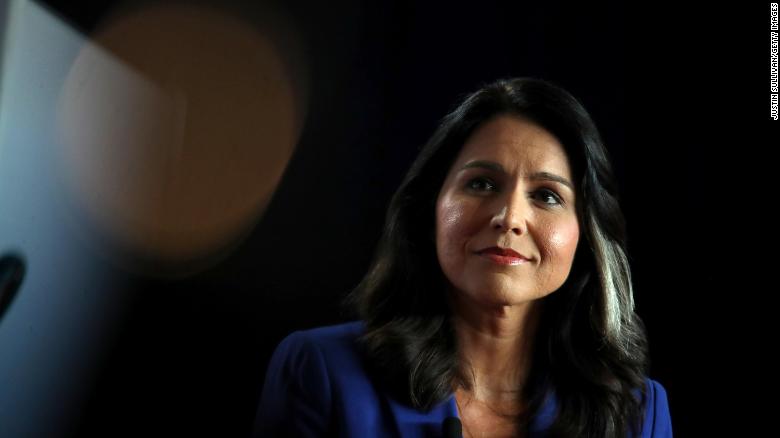 Hawaii Rep. Tulsi Gabbard all but moved to New Hampshire in late 2019 — renting a house to make it easier for her to hold events nearly every day in the Granite State.
The strategy has made her one of the most omnipresent candidates in New Hampshire, with the congresswoman even inviting supporters to go snowboarding with her this winter.
But that ubiquity has not shown up in polls. Gabbard had 5% in the latest CNN tracking poll of New Hampshire, far behind the top tier of candidates.
She barely registered in Iowa, meaning any long-shot bid by the lawmaker is fully dependent on her finish in New Hampshire.
"Being able to spend time here in New Hampshire, we're able to campaign through old school, grassroots campaigning and be competitive," Gabbard said, knocking the complex nature of the Iowa caucuses. "That's why we made this decision."
On Tuesday, Gabbard will find out if that bet was worth it.
2:34 p.m. ET, February 11, 2020
Klobuchar is drawing crowds in New Hampshire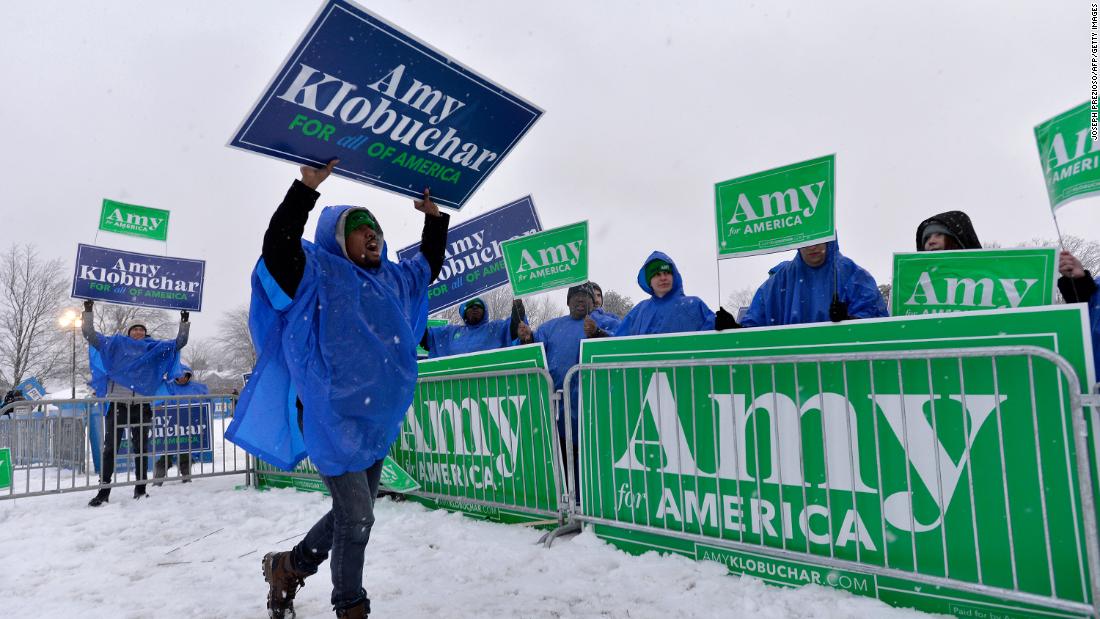 Sen. Amy Klobuchar had a request of the overflow crowd gathered to see her on the eve of the New Hampshire primary: Surprise the country on Tuesday.
"So, as you probably heard, we're on a bit of a surge," she said. "To think this all happened in New Hampshire, well, maybe I am not surprised."
Tuesday's primary is a crucial day for Klobuchar, who after placing fifth in the Iowa caucuses, turned in a strong performance at Friday's debate that boosted her fundraising and has given her campaign a sense of much-needed momentum.
Why this matters: A stronger-than-expected showing could keep her competitive in a Democratic primary that soon turns to much tougher terrain for the Minnesota senator: Nevada and South Carolina. Klobuchar has not registered any support with non-white voters in recent polls, and her campaign has not invested in those two states compared to Iowa and New Hampshire.
The senator's mad dash on slushy roads that wind through the state began in earnest the moment her feet touched the ground in Manchester at 4 a.m. on Tuesday, fresh off the plane from Des Moines, Iowa. Since then, she's held more than 20 public stops, most often taking no questions from voters to squeeze in more events. Those stops include large rallies and dropping into any diner the campaign can find, taking photos with children on her lap and eating poutine off of plates of supporters.
4:14 p.m. ET, February 11, 2020
New Hampshire secretary of state says voting system is secure and can't be hacked
New Hampshire Secretary of State Bill Gardner expressed his confidence in the integrity of the Granite State's voting system today.
"There's nothing here that can be hacked in this process, this voting machine, this is how they have voted here since 1892," he told CNN of the ballot box being used at one of the smaller polling sites in the state in Windsor, New Hampshire. "It's the process that works here. We haven't had any miscounts or blemishes or scandals. There's over 6,000 people in the state that are helping make this work today."
Gardner also said he's hoping for a large turnout in today's first-in-the-nation primary.
"For a presidential primary with an incumbent president running for reelection, I estimate we'll have more votes than we've had at any one before this," he said.
Is this NH town's voting machine fraud-proof? See the 128-year-old ballot machine:
1:36 p.m. ET, February 11, 2020
Here's what you need to know about the New Hampshire primary
Voting is underway in New Hampshire today in the first primary of the 2020 election.
Registered party members may only vote in their own party's primary. Independents may vote in either primary. Unregistered voters may register on Election Day for either contest.
Poll closing times vary statewide. Most polls close at 7 p.m. ET, and all polls will be closed by 8 p.m. ET.
Keep in mind: The race is tight. So we might not hear who won the state right after the polls close.
About the primary: Twenty-four Democratic delegates and 22 Republican delegates are at stake in the New Hampshire primaries.
Vermont Sen. Bernie Sanders won the New Hampshire Democratic primary by more than 22 points in 2016, after barely losing the Iowa caucuses. Then-candidate Donald Trump won the state's Republican primary by nearly 20 points that same year.
1:33 p.m. ET, February 11, 2020
Buttigieg says he "feels great" today
Former South Bend, Indiana, Mayor Pete Buttigieg said he "feels great" when asked by a reporter at a polling stop at Webster School in Manchester this morning.
It was first of a handful of locations the presidential candidate is making on this New Hampshire primary Tuesday. 
1:25 p.m. ET, February 11, 2020
Voting is underway in New Hampshire
We're in Manchester, New Hampshire, where voting is underway in Tuesday's first-in-the-nation primary. Candidates will be hoping to declare a decisive victory following the chaotic Iowa caucuses just one week ago.
CNN's Athena Jones is speaking to voters casting their ballots. What questions do you have for her?
1:15 p.m. ET, February 11, 2020
This New Hampshire town's voting system is 130 years old
The town of Windsor, New Hampshire, has been using the same paper ballot box for 130 years and election officials say it's one of the safest ways to vote.
Watch CNN's Evan McMorris-Santoro report:
12:57 p.m. ET, February 11, 2020
Klobuchar leads midnight vote in New Hampshire
Minnesota Sen. Amy Klobuchar won the most votes when a little more than two dozen New Hampshire residents in three tiny townships cast their ballots shortly after midnight in Tuesday's first-in-the-nation primary.
Dixville Notch in the state's northern tip, nearby Millsfield, and Hart's Location, further south and tucked in the White Mountains, are the first places to declare primary results because voters cast ballots so early.
Klobuchar started Tuesday with eight votes, followed by Vermont Sen. Bernie Sanders and Massachusetts Sen. Elizabeth Warren, who each had four votes. Entrepreneur Andrew Yang won three votes, while former Vice President Joe Biden, former South Bend, Indiana Mayor Pete Buttigieg, former New York Mayor Michael Bloomberg each received two votes. Hawaii Rep. Tulsi Gabbard and businessman Tom Steyer got one vote each.
In a surprising twist, Bloomberg, who isn't on the ballot in New Hampshire, won the first votes of Tuesday's Democratic and Republican primaries as a write-in candidate in the township of Dixville Notch.
Five voters in Dixville Notch showed up to make their selection at midnight. Two Democrats voted for Bloomberg, one for Buttigieg and one for Sanders. The sole Republican voter also wrote in Bloomberg.