Fallout after anonymous Times op-ed blasts Trump
By Brian Ries, CNN
Updated
5:24 p.m. ET, September 6, 2018
5:24 p.m. ET, September 6, 2018
Our live coverage has ended. Scroll through the posts below to see how the day unfolded.
3:32 p.m. ET, September 6, 2018
Elizabeth Warren on Trump: Time to invoke the 25th Amendment
From CNN's Manu Raju
Massachusetts Sen. Elizabeth Warren, seizing on the New York Times op-ed from an anonymous Trump administration official, told CNN that it's time to use constitutional powers to remove President Trump from office.
"If senior administration officials think the President of the United States is not able to do his job, then they should invoke the 25th Amendment. The Constitution provides for a procedure whenever the Vice President and senior officials think the president can't do his job. It does not provide that senior officials go around the President -- take documents off his desk, write anonymous op-eds -- Everyone of these officials have sworn to uphold the Constitution of the United States. It's time for them to do their job."
3:32 p.m. ET, September 6, 2018
Rand Paul suggests lie detectors for White House staffers
From CNN's Laurie Ure and Daniella Diaz
Senator Rand Paul just said that anyone with a security clearance who works in the White House should undergo a lie detector test to fish out who wrote the op-ed. Here's the full exchange:
Reporter: What do you make of this op ed in the NYT…?
Sen. Rand Paul:
I think it's not unprecedented for people with security clearances to be asked to whether or not they were revealing things against the law under oath and also by lie detector. We use a lie detector test routinely for CIA agents and FBI agents. I think if you have a security clearance in the White House I think it would be acceptable to use a lie detector test and ask people whether they are talking to the media against the policy of the White House. This could be very dangerous if the person who is talking to the media is actually revealing national security secrets so yes, I think we need to get to the bottom of it.
2:40 p.m. ET, September 6, 2018
Administration official: WH "wanted a more coordinated response" on NYT anonymous denials
From CNN's Jim Acosta
An administration official said White House aides were struggling this morning to get ahead of the anonymous New York Times op-ed, as various cabinet and other top officials were releasing their own statements throughout the day.
The official said the White House "wanted a more coordinated response" to the op-ed.
Instead, there were statements coming from a slew of top officials at all hours of the morning even as the press secretary was posting a tweet attacking the New York Times. 
"Didn't seem very organized," is how the official described the process. 
2:26 p.m. ET, September 6, 2018
DeVos, McGahn both say they're not the author
Two more Trump administration officials joined the chorus to say no, they did not write the stunning anonymous New York Times op-ed.
White House Counsel Don McGahn, on the Hill for the Kavanaugh hearing, just told CNN's Daniella Diaz that he did not write the op-ed in the New York Times.
Education Secretary Betsy DeVos didn't write it either, a spokesperson for the department tweeted.
1:31 p.m. ET, September 6, 2018
More Trump administration officials deny authoring the NYT op-ed
High-ranking officials in the Trump administration are denying they or their offices authored the infamous anonymous op-ed in The New York Times.
Here are a few administration officials:
US Ambassador to the UN Nikki Haley: In response to a CNN question about whether she wrote the op-ed, Haley said, "no."
CIA Director Gina Haspel: Asked if she wrote the op-ed, agency spokesperson Timothy Barrett told CNN, "no."
Transportation Secretary Elaine Chao: "For those who have inquired, this is to confirm that Secretary Chao is not the author of the op-ed," Marianne McInerney, a spokeswoman for the department, said.
Energy Secretary Rick Perry: "I am not the author of the New York Times OpEd, nor do I agree with its characterizations," Perry tweeted. "Hiding behind anonymity and smearing the President of the United States does not make you an 'unsung hero', it makes you a coward, unworthy of serving this Nation."
Labor Department Secretary Alexander Acosta: "The Secretary does not play these sophomoric Washington games. He is definitely not the author," a Department of Labor spokesperson told CNN.
Secretary of Veterans Affairs Robert Wilkie: "Neither Secretary Wilkie nor anyone else at VA wrote the op-ed," VA spokesperson Curtis Cashour told CNN, also pointing to Sanders' tweet.
Mick Mulvaney, director of the Office of Management and Budget: Spokespersons for the OMB and Consumer Financial Protection Bureau both denied that Mulvaney wrote the Times op-ed.
Secretary of Agriculture Sonny Perdue: Asked if Perdue was the author, Tim Murtaugh, a department spokesman, said "no" and referred to Sanders' tweet lambasting the media.
12:42 p.m. ET, September 6, 2018
Melania Trump's message to op-ed author: "You are not protecting this country, you are sabotaging it"
From CNN's Kate Bennett
First lady Melania Trump, in a statement to CNN, defended the press, but she went on to criticize the anonymous author of the New York Times op-ed.
Read her statement:
"Freedom of speech is an important pillar of our nation's founding principles and a free press is important to our democracy. The press should be fair, unbiased and responsible. Unidentified sources have become the majority of the voices people hear about in today's news. People with no names are writing our nation's history. Words are important, and accusations can lead to severe consequences. If a person is bold enough to accuse people of negative actions, they have a responsibility to publicly stand by their words and people have the right to be able to defend themselves. To the writer of the op-ed — you are not protecting this country, you are sabotaging it with your cowardly actions."
1:05 p.m. ET, September 6, 2018
Vice President Pence on NYT op-ed: "I think it's a disgrace"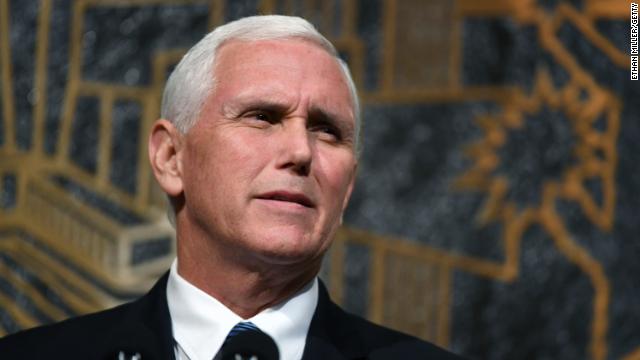 Vice President Mike Pence, speaking to reporters in Orlando, Florida, reacted Thursday to the anonymous New York Times op-ed.
Here's what he said:
"Well I think it's a disgrace. The anonymous editorial publishing in the New York Times represents a new low in American journalism and I think the New York Times should be ashamed and I think whoever wrote this anonymous editorial should also be ashamed as well."
Pence was also asked how important it is to "weed out" elements that would undermine the administration.
"Well, look anyone who would write an anonymous editorial smearing this President who's provided extraordinary leadership for this country should not be working for this administration, they ought to do the honorable thing and they ought to resign," he said.
Watch:
12:00 p.m. ET, September 6, 2018
Sanders: Want to know who wrote the op-ed? "Call the opinion desk of the failing NYT"
White House press secretary Sarah Sanders advised anyone who was curious about the identity of the anonymous op-ed to reach out to the New York Times' opinion desk.
"They are the only ones complicit in this deceitful act," she tweeted.
Read Sanders tweet: