3:28 p.m. ET, January 25, 2019
2:51 p.m. ET, January 25, 2019
Roger Stone: I will not testify against the President
Roger Stone just spoke outside of the federal courthouse where he appeared a short time ago in Florida. He proclaimed his innocence, said he is falsely accused and finds the tactics this morning at his house disturbing.  
Stone says he will plead not guilty to the charges and believes that they are politically motivated.
He also reinforced that he will not testify against the president.
A crowd gathered outside the courthouse chanted "lock him up" as he spoke to media.
1:58 p.m. ET, January 25, 2019
Lawyer for WikiLeaks' Julian Assange calls Stone's arrest "intimidation"
WikiLeaks tweeted a statement from its founder's US lawyer on Roger Stone's arrest today.
Barry Pollack, a lawyer for Julian Assange, called Stone's arrest "intimidation," and says the special counsel's office has never spoken with Assange
Here's the full statement:
"The dawn military-style arrest of Mr. Stone, a 66 year old political consultant, was wholly unnecessary and served no purpose other than intimidation. The charges against Mr. Stone do not allege that Mr. Stone lied about his [lack of] contacts with Julian Assange, but rather about his contacts with others and about documents reflecting those communications. The Office of Special Counsel has never spoken with Mr. Assange."
Stone and WikiLeaks: Stone released messages in November showing that he exchanged text messages with his alleged WikiLeaks back channel about imminent "big news" harmful to Hillary Clinton's campaign six days before WikiLeaks released hacked emails from former Clinton campaign chairman John Podesta.
Read the series of tweets here:
1:22 p.m. ET, January 25, 2019
Corsi to CNN: "I am person number one" in the indictment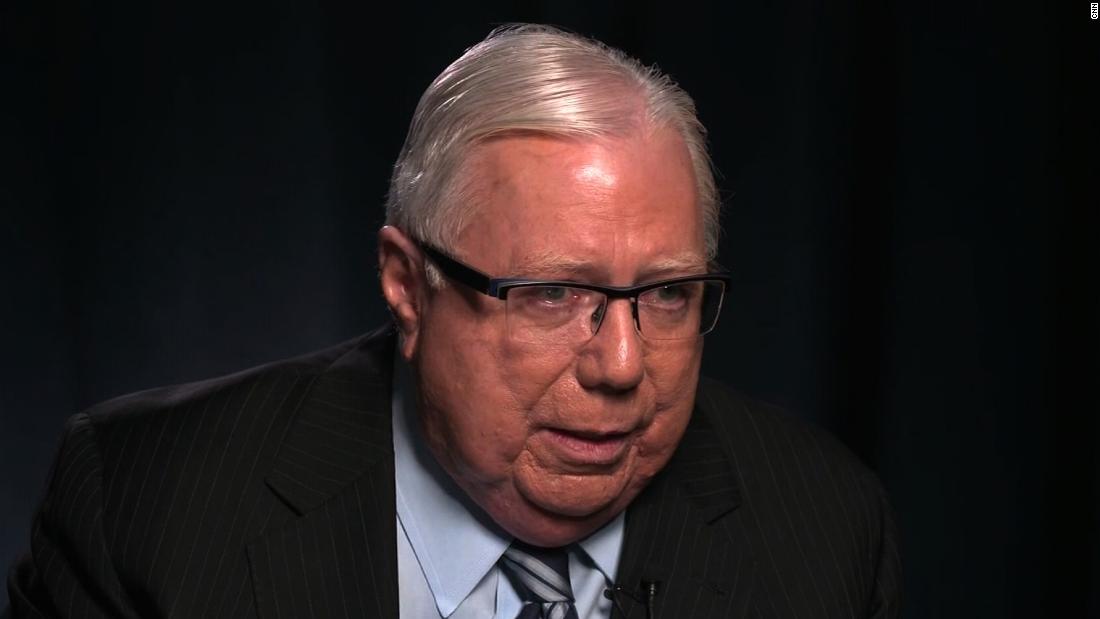 "I am person number one," in the Stone indictment, Jerome Corsi said. "The statements in the indictment about me are accurate."
"They're consistent with the testimony I gave to the special counselor," Corsi said. 
"What is contained in the indictment confirms I did nothing wrong," Corsi said.
He said he still has his differences with the special counsel – and has brought a lawsuit against Mueller – but he said Stone and his allies should be advised "the investigation being done by the special counselor is extremely thorough," Corsi said.
"They have everything," he said. "I can tell you that from first-hand experience."
 "I'm still angry with Roger," Corsi said, referring to Stone's comments about Corsi. "His statements about me have been increasingly defamatory and untrue."
What you need to know about Corsi: He is an acquaintance of Roger Stone. Earlier this month, he confirmed that the Senate Intelligence Committee had subpoenaed him for documents as well as an interview. He also said he provided information to Mueller's team that he believed would be damaging to Stone.
12:40 p.m. ET, January 25, 2019
Stone is speaking, and protesters are booing and shouting "Lock him up"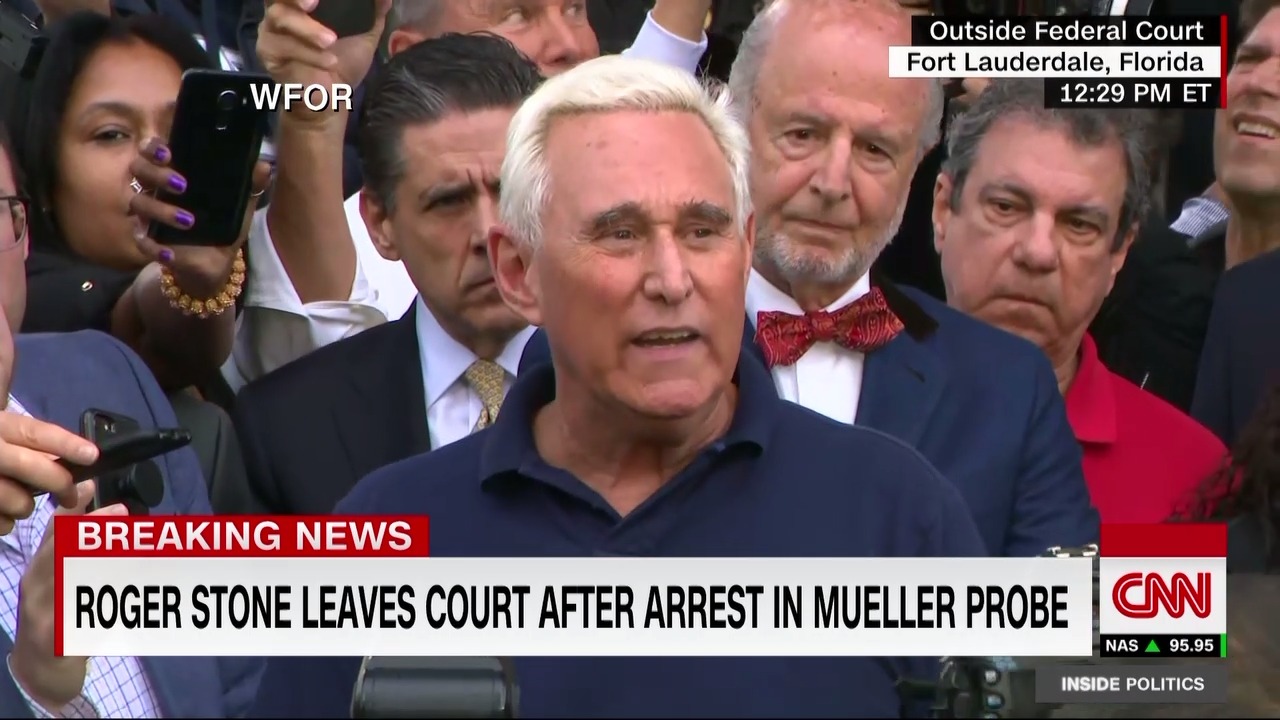 As Roger Stone spoke outside the court house, parts of his statement were drowned out by boos from the crowd.
"As I have always said, the only thing worse than being talked about is not being talked about," Stone said.
The crowd also chanted: "Lock him up," which is reminiscent of the "Lock her up" chants crowds at some Trump rallies have chanted about Hillary Clinton.
Watch the moment:
12:35 p.m. ET, January 25, 2019
Roger Stone just walked out of court flashing a salute reminiscent of Richard Nixon
Roger Stone just walked out of court. He'll be speaking soon.
As he left court, he flashed a Nixonian salute.
Stone got his start as a low-level aide on Richard Nixon's 1972 presidential campaign doing surrogate scheduling and other assorted tasks.
12:22 p.m. ET, January 25, 2019
Here's the search warrant for Roger Stone's New York residence
Obtained by CNN's Jennifer Henderson
Along with his home in Florida, the FBI carried out a search warrant on Roger Stone's residence in New York.
Here's that search warrant: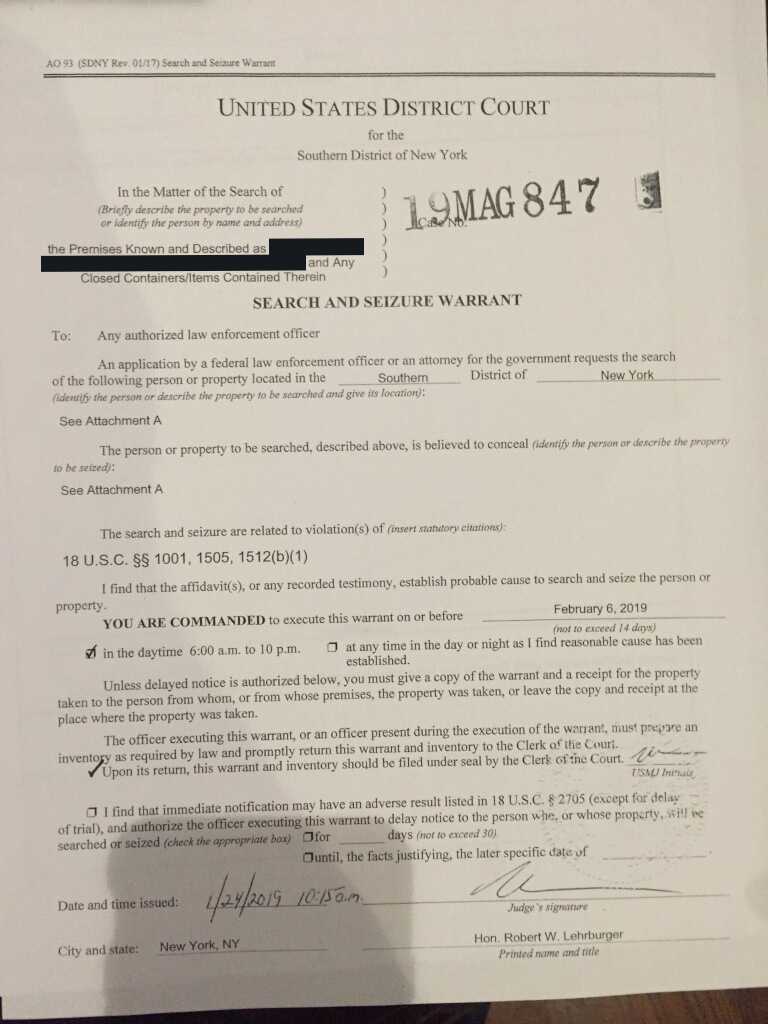 12:14 p.m. ET, January 25, 2019
Court sketches from inside Roger Stone's hearing
There were no cameras allowed in the courtroom when Roger Stone appeared this morning in Florida.
But there was a sketch artist.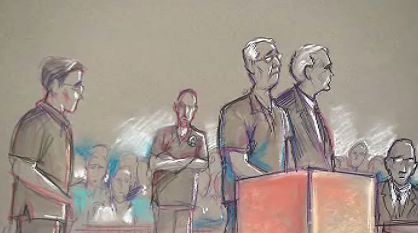 12:08 p.m. ET, January 25, 2019
Someone is updating Roger Stone's Instagram
From CNN's Sara Murray
After he was arrested this morning, this message was posted on Roger Stone's Instagram account:
"This morning's news is deeply saddening. Robert Mueller's early morning raid was straight out of the gestapo's playbook. We must fight for Roger Stone... now more than ever. If they can do this to Roger... they are coming for us next! -staff 
Here's the post: