Trump's State of the Union address
10:19 p.m. ET, February 5, 2019
Trump: "If I had not been elected president of the United States, we would ... be in a major war with North Korea"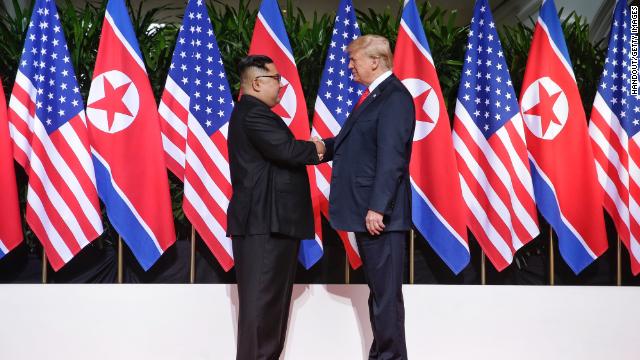 President Trump just officially announced his second summit with North Korean leader Kim Jong Un. It's scheduled for Feb. 27 and 28.
"If I had not been elected president of the United States, we would right now, in my opinion, be in a major war with North Korea," Trump said. "Much work remains to be done, but my relationship with Kim Jong Un is a good one. Chairman Kim and I will meet again on February 27th and 28th in Vietnam."
What we know about the summit: A source familiar with the summit's planning said which city it will be held in is still under discussion, but it could end up being Hanoi or Da Nang.
State Department Special Representative to North Korea, Steve Biegun, is heading to Pyongyang tomorrow to solidify some details of the summit, including the city. He will also press for the North Korean counterpart to attend a series of working level meetings between now and the summit. 
Watch:
10:15 p.m. ET, February 5, 2019
Fact check: Trump claims "countless Americans" were murdered by undocumented immigrants. Here's what the statistics show.
In his State of the Union address tonight, President Trump claimed that, "Year after year, countless Americans are murdered by criminal illegal aliens."
Trump has repeatedly cited crimes committed by undocumented immigrants—both during his presidential campaign and during his tenure in office. This is the second time he's invited family members of victims to the State of the Union. 
Fact check: The Bureau of Justice does not include citizenship in its breakdown of national arrest statistics, so there is no reliable federal data to quantify the number of crimes committed by undocumented immigrants.
Here's what the statistics do show on immigration and crime:
A 2018 study by the libertarian Cato Institute, which reviewed criminal conviction data from the Texas Department of Public Safety, found that immigrants — legal or illegally — are less likely than native-born Americans to be convicted of a crime. Throughout the country, there is also generally a decrease in the number of violent crimes, according to the FBI.
Other studies have found that murder, rape, robbery and aggravated assault have not increased alongside an uptick in undocumented immigration since 1990, that undocumented immigrants do not contribute to an increase in drug overdoses and DUI deaths, and that young, undocumented immigrants engage in less crime than their American or legal immigrant peers.
10:17 p.m. ET, February 5, 2019
Trump says he will ask Congress to pass legislation banning late-term abortions
President Trump made a point to address a controversial piece of legislation in Virginia, which would loosen restrictions on late-term abortions -- a measure that embattled Democratic Virginia Gov. Ralph Northam supported.
Trump said he would ask Congress to pass legislation banning this type of procedure:
"These are living, feeling, beautiful babies who will never get the chance to share their love and their dreams with the world. And then we had the case of the governor of Virginia, where he stated he would execute a baby after birth, to defend the dignity of every person, I am asking congress to pass legislation to prohibit the late-term abortion of children who can feel pain in the mother's womb."
Last week, Northam's office responded to backlash he had received for his comments voicing support for the legislation.
"No woman seeks a third trimester abortion except in the case of tragic or difficult circumstances, such as a nonviable pregnancy or in the event of severe fetal abnormalities, and the governor's comments were limited to the actions physicians would take in the event that a woman in those circumstances went into labor," Ofirah Yheskel, Northam's spokesperson, wrote in a statement, CNN reported at the time.
Watch:
10:13 p.m. ET, February 5, 2019
Trump's youngest guest is a 10-year-old cancer survivor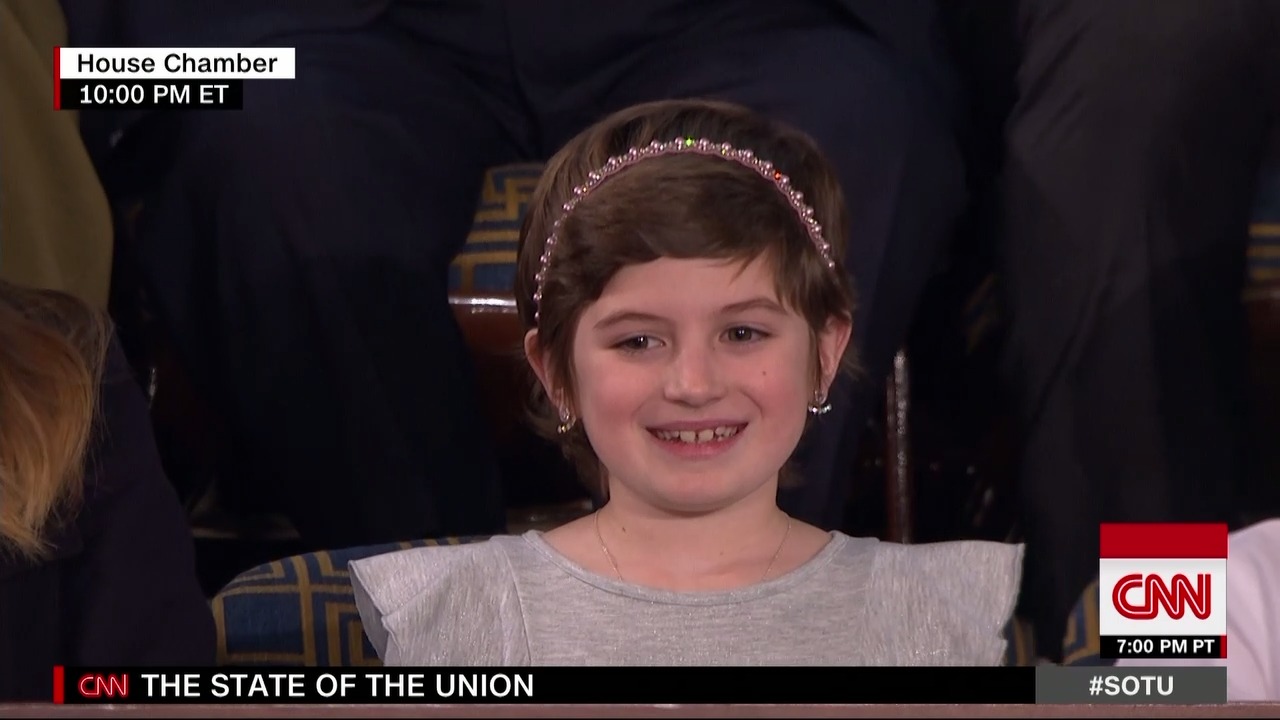 President Trump just introduced his youngest guest: 10-year-old Grace Eline.
"Joining Melania in the gallery this evening is a very brave 10-year-old girl, Grace Eline," Trump said. "Every birthday since she was 4, Grace asked her friends to donate to St. Jude's children's hospital. She did not know that one day she might be a patient herself."
About Grace: At 9 years old, Eline was diagnosed with germinoma, a type of brain cancer.
"Grace recently finished chemotherapy and today shows no evidence of the disease. She is determined to help other children who are fighting cancer," said the White House.
Watch:
10:10 p.m. ET, February 5, 2019
Trump makes bipartisan policy pitches: infrastructure and prescription drugs
President Trump made two key bipartisan policy pitches in his address, urging a divided Congress to work with him to pass legislation improving US infrastructure and addressing the high cost of prescription drugs.
On passing infrastructure legislation, the President said: "This is not an option. This is a necessity."
And when he turned to health care — "the next major priority for me" — he prompted House Speaker Nancy Pelosi to quickly rise to her feet with calls for protecting "patients with pre-existing conditions."
The President said he wants to work with Congress on legislation to lower healthcare costs and prescription drug pricing.
"We must do more. It's unacceptable that Americans pay vastly more than people in other countries for the exact same drugs, often made in the exact same place," Trump said. "This is wrong, this is unfair and together we will stop it and we'll stop it fast."
Watch:
10:02 p.m. ET, February 5, 2019
Fact check: Trump claims 1 in 3 women assaulted on journey to border
President Trump, during his State of the Union address tonight, made his argument against illegal immigration, claiming that "1 in 3 women is sexually assaulted on the long journey north."
Fact check: Indeed, the trek to the US-Mexico border has been reported to be violent. According to data from Doctors Without Borders, 68.3% of migrants and refugees "entering Mexico reported being victims of violence during their transit toward the United States," and nearly one-third of women said they'd been sexually abused. 
But this needs some perspective. This very violence is why women choose to travel in caravans, to achieve safety in numbers. Trump has offered no specifics about how his policies would address the scourge of sexual violence faced by migrants.
The administration has argued in the past that by building the wall, migrants will be deterred from making the journey.
10:01 p.m. ET, February 5, 2019
Women lawmakers flip the script and surprise Trump with applause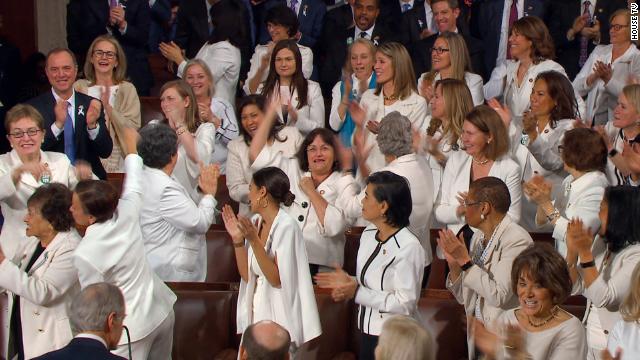 Dressed in all white, a group of Democratic women just stood to cheer during President Trump's State of the Union — and even Trump was surprised.
Trump was discussing women in the workforce when the moment happened.
"No one has benefited more from a thriving economy than women who have filled 58% of the newly created jobs last year," Trump said.
Many lawmakers in the room, including some Democratic women, stood to cheer.
"You weren't supposed to do that," Trump joked. "Thank you very much. Thank you very much. All Americans can be proud that we have more women in the workforce than ever before."
Then, Trump urged the women to keep standing.
"Don't sit yet. You're going to like this. And exactly one century after Congress passed the constitutional amendment giving women the right to vote, we also have more women serving in congress than at any time," he said.
Speaker of the House Nancy Pelosi stood up after that line, and gestured for others in the room to do the same.
Watch:
9:51 p.m. ET, February 5, 2019
Trump on the wall: "I will get it built"
Trump reiterated his promise of a wall on the southern border, saying, "I will get it built."
Democrats and Republicans failed to come up with a long-term agreement regarding Trump's demand for border wall funding, which resulted in the longest government shutdown in US history.
"My administration has sent to congress a common-sense proposal to end the crisis on the southern border. It includes humanitarian assistance, more law enforcement, drug detection at our ports, closing loopholes that enable child smuggling, and plans for a new physical barrier or wall to secure the vast areas between our ports of entry," Trump said.
"In the past, most of the people in this room voted for a wall, but the proper wall never got built. I will get it built," he added.
Watch:
9:52 p.m. ET, February 5, 2019
Trump urges Congress to confront "urgent national crisis" at US southern border
In his speech tonight, President Trump urged Congress to pass legislation to confront what he called "an urgent national crisis" at the US southern border.
Remarking on the 10 days that remain before funding lapses once again, Trump said Congress must "fund our government, protect our homeland and secure our southern border."
"Now is the time for Congress to show the world that America is committed to ending illegal immigration and putting the ruthless coyotes, cartels, drug dealers, and human traffickers out of business," Trump said.
Trump also once again called attention to the latest caravan of migrants making its way toward the United States and accused Mexican cities without evidence of bussing undocumented immigrants to the US southern border.
Trump drew hoots of disapproval from Democrats when he called attention to the caravans and touted his deployment of additional troops to the southern border.
Trump argued border security is a "moral issue."
"The lawless state of our southern border is a threat to the safety, security and financial well being of all America," he said.
Watch: