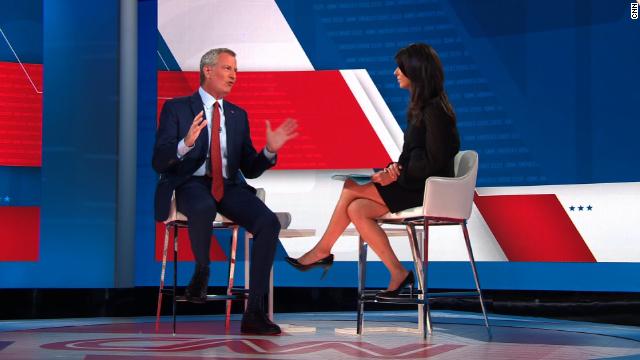 New York Mayor Bill de Blasio, during a contentious answer that drew shouts from at least one audience member, said Sunday that the death of Eric Garner at the hands of officer Daniel Pantaleo in 2014 taught him that the city "had to do pretty much everything differently."
Five years after Garner's death, Pantaleo was fired from the New York Police Department a week ago. De Blasio had blamed the Department of Justice over the handling of the case, but that explanation did not satisfy many in New York, some of whom vocally and directly protested the mayor.
"The first thing to say is Eric Garner should not have died, and then the next thing to say is there can never be another Eric Garner in this city or any place else in this country," de Blasio said. "And it can be stopped."
"What we learned immediately after the tragedy of Eric Garner was we had to do pretty much everything differently," de Blasio said, citing implicit bias training, body cameras and retraining officers on de-escalation techniques.
Pantaleo was found guilty in a disciplinary trial earlier this month of using a chokehold on Garner, the New York man whose final words -- "I can't breathe" -- became a rallying cry for the Black Lives Matter movement.
"There needs to be federal leadership that says de-escalation training, implicit bias training, body cameras, every police officer in America should have those. Every single one," he said. "That's how we end the tragedies."
After de Blasio blamed the federal government for the five-year process to fire Pantaleo, a woman in the audience shouted, "What about Lieutenant Bannon? What about officer Ramos? What about other officers?"
De Blasio did not answer the woman's question.
Watch the moment: