CNN hosts 2020 town hall at SXSW
9:03 p.m. ET, March 10, 2019
Gabbard says the country's biggest policy mistake is allowing the nuclear threat against it to grow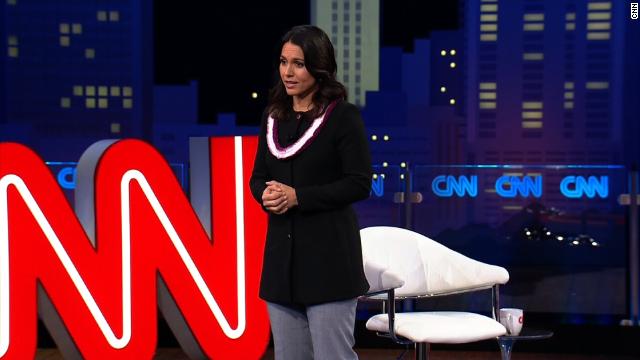 Hawaii Rep. Tulsi Gabbard was asked Sunday to name the biggest policy mistake the United States had ever made. Rather than citing slavery or the genocide of Native Americans, she pointed to the march toward what she warned could be "nuclear catastrophe."
She pointed to a cell phone alert — which turned out to be a false alarm — last year warning people in Hawaii to take shelter because a missile was incoming. She described residents of the state facing agonizing decisions about how to seek shelter and who to spend what they feared could be their last minutes with.
"This alert turned out to be false, but the reason we reacted the way we did is that the threat is real," Gabbard said.
She continued: "Our leaders have failed us and brought us to this point. It doesn't have to be this way. We have to correct our course. We have to end this new cold war and nuclear arms race that is currently being waged that threatens our very future and that costs us trillions of our taxpayer dollars — dollars that need to be spent and invested to serve the needs of our people here at home."
8:57 p.m. ET, March 10, 2019
Gabbard: "There is still a fear of retaliation" in the military over reporting sexual assault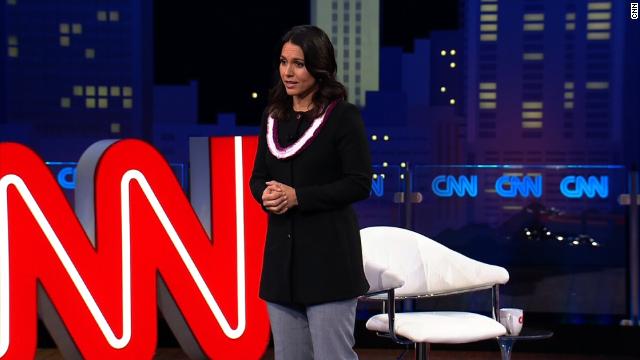 Rep. Tulsi Gabbard said Sunday that she would sign the Military Justice Improvement Act, telling a questioner at CNN's town hall that – as a veteran – she has "lived through experiences ourselves that our fellow brothers and sisters in uniform have gone through."
Gabbard, an Army veteran, also lamented the fact that "there is a lack of recognition, of the serious change that needs to take place for there to be a true path for justice, for victims of sexual assault in the military."
"I believe that we still today don't know how rampant sexual assault in the military is, because there is still a fear of retaliation, there is a stigma and people who don't want to be known as 'that one,'" Gabbard said.
"She or he is that one who went against the team, who turned their back."
The question came from Joy Craig, a retired US Marine officer.
"This legislation is so important because it provides that path outside of the chain of command where you know that there is no one, whether it's your team leader, platoon leader, first sergeant or commander, there is no one who will be able to stop your pursuit of justice and accountability if you're a victim of assault in the this is such an important issue," Gabbard said, adding that she served with people who felt like it was impossible to tell their own story of sexual assault.
8:46 p.m. ET, March 10, 2019
Gabbard says she doesn't think Rep. Ilhan Omar was trying to offend anyone with her tweets
Hawaii Rep. Tulsi Gabbard was asked whether she thought Rep. Ilhan Omar's controversial tweets suggesting US support of Israel is motivated by money were anti-Semitic.
Gabbard didn't answer the question directly. She said she doesn't think Omar was trying to offend anyone and instead was trying to get at a deeper issue.
"There are people who have expressed their offense at these statements. I think that what Congresswoman Omar was trying to get at was a deeper issue related to our foreign policy, and I think there's an important discussion that we have to be able to have openly, even though we may end up disagreeing at the end of it, but we've got to have that openness to have the conversation," Gabbard said.
She continued: "What she was trying to bring up was something that was a deeper issue. And I don't believe that her intent was to cause any offense to anyone."
Some background: Omar apologized on Monday after she ignited a firestorm with her tweets. The messages -- she suggested support of Israel is driven specifically by donations from the American Israel Public Affairs Committee, a prominent pro-Israel lobby group -- were condemned by lawmakers on both sides of the aisle as anti-Semitic.
8:47 p.m. ET, March 10, 2019
Gabbard says deploying to the Middle East changed her views on LGBT rights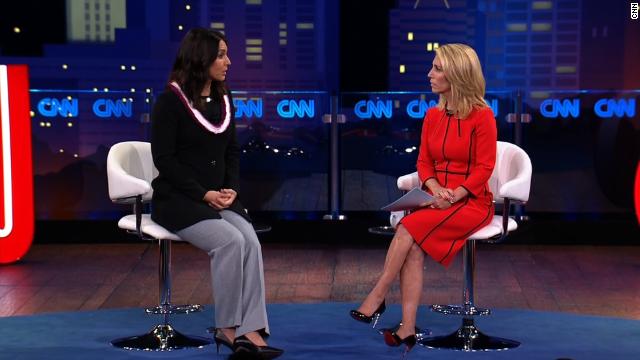 Rep. Tulsi Gabbard sought to explain her shift from advocating anti-gay policies in the early 2000s on Sunday night, saying her time in the military caused her to "go through some soul-searching."
"I was raised in a very socially conservative home. My father is Catholic, he was a leading voice against gay marriage in Hawaii at that time. Again, I was very young, but these are the values and beliefs that I grew up around," she said.
CNN's KFile previously reported that Gabbard's father led an anti-gay organization that advocated for conversion therapy.
Gabbard said she "personally never supported any kind of conversion therapy. I never advocated for conversion therapy. And frankly, I didn't even know what conversion therapy was until the last few years."
Gabbard said her views shifted when she deployed to the Middle East, "where I saw firsthand the negative impact of a government attempting to act as a moral arbiter for their people, dictating in the most personal ways how they must live their lives."
"Race or religion or orientation, these were things that didn't matter, because we were focused on our mission of serving," she said.
She also touted her record in Congress, where she supported efforts to promote LGBT equality.
8:40 p.m. ET, March 10, 2019
Gabbard says she shuns labels, which are frequently "misused and misunderstood"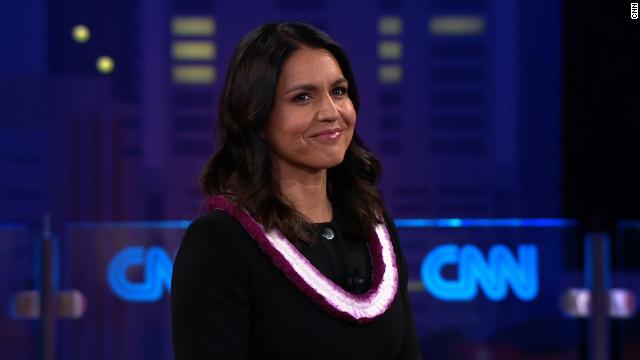 Hawaii Rep. Tulsi Gabbard refused to say whether she was a capitalist because she said doesn't want to be labeled.
Asked by CNN's Dana Bash if she identified as a capitalist, Gabbard went on to say that labels are often misused and misunderstood.
"See here is the thing with all these labels and, as you said, how they are used to define people and where they're coming from. As you see, so many of these labels are misused, misunderstood," she said.
Gabbard continued:
"I'm an independent-minded person, I'm a Democrat and my sole focus and purpose is to figure out how we can best serve the people of this country," she said. 
8:55 p.m. ET, March 10, 2019
Gabbard on whether Assad is a war criminal: "The evidence needs to be gathered"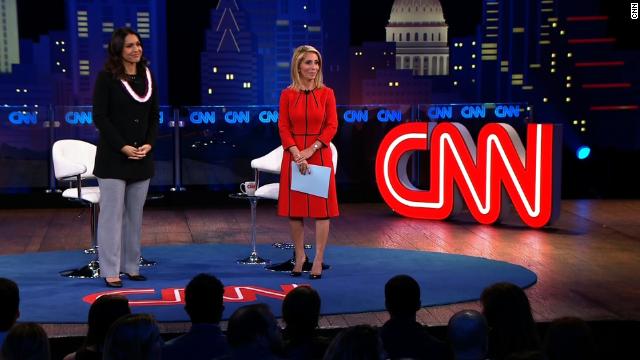 Rep. Tulsi Gabbard, asked directly whether she thinks Syrian Leader Bashar al-Assad is a war criminal, said she believes more evidence needs to be gathered.
"You met Bashir al-Assad. Do you believe he is a war criminal?" asked CNN's Dana Bash.
"I think that the evidence needs to be gathered and, as I have said before, if there is evidence that he has committed war crimes, he shall be prosecuted as such," Gabbard said.
"But you are not sure now?" Bash asked.
"Everything that I have said requires that we take action based on evidence. (If) the evidence is there, there should be accountability," she said.
What the UN believes: A joint report from the United Nations and international chemical weapons inspectors found in 2017 that the Assad regime was responsible for an April 2017 sarin attack that killed more than 80 people. Syria has repeatedly denied it had anything to do with the attack and also denies it has any chemical weapons, but the United States launch a military strike on a Syrian government airbase in response to the attack on April 6.
The two have history: Gabbard met with Assad in Syria two years ago, saying at the time that she "felt that it's important that if we profess to truly care about the Syrian people, about their suffering, then we've got to be able to meet with anyone that we need to if there is a possibility that we can achieve peace."
Gabbard also said last month that Assad is "not the enemy of the United States because Syria does not pose a direct threat to the United States."
8:17 p.m. ET, March 10, 2019
She's an Iraq War veteran promising to end "regime-change wars"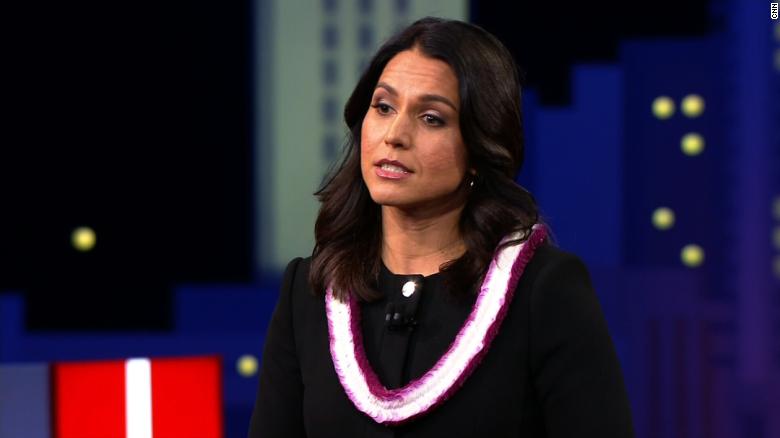 Rep. Tulsi Gabbard of Hawaii said she would end the United States' "regime-change wars" in countries like Syria, and prevent the US from intervening in Venezuela and Iran.
"I will end these regime-change wars. I will work to end this new Cold War and this nuclear arms race that is costing us trillions, and again take those resources … and use them to serve the needs of people here," she told CNN Sunday.
Gabbard, a veteran of the Iraq War, said her "position and my commitment in fighting to end these counterproductive regime-change wars is based on these experiences and my understanding the cost of war and who pays the price."
She said those paying that price include service members and their families, as well as American taxpayers.
8:02 p.m. ET, March 10, 2019
NOW: Tulsi Gabbard takes the stage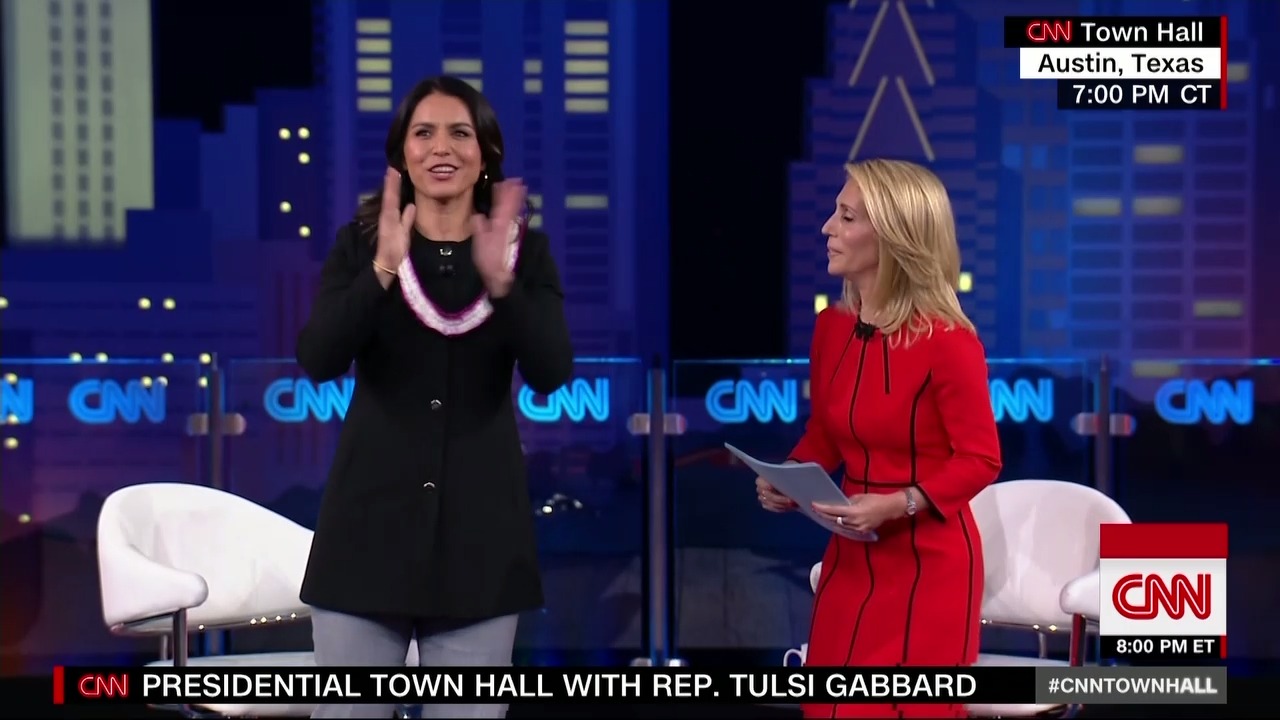 Hawaii Rep. Tulsi Gabbard just took the stage at the Moody Theater in Austin, Texas, alongside CNN's Dana Bash.
She is now answering questions.
Follow here for her responses or watch live in the video player above.
8:21 p.m. ET, March 10, 2019
She "absolutely" thinks this country needs a change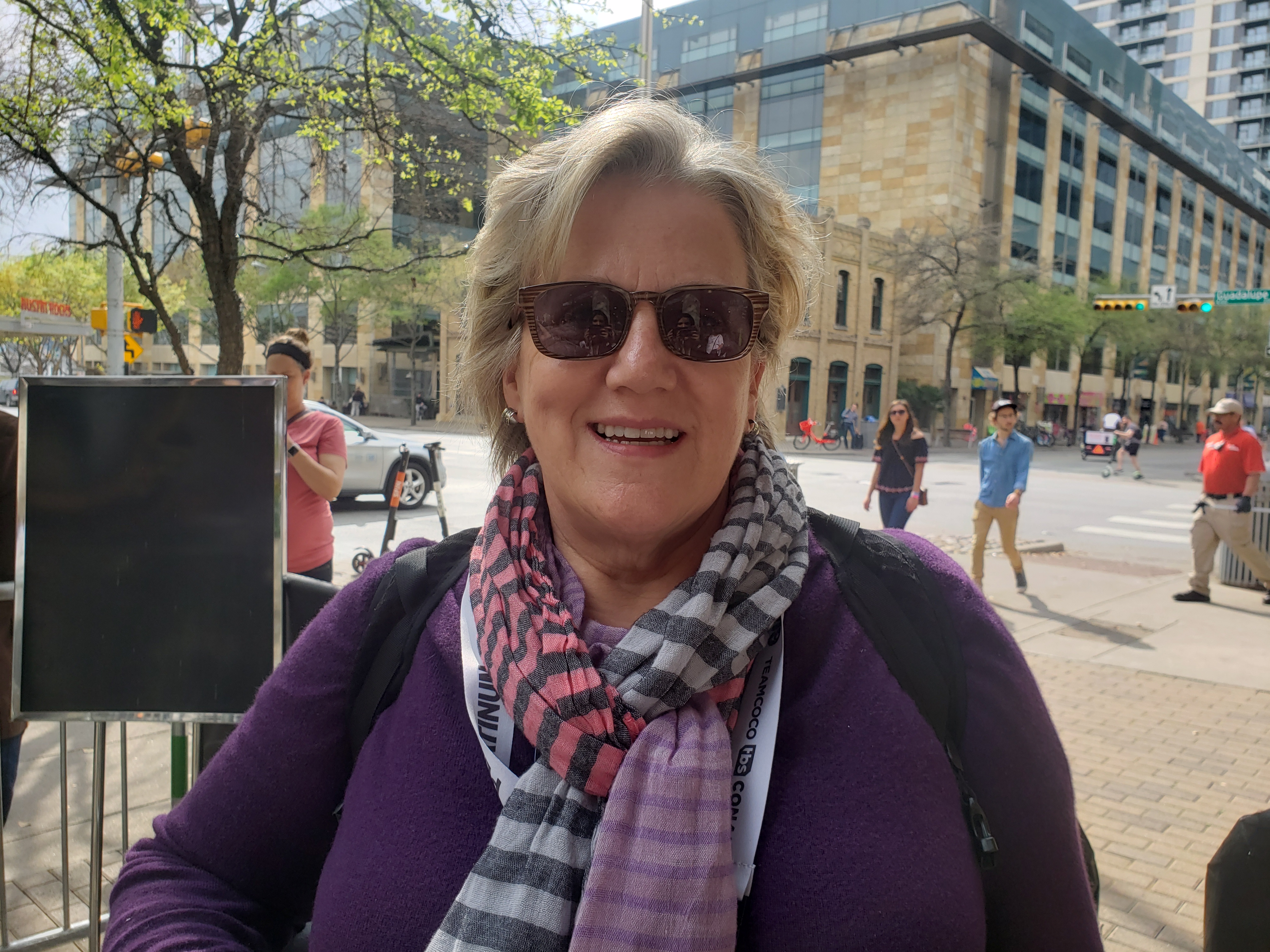 Outside the theater, Ann Huston told CNN that she's not a single-issue person, so she's looking for answers from the candidates on wide-range of key issues -- including women's rights, gun control and mental health issues.
Asked if she knows how she is voting for in 2020, Huston said, "No, not at all."
"(Amy) Klobuchar said yesterday, 'Whoever the best woman should win,' so I am totally a fan," Huston said.
She said she keeps her mind open and she wants to look at all the candidates.
"I absolutely think we need change," she said.