Trump visits US-Mexico border
2:48 p.m. ET, April 5, 2019
Protesters are flying a baby Trump balloon over the border city the President will visit
The President is on his way to Calexico, California, for a tour of replacement border fencing and a border security roundtable — and "Baby Trump" will be there to greet him.
Earlier today, protesters inflated a balloon depicting President Trump dressed as a baby and flew it during a rally. Backbone San Diego, one of three groups participating in the protest, provided the balloon.
"Baby Trump" balloons have appeared at anti-Trump protests across the US and the world, including in Florida, New Jersey and London.
2:38 p.m. ET, April 5, 2019
Trump's visit comes a day after he backed off a threat to shut down the border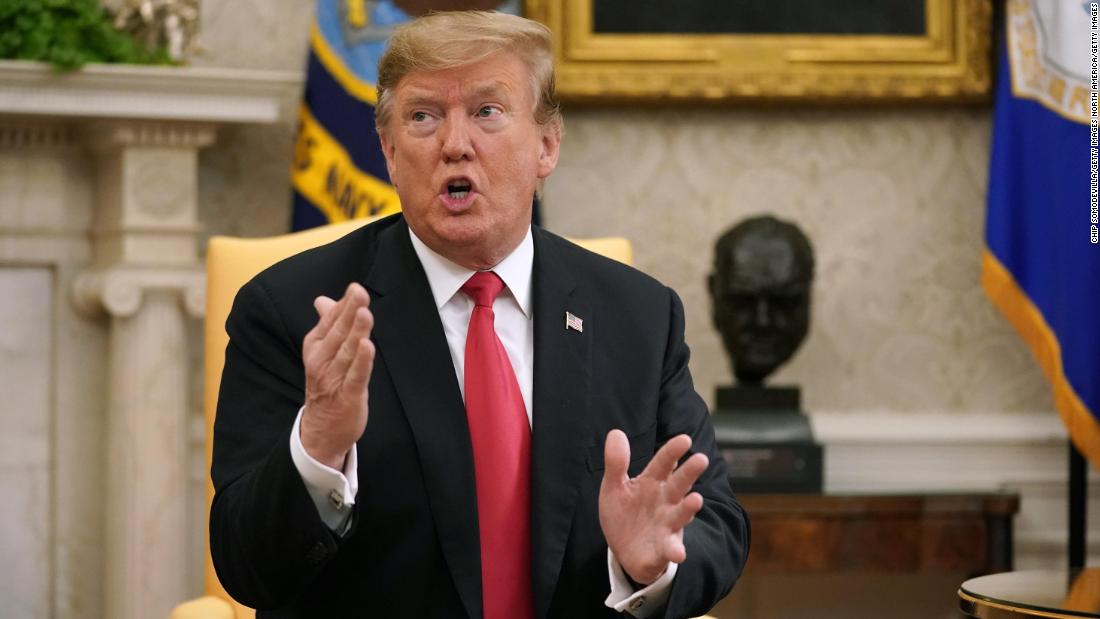 President Trump backpedaled on his threat to shut down the southern border, saying Thursday that now he doesn't think the US will "ever have to close the border."
Trump, earlier Thursday, threatened to slap tariffs on automobiles made in Mexico and close the US-Mexico border if the country didn't stop "massive amounts of drugs" coming into the US within one year.
But by Thursday evening, Trump had shifted his position again.
"I don't think we'll ever have to close the border because the penalty of tariffs on cars coming into the United States from Mexico, at 25%, will be massive," Trump said.
Why we're talking about this: Last week, Trump had said he would give Mexico one week to increase apprehensions of migrants from Central America from coming toward the US — and threatened a border closure as a consequence. In recent days, the President also shifted the onus to Democrats to work on immigration laws or face border closures.
2:34 p.m. ET, April 5, 2019
Trump claims he'll be visiting a newly built border wall, though no new border walls have been built
President Trump tweeted today that he would be visiting a portion of a "new wall" that was being built along the southern border in Calexico, California, today.
However, no new fencing has been built, so it's unclear what it is he'll be visiting.
Facts First: There have been repairs and replacement of fencing and border security along parts of the border, but construction of new border fencing has not yet started.
Here's Trump's tweet:
So far, only repairs and replacements of barriers along the border have taken place. In mid-March, Customs and Border Patrol told CNN that "approximately 38 of 40 miles of wall in place of outdated designs in San Diego and El Centro, California, Santa Teresa, New Mexico and El Paso, Texas" using fiscal year 2017 funds.
(However, some of the replacement fencing has "replaced" vehicle barriers, not old fencing or wall. So, one could do a little mental gymnastics and refer to this as "new" fencing -- but it's not creating a new barrier where none previously existed.)
As the agency told CNN earlier this month, "the first new wall project, where no barrier currently exists, is anticipated to start in April in Hidalgo County of the Rio Grande Valley Sector."
On Monday, the Pentagon notified Congress of a $1 billion transfer for new wall construction and other border security measures. According to a letter from acting Secretary of Defense Patrick Shanahan to Secretary of Homeland Security Kirstjen Nielsen, this money will go toward building 57 miles of fencing in two areas of the border in Arizona and Texas. According to an official from the Department of Defense, construction on these sites might begin in late May.
This $1 billion is just the beginning of the $8.1 billion Trump's administration pointed to when looking at where it could transfer money for the wall — which doesn't include additional funds Homeland Security could use or the $1.375 billion from the spending bill passed in February for 55 miles of new "barriers" in the Rio Grande Valley.
Reporting from CNN's Holmes Lybrand