Trump meets with Brazil's president
2:11 p.m. ET, March 19, 2019
Trump says he intends to designate Brazil a non-NATO ally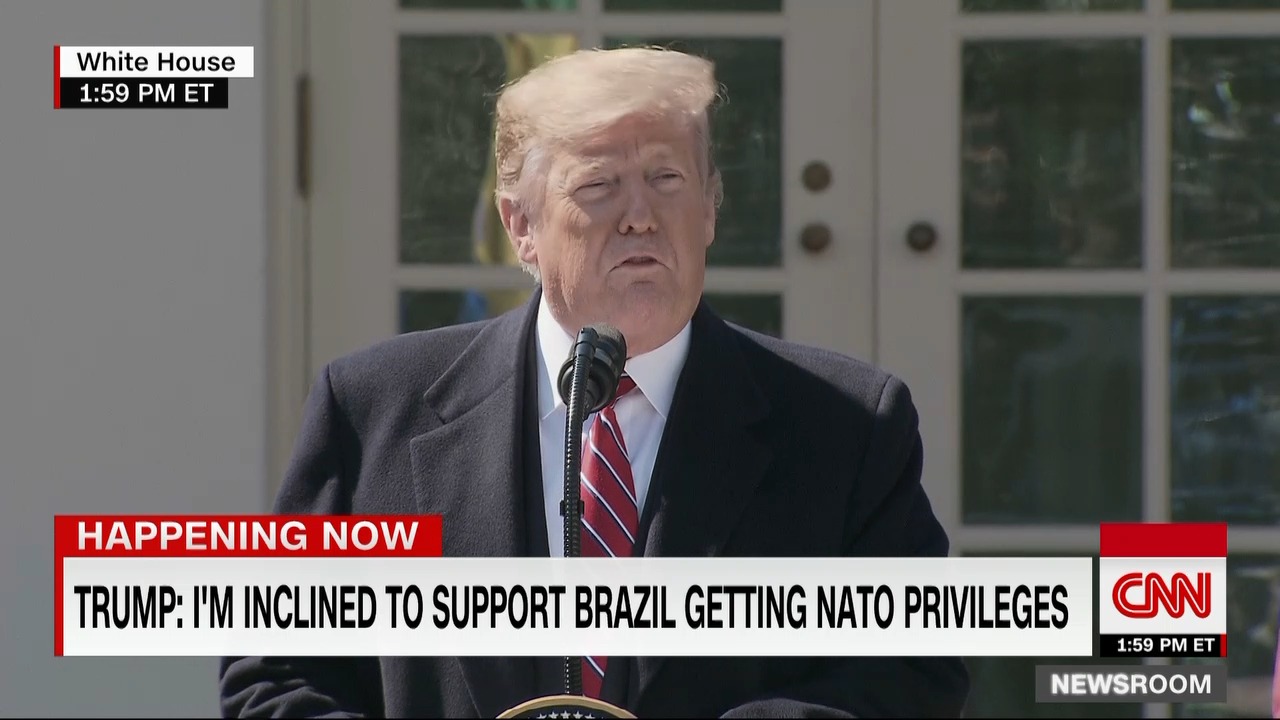 President Trump said he intends to designate Brazil as a non-NATO ally.
"As I told President Bolsonaro, I also intend to designate Brazil as a major non-NATO ally or even possibly, if you start thinking about it, a NATO ally. We have to talk to a lot of people, but maybe a NATO ally," Trump said.
Earlier today, Trump said he is "inclined" to suggest that Brazil be granted NATO privileges.
"We're looking at it very strongly. We're very inclined to do that. The relationship we have now with Brazil has never been better," Trump said.
Brazil has indicated that it hopes to see itself elevated to "major non-NATO ally" status by the Trump administration, a major step that could help it purchase military equipment.
2:05 p.m. ET, March 19, 2019
Trump calls on Venezuela military: Stop supporting Maduro and set your people free
President Trump touted the humanitarian aid the US had sent to Venezeula and called on the country's military to end its support for leader Nicolas Maduro.
Trump said the US has been "really very happy to feed thousands and thousands of  starving Venezuelans."
"They have appreciated it and if the Maduro forces would step aside, it could be a truly great and successful humanitarian project," Trump said. 
"We call on members of the Venezuelan military to end their support for Maduro — who is really nothing more than a Cuban puppet — and finally set their people free."
Trump added that the "twilight hour of socialism has arrived in our hemisphere" and said the "the last thing we want in the United States is socialism."
2:04 p.m. ET, March 19, 2019
Trump praises Bolsonaro and reaffirms US-Brazil ties
President Donald Trump heaped praise on his Brazilian counterpart, President Jair Bolsonaro, at the beginning of their joint press conference today.
Trump congratulated Bolsonaro on a "tremendous election victory" and an "incredible feat."
"Truly incredible challenge but the end result was something the whole world was talking about," Trump said, adding that he expects that the two will "have a fantastic working relationship."
Trump affirmed that Bolsonaro, who has been called the "Trump of the Tropics," shares many of his view, "and we certainly feel very, very true to each other."
He also congratulated the Brazilian President on recovering from a stabbing during his campaign, touting his "great bravery, tremendous bravery."
Trump, who has not been as warmly embraced by many other leaders on the world stage, said today's visit was a chance for the two countries "to forge even stronger ties."
As part of that, Trump announced that he will designate Brazil as a major non-NATO ally. 
1:56 p.m. ET, March 19, 2019
NOW: Trump and Bolsonaro hold joint news conference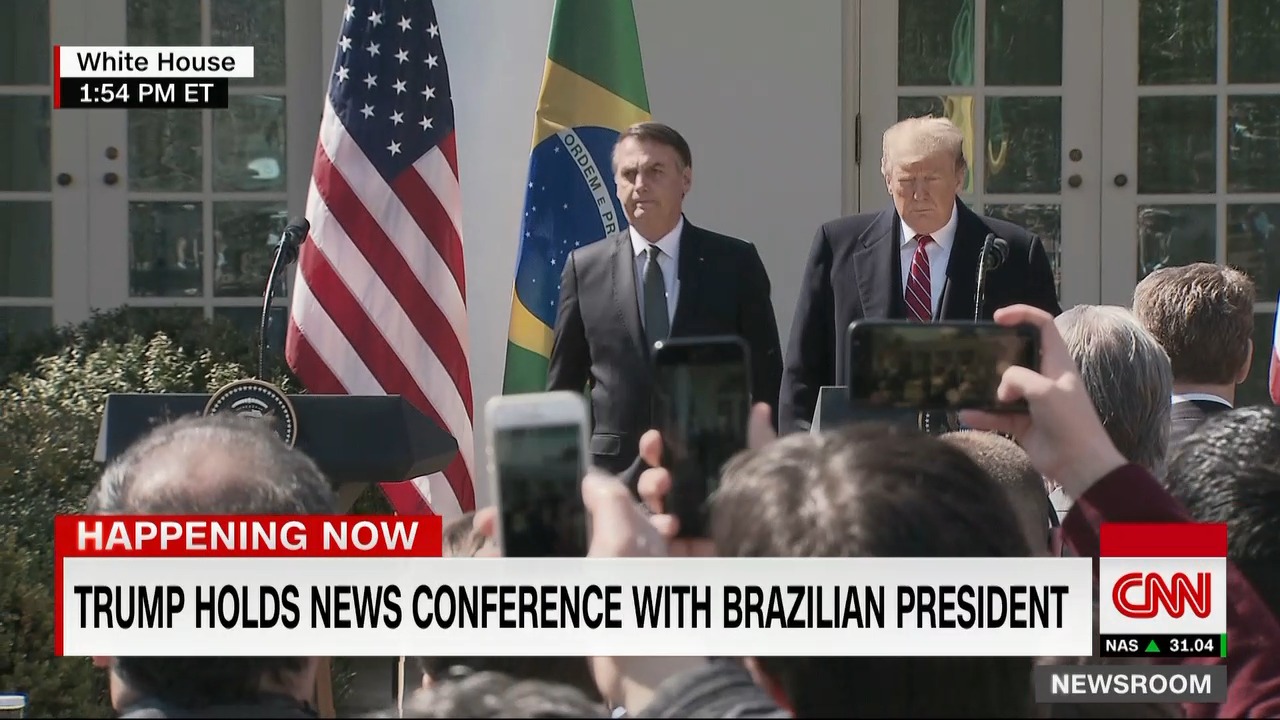 President Trump and Brazilian President Jair Bolsonaro have just started their joint press conference. You can watch it on CNNGo.
2:23 p.m. ET, March 19, 2019
5 questions reporters could ask Trump at today's news conference
Any minute now, President Trump and Brazilian President Jair Bolsonaro will take reporters' questions at a news conference at the White House.
Here are a few questions that could come up:
On Venezuela: You said that "all options are on the table" when it comes to the crisis in Venezeula. What would you like to see happen when it comes to leader Nicolas Maduro and his regime?
On the national emergency: Last week, you issued the first veto of your presidency on a measure that would have blocked the national emergency you declared in order to secure border wall funding. Are you worried Congress may try to overturn it?
On the Mueller report: CNN has reported that White House lawyers expect to have an opportunity to review Robert Mueller's report before it reaches lawmakers and the public? What do you expect to find in it?
On John McCain: Earlier today, you said you were "never a fan" of the late senator. Why are you continuing this years-long feud?
On Michael Cohen: This morning, partially redacted search warrant documents pertaining to the raid on your former personal attorney's home were released. Do you have anything you'd like to say to your former fixer?
1:04 p.m. ET, March 19, 2019
Trump: "I know exactly what I want to see happen in Venezuela"
President Trump told reporters Tuesday that he'd be speaking with Brazilian President Jair Bolsonaro about options in Venezuela.
Asked what he'd like to see happen in Venezuela during an Oval Office appearance with Bolsonaro, Trump said this:
"Well we don't want to say exactly – I know exactly what I want to see happen in Venezuela. But we're going to be talking about a lot of different things."
"All options are on the table," Trump added. "And it's a shame what's happening in Venezuela – the death and the destruction and the hunger. Hard to believe one of the wealthiest countries is now one of the poorest, most impoverished countries is we'll be talking about that in great length."
Some context ahead of Trump's meeting with Bolsonaro: The US hopes to rely on Brazil's still-existent relationship with the Venezuelan military to apply pressure on leader Nicolas Maduro to relinquish power.
12:44 p.m. ET, March 19, 2019
Trump: "I was never a fan of John McCain"
President Trump, speaking while meeting with the president of Brazil, recalled how the late Sen. John McCain voted against a Republican plan to repeal Obamacare, continuing a years-long feud months after McCain passed away following a battle with cancer.
"I was never a fan of John McCain and I never will be," Trump told reporters in the Oval Office.
 Trump lambasted McCain's vote against repealing Obamacare in 2017.
"I'm very unhappy that he didn't repeal and replace Obamacare, as you know. He campaigned on repealing and replacing Obamacare for years and then he got to a vote and he said thumbs down. And our country would've saved a trillion dollars and we would've had great healthcare."