President Trump speaks at CPAC
8:13 p.m. ET, March 2, 2019
Our live coverage has ended. Check out the wide-ranging speech President Donald Trump gave to a receptive crowd at CPAC or follow our coverage from earlier by reading further.
5:55 p.m. ET, March 2, 2019
Trump defends his national emergency declaration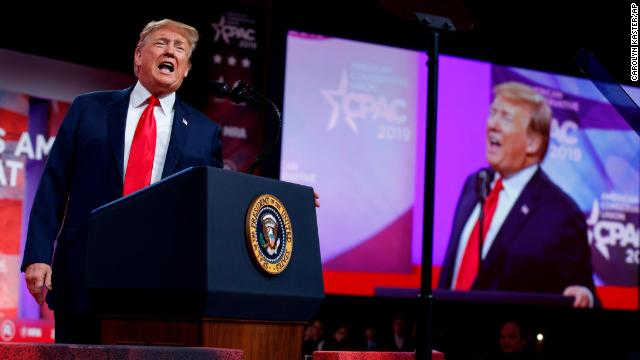 President Trump defended his decision to declare a national emergency by invoking how past US presidents have used the emergency power.
"Many emergency declarations have been used to protect people in faraway nations and distant lands," the President told the audience at CPAC on Saturday. "Now we are protecting finally our people."
While Trump admitted that even some in the Republican Party had pushed back against his decision, he cited his usual rhetoric of an "invasion" at the southern border as justification.
"We are being invaded," Trump said. "We're being invaded by drugs, by people, by criminals, and we have to stop it." 
The President also acknowledged some Republicans' fears that the move could set a precedent that could potentially be used against them by Democrats in the future.
"They're going to do that anyway folks," Trump argued. "The best way to stop that is to make sure that I win the election."
He also added that through his immigration policies, he was trying to do the work that Congress couldn't, or wouldn't, do.
"Our laws are so crazy," Trump said, "But one by one we're finding ways. You know they call them loopholes, a lot of our laws are loopholes. Well, I'm trying to get loopholes to get around the loopholes because our Congress can't act. They just can't act."
3:13 p.m. ET, March 2, 2019
Trump: 'We learned a lot over the last couple of days' about North Korea
President Donald Trump said the US has learned a lot over the last couple of days after the abrupt end of his summit with Kim Jong Un and said again, "I had to walk, because every once in a while, you have to walk."
He said North Korea had said it was "willing to do much less on the sanction front. But you see, that's not what happened there. So already I think we're negotiating."
Amid the controversy following President Trump saying he took Kim's word regarding former prisoner Otto Warmbier who died after he came back to the US, Trump said "I'm in such a horrible position. Because in one way I have to negotiate. In the other way, I love Mr. and Mrs. Warmbier. And I love Otto. And it's a very, very delicate balance."
On Friday, Warmbier's parents released a statement following Trump's words that he took Kim at his word that he did not know about Warmbier's treatment in a North Korean prison.
"We have been respectful during this summit process. Now we must speak out. Kim and his evil regime are responsible for the death of our son Otto. Kim and his evil regime are responsible for unimaginable cruelty and inhumanity. No excuses or lavish praise can change that. Thank you," 
Trump said later Friday his words were "misinterpreted" and that he did hold North Korea responsible for Otto's death just days after he was returned to the US.
3:51 p.m. ET, March 2, 2019
Trump: If you use your power to fire someone, 'it is called obstruction. But only for Trump, nobody else.'
President Donald Trump pushed back against possible obstruction of justice accusations he could be facing for firing former FBI Director James Comey in May 2017.
His comments came as he was criticizing former Attorney General Jeff Sessions for his recusal in the Russia investigation.
"The attorney general recuses himself and I don't fire him. No obstruction. That's the other thing -- If you use your rights, if you use your power, if you use Article Two, it is called obstruction. But only for Trump, for nobody else," Trump said, referring to the special counsel's investigation into whether Trump's removal of Comey was a possible obstruction of justice.
Two days after ousting Comey, Trump told NBC News that he was considering this "Russia thing" before he fired Comey.
3:51 p.m. ET, March 2, 2019
This was Trump's longest speech
President Donald Trump spoke for 2 hours, 2 minutes and 17 seconds in front of a packed ballroom at the Conservative Political Action Conference on Saturday. It was the longest speech of his presidency.
2:01 p.m. ET, March 2, 2019
Trump tells CPAC he will sign executive order on campus free speech
President Donald Trump says he'll be signing an executive order requiring colleges and universities to support free speech.
"If they want our dollars and we give them by the billions," Trump said, "they've got to allow people to speak."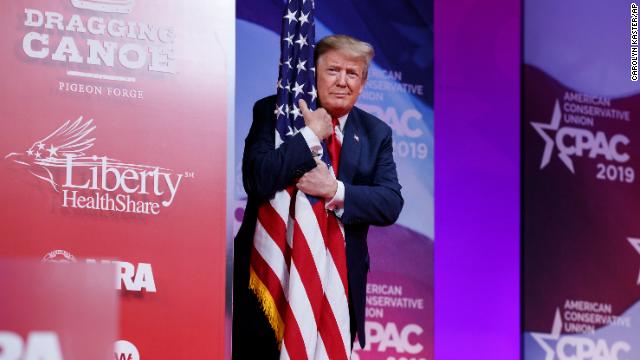 The President brought a young man named Hayden Williams on stage to join him at CPAC when he made the announcement. Williams, a conservative activist, was punched on the campus of the University of California Berkeley last month.
"Ladies and gentlemen, he took a hard punch in the face for all of us," the President said.
He didn't offer any more details on the order.
From CNN's Nikki Carvajal
2:09 p.m. ET, March 2, 2019
Trump said all of ISIS will be defeated by today or tomorrow. Two days ago, he said the same thing.
President Trump said Saturday that all of the territory of the ISIS caliphate in Syria has been taken back, despite previously saying something similar just days ago.
"As of today or tomorrow, we will have 100% of the caliphate defeated," the President told CPAC.
He said his generals told him it would take two years for them to be defeated, but he said that would take too long.
The President said that on his trip to Iraq, he spoke with troops on the ground who told him the mission could be completed more quickly if they attacked from more locations.
"If you gave us permission, we could hit them from the back, from the side, from the base that you're on right now. They won't know what the hell hit them. They won't know what the hell hit them, sir," Trump said a general named Raisin told him. 
During a stopover in Alaska on Thursday, the President said 100% of the caliphate had been taken. An official of the US-backed Syrian Democratic Forces disputed that statement, saying that the fight is ongoing and that they were surprised by Trump's statement.
On Friday, the SDF began a ground operation to clear civilians from Baghouz in Syria, the last piece of territory under ISIS' control.
1:06 p.m. ET, March 2, 2019
Fact-checking CPAC
CNN's Holmes Lybrand is fact-checking some of the topics being discussed at CPAC, including abortion, opioids, the Trump tax cut, and the claim that those supporting the Green New Deal want to kill cows.
He's updating as the conference continues.
12:57 p.m. ET, March 2, 2019
Trump mocks Jeff Sessions and goes after Mueller
President Donald Trump has gone after special counsel Robert Mueller extensively, even mocking former Attorney General Jeff Sessions' southern accent when recalling Sessions' decision to recuse himself from the investigation.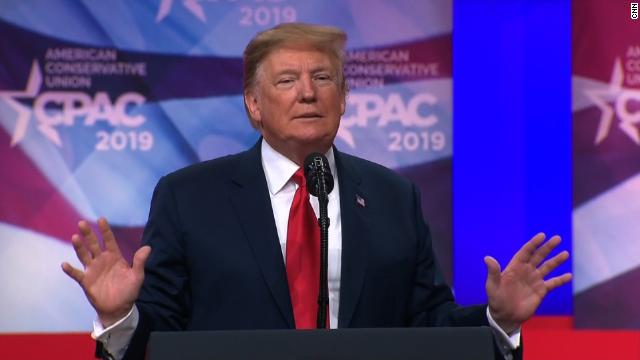 "Robert Mueller never received a vote," Trump said. "The person that appointed Robert Mueller never received a vote."
"So the attorney general is weak and ineffective and he doesn't do what he should've done," Trump said.
He recounted a conversation with first lady Melania Trump he said he had just before he removed former FBI Director James Comey, in which he predicted the firing would be bipartisan because many Democrats had criticized Comey.
Trump had earlier called the investigations into him "bullshit" and said congressional committees are only shifting to scrutinize his business dealings because, he claimed, the forthcoming Mueller report will not confirm collusion.