DMZ: Donald Trump steps into North Korea with Kim Jong Un
8:39 p.m. ET, June 30, 2019
Our live coverage has ended, but you can read more about President Donald Trump's visit to North Korea Korea here:
2:27 p.m. ET, June 30, 2019
Trump 'fawned over Kim Jong-un': What 2020 candidates are saying about the US/NK meetup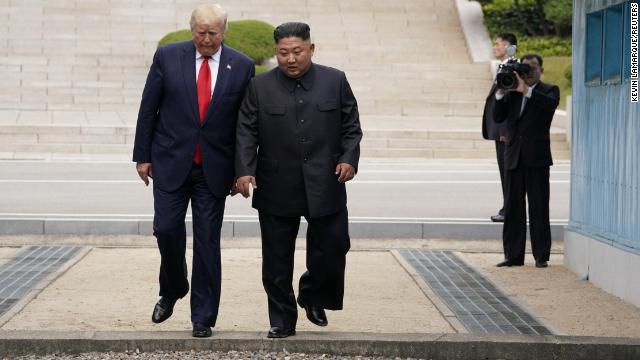 After President Donald Trump took 20 unprecedented steps into North Korea Sunday, reaction quickly poured in from 2020 Democratic hopefuls on the campaign trail.
Here's what some of the candidates are saying:
Sen. Bernie Sanders said he has "no problem" with Trump meeting with Kim Jong-un, but said the issue he took was with Trump's "incredible inconsistencies."
"I don't want it simply to be a photo opportunity, the whole world's media was attracted there," Sanders said on ABC's "This Week."
Sen. Amy Klobuchar, appearing on CNN's "State of the Union," said diplomacy is not as easy as bringing a hot dish over the fence to the dictator next store; there needs to be a clear focus and a clear mission and clear goals. 
"I don't think we know it works until there is results," Klobuchar told CNN's Brianna Keilar.
The Joe Biden campaign put out a statement, slamming Trump for his relationship with dictators.
"President Trump's coddling of dictators at the expense of American national security and interests is one of the most dangerous ways he's diminishing us on the world stage and subverting our values as a nation. This past week he yet again fawned over Kim Jong-un -- to whom he's made numerous concessions for negligible gain -- joked with Vladimir Putin about our election security and 'getting rid' of journalists, and even expressed sympathy for Turkey buying Russian missiles," the former vice president's spokesman Andrew Bates said in a statement. "His conduct reinforces that we urgently need a president who can restore our standing in the world, heal relationships with key allies Trump has alienated, and deliver real change for the American people."  
Sen. Elizabeth Warren tweeted, "Our President shouldn't be squandering American influence on photo ops and exchanging love letters with a ruthless dictator. Instead, we should be dealing with North Korea through principled diplomacy that promotes US security, defends our allies, and upholds human rights."
11:03 a.m. ET, June 30, 2019
'It's a great historic moment': says Ex-DNI Clapper on Trump stepping into North Korea
Former Director of National Intelligence James Clapper disputed President Donald Trump's claim that President Barack Obama wanted to meet with North Korean leader Kim Jong Un.
Clapper, appearing Sunday on CNN's "State of the Union," said that Trump stepping into North Korea is a "great historic moment" but said he personally does not believe the North Koreans have long-term any intent to denuclearize.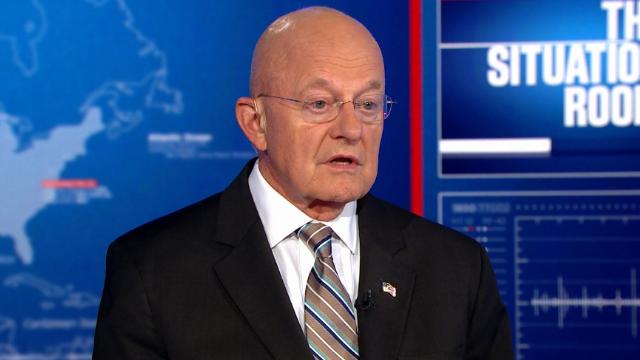 "I think it's a great historic moment ... and it's the first time a sitting president ever set foot in North Korea," Clapper, now a CNN national security analyst, told CNN's Brianna Keilar when asked if it was a breakthrough moment in US-North Korea relations. "I think when it comes to the hard business of negotiating here, I think that's another story. I personally don't believe the North Koreans have long term any intent to denuclearize."
Clapper questioned why North Korea would denuclearize.
"Why should they," he said. "It's their ticket to survival."
Clapper looked puzzled after watching a clip of Trump saying that the Obama administration begged for a meeting with Kim.
"In all the deliberations that I participated in on North Korea during the Obama administration, I can recall no instance whatever where President Obama ever indicated any interest whatsoever in meeting with Chairman Kim. I just -- that's news to me."
9:17 a.m. ET, June 30, 2019
Biegun held secret discussions to set up meeting between Trump and Kim
U.S. Special Representative for North Korea Stephen Biegun held secret discussions at the DMZ to set up the meeting between President Donald Trump and North Korean president Kim Jong Un, a U.S. senior official tells CNN.
 The discussions were held the night before the two leaders met. 
Officials became more confident Saturday morning that the possibility of the leaders meeting was real enough that a wider range of people were brought in and planning was in full swing, the official tells CNN. 
7:09 a.m. ET, June 30, 2019
Pope praises Trump-Kim meeting
Pope Francis has praised the meeting between US President Donald Trump and North Korean leader Kim Jong Un on Sunday saying, "in the last hours, we have assisted in Korea a good example of a culture of dialogue."
He added that the meeting "constitutes a step further in the walk of peace. Not only on that peninsula but in the entire world."
The remarks were made at the conclusion of the weekly Sunday Angelus Prayer held in St Peter's Square in Rome.
6:36 a.m. ET, June 30, 2019
Trump tweets about "great honor" standing on North Korean soil
During his journey back to America, US President Donald Trump has tweeted about his trip to the DMZ.
He said it was a "great honor" to stand "on the soil of North Korea," which he described as "an important statement for all."
6:20 a.m. ET, June 30, 2019
Trump leaves South Korea
President Trump has departed South Korea, concluding his four-day, three-night visit to Asia.
Air Force One left Osan Air Base at 6:09 a.m. ET (7:09 p.m. local time), roughly 90 minutes behind schedule.
Trump was originally due back in Washington D.C. at 8:15 p.m. ET.