The latest on the Trump impeachment inquiry
1:16 p.m. ET, October 3, 2019
The Constitution gives Congress the power to impeach — but doesn't say how to proceed
Your impeachment questions, answered
Today, ex-diplomat Kurt Volker is testifying before three Congressional committees — making him the first official to testify about the whistleblower complaint in the scandal that has led to an impeachment inquiry.
Can Congress impeach Trump based solely on written documents like the whistleblower's complaint or special counsel Robert Mueller's report?
Yes. Article I of the Constitution broadly grants the House the "sole power of impeachment," but says nothing whatsoever about how an impeachment proceeding must be conducted, or what type and quantum of evidence is necessary to impeach.
This is different from federal criminal trials, which are governed by specific rules of procedure, rules of evidence and the requirement that the prosecutor prove a defendant's guilt beyond a reasonable doubt.
In fact, when the House impeached President Bill Clinton in 1998, it did so solely on the basis of Independent Counsel Ken Starr's written report and supporting evidence. The House called no live fact witnesses and introduced no additional evidence.
That said, the House will conduct its own investigation into the Ukraine scandal in the coming weeks and months. Pelosi has announced that the six major House committees — Judiciary, Intelligence, Ways and Means, Oversight, Financial Services and Foreign Affairs — will each investigate and then forward recommendations to the Judiciary Committee, which in turn will decide whether to recommend articles of impeachment (and if so, which ones) for a vote by the full House.
Such investigation seems necessary here because many of the key questions around the Ukraine scandal remain unanswered. So, the House's investigation will be crucial to determining whether an adequate basis exists for impeachment.
Read more impeachment questions and get your own answered here.
8:21 p.m. ET, October 3, 2019
GOP congressman: Volker's statements don't line up with "Democratic impeachment narrative"
Rep. Jim Jordan, a ranking member of the House Oversight Committee, said "not one thing" ex-diplomat to Ukraine Kurt Volker told lawmakers this morning "aligns with the "Democratic impeachment narrative."
Volker spent the morning testifying behind closed-doors before members from multiple House committees. Jordan said House Intel Chairman Adam Schiff limited members from asking questions.
"We have never seen a chairman suggest that members aren't allowed to ask questions. So, if this is how Mr. Schiff is going to conduct these kinds of interviews ... that's a concern as well," Jordan said.
The Ohio Republican said Volker has been "very impressive," but would not elaborate on the specifics, just saying nothing Volker said supports the narrative Democrats have been pushing.
12:53 p.m. ET, October 3, 2019
President Trump arrives in Florida for signing event
President Trump just landed in Florida, where he's expected today to sign an executive order that underscores the benefits of preserving the status quo for Medicare.
The President is scheduled to visit the Villages, a large retirement community in Sumter County, Florida.
The event is part of the White House's plan to roll out a piecemeal health care policy. In particular the President is expected to push Medicare Advantage plans.
Before he left, the President spoke to reporters and publicly called for China to look into former Vice President Joe Biden or his son, Hunter Biden. This echoed a request Trump made privately to the new President of Ukraine, Volodymyr Zelensky, according to White House transcripts of their phone call. There is no evidence of wrongdoing by either Joe Biden or his son.
12:53 p.m. ET, October 3, 2019
McConnell pushes back on Trump's claim that he made a statement defending his Ukraine call
Senate Majority Leader Mitch McConnell's staff said he has made no statements about Ukraine, as President Trump said this morning. 
They said McConnell gave a statement to Politico last week in which he said he thinks Democrats have overplayed their hand on impeachment. 
"I've read the summary of the call. If this is the 'launching point' for House Democrats' impeachment process, they've already overplayed their hand. It's clear there is no quid pro quo that the Democrats were desperately praying for," McConnell said in a statement for that story.
What is this about: Earlier today, Trump said McConnell called a White House transcript of his July 25 call with Ukraine's leader "the most innocent phone call."
"He read my phone call with the president of Ukraine. Mitch McConnell, he said, 'That was the most innocent phone call that I've read.' I mean, give me a break. Anybody that reads it says the same thing," Trump said.
12:41 p.m. ET, October 3, 2019
Chinese diplomat reacts to Trump's remarks: "This is quite chaotic"
A Chinese diplomat suggested that China is not likely to be interested in investigating Democratic frontrunner Joe Biden, as President Trump suggested today. 
"We do not want to get in the middle of the US politics," the diplomat said. 
While there is no official response from the Chinese government, the diplomat suggested that Trump's comments were so fresh that they are still working to process them. 
"This is quite chaotic," the diplomat told CNN. "Are you asking about the comments that Trump just made? I don't think I can tell you anything in this regard right now."
The diplomat learned of Trump's comments, made to reporters at the White House on Thursday morning, through media reports. 
What the President said: Trump said that he has not asked Chinese President Xi Jinping to investigate Biden, but said "China should start an investigation into the Bidens because what happened in China is just about as bad as what happened with Ukraine."
12:35 p.m. ET, October 3, 2019
Top American general in Europe says he hasn't had any conversations about delaying Ukraine aid
Gen. Tod Wolters, the commander of US European Command, said Thursday that he has not had any conversations with his counterparts about the frozen military assistance funds to Ukraine.
Wolters, the supreme allied commander of North Atlantic Treaty Organization (NATO), also said he supported providing Ukraine with additional Javelin anti-tank missiles. 
"I haven't had any conversations with any of my peers from an alliance standpoint about funds or activities on behalf of the US and Ukraine, zero conversations, what I have had conversations about is over the course of the last three months all of the activities that we've embraced from a US perspective and a NATO perspective to help the Ukraine military defend themselves," Wolters said at a briefing in the Pentagon.
Wolters, the supreme allied commander of North Atlantic Treaty Organization (NATO), also said he supported providing Ukraine with additional Javelin anti-tank missiles, something the Trump Administration has recently approved according to US officials. 
"It's a sophisticated capability, it's a modern capability it has great precision, it has great speed," he said of the Javelin weapon system.
Why this matters: President Trump said that he delayed aid to Ukraine ahead of a call to Ukrainian President Volodymyr Zelensky, when he pushed the leader to look into potential rival Joe Biden and his son's work, giving the excuse that he was waiting for European nations to contribute their fair share of aid and claiming there was "never any quid pro quo."
12:15 p.m. ET, October 3, 2019
No, Trump can't pardon himself if he's convicted by the Senate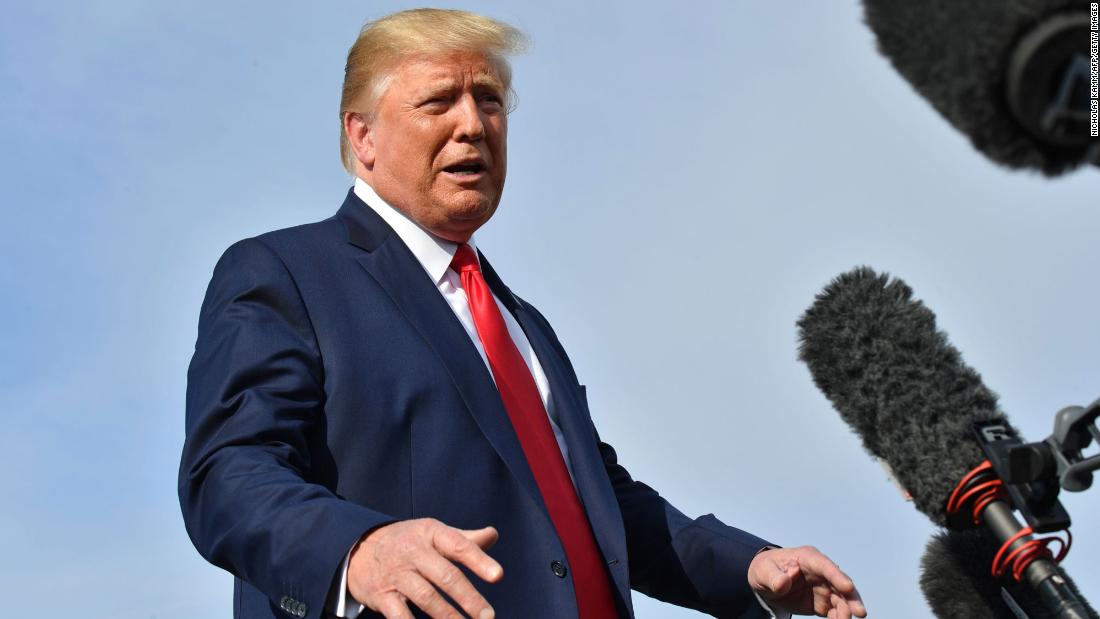 Your impeachment questions, answered
President Trump is facing an impeachment investigation over a contentious phone call with the president of Ukraine.
Now that House Democrats initiated impeachment proceedings against Trump, can he still issue pardons?
Yes. The President can issue pardons in criminal cases right up until the moment he leaves office. In fact, many presidents have issued pardons in their final days and hours in office, likely because pardons tend to be politically unpopular.
But remember: While the President has the constitutional power to pardon federal crimes — "offenses against the United States" — he cannot issue pardons for impeachment.
So, if the President or any other federal official is impeached by the House and then convicted by the Senate, there is nothing he — or anyone else — can do to reverse it. There is no way to appeal or undo an impeachment.
12:08 p.m. ET, October 3, 2019
What we know about the former ambassador to Ukraine
When asked Thursday morning about the recall of former ambassador to Ukraine Marie Yovanovitch, President Trump claimed he did not know if he had personally recalled her from her post in Kiev, but that he "heard very, very bad things about her for a long period of time. Not good."
Yovanovitch, the third US Ambassador to Ukraine under the Obama administration, was dismissed from her position in May of 2019 — two months before her scheduled departure.
Her dismissal was proceeded by unsubstantiated claims from Trump allies and Ukrainian Prosecutor General Yuriy Lutsenko that Yovanovitch had created a list of people who were off limits for the prosecutor to investigate. Trump's personal lawyer, Rudy Giuliani, has also claimed that Yovanovitch attempted to block his investigations in Ukraine.
She is currently a senior State Department fellow at Georgetown University.
Yovanovitch was previously scheduled to appear this week before the House Intelligence Committee in the impeachment inquiry, but is now scheduled to appear next week on Oct. 11.
11:58 a.m. ET, October 3, 2019
Here's the first Republican reaction from inside Volker's closed-door testimony
Kurt Volker, the former US special envoy to Ukraine, is testifying behind closed doors in front of three congressional committees.
Rep. Mike Turner, a Republican from Ohio, just released a statement — the first one any representative has sent since the testimony began. In it, Turner criticizes House Intelligence Committee Chair Adam Schiff, saying Volker's testimony does not "advanced Schiff's impeachment agenda."
"It is deeply unfortunate and regrettable that Schiff's show trial investigation has clearly affected Volker's ability to advance U.S. interests with Ukraine," Turner wrote.
Volker resigned from his State Department position last week, following release of the whistleblower complaint and a White House transcript of Trump's July 25 call with Ukrainian President Volodymyr Zelensky.
 Here is Turner's full statement:
"This morning I participated in the first hour of Adam Schiff's staff's questioning of Kurt Volker, a former U.S. Special Representative for Ukraine. Mr. Volker is an incredible diplomat and a tremendous asset to our country. It is deeply unfortunate and regrettable that Schiff's show trial investigation has clearly affected Volker's ability to advance U.S. interests with Ukraine. It is my strong belief that Volker would not have been involved in nor permitted anything inappropriate, let alone illegal, in his service to our country. Today he continued his legacy of integrity under questioning from Schiff's staff. I do not believe that Volker's testimony advanced Schiff's impeachment agenda."