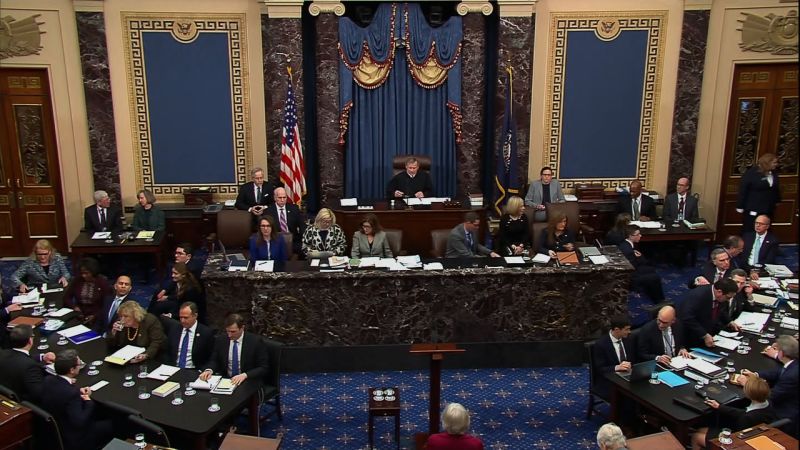 President Trump's defense team continued their opening arguments today in the impeachment trial as senators tackled questions about the need for witnesses.
In case you missed it, here are some of the highlights from today's proceedings:
The John Bolton manuscript: Much of the attention on Capitol Hill focused on the Republican senators and how they are reacting to Sunday night's New York Times bombshell that John Bolton's draft manuscript says Trump told him US security assistance to Ukraine was conditioned on investigations into Democrats, including former Vice President Joe Biden.
Trump's defense team reacts to the Bolton news: President Trump lawyer and Harvard Law professor Alan Dershowitz argued that Bolton's accusations do not amount to an impeachable offense. "Let me repeat: Nothing in the Bolton revelations — even if true — would rise to the level of an abuse of power or an impeachable offense," Dershowitz said.
GOP senators downplayed the Bolton manuscript: Republican Sen. John Cornyn downplayed the significance of Bolton's revelation. Cornyn said the timing around this was suspicious and accused Democrats of having a "credibility problem."
While others said they wouldn't mind learning more from Bolton: GOP Sen. Mitt Romney of Utah reiterated demands to call for John Bolton to testify, saying he's had discussions with some of his colleagues on the matter. GOP Sen. Lindsey Graham said today that he wants to see Bolton's manuscript. "What we have to do here is evaluate the manuscript and see if it's a reason to add to the record," he said.
White House officials were blindsided: Bolton's upcoming book blindsided senior White House officials and GOP senators who now want to know more about Bolton's side of the story as laid out in his manuscript, multiple sources close to the process told CNN. Senate Majority Leader Mitch McConnell was not notified in advance about the unpublished manuscript, his spokesperson said.
It was Chief Justice John Roberts' birthday: Chief Justice John Roberts celebrated his 65th birthday today and has been presiding over the Senate impeachment trial. Roberts also appeared briefly on the Supreme Court bench to swear in a roomful of military lawyers to the Supreme Court bar. Roberts was joined by five other members of the court. 
There was lots of note-taking: During the defense's argument today, Republican senators and some Democrats took copious notes. Everyone appeared present and attentive. There were no absences. 
Trump defense team compares presidential impeachment to "domestic war": Trump's lawyer Kenneth Starr said in his remarks today, "Like war, impeachment is hell. Or, at least, presidential impeachment is hell."