President Trump meets Kim Jong Un
1:02 a.m. ET, June 12, 2018
US and North Korea will sign pledge to keep the momentum going, official says
President Trump and Kim Jong Un will sign an agreement to acknowledge the progress of the talks and pledge to keep momentum going, a US official told CNN.
The official said he would not get ahead of the President on hard specifics of any agreement.
Trump surprised reporters by announcing there would be "a signing" in the afternoon, during a stroll around the Capella Hotel with Kim.
No official events had been planned until Trump's meeting with the press at 4 p.m. local time (4 a.m. ET).
12:53 a.m. ET, June 12, 2018
Trump announces there will be a "signing" after working lunch with Kim Jong Un
President Trump just told reporters that he and Kim Jong Un were off to "a signing" after their working lunch.
Trump made the remark during a brief stroll around the Capella Hotel with Kim. The President also said the talks had gone "better than anybody could have expected."
There is no information on what they could be signing or whether any agreements have been reached.
No more official events were planned until Trump meets the press at 4 p.m. local time (4 a.m. ET), according to the White House's schedule this morning.
Watch:
1:00 a.m. ET, June 12, 2018
North Korean state media goes big on Singapore
North Korea's top newspaper, the Rodong Sinmun, splashed photos of Kim Jong Un's unprecedented visit to Singapore on Wednesday, including his walking tour of the glamorous city. CNN correspondent Will Ripley, who has traveled to North Korea nearly 20 times, called the images "extraordinary."
"It's extraordinary to me because normally North Korea waits 24 hours or longer after these events, the message is vetted and edited and North Koreans find out about it after the rest of the world," CNN correspondent Will Ripley said.
12:28 a.m. ET, June 12, 2018
This is what the summit looks like so far
President Trump and North Korean leader Kim Jong Un are meeting right now in Singapore for their historic summit. Here's how it's gone, in photos.
Earlier, Trump and Kim shook hands.
They had a one-on-one meeting.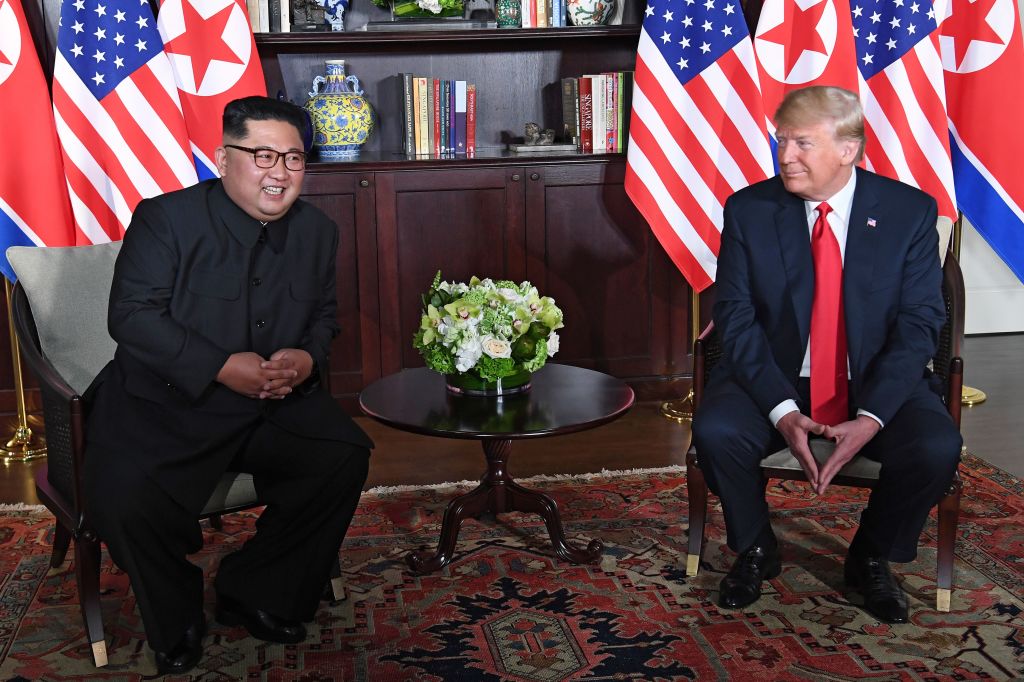 Trump and Kim went on a short walk.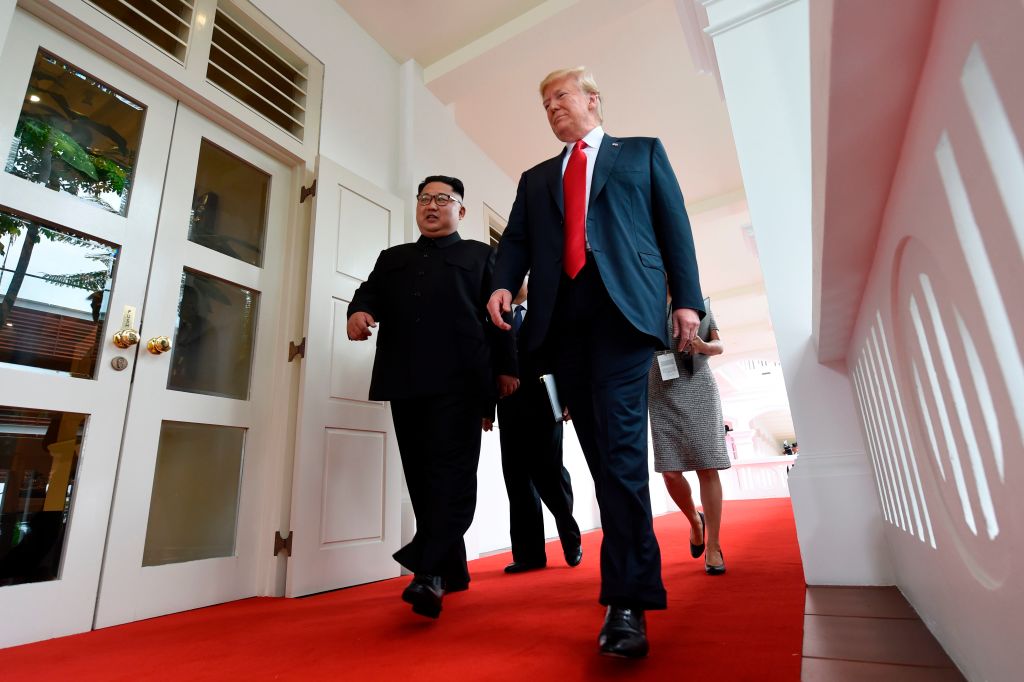 They sat down with their top advisers.
Meanwhile, people in Tokyo were glued to their TV screens.
12:24 a.m. ET, June 12, 2018
Historic summit is a "prelude to peace," Kim Jong Un says
At the extended bilateral meeting earlier Tuesday, North Korea's Kim Jong Un said he believed sitting down with President Trump is "a great prelude to peace." 
Trump agreed, saying, "I do too."
Kim continued: "As I said earlier, until now, others have been unable to attempt."
"Of course there will be difficulties along the way, but as of today, a day that a good start has been made, I am determined to start a grand undertaking together."
12:17 a.m. ET, June 12, 2018
Trump jokingly asks photographers to take pictures that show them "handsome and thin"
Note: The US press pool wasn't invited into this spray, so the following video was provided by Singapore's government photographers.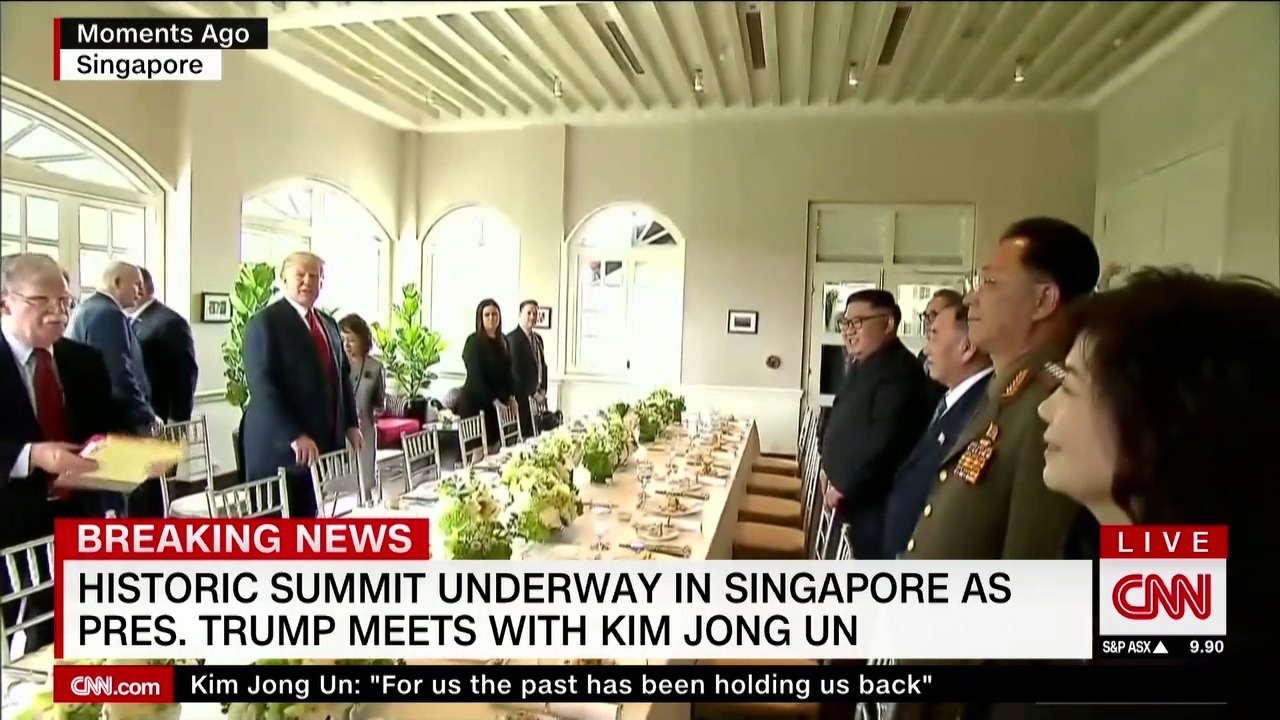 President Trump and Kim Jong Un are sitting down with top officials from both countries for a working lunch, a bit later than originally planned.
The extended bilateral negotiations were scheduled to end at about 11:30 a.m. local time (11:30 p.m. ET), according to the White House.
But instead the two were pictured taking their seats at a long table, with their primary advisers, about 20 minutes late.
Trump invited Kim to sit down, before jokingly asking photographers to take photos which would make them look "nice and handsome and thin."
There are no official events scheduled for the rest of the day until Trump meets with reporters at 4 p.m. in the afternoon (4 a.m ET).
Watch the moment:
11:52 p.m. ET, June 11, 2018
North Korea was "very conscious" about presenting US & North Korea as equals
During negotiations for the Singapore summit, the North Koreans were "very conscious" to ensure the United States was presented as their equal throughout.
"They wanted to make sure both in ceremony and in security and every other way that we're presenting to the world an image that presents them as equals," the official said. "The North Koreans were very conscious of that."
The US largely agreed to North Korea's demands for parity in all aspects of the summit, from the number of officials during the bilateral meetings to the number of US and North Korean flags side by side during the arrival ceremony.
The images of the six US and six North Korean flags in the background of the Trump-Kim handshake will undoubtedly be used by North Korean propaganda to suggest the US and North Korea are on level footing.
The official said the requests for parity were made even in situations where it might not be logistically necessary.
Still, the official said the official summit logo had been designed by the US side. The North Koreans approved of it.